Jason Weigandt
Quick Fill #42: This Week in GNCC
Thursday, October 30, 2008 | 12:00 AM
Welcome to Quick Fill. Wow, what a finale.
We're not sure what happened at the Ironman, but something went right. On Saturday morning, I was riding out to the start with Racer TV producer John Ayers, and we saw a big line of people. We were confused as we tried to figure out what all these people were looking at or looking for. Then we realized they were actually just waiting in line to pay their admission and enter the facility! Mark that one down. I've attended about 150 motocross, supercross and GNCC events over the last few years. I have never, ever, seen a line to get into a race like that. This line was huge, and there were people everywhere all weekend. For GNCC Racing, this was a whole new level.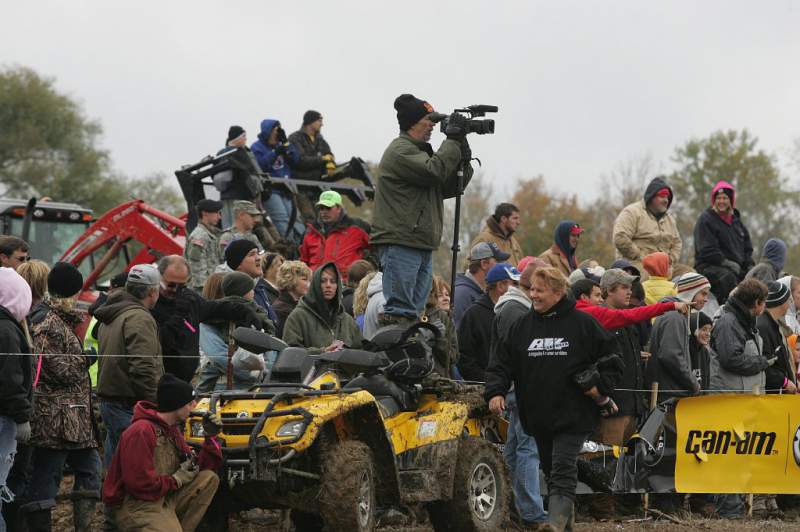 There were A LOT of people in Indiana.
Hooper photo
To which we often have to ask, "The economy is struggling?"
Well, gas prices have fallen sharply over the last month, so perhaps we had a lot of pent up demand to go racing. We're not really sure why this year's race was so big, but we do know it was really fun and really cool, and the whole "Outdoor Showcase" concept that we've tried to develop at the Ironman is working. Just think of how many people would have showed up if we had decent weather!
Where do even start? At the Ironman, we raced adult, youth and utility ATVs, UTVs, mechanics, youth and adult dirt bikes, monster trucks, heck, on Saturday night Carrie Coombs came on the radio and said "Let's race the tractors, it's the only thing we haven't raced yet."
Big thanks to all of the manufacturers who stepped in with the demo rides, even though a large portion of the weekend was rained out. Thanks to Can-Am, Yamaha, Polaris and KTM for giving everyone a chance to really see what some of their new machines can do.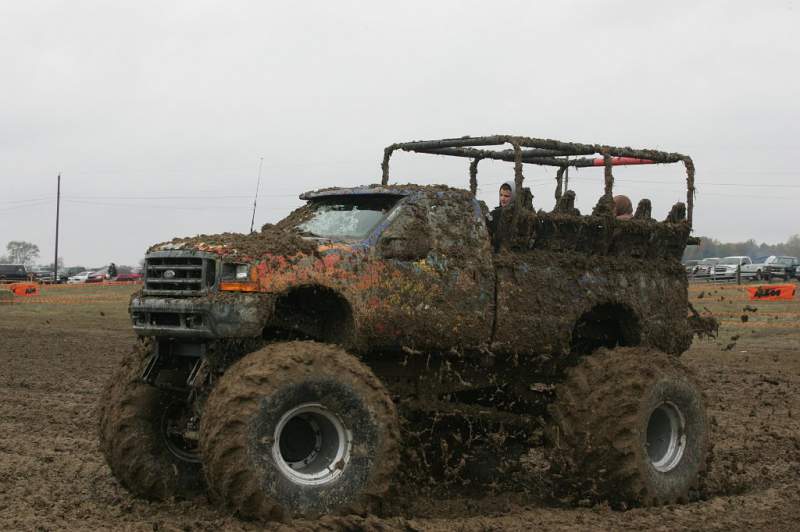 A lot of stuff to ride at the Ironman.
Hooper photo
Saturday's ATV racing was epic. After Josh Merritt capped an impressive Youth ATV Championship run with his seventh class win of the season in the SuperMini class, the stage was set for a big morning race. With about 400 riders on the line, ATV Parts Plus/LTE's Bryan Buckhannon put the hammer down in the Open 4x4 class and never looked back. Buckhannon was going so fast that later on, when Ayers and I were having a conversation near the start, he came barreling down a field wide open and I seriously got scared. I thought his throttle was stuck!
Behind that came the battle for the Women's ATV title. Perhaps you read last week's Tuesday Toolbox with Traci Cecco and Angel Atwell? Well, both girls did a good job of seeming relaxed, but they must have been a mess once the race began because both of them were way, way further back in the pack then they normally are. It was chaos out there, with crashes and collisions that only take place when there's a lot of pressure in the air. At one point the two girls got their machines locked together in a field section after their lines came together, and they lost a lot of time. In the end, Cecco managed to pick up the pieces, mount a comeback and win. She was very emotional heading back to the podium. In fact, I thought she had ridden without goggles because her eyes looked like most riders do after a bad mud race. But it turned out she had goggles the whole time--those were real tears she was fighting back!
And boy was the pro ATV race good. XC2 Champ Donnie Ockerman was with the leaders all day, which kept the partisan Indiana fans all pumped up. Bill Ballance, Chris Borich and Adam McGill joined him in going back and forth all day, and all four came into the final section basically together. McGill and Ballance were so close coming across the line that we had to use a photo of the finish by Harlen Foley at ATVRiders.com to determine who got the spot--they had literally tied on their transponder times. That's a real photo finish!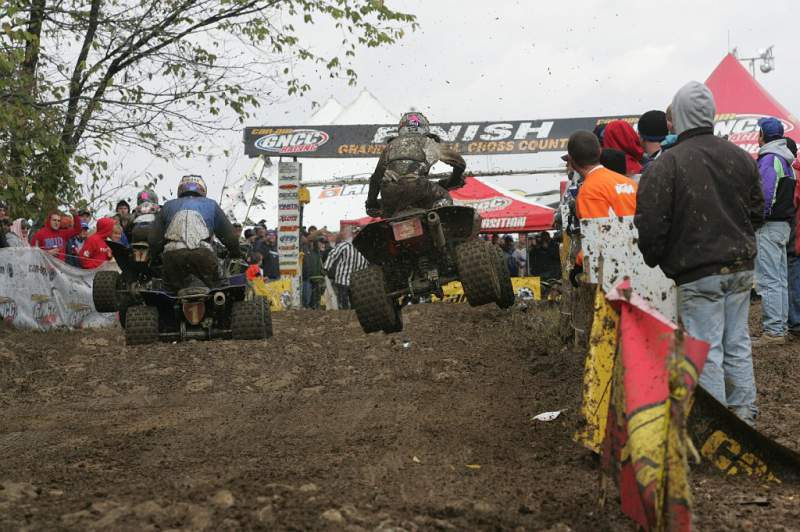 Photo finish.
Hooper photo
And David Knight indeed raced an ATV. Click here to read our interview with him. I thought he was very respectful of the ATV guys, as he started moving out of their way as soon as he realized he wasn't going to keep up. Still, he ended up 49th overall out of 230 riders, not too shabby. Now we need to get a top ATV pro to come out and try a bike on Sunday afternoon and see what happens...they would have to take Saturday afternoon off, though.
Speaking of that combo, I spoke with Walker Fowler, who looks to have won the ATV Schoolboy Title and reeled in a solid second place finish in the Four-Stroke A Lites bike class. Walker's talent on both bikes and ATVs is undeniable, but he told me that for 2009, he's probably going to have to decide to race either a bike or an ATV, but not both. He'll make that decision shortly, as much as he doesn't want to. Either way, one side or the other is going to lose one heck of a rider.
And a pat on the back to Hunter Dalrymple, who won the Schoolboy class at Ironman and gave Walker a heck of a battle for the championship.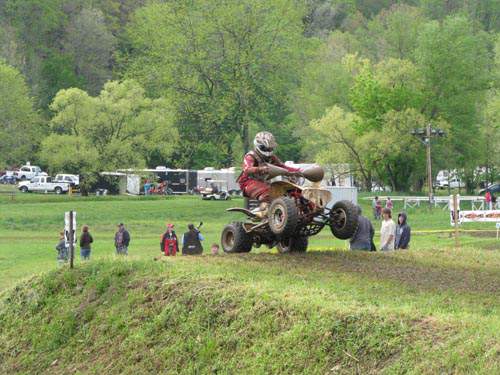 Josh Merritt won the Youth Overall Championship on his...here it comes...on his own merits.
Photo courtesy Cobra
Late Saturday afternoon we loaded the start with an amazing 71 UTVs. Last year at the Ironman we had 28! William Yokley sent National Guard COL Ron Turner on a wild ride en route to the UTV win. Meanwhile, two monster trucks were sent loose on a big demo track in a field. Maybe we should have raced William and his RZR up against Mopar Magic out there--I think William would be just crazy enough to go for it! By the time the UTVs were done and the monster trucks were wrapping it up, Rob Buydos of Parts Unlimited had set up the course for the second-ever Parts Unlimited/Moose Racing Mechanics' Challenge. Portable lights showed up, and the team of Joey Maurer and Jason Thomas (Monster Energy/Andrews Yamaha) took home the win--and with it a $580 cash purse.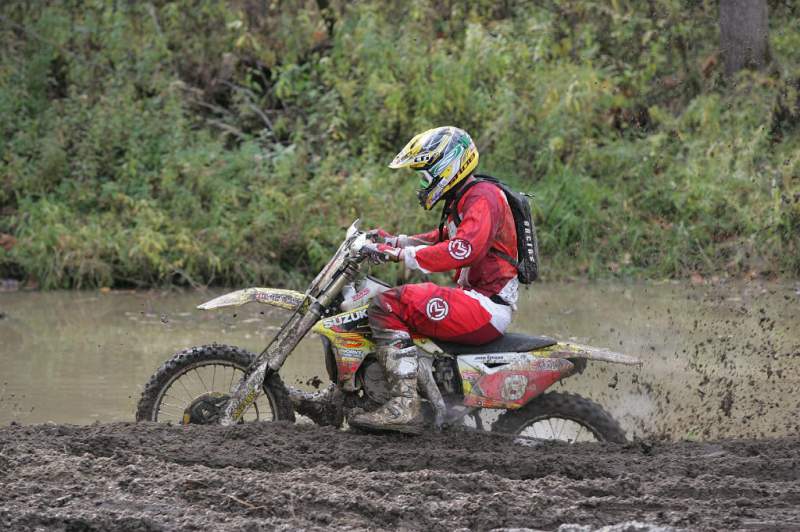 Josh Strang was in the hunt until he crashed and broke a throttle cable loose.
Hooper photo
The next morning we were racing again, Trevor Barrett scoring his first bike Youth Overall win ever. The morning bike race was huge--another 400 rider count. Among that group was former NBA center Rik Smits, all 7'4" of him. Rik, known as "The Dunking Dutchman," has raced bikes his whole life, but he races a lot more now that his pro basketball career is over. He had raced a few vintage hare scrambles before but has always wanted to do a GNCC on a modern bike. On a KTM 300, which he admitted was a little underpowered since he weighs about 300 pounds (again, Rik is 7' 4"), had a great time and definitely plans on racing some more GNCCs in the future. He finished 109th overall in the morning out of about 430 riders. And yes, he did smack his helmet on some trees.
Another KTM 300 dominated the afternoon overall, with Nathan Kanney blitzing past the competition early and saying good bye after that. Besides one bad lap that allowed Charlie Mullins to get within 25 seconds of him, this was a dominant day for Nate. Now he and third-place Thad DuVall are in Japan this weekend to race the JNCC finale. I talked to Thad's dad, former ATV Pro Production Champion Chad DuVall, and he summed up the trip like this, "I'm just a good old boy from West Virginia, so I have no idea what I'm getting into!"
Look for some updates from Hooper once he figures out how to get on the internet over there. Wait, he just sent me an IM. Hoops and the DuVall's made it, Kanney comes in this afternoon (night time to us). In the meantime, check out the JNCC site, which has some good updates about American GNCC racers (except it's in Japanese and you'll never be able to read it). Somewhere in there are congrats to Raines for winning his AMA Hare Scrambles Championship: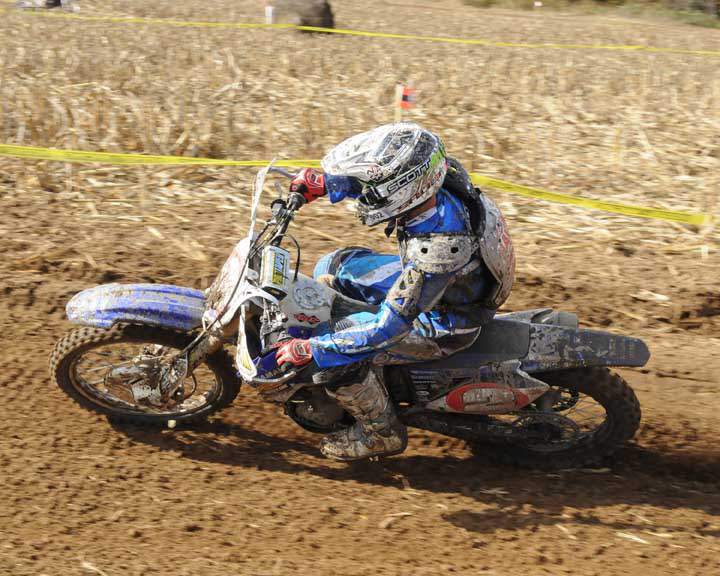 Hawkster looked good on the 450.
David Scearce photo
Barry Hawk looked solid on his first GNCC on a 450, and he sends a thanks to Chad Sanner of ElevenTen Mods for helping setting his machine up. "About halfway through the race, I clipped another rider and tipped over, and the bike stalled," said Hawk. "One I picked it up, I said 'Here we go' because I knew that would be the big test of the bike being hard to start. And it started right up." Still, Barry says it's not written in stone that he will ride a 450 next year, because he still thinks the YZ250 is a great bike. And remember, there was only one two-stroke in the entire XC1 bike field on Sunday, and that bike won the whole race!
Also, Jason Raines was knocked out of the race (literally) when he dove into his pit and was clipped by Glenn Kearney, who was right behind Jason. Kearney managed to avoid a crash, but Raines hit the deck hard. I talked to him yesterday, and Jason suffered a mild concussion but is otherwise okay. "I've been hit harder by my wife!" said Jason.
Big thanks for the IXCR, or Indiana XC Racing association, for co-sanctioning the event. Here's a note:
Thanks for allowing us to co sanctioning your event. All of our racers had a blast! That had to be the biggest Ironman I've been to in a few years. Can't wait until Rd 1 next year and looking forward to the banquet. Our whole IXCR team finished in the top 10, with 2 class champions. Hope we can co sanction the 2009 Ironman as well.

Thanks again

John Lupinsky
IXCR Series Coordinator
Sadly, though, just two days after the race, the IXCR, and the GNCC Series, lost a great racer. Brent Foltz, the 2005 GNCC Champion in the ATV (16-21) C class, passed away tragically in an auto accident on Tuesday. This is shocking news to the racing community, and our thoughts and prayers are with Brent's family and friends. Please click here for information on Funeral Services for Brent, who had just raced at the Ironman on Saturday.
Hard to follow up that news. But we do have our award winners.
ITP XC1 ATV Holeshot Award: Bill Ballance
Rekluse XC2 ATV Holeshot Award: Dustin Canipe
ATVRiders.com Morning Race Overall Winner: Bryan Buckhannon
Racer X XC1 Bike Holeshot Award: Charlie Mullins
ATV Top Amateur: Andy Klingworth, Junior A class
Thumpertalk.com XC2 Bike Holeshot Award: Kailub Russell
AXA Advisors Morning Race Holeshot Award: Todd Elrod, Super Vet C 35+ class
Bike top amateur: Jordan Ashburn, Open A class
Back at Unadilla, a bike racer in the Schoolboy class sustained a head injury in the morning race. Darrin Strong appears to be recovering, thankfully. A reader tipped us off to this message posted by Darrin's family on the WNYOA.net site:

FROM THE STRONG FAMILY.........
I just wanted to thank everyone on behalf of Darrin, myself, and our family, for all of you that have kept Darrin in your thoughts and prayers. Its really heart warming to see all the cards that litter his room from race members, that we know and ones we don't. You all are like an extended family to us and we thank you for all the support. As for Darrin, he has been released from the hospital in Cooperstown and is starting therapy at General Hospital in Binghamton, NY. It will be a long hard road for both him and us, but us racers are a strong breed. His brain doctor also expects him to make a full recovery. His therapy consists of 6 hard hours of sharpening his motor skills, walking, and talking. Every day he seems to get a little better, and they say it should only be a month or two before he can come home. So with a little bit of luck we both will be seeing you all at the banquet in January. Thank you all again.
Derik Strong
Quad A #122
Really, there's just too much to cover from the Ironman to get to here. Luckily, we have weeks to roll this all out. So look for more fun next week. Also, check out all the banquet info HERE so you can get ready to hang with your friends one more time. And don't forget GNCC TV this weekend, the crazy muddy John Penton bike GNCC. Definitely fun to watch.
That's it. Enjoy your weekend...and happy Halloween!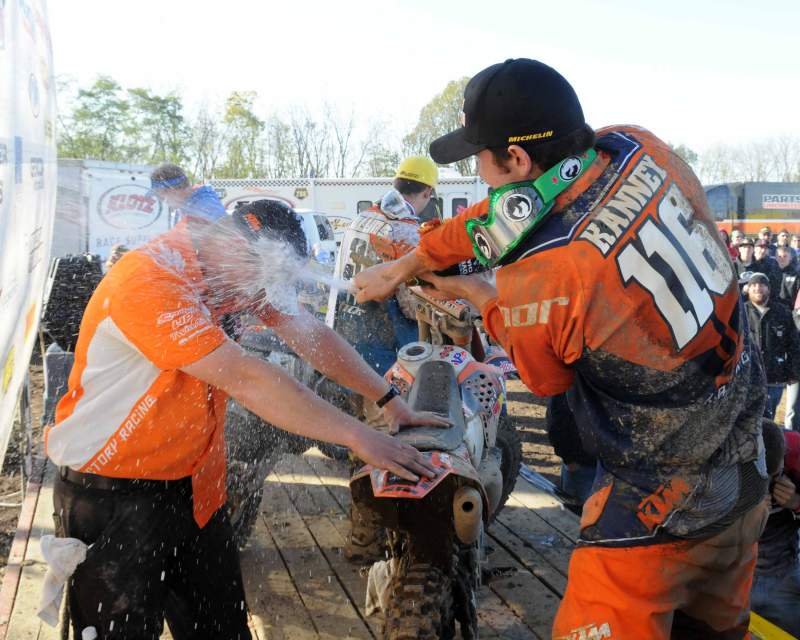 That's how you do it!
David Scearce photo