Jason Weigandt
Quick Fill #38...This Week in GNCC
TimeThursday, October 2, 2008 | 12:00 AM
Welcome to Quick Fill. Please keep Darrin Strong in your thoughts.
Darrin is a racer in the 200C Schoolboy Class, and he crashed during the 10 a.m. morning bike race. He's still in Bassett Hospital recovering from the injuries he sustained, and he's still in critical condition.
Major injuries such as this don't happen very often in GNCC racing, and for that we're thankful, but that doesn't make it any less important when it happens. Everyone at Racer Productions wishes Darrin the best in his fight to recover, and we know the good people of the GNCC Family feel the same. As always, racers are tougher than everyone else, so we know Darrin is a fighter. Get well soon, Darrin.
And if you want to send a card or a letter to him, send it to:
Darrin Strong
Attn: ICU
Bassett Healthcare
1 Atwell Rd
Cooperstown, NY 13326
We saw just about everything at Unadilla. Dust, mud, upset wins, heartbreaking finishes, it was another weekend of drama at a track known for producing such. Take our GNCC Champions, for example. David Knight wanted to win the race but didn't expect to win the championship. With three miles to go in the race, Paul Whibley's Suzuki stopped running, dropping him out of the top five and allowing Knight to claim the title. What happened to Whibley's bike? At first it was thought that he ran out of gas, so he ran to the pits to get more gas, but that didn't help. Apparently the bike wasn't getting fuel even though there was gas in the tank, so something may have been wrong with the fuel pump or something like that. Considering how well the RM-Z450s ran in the mud at the Wiseco John Penton GNCC, it just goes to show that you never know in this game.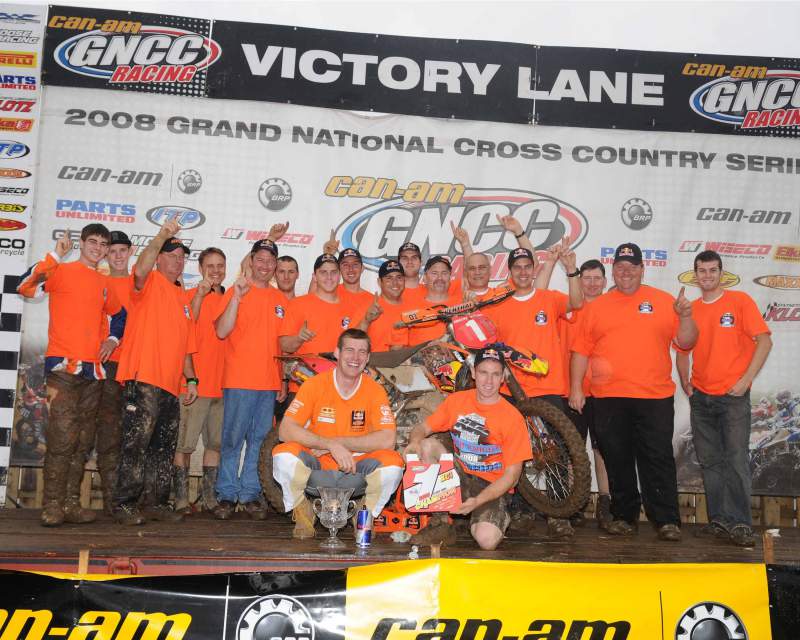 Four in a row for Red Bull KTM!
Scearce photo
And Bill Ballance's finish was simply crazy. The eight-time GNCC Champion was trying everything he could to get past Chris Bithell for the lead until his Yamaha ground to a halt in the last turn. Ballance got off and jammed on his shifter, but it turns out the trouble was a derailed chain, which then broke his cases and locked up his wheels. Then, it seemed like every person with a blue shirt on in the state of New York helped him push to the finish line-and that's legal, because it's really no different from having some fans tug you up a hill in the woods. As Bill and company pushed, finish line flagger Ricky Towery yelled at Bill that he would actually have to cross the finish line under his own power. Since the finish was up hill and the back wheels of Bill's ATV were locked, that meant he would have to lift and push the 400 some pound machine up hill. Bill pulled and tugged with everything he had, fans were screaming encouragement from the sidelines, the crew could only stand there and watch. Finally, after what felt like an hour, Bill got his quad to trip the transponder. Then he collapsed in exhaustion.
It was dramatic.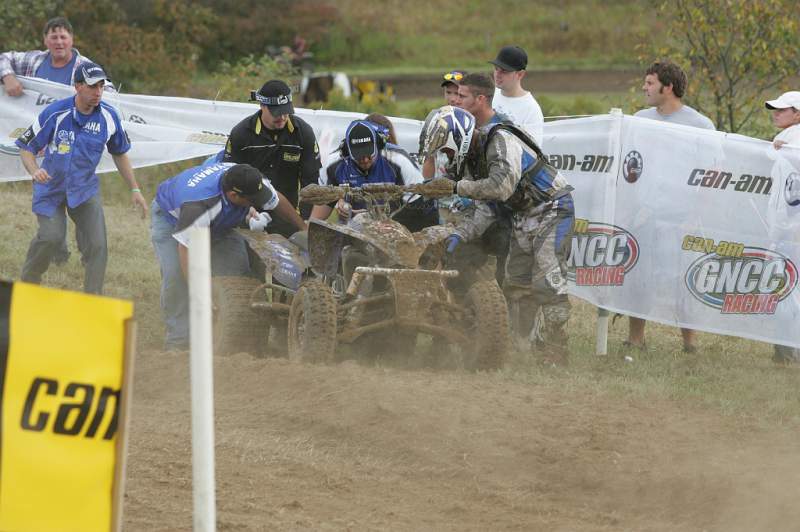 A ton of people were trying to help Bill Ballance...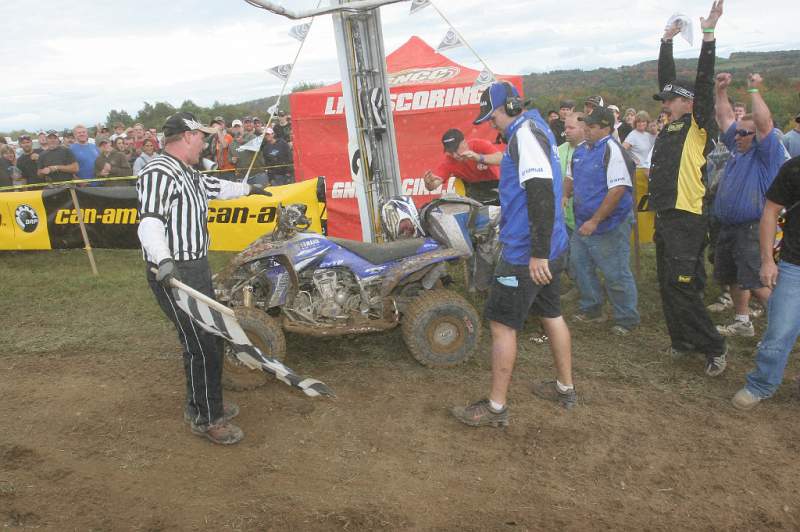 But it took all he had to get over the finishline by himself.
Hooper photos
Meanwhile, the Warnert Can-Am team was going crazy celebrating their first-ever afternoon race win, thanks to the efforts of Chris Bithell (click here for more on that from Tuesday Toolbox). And everyone from Can-Am was already on a high since Bryan Buckhannon won the morning race overall, the first 4x4 or Utility winner this year.
It's been an amazing season for Buckhannon already, as he has won ten of 11 Open 4x4 races this year. He's a hard working guy and a nice one, too, and you like to see those kind of racers win. At this race he was banging wheels with Scott Kilby right off the bat and just kept on charging all day. Up front, Angel Atwell started dead last but made her way into the lead. Traci Cecco stopped for new gloves and goggles to ready a last lap push, and she made it happen, getting back into the lead and winning the class, while Atwell lost tons of time in a bottleneck. Cecco won the class but Buckhannon won the overall based on adjusted time.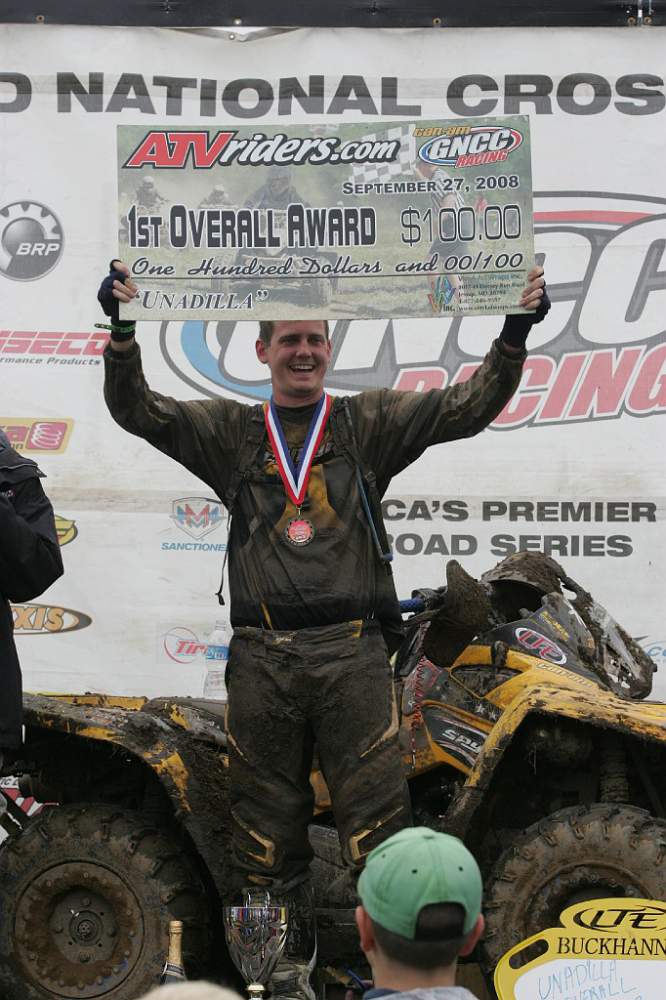 Bryan Buckhannon wins one for the Utlity ranks!
Hooper photo
Cecco's win holds off Atwell's Championship Celebration. Cecco basically needs to win the final four rounds of the series to win the Women's Championship. Two down, two to go. But expect Atwell to come back firing at Power Line Park.
Other ATV riders had tough days. A pack of fast riders, William Yokley, Johnny Gallagher, Brandon Sommers and Adam McGill, went the wrong way on the first lap and lost a ton of time. They were barely able to get a look at the top ten.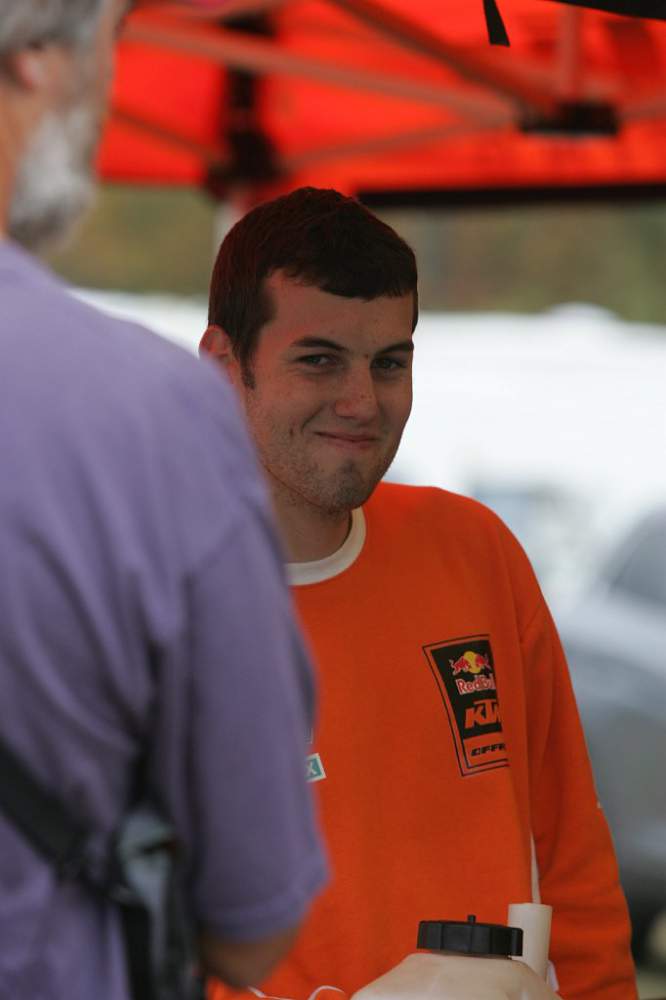 Look for J-Dubs to be on his own next year
...and in the XC1 class.
Hooper photo

I've been to a lot of races at Unadilla and the track always seems to hand out bad luck like we saw over the weekend. Add the bad last lap fortune of riders like Whibley and Ballance to the list of names like Bob Hannah, Johnny O'Mara and Travis Pastrana, who know what the Unadilla jinx is all about.

Things are shaking up on the bike side. Charlie Mullins returned to action after missing Snowshoe with a bad shoulder. Hot Rod said the shoulder is fine now but the other riders are just going really, really fast and he needs to step it up.

Defending XC2 Class Champion Justin Williamson is ready to move on. J-Dubs has had a terrible year with just one podium, and he's asked the Red Bull KTM team if he could race a 250 two stroke in the XC1 class at the last two races this year. Williamson is going to race XC1 next year, and it looks like he's putting his own team together, just like he used to do it.

KTM may need his bike in XC1 for St. Clairsville, because David Knight wants to skip the race and battle Stefan Everts at the Weston Beach Race. It's up to KTM if he can do it or not. Knight would also like to race an ATV at the finale in Indiana. That would be awesome!

The kids are moving up. Former Youth ATV standout Jesi Stracham bought one of Michael Houston's old Yamaha 450s and raced the Women's class for the first time. The 16-year-old finished eighth. She said she was super, super nervous before the race, and also she hasn't had much time to get the machine set up for her. We'll see how she does in St. Clairsville, where she had a podium finish in the Youth class two years ago.

That Youth ATV Division is hosting some great battles this year, and the Unadilla one may have been the best yet. Josh Merritt, JD Welch and Ryan Ratliff went at it the whole way. Merritt got the win.

Remember Ryan Early, who won the ATV Youth Overall at the John Penton GNCC? He's riding with a broken wrist right now and running a pink cast. I asked Ryan why he's running pink and he said "Why not?"Â

Cheyanne Shadron has won the ATV Youth Limited 90 (12-15) class Championship so she went for it in the Supermini class. She finished fifth, and then as a good sportswoman, she walked up to the podium and let overall winner Merritt douse her with the champagne when everyone else ran away.

And in her place in the Limited Class, another girl, Kamren Bob, took the win.

A notch further up, we talked about the Schoolboy Class in ATVs last week. Hunter Dalrymple pulled off a clutch win at Unadilla that may net him the championship.

Also, congrats out to Jerime Dudding who has won two in a row in Utility Lites.

In bikes, the 200 B class has been fun to watch. Chris Douglas has 6 wins, Cody Mummert has 5. That battle could go down to the Ironman. In 200 A, Robby Norwood and Josh Monsrud have been battling all year, Norwood has four wins and Monsrud has five.

On Youth Bikes, congrats to Zach Nolan, who has won two overalls in a row. Ryan Lojak raced hard for second and Layne Michael, who also moved up after winning the (12-13) SuperMini Title, finished third.

The morning Bike Overall went to Morgan Moss riding in the 200 C Schoolboy Class. That's the first overall win this year from a rider not in the sportsman class. Congrats to Morgan, we'll have more on him next week.

Morgan Moss (423) won the morning race overall--the first non-Sportsman rider to do so this year.
Ben Church, Axehoot Photo
Also, Jordan Ashburn notched top amateur honors by taking the win in the Open A class. Jordan has caught the eye of Kawasaki and rumor has it he will be racing on green next year.
Silly season is still going. We've heard just about everything, from Husaberg and Husqvarna signing big names for next year. One rider looking for some more help is current Monster Energy Kawasaki XC2 entrant Andrew Matusek. Andrew, the '07 Four-Stroke Lites A Champ, was on the podium in his second race ever in the XC2 class this year in Georgia. Since then it's been all bad luck. Andrew broke his foot and took a few races to heal up. He was back up front in Kentucky and even led for a while. "In North Carolina I didn't really feel comfortable in the dust. In Pennsylvania I got taken out on the first straight and I broke my front caliper. Then I ran out of gas. At Snowshoe I got food poisoning, I was throwing up out on the trail and I had to change my helmet. Then I got a new one in threw up in that, too. At Unadilla, I started about tenth and made some good moves, everyone was right in front of me, DuVall, Buttrick, Kailub, there were right as we went into the second lap. Then I fell right in a water hole. You couldn't see the ruts, and I hit something. The bike took a lot of water, and it never ran right after that."Â
Matusek has spent most of the year riding and training with Nathan Kanney and Russell Bobbitt, and he says his speed and endurance is fine. He just needs some luck.
Who were the Holeshot winners from Unadilla?
ATV:
ITP XC1 Holeshot Brandon Sommers
Rekluse XC2 Holeshot Don Ockerman
ATVRiders.com Amateur Overall Bryan Buckhannon
Bikes:
Racer X XC1 Holeshot Barry Hawk
Thumpertalk.com XC2 Holeshot Thad DuVall
AXA Advisors Amateur Holeshot Tom Carter, Golden Master's Class
Okay, that's enough for this week. There's so much going down in GNCC land that it's hard to keep track of it all. So we'll regroup and do it again next week. And again, please pray for Darrin Strong.
Thanks.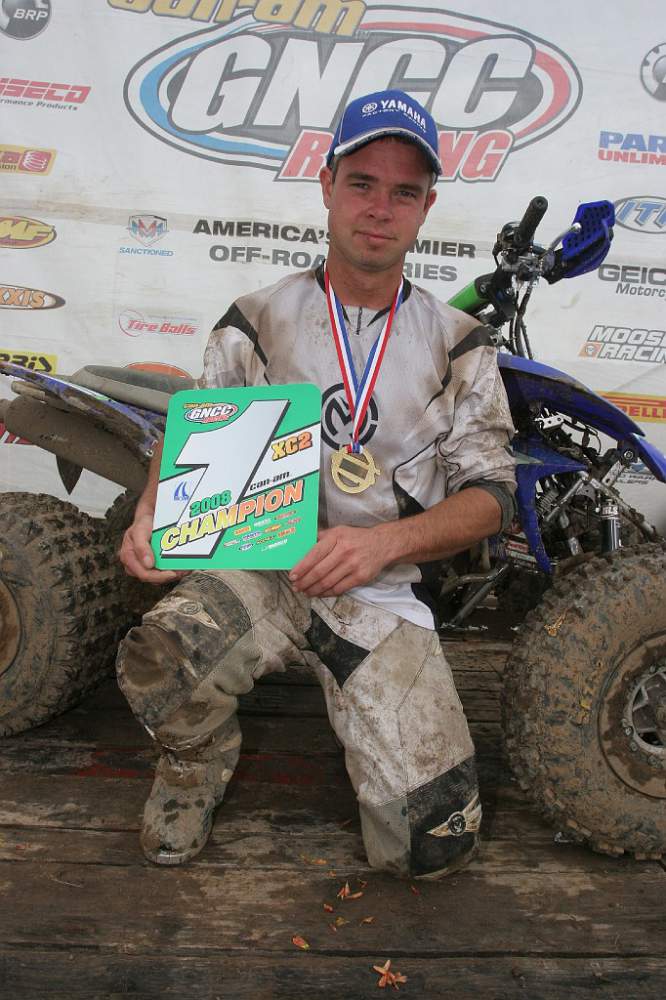 Donnie Ockerman is now the XC2 Champion!
He may stick around and defend that crown next year.
Hooper photo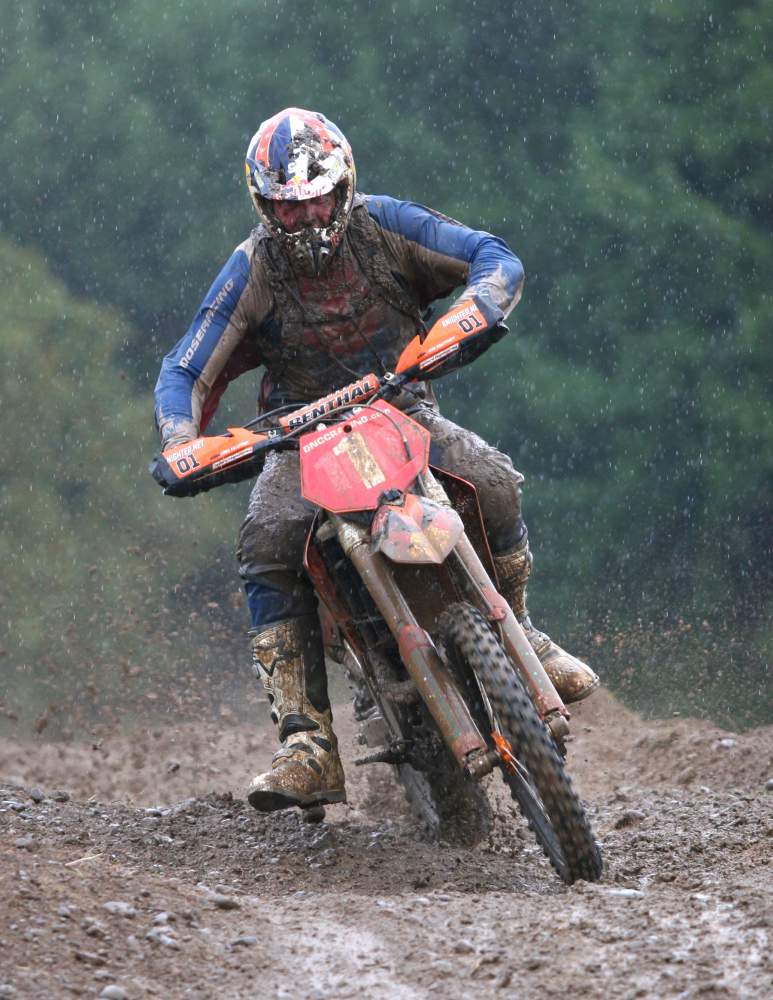 Congrats, David!
Ben Church photo - Axehoot photos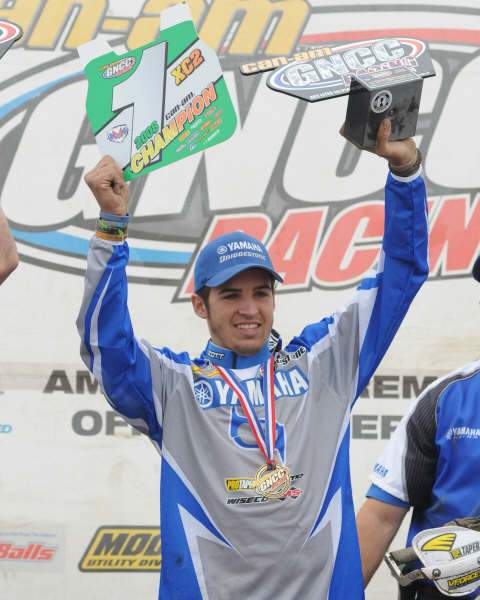 The GNCC Youth Series produces pro champions--congrats, Thad!
David Scearce photo