Jason Weigandt
Knight, DuVall Claim GNCC Championships
Sunday, September 28, 2008 | 12:00 AM
For Immediate Release
Contact: [email protected]

Knight is Winner and Champion at Unadilla GNCC
DuVall Wins to Clinch XC2 Lites Title
NEW BERLIN, N.Y. (September 28, 2008) -- With New York favorite Nathan Kanney keyed up for a home state win, and heavy rain falling at the start of the event, Red Bull KTM's David Knight focused merely on surviving the Can-Am Unadilla GNCC at Unadilla Valley Sports Center. In the end, Knight ended up winning the race and claiming the 2008 GNCC Championship as well when FMF Suzuki's Paul Whibley ran out of gas on the last lap.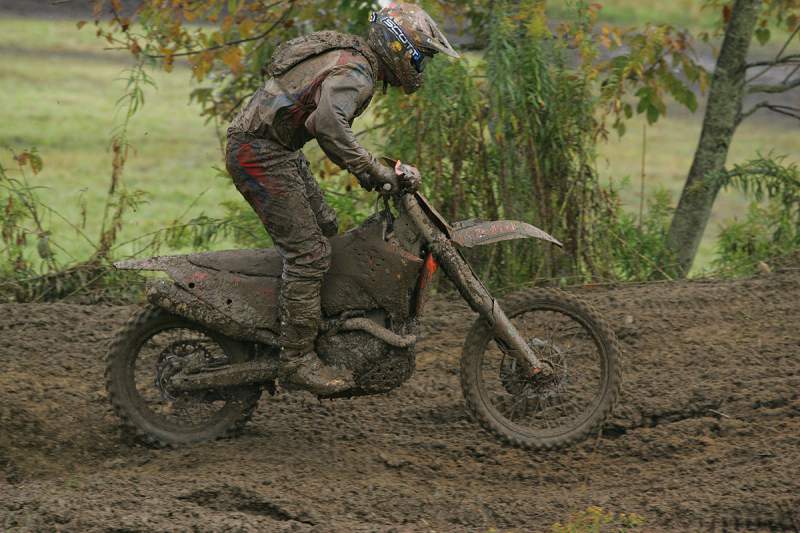 David Knight powered through a muddy Unadilla track to win the race and the GNCC Title.
"That's a real shame what happened to Whibs there, he's ridden well all year and didn't deserve to lose it like that," said Knight. "We didn't expect to win the championship here, I was just trying to get into the lead and enjoy the track, really. The roost was so bad that it was hard to race anyone."Â
Kanney moved to second after Whibley ran out of fuel with three miles to go. When Whibley, who runs second in the series' standings, failed to finish inside the top five, Knight locked up the championship. FMF Suzuki's Jimmy Jarrett rounded out the podium positions.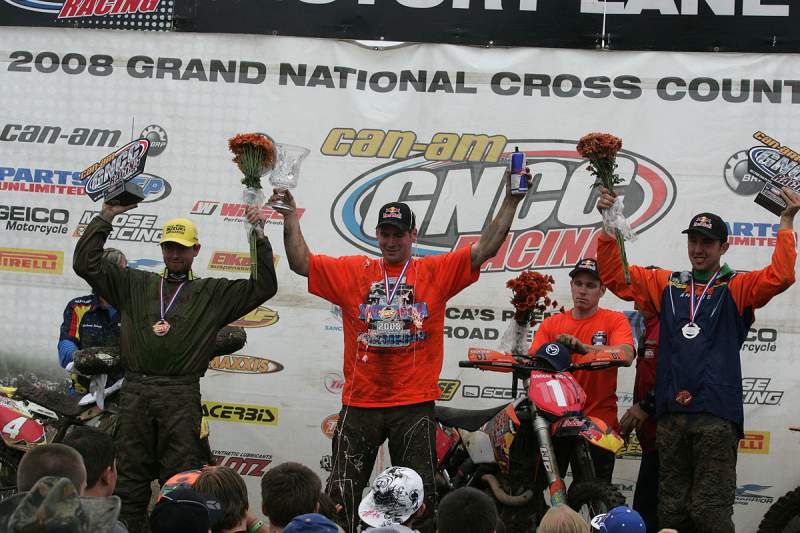 (Left to right) Jarrett, Knight and Whibley on the podium.
A rivalry began to brew between Knight and Kanney before the race, but Kanney was quick to congratulate his teammate when the event was over.
"Before the race, all I could think about was beating David, I wanted to beat him so bad," said Kanney, who enjoyed heavy cheers from the New York fans. "All I want to say is congratulations to him. He's a great rider and a great champion and he flat out beat me today."Â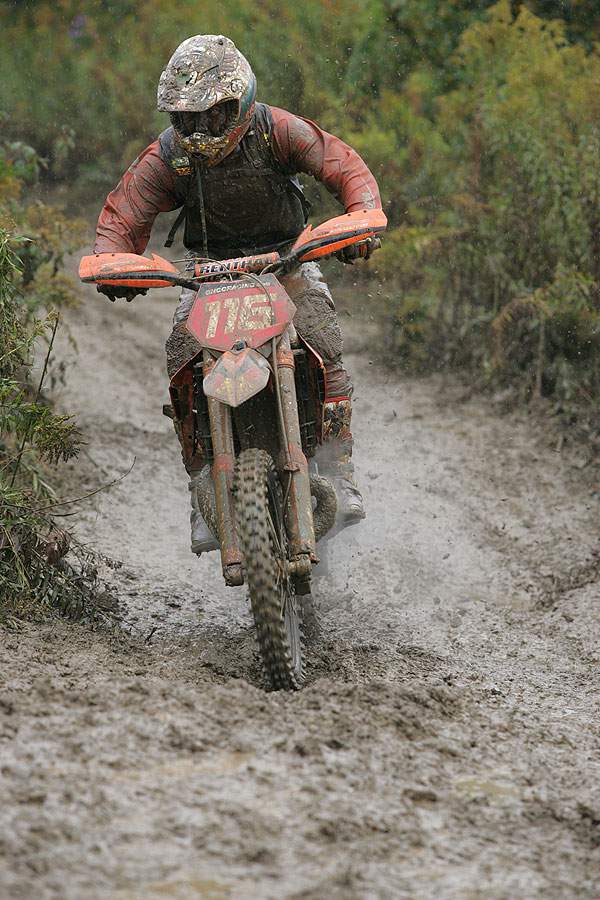 New York's own Nathan Kanney wanted to beat his teammate Knight badly, but had to settle for second.
Another GNCC Championship came from the XC2 Lites class, as Am-Pro Yamaha's Thad DuVall won the class for the eighth time this year and also claimed the crown. After grabbing the Thumpertalk.com Holeshot Award, DuVall was able to hold the lead for most of the day.
"This is what I've always dreamed of," said DuVall, a two-time GNCC Youth Champion. "Last year I won a lot of races and I wanted to win the championship, but I crashed in just about every race. Barry Hawk really took me under his wing this year and taught me how to slow down and be consistent. I couldn't feel any happier right now."Â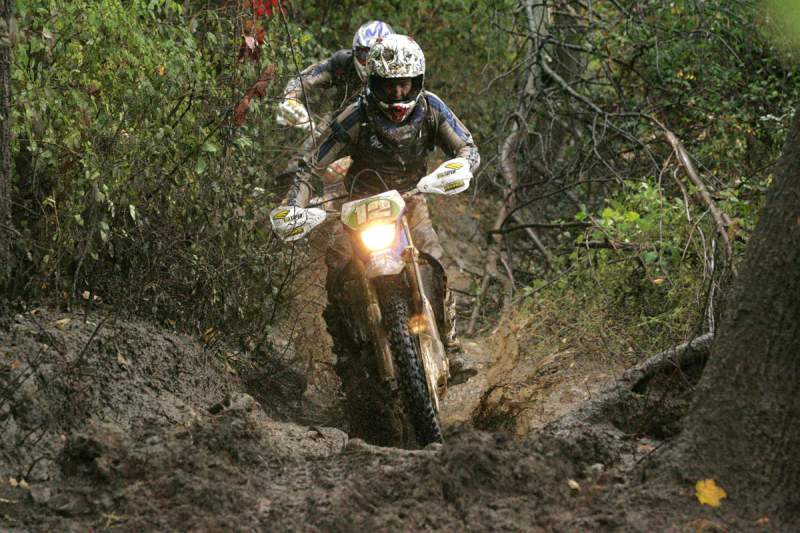 Thad DuVall won his eighth race to clinch the XC2 Lites Championship on his WR250F.
DuVall will make the move to a WR450F and race XC1 at the next GNCC in Ohio.
Second in XC2 went to Powersports Graf X KTM rider Cory Buttrick. Buttrick has two runner-up performances in his two debut rides as a pro. Third in the class went to Monster Energy/Andrews Yamaha's Jason Thomas.
Rain came down about an hour before the 1 p.m. Pro race, and the track deteriorated quickly. Barry Hawk snagged the Racer X Holeshot award and led Kanney early, while Knight moved past FMF Suzuki's Charlie Mullins to get to third, and then second when Hawk crashed. Knight took the lead from Kanney, and then Kanney moved back into the number-one spot when Knight pitted at the end of the first lap.
"I couldn't hold on to the handlebars so I had to stop and get new gloves," said Knight. "Nate got back in front of me and filled me in (with roost). That's what teammates are for, I guess."Â
"I gambled to try to get in front of him," said Kanney, whose eyes turned to a deep shade of red by the end of the race. "I'm paying the price now. This hurts."Â
Jarrett was pleased with his luck to inherit third. "Finally I had some good luck," said the Ohio veteran, who made his debut on the RM-Z450 a good one. "Once you get this thing pointed straight, it goes."Â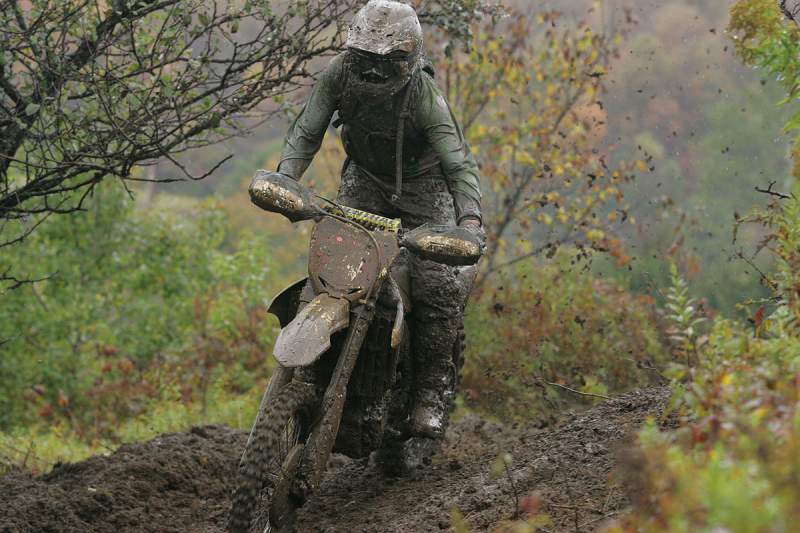 Jimmy Jarrett continued FMF Suzuki's impressive string of podium finishes.
With the series title locked, Knight plans on a surprise or two at the final rounds. "I've got to be real nice to KTM now and maybe we'll ride something different," said Knight. "Maybe a twin-shock vintage, or a 125 or maybe a 690. You never know! This means just as much to me as winning a World Championship, and I want to enjoy it."Â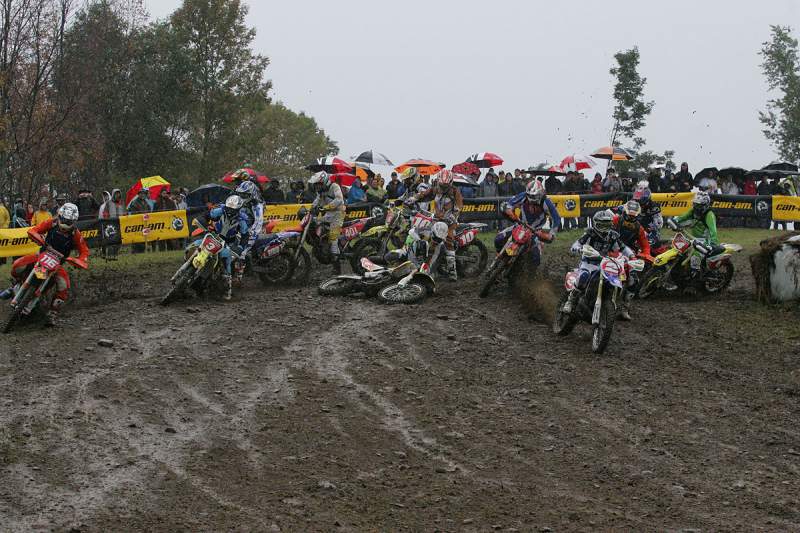 With rain falling, Am-Pro Yamaha's Barry Hawk grabbed the Racer X Holeshot Award.
Still struggling with injuries, Hawk finished tenth.
Morgan Moss topped the two-hour GNCC morning race. Tom Carter claimed the AXA Advisors Holeshot Award riding in the Golden Masters class. Zach Nolan won the Youth race overall.
The Can-Am Grand National Cross Country Series continues in two weeks with the ITP Power Line Park GNCC.


Results:
Can-Am Unadilla GNCC
Unadilla Valley Sports Center
New Berlin, NY
September 28, 2008
1. David Knight (KTM); 2. Nathan Kanney (KTM); 3. Jim Jarrett (Suz); 4. Joshua Strang (Suz); 5. Charles Mullins (Suz); 6. Glenn Kearney (HSQ); 7. Kurt Caselli (KTM); 8. Jesse Robinson (Kaw); 9. Paul Whibley (Suz); 10. Barry Hawk (Yam).
1. Thad DuVall (Yam); 2. Cory Buttrick (KTM); 3. Jason Thomas (Yam); 4. Scott Watkins (Kaw); 5. Jake Korn (KTM); 6. Kailub Russell (KTM); 7. Eric Bailey (KTM); 8. Andrew Matusek (Kaw); 9. Dustin Gibson (Yam); 10. John Day (KTM).
XC1 Class Point Standings (After 11 of 13 rounds)
1. David Knight 286; 2. Paul Whibley 221; 3. Joshua Strang 217 4. Nathan Kanney 196; 5. Charlie Mullins 175; Jimmy Jarrett 165; Glenn Kearney 150; Jason Raines 145; Jesse Robinson 114; Garrett Edmisten 108.
XC2 Class Point Standings (After 11 of 13 rounds)
1. Thad DuVall 289; 2. Dustin Gibson 214; Kailub Russell 186; Justin Willaimson 142; Josh Weisenfels 138.
About GNCC Racing:
The Can-Am Grand National Cross Country series is America's premier off-road racing series. The 13-round championship series is produced exclusively by Racer Productions and has run since 1973. Cross country racing is one of the most physically demanding sports in the world. The nearly three-hour long GNCC races lead over 1,500 riders through tracks ranging from eight to twelve miles in length. With varied terrain including hills, woods, mud, dirt, rocks and motocross sections, GNCC events are tests of both survival and speed. GNCC Racing will air weekly television shows on the Versus network starting August 2. GNCC featured sponsors include Can-Am, Parts Unlimited, Moose Racing, Maxxis, Pirelli, Wiseco, Acerbis, Elka, Geico, Klotz, FMF, ITP and Weekend Warrior, and riders compete for over $3 million in series prizes and contingency money. Associate sponsors include Alpinestars, Cometic, HiPer Technology, Laegers, Moose Utility Division, The National Guard, Powersport Graf X, REM, Scott, Thor, Tire Balls, Twin Air, Ogio, Rekluse, and MotoTee's. For more information log on to www.gnccracing.com.
###