Jason Weigandt
Quick Fill #35 .... This Week in GNCC
Time
Friday, September 5, 2008 | 12:00 AM
Welcome to Quick Fill. Are you pumped up like we are?
Snowshoe is coming soon, so it's time to wake up from hibernation and get ready to race! Our crew already has the course in good shape, and after another meeting Wednesday with the Snowshoe staff, it looks like everything is going smoothly.
It's not easy to pull off a race of this magnitude. Credit out to GNCC Special Force Task Master Tim Cotter for helping pull off the event. Tim is not part of our regular GNCC team, as he spends most of the year working on the Air Nautiques/AMA Amateur Nationals at Loretta Lynn's and our AMA/Toyota Motocross Nationals at High Point and Steel City. But Tim is an idea man, and it was his idea to bring the GNCC Series to the Wisp Resort back in 2002. Tim helped us pull that event off, and then when Wisp had to move away from racing due to a bunch of development on the mountain, Tim landed an even bigger facility at Snowshoe. Now that we've done the "ski resort race" for six years, we've learned that it takes a considerable amount more work to pull off than a typical event.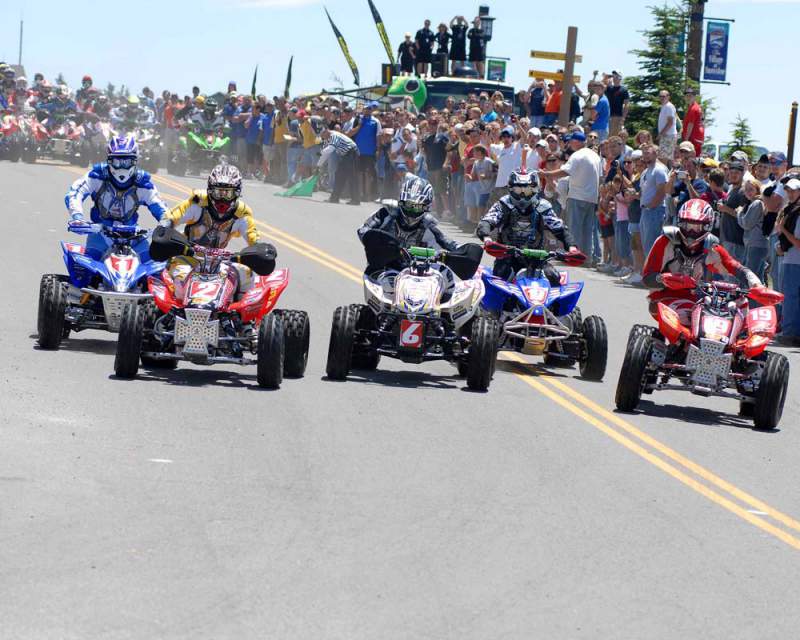 This is not the typical GNCC.
For this event, we have to work with the local Department of Highway and the WV State Police, since we start the race on an actual public road. We need to redesign our signup and scoring systems to match up with the unique start. We need to work with increased security staff, align our crew with someone else's, make decisions on entertainment and parking and pitting that are totally unique to this event. And when it's all done, we have to hay, seed and reclaim the land, because this is a resort that we're racing on.
And of course there may be some sacrifices on your part. But we've made big improvements this year by bringing the track up near a lot more hotels and condos, so if you're staying anywhere from Silver Creek complex through Camp 4, Powder Ridge, Shamrock, Whistlepunk, Powder Monkey and finally at the Top of the World, then you are in good shape.
We think it's obvious to anyone who races this event why we go here and why we go through all of these hurdles to make this race happen. There's simply no other race in the country, or maybe the world, quite like this one. The track is tough, so even if you just finish you can pat yourself on the back. And the facilities are world class. There's not an off-road race or a motocross race that can match this place. The hotels and condos, the restaurants, the hang outs, the whole atmosphere is more like that dream riding vacation with your buddies than it is like going to a race. So enjoy.
Make sure you pack a sweater, though. We had to reschedule this race from June back to September this year, which makes a big impact on the temperature when you're at elevation 4848. It will probably be chilly up on the mountain, but I bet it won't be as bad as The General GNCC in Georgia on Saturday.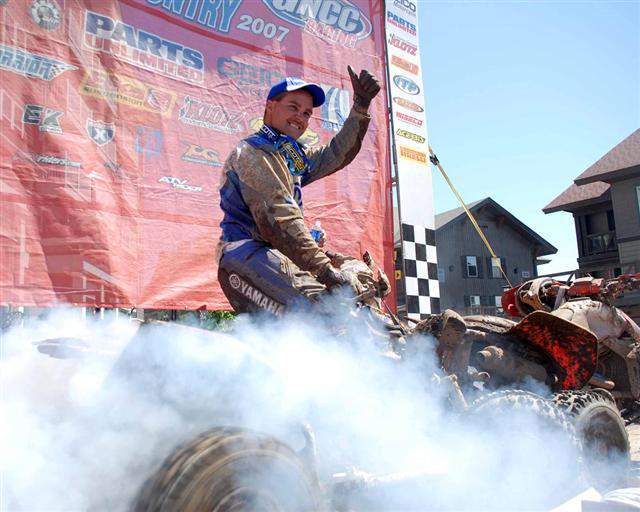 Bill Ballance was a happy man at Snowshoe last year.
Onto GNCC Golf. We're now in a hold pattern for the golf game because Snowshoe set up our tee time for 9 a.m. on Friday. Now we know for sure there won't be many racers in the area and ready to play that early, so we're asking them to move the time back to the same 12:15 slot they had us in last year. Until we know if this can be fixed, we can't announce if we're going to play. Sorry!
This race also coincides with the end of the GNCC Summer Break. Surely the racers have enjoyed the time off, and it's a time to step up, rest up and come out swinging. There are so many racers who want to seize some momentum back starting next weekend. On bikes, David Knight will be ready because Snowshoe is his favorite track. Knighter said his goal was to just get through the easier courses and really rail at Pennsylvania, Snowshoe and Unadilla, which are his favorites. And remember last year he won Snowshoe by a ridiculous 10 minutes! Plus Knight's laying low this summer to stay rested and ready for the GNCCs. Besides a few races in Europe to stay sharp, and the Fun Enduro in Mexico, Knighter has been far from his "anytime, any race, anywhere" mentality that ruled him for the last few years, and really broke him down last season.
The rest of these guys are going to fight him. Charlie Mullins has some big news, he's switching to an RM-Z450 for this race and letting his RM250 sit. Mullins tried the 450 at a WORCS race and totally railed on it, coming from last to fifth, and he says he loves it. Judging by Paul Whibley and Josh Strang's results on that bike, "Hot Rod" may be on to something.
Of course there's Whibley and Strang to think about, too, since they've been up front at every race this year. Nate Kanney may be a little weary for this race since he'll be recovering from his ISDE trip, but normally he's very, very tough in technical terrain like Snowshoe will offer. And then we have the Yamaha boys, with Jason Raines finally making it through a summer uninjured, and Barry Hawk also fully recovered from woes of his own. We have the makings of a good one"¦or will Knight just put on a show again?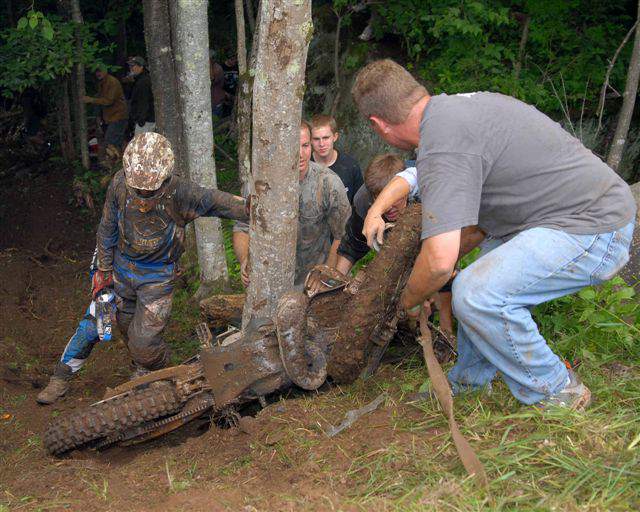 Charlie Mullins had a tough time last year at Snowshoe. Will a 450 help?
David Scearce photo
In ATVs, this is the last gasp for the field. Bill Ballance has the competition on the ropes, and I checked in with an anonymous member of his camp who said that whole crew is pumped and fired up for the race, and they're working on getting ready by working really hard. The blue machines will be flying.
As for KTM, Adam McGill must bounce back and win this race to prove himself a serious title contender. Chris Borich is pretty far back in points, but he wants to just win, baby. And remember, team Warnert Racing Can-Am promises to straighten their results out before long. Bryan Cook has been a revelation this year. William Yokley and Matt Smiley thrive in the tough stuff. Young guns like Jarrod McClure and Ryan Lane want it. Should be good.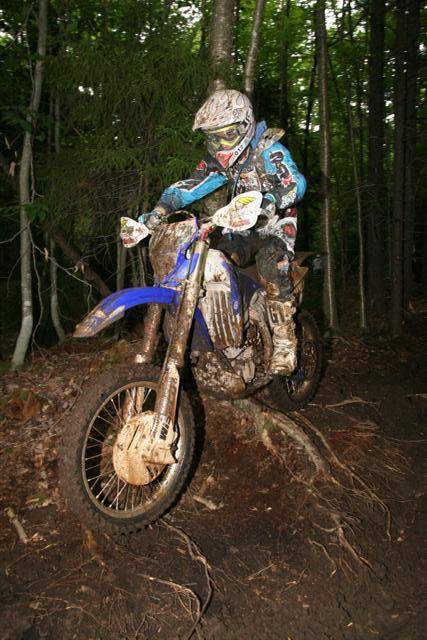 Don't forget that Bad Thad DuVall was
running in second overall on a 250F at
one point last year at Snowshoe. The kid hauls in mud.
Jason Hooper photo
Over at the ISDE, the bad news came on Day Three, when U.S. Trophy Team Captain Kurt Caselli took a header and knocked himself out. You can't ride a bike the day after a big concussion, so Kurt is now out of the race, a huge, huge bummer for the man who led the overall after day one. Luckily, Kurt should be okay in just a few days, and the U.S. team is still running a solid third without him.
Meanwhile, Paul Whibley found a race to race again. He won an OMA race over Brian Garrahan last weekend.
Our buds from the Vesrah Suzuki amateur team sent us a link to their website, http://www.vesrahsuzukignccamateurs.com/, and also to their team blog, http://gnccamateurs.wordpress.com
And we also found the new official website for 2008 GNCC Youth Bike Champion Steward Baylor. Go to http://offroad.p2profile.com/and you'll find the link.
We just wrapped up the Steele Creek GNCC Bike show, and there's some good, gnarly footage in there. But that race will have to wait, because this weekend GNCC takes a break for the AMA/Air Nautiques Amateur Nationals show from Loretta Lynn Ranch. The Racer TV crew jammed in a lot of stuff in a half hour program. Check it out in our usual Sunday at 2:30 p.m. EST time slot on Versus, with re-airs Monday at 3:30 p.m. and Thursday at 4 p.m.
Finally, we have a new video posted on the main page. We got an email with an idea for a video, and it came true:
Been a GNCC fan for years. Love watching Yokely race.

I like to watch the online video of each race. Whoever does the video should strap a camera to William's RAZR so we can watch the SXSs with the craziest guy out there at the controls.

Give it some thought!!! See you guys in Ohio.

Rick Roubic
Lexington, KY
Well, it turns out our crew already did this! At our UTV race in Pennsylvania, the Racer TV crew strapped a video camera onto William Yokley's National Guard Polaris Ranger and let him have at it. The crew got busy with the Loretta Lynn's show and never edited the footage, and then oddly, a week ago, we got an email from Rick, so they put the footage together. Go check it on the main site and enjoy.
You've got one last weekend. We'll be at the track by this time next week.