Jason Weigandt
Toolbox with .... Aaron Plessinger
Tuesday, August 5, 2008 | 12:00 AM
Aaron Plessinger is the son of two-time GNCC Champion Scott Plessinger. By that alone you should know that he has some talent, but the 12-year-old is proving just as adept at motocross as he is at his dad's old stomping grounds in the woods.  AP just wrapped a successful week at the Air Nautique/AMA Amateur Motocross National Loretta Lynn's Ranch, where he competed with the fastest kids in the world and landed a podium finish in the 85cc (9-11) Stock Class. The once-KTM mounted rider has been picked up by Yamaha, and soon he'll pack his bags to go train at Georgia's prestigious Millsaps Training Facility. The sky's the limit for Aaron. Here's more.
Interview by Jason Weigandt
Photos by David Smith www.racedaypix.com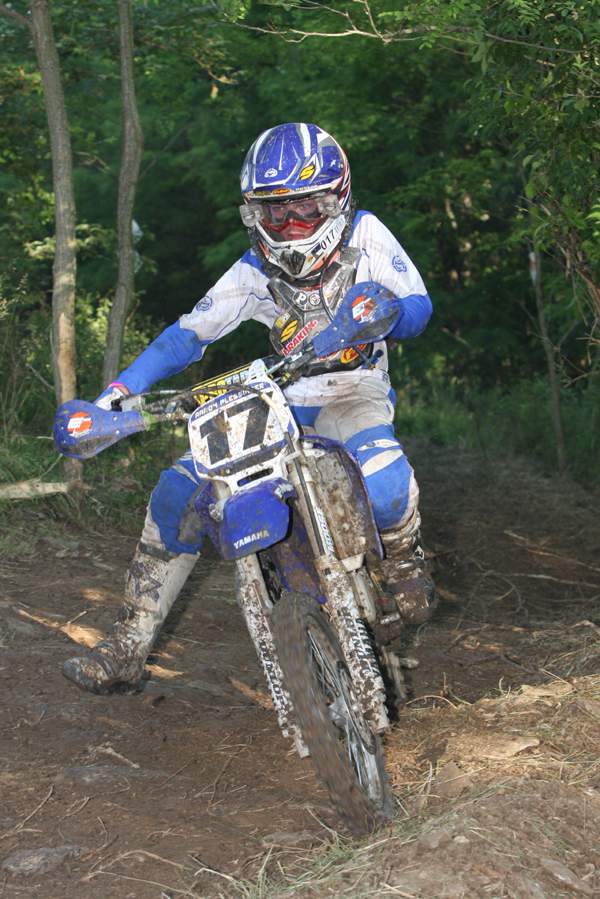 Aaron Plessinger has won all six of the races
he's competed in the GNCC (7-11) 85cc Class.
Racedaypix.com
GNCCRacing.com: Aaron, what are you doing right now?
AP: Walking around.
What do you normally do?
X Box.
Do you have a full on training and riding schedule?
I have a training schedule a little bit. But it's not every day, it's like every other day.
So those other kids at Loretta's, do you think they're training like crazy compared to you, or are you doing as much as them?
I don't know, really. But I'm going to MTF in September.
Wow. Do you have places to ride at home?
I have a track I ride on here that's maybe 20 minutes from the house. But my day, he doesn't get off until 6, so I don't get to ride that much.
At that track, do they have woods or motocross?
Both.
A few years ago, you told me you liked motocross more than the woods. Do you still feel that way?
I don't know. They're both awesome.
So when you move to Millsaps, who goes down there with you?
My sister. My parents will switch off and come down when they can.
From what you know, is that normal? Are there lots of kids down there without their parents?
I don't really know. But I know there are a lot of kids down there.
One thing I do know is they train people super hard. Are you ready for that?
Yeah, it's crazy. Just crazy training and riding all of the time.
At Loretta's this year, you were right there in the hunt. Were you happy?
Yeah, it was crazy. It was cool, but I crashed too many times. I was going pretty good in my first moto until I wrecked, and then my arms cramped up.
So is that your last year in that class?
Yeah it is, now I'm moving to 12-13.
But you'll still do the woods stuff.
Yeah I will.
What's your ultimate plan? Woods or motocross?
I don't even know yet. I'll do both as long as I can.
Your dad, obviously, was a GNCC guy. What does he think of this?
My dad, I don't know, honestly, what he thinks. I started with hare scrambles, but then my dad moved me on to motocross.
When you go riding, does your dad give you tips?
Yeah, he does that a lot and it helps a lot.
What about the Yamaha deal?
That's awesome. They're awesome bikes and I like them a lot, and the people there are cool.
And they're supporting you for motocross and GNCC?
Yeah. Especially Kevin Walker. He helped me a lot.
Wow that's cool. He's a fun guy. (Note: Kevin Walker is the all-time winningest rider at Loretta Lynn's MX, with 13 championships)
Yeah he was really good to me.
So what was your goal for the week down there?
Top three. I guess I rode pretty well, but I crashed too much.
Yeah but you had top-three speed.
I did I guess.
And now that's you're going to MTF?
I'm going to be ready?
So will you have homeschooling when you live down there.
Yeah. I will be there for a year. We will start training in September and just keep training harder and harder and harder, until we get to the last few weeks, when we back it down a bit. So we will train from September now for Loretta's next year.
You ever get tired of it?
I like riding and training all of the time.
In GNCC, you pumped the way things are going?
Yeah, except for when I crash like 50 times! The other times the races have been good.
Are you looking at the overall yet?
I don't know. Maybe next year. I did get a fourth at the last one, so maybe I should look at it, I only needed one more for a podium.
Who do you want to thank?
Yamaha, Dunlop, Factory Connection, Smith, Moose, Sunstar, Braking, Pro Taper, Mom and Dad, Alpinestars, JMS Engines, KK Motorcycle Supply, Monster Energy, Alpinestars, Shoei Helmets and FMF.
You're kicking butt with the sponsors there.
Yeah. Thanks.
Keep in touch. See you at the races.
Okay, bye.