Jason Weigandt
Tuesday Toolbox .... Cheyanne Shadron
Tuesday, July 8, 2008 | 12:00 AM
History has been made, as female racer Cheyanne Shadron took the overall win in the Youth ATV race this weekend. Shadron comes from a true GNCC family, as last year her, her brother, her mom and her dad all raced. Now mom and dad have backed down the racing a bit to help Cheyanne and brother Jay in their Youth pursuits. It's paying off, as Cheyanne is leading the points in the 90cc Limited (12-15) class, and brother Jay is leading the 90cc Modified (8-11) class. And now Cheyanne has an overall win.
Congratulations!
Thank you very much.
Did you think you could do this? Did you think you could win the overall?
Yes. I did an interview with Jennifer Albright earlier, and I stated that my ultimate goal is to get first overall.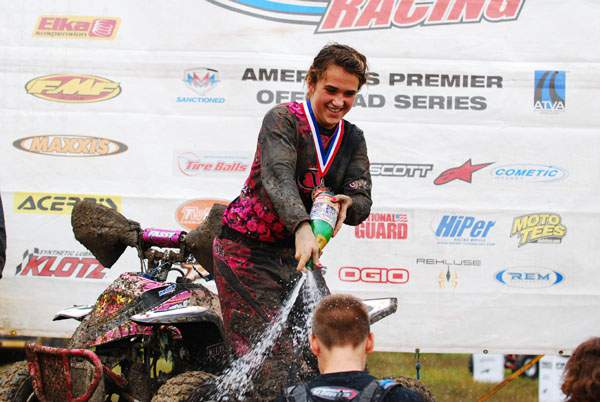 A girl beat the boys for the Youth overall in Pennsylvania.
Amy McConnell photo
XCountry Photos www.quadzonehome.com
What made you think you could do it? Do you look at the Women's class winning the overall in the morning race, or did you think you could just do it based on your own riding?
A little bit of both. I've always looked up to Traci (Cecco) and stuff.
What did it take to do this? How hard have you worked to get this fast?
Our whole family works pretty hard. We work on our quads a lot, and we get to ride at home. We don't even ride our race quads during the week, because we're afraid they're going to break. So we ride Raptor 250s at home, and then the mini quads for the races.
Man, do you just wish you could race the Raptor?
Actually no, I like the mini quads better.
Would it be better to have two youth quads, then?
That might make it better, but it's okay this way.
So how did your whole family get started with this?
My dad started racing cross country three years ago.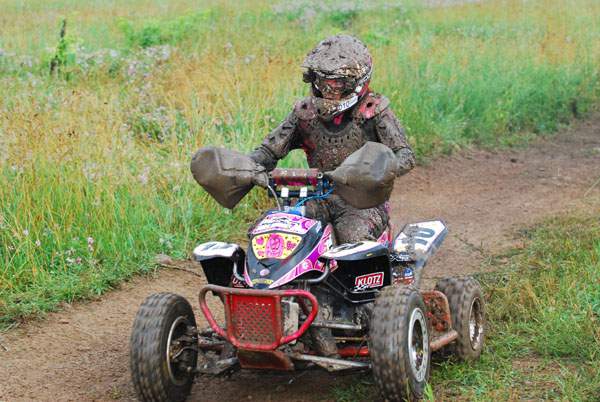 Shadron is leading the points in the 90cc Limited (12-15) Class.
Amy McConnell
XCountry Photos www.quadzonehome.com
Wow, so it's not like your dad has been racing for 20 years.
No. We raced motocross for two years, and then we started doing cross country.
And how did you do when you started?
My brother was five and I was seven. He actually won and I think I finished second in my class.
Wow. Same thing with GNCC?
The first year in GNCC, I raced in the Modified class on the front line on a Polaris Predator. And I was getting like 11th and 12th. We earned 19 and 20 as our numbers the first year.
So over the last few years, you've just learned a lot and gotten faster?
Yeah. It seems like we learn something every time.
So with your brother and you doing so well, it must make for a fun time at the track.
Yeah. The last few races we've both won our classes.
But your mom isn't racing this year?
Yeah, her wrist and her shoulder hurt after last year. Wait, she just told me she is too old!
Nice. What about your dad?
He races the UTVs now. So now it's just me and my brother racing for the quads.
So tell me about racing the Apex. You run them stock and they can win.
Yes. Everything on them is stock except the handlebars and stuff like that.
Stock shocks?
Yup. I actually broke a shock at the last race, I broke it right in half.
But you put stock ones back on there and went racing again.
Yeah.
So how did you get started with Apex?
My friend at school, he raced motocross on one. His uncle was an Apex dealer, and we've always known about them. But I kept telling my parents about my friend who races motocross, and so they decided to buy one.
Did you start going to the line this year thinking "yeah, I can win."Â
Yeah, actually, every time Kristen Atwell says to me before the race, "You're going to do good today," I get on the podium. And she told me that before this one.
Did you know you were in the overall lead? You race Limited so you don't start in the front row.
On the second to last lap, my mom held up a pit board that said second overall. So I just kept pushing.
What is it like to win?
It's amazing. It was the best feeling. I didn't think I would ever win one. Maybe a third or a second, but a win is amazing.
What's your plans for the rest of the year? Maybe race the Raptor at some point?
Well, if I keep doing well and I can wrap it up early, maybe I would race that Schoolboy class at the Ironman.
What's life like with your brother, Jay? Do you ride together during the week? Do you see each other during the races?
Two races ago he came up behind me and stuff and passed me, but this race I lapped him and stuff because he fell over a cliff!
I heard about that. He's okay?
Yeah he's fine.
When you ride at home do you ride together?
Yeah. He's a little faster than me on his Raptor, but we're about the same on our Apexs.
And your dad raced a UTV in Pennsylvania?
Yeah. We watched it and from where we were you could almost see the whole track. It was fun.
It must be fun to have your whole family so into the races.
Yeah it makes it fun. No one ever gets bored.
I hear you have some buddies hanging out at the house right now?
Yeah, Hunter Dalyrimple and Doug Robey. They have their quads here so we're having fun.
What will you do for the summer?
We have some local races that I do on my Raptor.
What grade will you be going into?
I'm going into 9th.
Do people there know what you're doing?
Yeah they always ask where I'm going, and what I'm doing. One weekend I'll miss a Friday for Kentucky, or another time I might for North Carolina. They like it.
Those are long trips. Do you have to miss Fridays a lot?
Yeah. It's pretty cool because most Fridays are test days! So they let me make it up on Monday, so I get three extra days to study.
Do you even really study at the track?
No, not at the track too much but usually on the ride home.
There you go. I just wanted to make sure your teachers who read this know you're trying.
Okay.
Well congratulations on this historic win. Anyone you want to thank?
My mom and dad, my brother, Klotz, Powermadd, Flexx Bars, Greg at Apex, Polaris Yamaha of Dunnegal, Scott Goggles, and Tommy Croftcheck with T and C Welding. He races in Senior B, and he helps a lot with our quads and stuff.
Well whoever is working on them, it's working. Congratulations.
Thanks.