Jason Weigandt
Tuesday Toolbox with .... Amanda Mastin
Tuesday, May 20, 2008 | 12:00 AM
Photos by Hooper
Amanda Mastin is working on yet another GNCC Women's Championship, to go along with her big pile of AMA National Enduro Titles, ISDE Medals and AMA National Hare Scramble Championships. As far as championship hardware goes, Amanda has as much as anyone on the circuit. But did you know she works so much during the week that she barely has time to train or practice? You'll know more once you read this week's Tuesday Toolbox.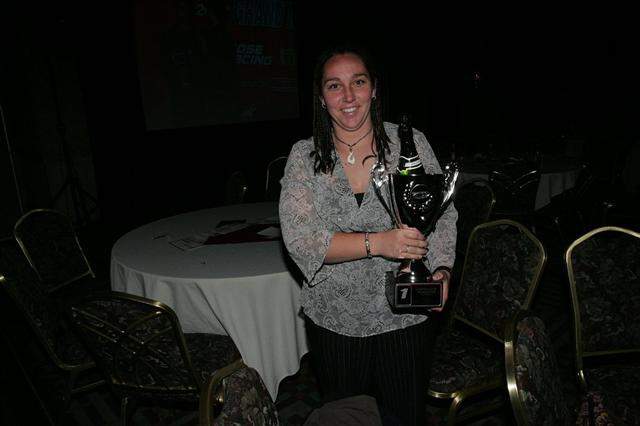 Amanda Mastin.

What are you doing right now?
Just working in the office.
What office is that?
My family runs a business. We do septic service.
That's crazy. So your whole family does this?
Yes. We do a lot of things. In the winter we build the box vans, like the big ones we have, we try to do that in the winter when the other business slows down. We have probably done 10-15 of those throughout the industry. It's tough, we work until Friday night, hop in the rig and go to the races, and then we have to be back at work Monday morning at 8 a.m.
What if you have a race really far away?
We try to break it up. Last year we had a race in Arizona, and my dad drove out and I flew there, and then he flew back and I drove back. We really can't all be gone at the same time. So that's what has happened with the ISDE. We try to alternate each year, I will go and then my brother Cody will go. I went last year, but then he got hurt this year, so I am going to go again. It's all pretty complicated with the ISDE, because your bike has to be in a crate by the 14th of June. That's why I was on the four-stroke at The John Penton. I want to use my 125 at the ISDE, so I need a few weeks to work on it and get it ready for six-days and then get it to that crate. So I'm working on that bike and racing my WR for the rest of the year.
So you literally have one 125, and it has to go.
Yeah especially to cut costs this year, because everything has basically doubled with the price of doing the ISDE. But it's good. I get a chance to really try the four-stroke instead of just playing around on it at home.
You used to ride a YZ250. What happened there?
A few years ago I raced the ISDE and I rented a bike down there, a Gas Gas 200. I didn't get tired the whole time I was there. Then I came back and raced the GNCC at St. Clairsville and I was tired in two laps on my 250. So I realized that bike works better for me.
How did you like the WR250F?
It was great as far as getting traction goes, but with the weight and the mud, I was saying to myself, "I need to start lifting more weights!"Â
You had some competition early in the year with motocrosser Jacqueline Ross (who won the Florida round).
Yeah and that was fun. I really like the competition, and I was hoping Jacqueline would race the whole series. But I guess she's busy with the WMA. Florida is always tough for us because we don't get to ride all winter, and we don't have any sand up here. I knew if we got to Georgia and she beat me there, then I would have to change something, because I know she's more used to the moto.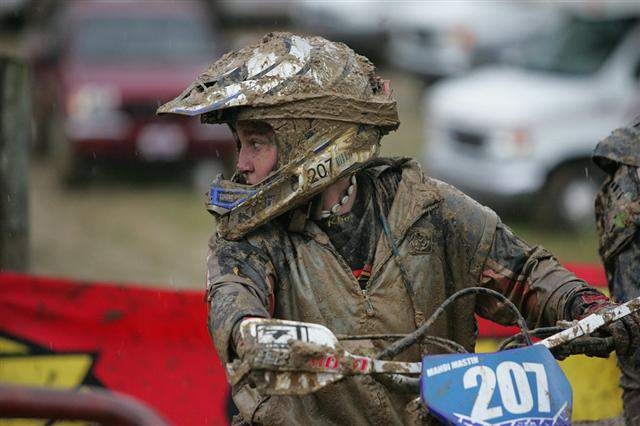 Amanda wrestled a WR250F around in Ohio.
Well you're comfortable now because you've won every race since.
Yeah so I'm happy. I was a little nervous last week because I was new to the four-stroke. It was like last year when I rode a YZ144 at Loretta's and I hated it. I told them "take this kit out, I don't like it." And then my dad tried it and he loved it! Now he's back on the YZ125 this year, I guess they made a few changes to the 2008 and he liked it.
So besides the big races far away, the whole family is usually at the races together.
Yeah. This year, with Cody being hurt, it helps a little bit because he stays at home. And last weekend we had a weekend off and it was great, you get to do house work and yard work and stuff you need to do.
Do you ever get to a Friday where you don't feel like leaving again?
Yeah you do. But honestly, we're here from 8 a.m to 5 or 6 everyday. So when Friday comes around, you want to get out and get on the road to the races, anyway! My family and I, we have a rule where we don't talk about the shop when we're at the races. We try not to talk about the work, because we're away from work and it's time to focus on something else.
And the whole deal with riding, that came from your dad?
My dad, he started riding as a kid, he even rode the Daytona supercross one year and qualified. We started with motocross, and I rode motocross, raced Loretta's a couple of years. I took some time off from racing just to do high school sports and stuff. Then my brother started doing off-road, and one year he made the ISDE and I got to go. I saw it and I loved it. So I came back. Locally and in the district I was always pretty good in motocross, but I had some good crashes. I felt better on the ground, and my knees are shot, so I would rather hit a tree or something with my shoulder than make a big mistake on a jump.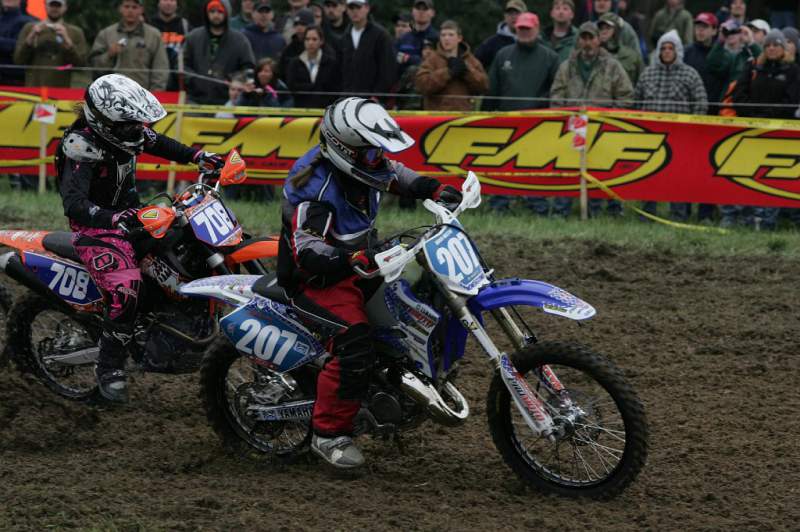 Amanda even grabbed a $100 AXA Advisors Holeshot Award earlier this season.
Last year you were on the GEICO/TDI team, and now you've formed your own squad called Off-Camber Racing. How is that going?
Pretty much what we came up with, the TDI thing wasn't working for me just because I had a lot of my own sponsors that were different than them. My dad and brother were still racing, and Off-Camber Conversions is the name of our company that builds the box vans, so we just decided to start our own team. Then my brother got hurt, so we called Duane Conner to see if he would fill in that spot. Pro Moto Billet and Fastway have really come on board to help this year. We're trying to build it slowly. With my dad, I don't know how much more riding he will do, so we're thinking about some other riders. We talked to John Barber to help him, and now we're already looking to next year. He's not the team officially, because he has a KTM deal and some other deals in place, but we hope to maybe have him as a full team member next year.
So the ISDE, last year you won the Women's Cup, but it was not an official class yet?
Pretty much. Last year it was the Women's World Cup, and we won that trophy and brought it to the AMA. This year it is an official Women's World Trophy. It's going to be harder this year to win the title compared to last year, because it's in Europe so more countries are going to be able to race in Six-Days. We do have a lot of good riders, though. Maria Forsburg was in New Jersey for the qualifier. Noel Allen is good, Lacey Jones was on the team last year, and Nicole Bradford. The talent and ability is there, and now we just have to put it together, regardless of who the three that get to go are.
Do you get to practice during the week?
Not really. We don't do much riding. Tomorrow we may go because a friend found some new trails, but for us, it's usually two hours to any trail riding. So pretty much, I just try to get work outs in, we do some mountain bikes, but again only on park trails because we don't have any mountains. I think that's one thing that keeps me motivated to race, because I don't get to ride during the week, I get to ride on weekends.
Sounds pretty busy.
It is, but we love it.