Jason Weigandt
Quick Fill #15....This Week in GNCC
Thursday, April 10, 2008 | 12:00 AM
Welcome to Quick Fill. We're headed to the Big Buck. Hopefully that means warmer weather than Steele Creek.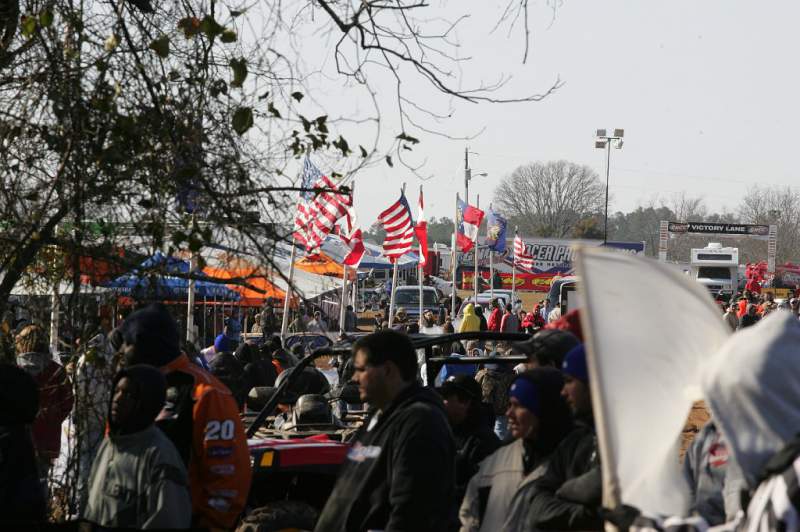 What's with the lines?
Hooper photo
But the weather hasn't been the big trouble this year. The big problem has been the abnormally long sign-up lines. We're trying to figure out why this is happening. Why are the lines slow? We think the bottleneck comes in during the transponder purchase""the AMA lines should be the same as usual and registration should actually be faster thanks to our new screens. The transponder line should be smaller each week just because fewer people will need to buy them each week. But that's not good enough. We are going to streamline the paper work process for transponder purchasing to save time, and we will now have signs over each and every sign up line to help newcomers figure out where to go. We hope it helps. Also, remember that we do not open sign-up until 6 p.m. on Friday. We've actually had that posted on the website all year long, but most of you were probably figuring we still ran the old schedule (we used to open around 4 p.m. or so), so consider this a reminder that a change has been made. Most of our sign-up staff works regular jobs during the week, so we can never count on a full staff being available by Friday afternoon. Instead of promising a time that we may not be able to meet, we're setting a time we know will be consistent each week.
This week's Tuesday Toolbox with Blackwater 100 legend Tommy Norton probably generated more cool emails than any interview we've ever done here. Lot's of great feedback, as Tommy's story brought up a lot of great memories. Here's a sample:
Master's 58+ contender Greg Davis wrote:
Jason, neat story about Tommy Norton. Just for the record books, I raced the first ever Blackwater 100 in 1975.Got second overall to Kevin Lavoie. Kevin was on a 250 Ossa, I was on a 400 Husky.He beat me by 12 or 13 seconds I think.
In any case, Big Dave (Coombs) was the man, he was so creative and so enthusiastic, it was a pleasure knowing him. People have no idea what Dave did for the sport, he was a pioneer.
I used to race MX at Dave's place,( 250 Nationals at Appalachia Lake), and Trans Am Qualifiers back in 1972 or 73, Here I am 35 years later riding the GNCC's and having a blast,it's all because of what Dave started.
--125's rule
Greg Davis
Here's another letter:
I just read the Tuesday Toolbox story on Tommy Norton, and it brought back a lot of fun memories.

I drew #3 at the '90 Blackwater 100, so I was riding with Larry and Tommy on the first lap. I was right behind them when Tommy made the pass for the lead. It happened exactly as Tommy described. While Larry slowed down for the rocks, Tommy gassed it!

But what Tommy never saw was what happened behind him. Larry tried to ride his pace (which only lasted for about a hundred yards), but his bike started pinballing off the rocks, his feet came off of the pegs, and it looked like he was trying to do a Superman. I was waiting for him to crash, but he eventually backed off and let Tommy go. We never saw Tommy again. I finished 8th Overall that day, and that was my best finish in eight tries at Blackwater.

Here's a note concerning the 250 four-strokes finishing high in the Overall standings. I didn't know if you knew this or not, but this is nothing new to GNCC Racing. I'm not one that normally blows his own horn, but back in '92, I had two 5th Overalls in GNCC's on a Honda XR250. One was at Starvation Point in Elizabeth, WV, and the other was at High Point. In fact in the High Point race, I spent most of the day racing with Tommy Norton. The bike was stock except for a SuperTrapp silencer, White Power upside down forks, a stiffer shock spring, Pro Taper handlebars, and a lightened flywheel. The motor was stock. Scott Summers told me that he was so impressed with my finishes on that bike that he did some testing on a XR250, but felt that the bike did have enough power to pull him up any steep hills.

Thanks for the memories,
Gary Roach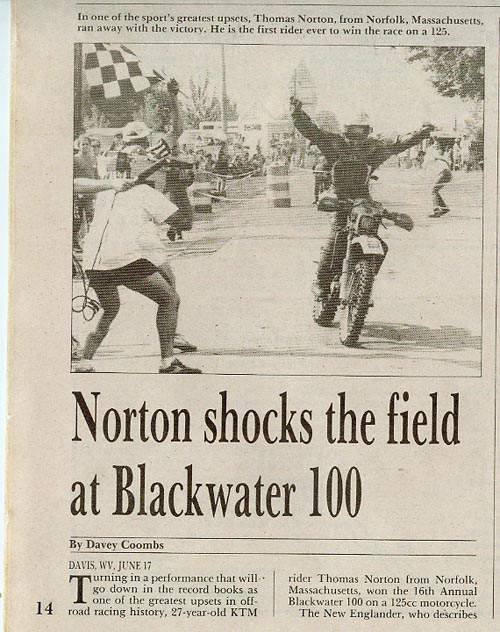 People LOVED the Tommy Norton Tool Box.
And another:
Jerry Randall, the one who hooked Tommy up with the Turtles, owns Valley Motorsports in Northampton,Mass. It's a big shop close to me. I ride out of his shop actually.
Peter Laird was the motorcycle riding co-creator of the Teenaged Mutant Ninja Turtles. He helped out a couple guys I know racing motocross in the early 90's too. They had their box van painted up with all Ninja Turtle stuff on it. Peter was really into bikes, I think he still is now too. When I was working at a Harley shop about 10 years agohe walked in and was checking out the bikes and I was pretty sure it was him but my boss didn't know who he was. He decided to buy a bike pretty quickly and my boss asked him if he needed a credit application and he said no. He whipped out his check book and wrote out a check and paid for it in full! It's nice to be rich!I delivered it to his house and he gave me a tour of his huge barn full of toys, dozens of road bikes, dozens of dirt bikes, an Acura NSX sportscar, etc. He bought a Hummer when they first came out and brought it up to the Lashway brothers privatepracticetrack and was giving people rides around the track in it until he collapsed the suspension and had to have it flat bedded away!
Sorry to ramble on. Your Toolbox story brought back a lot of fond memories.
See ya'
Tom Ferriter
And also, some other Pro wrote to tell us that Tommy may not be the best small-bore GNCC pilot ever: He was good but I did win 7 GNCC's on a 125cc and 6 on a 200cc"¦
Can you guess who that is? Here's a hint:
While we're on the local newspaper kick, here's a story on David Knight from over in the Isle of Man. CLICK HERE
Last week we asked ATV pros what they thought about bringing back the Friday track walk (this year, XC1 ATV riders are not allowed to walk the track on Friday). Well, the pack has spoken and they're voting to keep things as they are. XC1 Pro ATV riders will still be prohibited from walking the track on Friday""all walks must take place on Saturday for XC1 riders. Privateer racers like this rule because they sometimes have trouble getting to the races early on Friday, so this way no one has an advantage over them.
We spoke to Bill Ballance today about this rule, and while we were at it, I asked him what he thought about this weekend's race. He said, "It's time to win." Nice.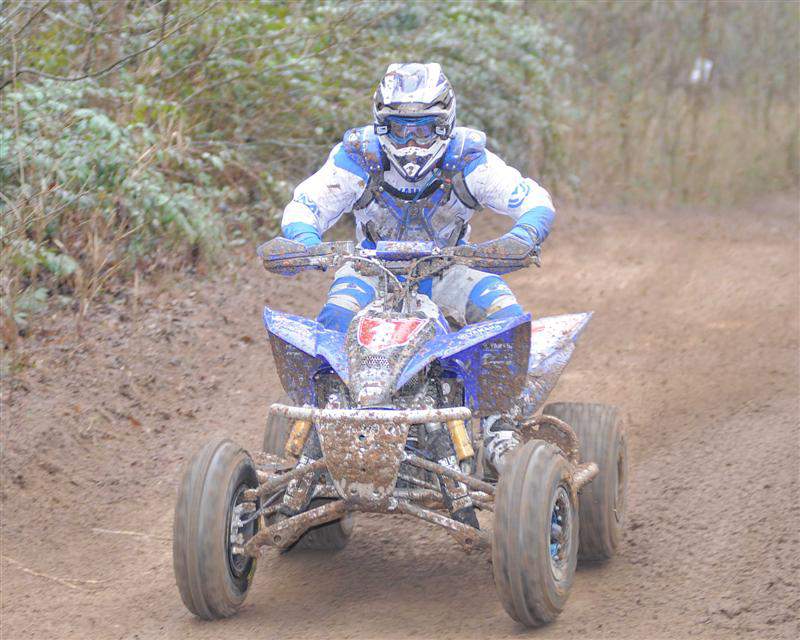 Bill told us today that it's time for a win.
Scearce photo
As for the all the pros, hey, we would really, really, really appreciate it if you wiped down your front number plate while pitting for gas. It REALLY helps us pick out the riders better for TV.
I spent yesterday in Grove City, Pennsylvania working on the latest GNCC DVDs. The Steele Creek DVDs should be available this weekend at the MotoTees truck, so check it out. Racing was good there. Our poor Youth riders (both bike and ATV) had to deal with all kinds of rain and mud. Also, the crew got footage of Charlie Mullins crash on the first lap, which basically killed his race (the whole crash and restart must have cost him two minutes). Charlie crashed a few more times during the race as he tried to mount a comeback, and one wreck jacked his wrist up pretty good. He still went out and raced an OMA last weekend, and he was in some pain. "Hot Rod" got an MRI and found out nothing its broken, he just has a bad sprain, so he will try to tough it out this weekend.

Mullins will try to tough it out this weekend.
Hooper photo


Andrew Matusek was other bike rider who hit the deck at Steele Creek. I talked to the XC2 rookie yesterday: "There was a fire road they ran us down, and I was catching Kailub (Russell) on the last lap. I crashed. I was doing 50-mile an hour acrobatics. Not good! I just caught a rock and went completely sideways, then went the other way."Â

Matusek broke the tip of my ankle when his foot slammed the ground. He spent the last two weeks in Florida getting all kinds of therapy from his trainer, including lazer therapy, pool work, electrical impulse and all. He's going to hop on a bike and give it a go this weekend. His doctor says he'll be in pain, but he should be able to ride.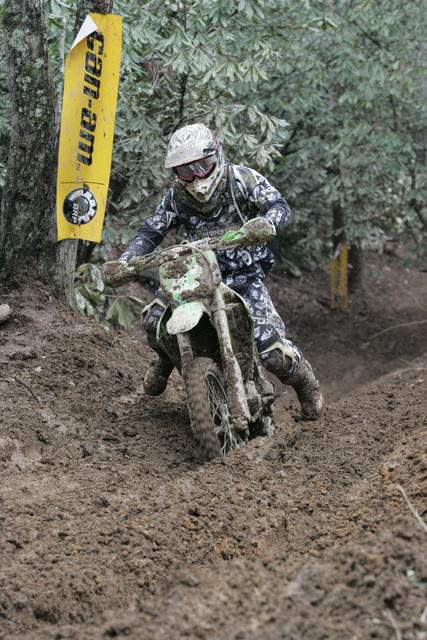 And so will Matusek.
Hooper photo
Also, Walker Fowler will be back in action. Walker twisted his ankle up racing his ATV in Georgia, and the sprain was bad enough to keep him from racing in North Carolina. His doctor has given him the all clear now, so look for him in the Schoolboy ATV class and the bike Four-Stroke A Lites.
As always, Big Buck land owner Henry Turner is all about rolling out the red carpet for his race. Click this link to see what's happening this weekend if you're looking for some off-the-track entertainment.
I was wondering if you could pass on an observation to the "powers that be" regarding common courtesy during the races "¦ especially when it comes to passing. I know it's talked about during the riders meeting, but maybe it needs emphasized a bit more. This year I have had a couple of bad experiences that I have never had before, at least not to this extent.

In Georgia, one of the 4-Stroke-A KTM riders crashed both of us near the end of the last lap. This was after I had let him by a couple minute earlier, but he then he crashed (on his own) about 100 yards later. I went around him, and after a couple minutes had elapsed, I had someone slam in to the side of me and my bike. I had no idea anyone was even behind me! He had evidently taken a different line that led to us meeting back on the trail at the same time. Our bikes were stuck together, but still mostly upright in two different ruts, we were stuck together"¦.. In hindsight, I wish I would have remembered the guy's bike number. Unfortunately, at the time, I was so upset, that I didn't think to do that. Now I'm not saying that he intentionally slammed in to me, it was his obvious attitude of "I'm faster than you, so you need to get out of my way and off my track" that really burned me up.

I've seen both sides of it (both passing and getting passed). When I come up on someone slower, I let them know that I'm there by pulling in the clutch and revving the engine a bit. If the trail opens up even more and they still don't move over, I say something like "hey" . They eventually move over and I thank them as I pass. And when I am being passed, I move over just as soon as the trail conditions allow.

The bottom line is, unless your name is David Knight (or one of the other top riders), there is always someone who is faster than you. So eventually you are going to get passed. And it benefits everyone if some common courtesy is applied to both passing and getting passed.
That's good advice there.
This weekend kicks off our UTV Series. We've been talking about it here for months so there's not really much more to say. Just go out there and race. One change: we had to raise the driver age for the machines to 18 due to insurance concerns. Hope that's not an issue. Passengers still can stick to the 16 and up rule.
And finally, we leave you with this awesome email:
I am thinking of buying a 2007 Bill Ballance Edition YFZ450. I would like to race in GNCC, but I feel there is a problem. This atv looks identical to Ballance's #1 all the way from the same graphics to the red background number one. Since it does have this red back ground number, will that keep me from racing it in the GNCC series since Bill already does? I would hate to buy this atv and have to cover up the number one's and his signature, since he is my favorite rider, but on the other hand i dont want to buy it if I can't race it. Please let me know.
Thank you,
DB
Morganton, NC
That's a hilarious question. Yes it's legal to race that quad, don't worry about the numbers!
Okay gang, that's it, get on down to road to South Carolina. Good luck!
One more laugh:
http://www.youtube.com/watch?v=IXuBI1VgqBI