Jason Weigandt
Quick Fill #14 ... This Week in GNCC
Thursday, April 3, 2008 | 12:00 AM
Welcome to Quick Fill. Don't worry. It will be warmer in South Carolina.
Well, the same weather Gods that brought us snow in Georgia brought us some seriously cold temperatures at Steele Creek, as well. That doesn't bode well for the series, because it seems like once a trend starts, it sticks with us all year. Last year, for example, we didn't have much rain to contend with all season. This year it has been cold and we've had some threats of precipitation at each race""and at Steele Creek, we had full-on rain. Could this be the sign of what's to come? I just can't imagine it will be cold in Yadkinville in June, or Pennsylvania in July. We'll see.
The rain was actually helpful. Last week I talked to Charlie Mullins for an interview on Racer X Online, and he said he had been riding in North Carolina for three weeks, there had been no rain, and whenever he went riding on trails he got dusted out. Well, "Hot Rod" got his wish for rain!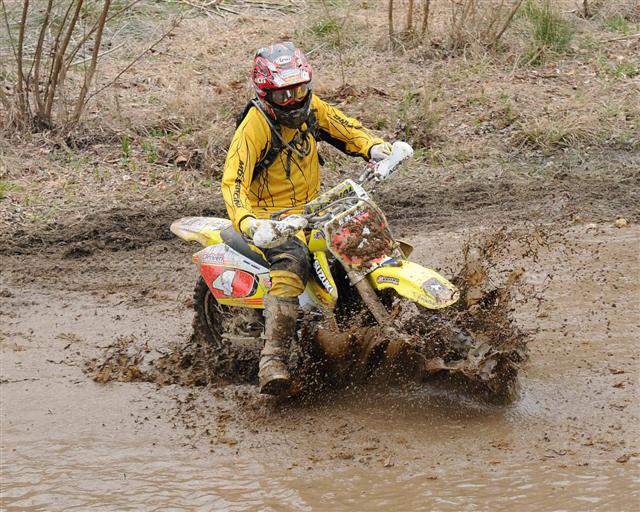 Yeah, there was some mud in North Carolina.
Scearce photo
If you raced in Mullins' race, the 1 p.m. Sunday bike event, the weather was all good, because by then the mud brought on by the rain was gone. It was tacked up perfect for the afternoon bike race. If you raced on Saturday morning, either Youth or Amateur ATV, well, you had it bad. Not unlike Georgia, really.
In that ATV race, Mike Benson looked like he was finally going to break through and get that morning race overall, as he led on the last lap. But it didn't work out due to a crash on that lap. Traci Cecco snuck in there and won it by about a minute in the end. Either way, it was just good to see "˜ole Mike back out there, as the '07 U2 Class Champion didn't race in Florida and Georgia.
Also, Cliffton Beasley and Bryan Buckhannon continued their perfect seasons in the 4x4 Lites and 4x4 Open classes. Good job, boys.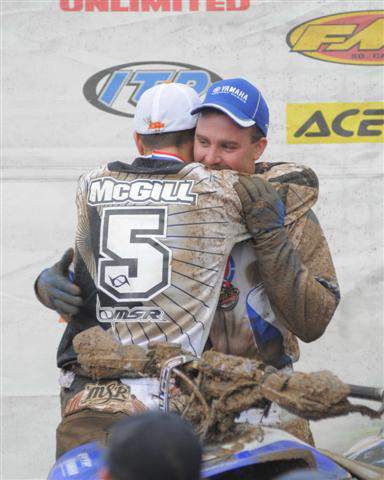 How long will the love last?
Scearce photo

Onto the ATV pro class, and man, what can you say about Adam McGill? He has not only won two in a row, he dominated each time. Now the next test begins. McGill has proven his speed, his skills, his stamina and his machine. What's next is the rapid transformation a rider must go through when he goes from "nice guy everybody likes" to "guy who is beating everyone." It's not the first time we've seen this type of thing happen. I remember when Jason Raines and Barry Hawk started breaking through and winning races on the bike side, other teams and riders were suspicious of how they were doing it. Hawk's first bike win, for example, came at his home track in Taylortown, PA, so everyone was wondering if it was legit. Obviously, it was. McGill surely is the real deal, too. But in general, things are just going to change when you start taking wins and glory and money away from others. That's the next of many tests that lie between here and a GNCC Title. It's early. But damn McGill is going good right now. His teammate Taylor Kiser is second in points, too.

I talked to the master of GNCC pro row gossip, Johnny Gallagher, and he said it was, for some reason, the type of race where everyone seemed to get in a train and not really make up a lot of ground, or lose a lot of ground. Indeed, even looking at the lap times, you'll see the guys tended to stay where they started. No one is really sure why.

In the bike pro class, things looked crazy for a moment when David Knight logged his worst start yet. But it didn't last, somehow the guy was up to third at the end of the first lap. How does he do it?! Barry Hawk stayed in the hunt, but once again it looks like Knight's the man to beat"¦.this after Mullins and Kanney were in a league of their own in Georgia.

What happened to Mullins? I asked him. "It was kind of an everything was bad kind of day. I had a good start but I messed up on a hill and dropped to last," said the Ohio rider. "I worked my way up to fourth in one lap, and then I had a big crash and hurt my wrist. I had to ride the two hours in a lot of pain."Â

Hope he's okay in two weeks.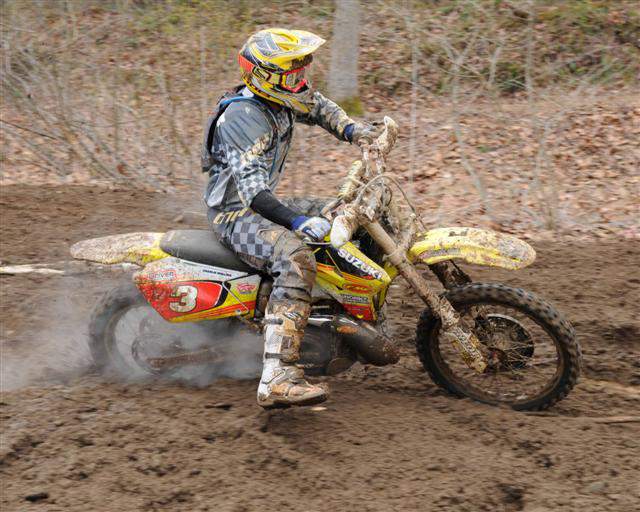 Charlie hurt his wrist on Sunday.
Scearce photo
In bike XC2, it was cool to see Justin Williamson back in the hunt. Apparently Williamson has been struggling with bike set up, so his team just went back to the '07 stuff and it paid off.
"I was feeling good, and then two laps from the end I crashed and hit my head pretty hard," said Williamson when I talked to him. "I rode the last two laps dizzy. Other than that, it was good. I was stoked. My bike felt good and I was comfortable. I'm looking for South Carolina to be good. I know Thad's running good, so I'm not going to say I will win it, but I know I can be up there."Â
Also crashing hard was Andrew Matusek, who was in the hunt for another podium when he crashed out on the last lap. I haven't been able to get hold of Andrew yet, so I hope he's okay.
And how about Thad DuVall? The man (boy?) is dominating right now. I talked to his Am-Pro Team Manager Randy Hawkins about the XC2 class this week, and he made a good point. "Thad was coming through the amateur ranks and spanking everyone," said Hawkins. "He could do some crazy, wild moves and still win. But in that class, he couldn't get away with that. He had to manage those mistakes and manage the race. As you've seen, the guys that are real winners and champions, they can win races when they're not the fastest guy. Rodney and Barry and Freddy could do that. Thad's learned a lot."Â
Thad's teammate Jason Raines is still trying to get his comeback in order. He's not up front like he was back in 2004, but he was looking better later in the race on Sunday, as he was actually riding with DuVall for most of the event. Jason got stuck up to the tank at one point though and lost about two minutes getting out.
Congrats out to Kailub Russell, who fought hard for second in XC2 and got it, his first career pro podium. And Dustin Gibson has gone 3-3-3 in the first three races. Along with DuVall and Russell, we have had some stout GNCC Youth graduates lately, including Cory Buttrick who finished in 10th overall while winning the Four-Stroke Lites A class. And while we're talking A riders, the legendary Joe "Dirt" is three for three in the Open A class. Hawkins told me that no one worked harder in the pre-season than Joe, and he's really happy with his riding.
Be sure also to check our breaking news list on the main for race reports from the Red Bull KTM team, and riders like Paul Whibley and Jesse Robinson.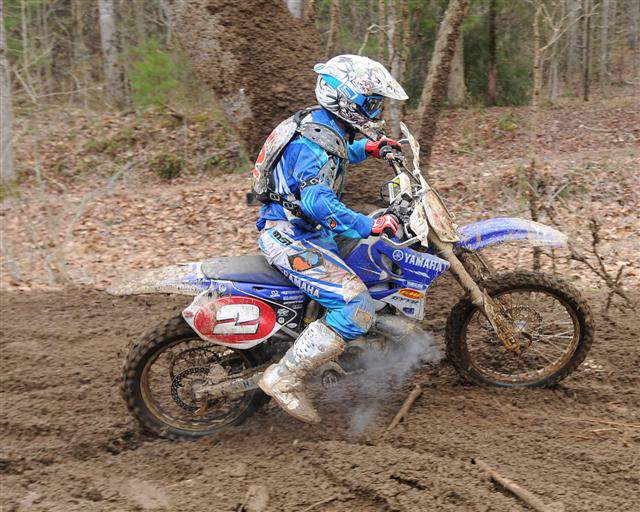 Times change but one thing doesn't: Barry Hawk up front at a GNCC.
Scearce photo
Next stop on the tour is the Big Buck GNCC, and the landowner there, Henry Turner, is about as big a fan of GNCC Racing as there is on this planet. The guy doesn't just open his land to us and say "go for it." No way. He pounds the pavement, whips the local community into action, gets the local TV stations and newspapers involved, and on it goes. Here's his latest:
Hi Jason,
I have read the article about high fuel costs and the carpooling. Those racers who are planning to overnight at the local motels can save the cost of a tank of gas if they check out the Union motels listed on www.bigbuckracing.comunder "Accommodations". Simply put, three motels list rooms from $35-$45+tax and two others from $55-$64+tax.
Thanks for getting the word out.
See you soon.
Henry Turner
Also, Mandi Mastin emailed this week to tell us that her team's new website,
www.teamoffcamber.com has been launched.
Attention pro ATV racers: This year we changed the GNCC rulebook to prohibit pro riders from walking the track on Friday. It was designed to mimic a rule we've had for the bike riders for a few years now. Unfortunately, we may need to make a change. A few ATV pros have said it's virtually impossible for them to walk the track on Saturday because of fan, media and general PR obligations. For sure, we want to make sure the riders can hang in the pro pits and sign autographs for the fans. For bike riders, they can sign autographs on Saturday, or do media work on Saturday, and generally get their PR out of the way then. ATV riders don't have that option since Friday isn't a full day. So we're considering opening the track back up to the pros for walking again on Friday. If you're a pro ATV rider and have an opinion either way, email us: [email protected]
We've mentioned this plenty of times here before, but UTV Racing is coming to the Big Buck. We'll race for one hour and do our best to start by 4:30. Teams are starting to get established. I hear William Yokley will race a Polaris RZR. Good for him. Everyone was pumped on Yokley getting a podium at Steele Creek. One insider told me that Yokley was riding with a bunch of other pros recently and wasn't exactly setting the world on fire speed wise. But then when the race comes, suddenly he's right in there. You can't measure heart. Same with Matt Smiley, who just keeps on chugging and finished fourth. Matt's had a great season so far, and he always gets stronger as the year goes on. As my man Rodney Tomblin said on the podium on Saturday, it was like a GNCC four years ago seeing Ballance, Yokley and Smiley battling.

Yokley back on the podium!
Scearce photo

Back to the UTVs. Santo DeRisi is going to race one with Bryan Cook in the passenger seat. Jim Lewis, one of the veteran wrenches in the game, is preparing one. Jorge Cuartas, who runs ATV Motocross' Media All-Stars team, is racing. I also got an email from Neil Belcher with these photos of a killer-looking RZR. This could be really, really big.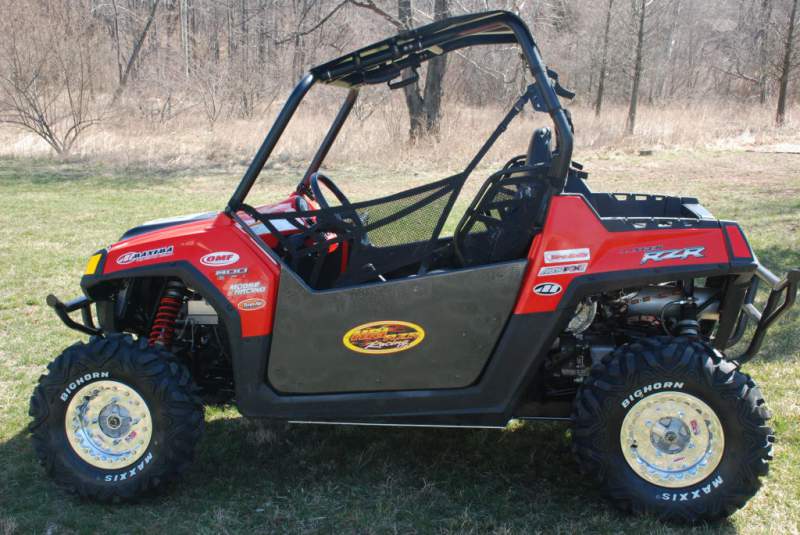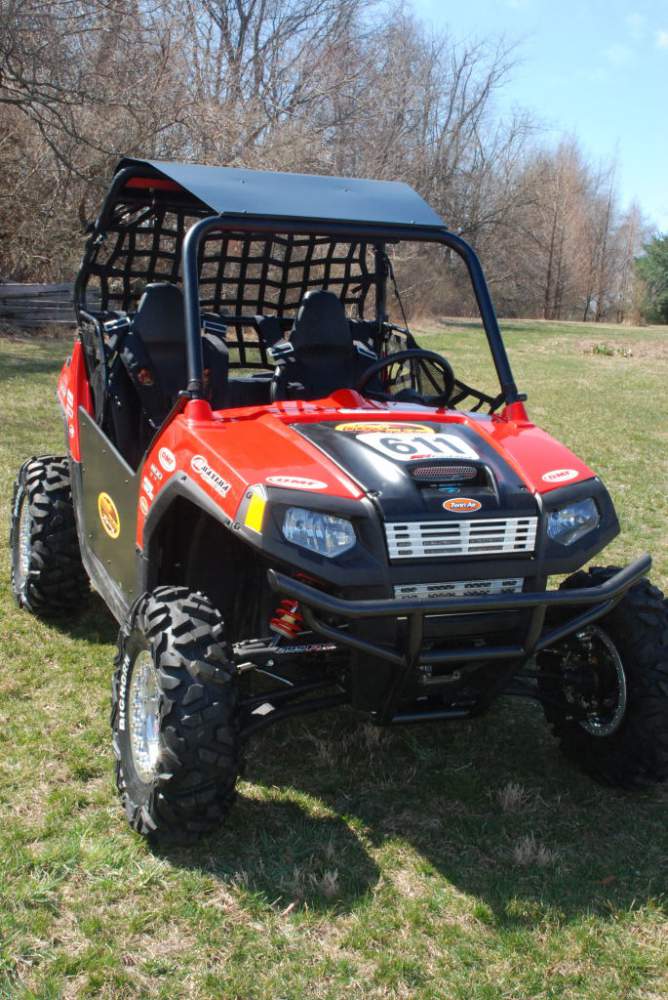 Neil Belcher's super clean RZR.
Well, that's it for Quick Fill this week. We'll be back and ready for the Big Buck next Thursday. Happy travels!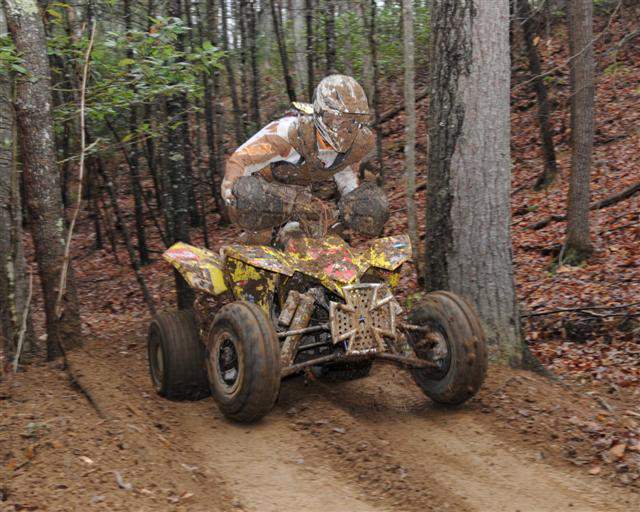 Chris Borich just couldn't make up a ton of ground on everyone this time. Can he turn it around?
Scearce photo