Jason Weigandt
Quick Fill #12 .... This Week in GNCC
Thursday, March 20, 2008 | 12:00 AM
Welcome to Quick Fill. Happy Easter in advance to everyone.
We had a big meeting here yesterday in the Morgantown office to review everything that went right and wrong in Florida and Georgia, all in the hopes of doing things better in North Carolina next weekend. We've got all of this new stuff this year and we're determined to get it right""like cutting back on those long signup lines. We will make it happen. We have to. Rita Coombs said she's coming to North Carolina no matter what so we had better be ready!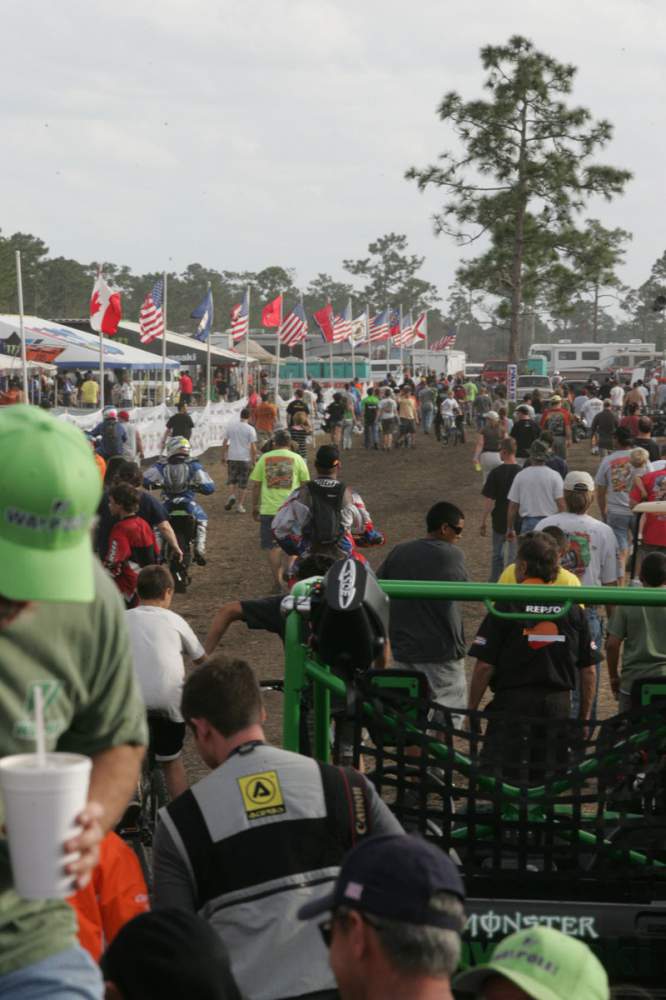 Big crowds hopefully won't mean long
lines in N.C.
Hooper photo

We're looking forward to a good race next weekend. The terrain in Steele Creek is always perfect, a lot of great riders come from nearby, and the town and surrounding community keeps getting more and more involved with the event. Just make sure to dress warm because it gets super cold there at night.

For the last few weeks, we've had people calling and emailing about sharing rides to the GNCC races. Have you checked gas prices lately? So we're working on a new ride share program on this site, we'll call it the Hitchhikers Guide to GNCC. We'll try to get it set up next week, but it's more realistic to think we'll have it going for round four, the Big Buck. It will probably be a really simple forum where people can post their info and get in touch with each other so they can share rides and split gas costs. To all of you that asked for this, thanks for letting us know!

The UTV information just keeps on flooding in, too. We'll be racing them Saturday at 4 p.m. at the Big Buck GNCC in South Carolina on April 12th. Once again, tell your friends that the Limited class is designed with rules that make machines more durable, and not faster. Aftermarket CDI boxes and clutch kits are not legal in that class. Exhaust and air box mods are legal, because from what we're hearing, they don't do much for performance, especially since we're not modifying the CDI or the clutch. So think of the rule of thumb this way: if you're making the machine faster or you're improving the suspension or handling, you're racing the Production class and not the Limited class.

Also, we have a 16-year-old age minimum for drivers and passengers in the UTV race.

While cruising through the Quad Zone site (http://www.quadzone.com/) I found a cool post from a new racer asking advice on GNCC racing. Click here to read.

Also, we found some fun Triton GNCC photos on the Quad Zone as well. Click here.

Meanwhile, over at ATVRiders.com, we found a cool story on KTMs new Tim-Farr led GNCC race team. Click here.

While the GNCC world is off from racing this weekend, there will still be some four-wheeled battling going on with the second round of the AMA Pro ATV Championship, part of the ITP/Moose Racing ATVA National MX Series. Suzuki's Dustin Wimmer won round one of the tour at California's Glen Helen Raceway, but there's some major competition from the Warnert/Can-Am team that's dialing in their motocross DS450, and the Monster Energy/Kawasaki boys look strong, too. Go to http://www.atvmotocross.com/for results and info on the event in Pell City.

Bad news from one of the future stars of this series, who got hurt in Florida at the Triton.

Hey ya'll. This is Scott McClure. I suffered a shattered wrist and brokeelbow about a mile into the race on Tuesday. I will be getting an external fixator on my wrist and probably a new head for my radius at my elbow. Looks like I will be out for the rest of the season. Hope to keep in touch with more updates
-Scott McClure#27

That's a bummer.

Bike racers had some racing going on last weekend. The Mid-East Series had a race up in North Carolina, not far from Steele Creek. Here's a press release from the Master Tech/Maxxis/Monster Kawasaki team (Jesse Robinson)

Buren Hamrick always tries to mimic the conditions of an upcoming GNCC and without question the Rock House race is the perfect place for racers to get a feel for the Steel Creek race next week. As a lot of the top riders migrate north, the Morganton/Hickory area seems to be the place of choice. With plenty of talent in the area the stage was set for a good race. Nate Kanney, who was also in the area, planned to attend but a broken rear shock on Saturday sent him back down to Atlanta for repairs.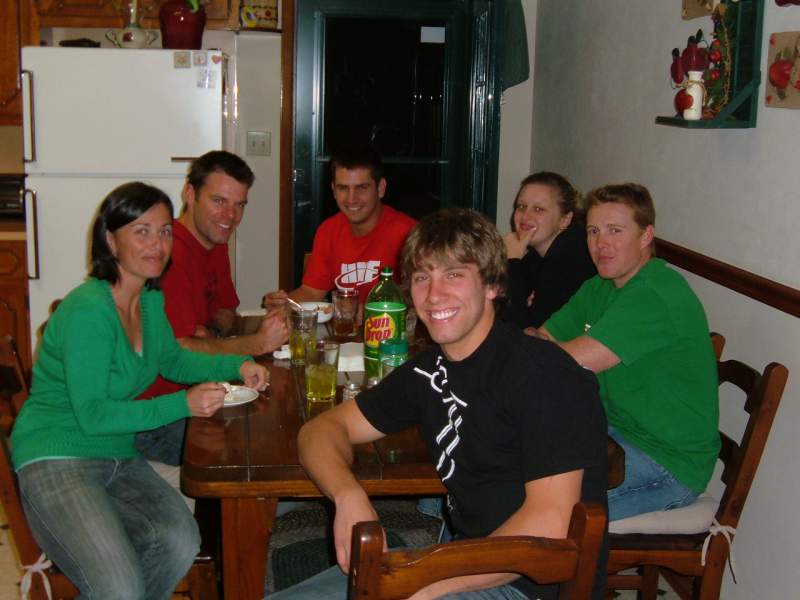 Whibs, Kearney and Mullins all hung out for dinner at the Robinson house.
Team Suzuki was out in strong force Sunday as Charlie Mullins grabbed the holeshot with Paul Whibley and Jesse Robinson in hot pursuit. At the end of lap 1, Mullins was 33 seconds ahead of Whibley and Whibley 33 seconds ahead of Robinson. Mullins, looking strong, pulled just over a minute ahead after lap 2 while Robinson made up a few seconds on Whibley.The beginning oflap four got interesting as it was left up to the girls in the pits to get their rider in and out as quickly as possible. Catherine (Whibley) and Rachel (Mullins) did a great job, but Robinson skipped his pit altogether. Whibley and Robinson were now catching Mullins. The decision for Robinson to go all the way with no pit was scraped as the roost off of Whibley's RMZ450 was too much and forced Robinson in for goggles and a splash of gas. Whibley, known for his last lap stamina, was on the throttle as he pulled within 18 seconds of Mullins with less than a lap to go. The FMF/ SUZUKI Team goes 1-2 as Mullins takes the checkered flag with Whibley 30 seconds behind and the MAXXIS TIRE/ HMF/OHLINS/ MONSTER ENERGY KAWASAKI of Robinson finishing third, 1:00 behind Whibley. Kailub Russell finished 4th after a first turn crash while Glen Kearney rounded out the top five. Louwrens and Kenny, the South African team, finished sixth and seventh.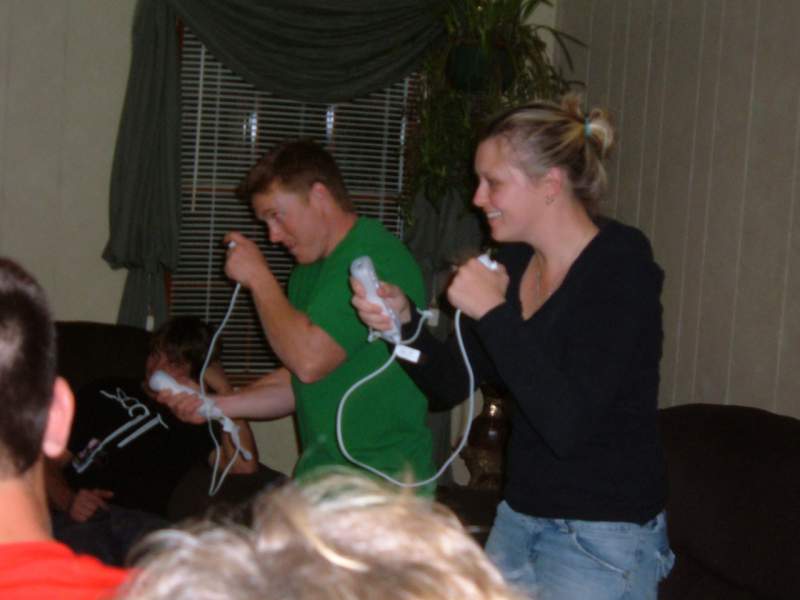 Kearney working on his skills on the Wii.
Sounds like some great racing there!
Also the FMF Racing National Enduro Series was back in action in Louisiana. The Red Bull KTM duo of Mike Lafferty and Russ Bobbitt proved just how tough they are by going 1-2 even though both were riding hurt from some rough luck as of late. Am-Pro Yamaha's Jason Raines showed up hoping to score some big points since the Orangemen were less that 100 percent, but he broke a piston while riding down to the starting line and never even got to race. Jason told me it made for a long 14-hour drive back to South Carolina.
We owe the XC2 classes some love after the races in Georgia. On bikes, what more can you say about Thad DuVall besides the fact that he's killing it right now? He's on fire, overcoming a big crash early in Georgia to win by a few minutes. A week earlier in Florida, I was out watching Thad on the practice track and he was pinning it. European off-road journalist Jonty Edmunds saw Thad riding and said, "Well, you can see that Yamaha doesn't need to be too bummed about losing Mullins."Â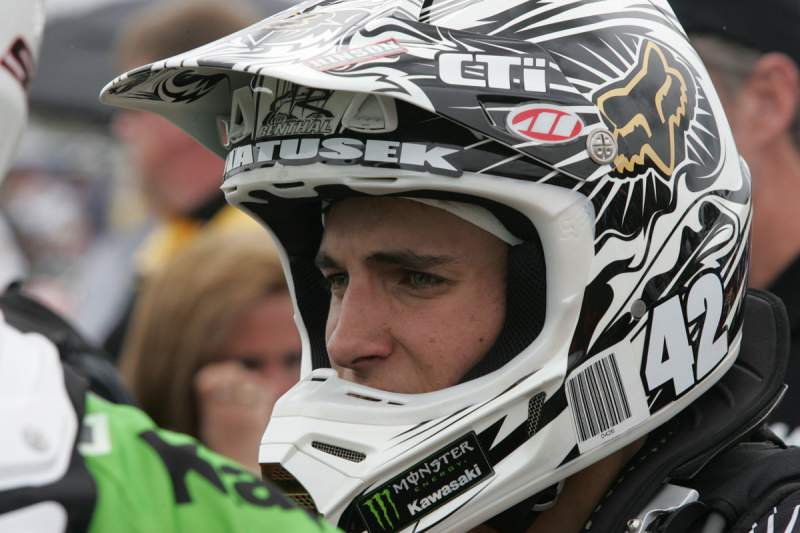 Andrew Matusek has been very strong so far in XC2.
Hooper photo

But while Thad has been the fast guy in the XC2 class, we all know he's only one crash away from throwing it all away. That's where the consistency of the other riders comes in. I've been way, way impressed with Monster Energy/Kawasaki's Andrew Matusek, who has a fourth and a second in his first two races ever in that class. Matusek has been a star in waiting for a long time now, and he's proving why with two great debut rides. He's gotta' figure out how to get better starts though!

Also, Fred Andrews is thrilled with the way his Monster Energy/Andrews' Yamaha boys have performed. Dustin Gibson has two podiums in two races, and Josh Weisenfels almost won the race in Florida, and then managed fifth in Georgia despite being very, very sick. An hour before the Georgia race began, "Seinfeld" told me he would not be able to do more than two laps. He did more than that""he came from a first-turn pileup (with his teammate Gibson) to get that fifth.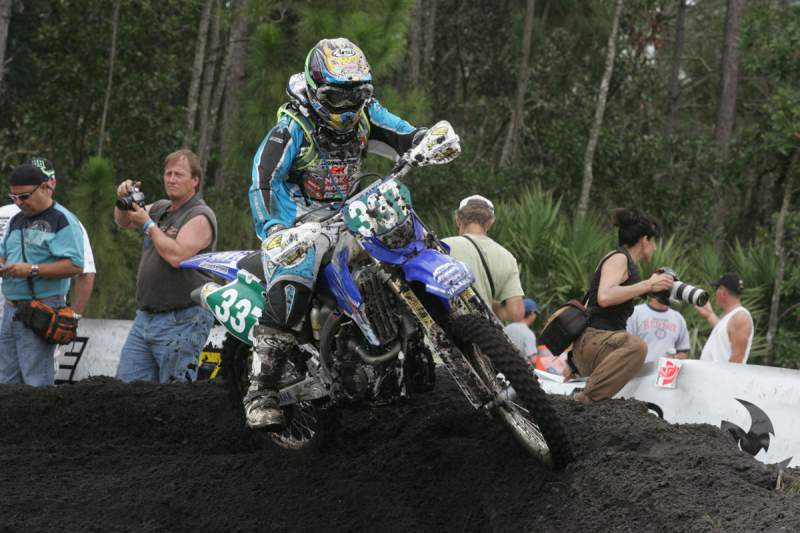 Koikeda told me he liked Georgia better than Florida.
"Japan not much sand."
Hooper photo

Also, kudos to Japanese National Motocross Champion Takeshi Koikeda. TK raced that JNCC race in Japan and beat Jason Raines and Rodney Smith, so he had some confidence and decide to race GNCC. Raines and the Am-Pro Yamaha team tried to guide him along, but TK got way lost on the drive from Florida to South Carolina. Then he followed me and the boys in the Scott rig to the airport on Sunday after the Georgia race. He didn't want to follow us but I told him he had no choice. TK speaks little English, so if he gets lost he's in trouble. When he called Raines for South Carolina directions, he had to spell out where he was (S-U-N-O-C-O), and then Raines said "okay go inside and put the worker on the phone." Then Jason gave the worker directions and then he handed them to TK!

The racing went better than the driving, though, as TK took a fifth and a seventh in XC2. Now he's back in California doing motocross training with Jim Holley.

All in all it should be a great season in XC2, but there's one question out there. What's up with Justin Williamson?

In ATV XC2, it's on this year. Between David Crane, Don Ockerman, Mark Nottman, Brian Wolf, Josh Kirkland, Tyler Lenig, heck even the veteran Curtis Crump looks fast. And I bet we'll see some names we haven't heard of yet working their way up through the ranks.

In Youth Racing, the bike division may just become the domain of Steward Baylor. Steward has come a long way from the super ridiculously polite kid back in the day who answered every podium question with "Yessir" and "No sir." He's still nice but now he's grown up and super fast. We'll see if Zach Nolan, AJ Stewart, Derek Shaw, Ryan Lojak or someone else can reel him in this year. Or maybe the next star will come from a younger class. Aaron Plessinger has been railing in the 85cc (7-11) division, he's been the top finishing 85cc rider overall at the first two races, and he's in the youngest age group.

On ATVs in Youth Racing, Josh Merritt established himself with a great ride and overall win in Georgia (he skipped Florida). But Seth Mumford has been up front in Youth ATV racing since the day we started doing it, watch out for him. The four-stroke kids in the Modified (12-15) class are going strong, too, with Logan Fluharty and Austin Findley taking wins. And watch for the young kid in that group, Ryan Earley.

Here's an email:

Brad Bakken. I'm a little curious who this kid is. He passed me in the Sumter Enduro
like I was standing still and I have been told he is only 16. Any chance someone can post a little about this kid since he is ranked 7th overall in the FMF National Enduro Series and second in GNCC 250A?

Cheers,
DJ Crow

Good question, DJ. Anyone know anything about Brad Bakken? (Besides the fact that his nickname will inevitably become "Bad Brad" ).

Okay folks. That's it for Quick Fill this week. Happy Easter!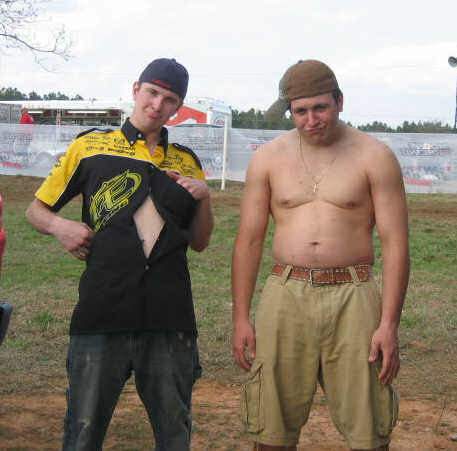 Before they were stars.