Jason Weigandt
Quick Fill #11 .... This Week in GNCC
Thursday, March 13, 2008 | 12:00 AM
Welcome to Quick Fill. The transponders worked.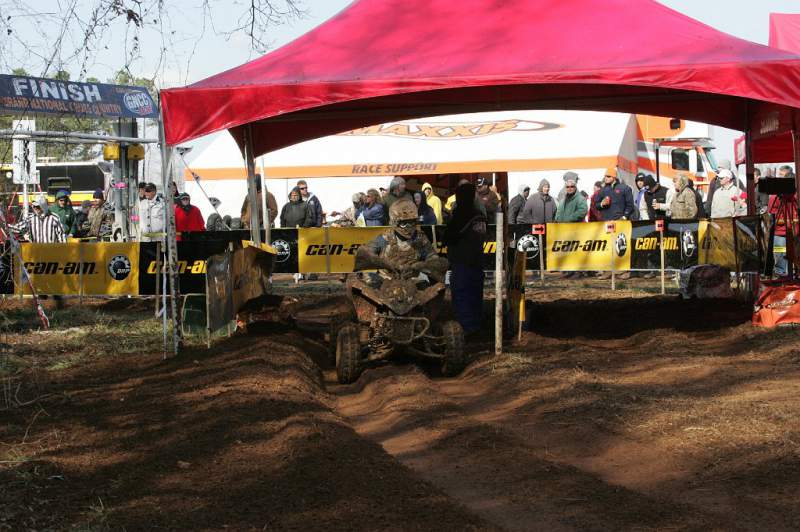 We had no issues at all with transponder scoring.
Hooper photo
Throughout the first two rounds of the series, we had many things go right and many things go wrong, but we do want everyone to know that the transponders we now use for scoring were as close to 100 percent accurate as they can be. Yes, we had some troubles with results and rider numbers and scoring and live timing, but that was not the fault of transponders. In the interest of full disclosure, here's a general idea of the problems we had:
The new registration kiosks worked awesome, except they didn't like ATVA cards. All of the testing with the kiosks had been done with AMA cards and even though the AMA cards and ATVA cards are supposed to be the same, they apparently aren't""each ATVA number has an "A" in front of the number and that drove the system hay wire. Also, the system had a tough time when riders who raced in the AM races last year signed up for the PM races this year. The only way to fix this quickly for Florida was to go back to hand entering riders and giving them different numbers. By then, the registration software had already been driven a little batty, but everything seemed to be fixed until we turned on the live timing and scoring. These programs really didn't jive and we ended up having to shut the live internet scoring down before it shut down everything else.
These were small software issues and the crew worked hard between Florida and Georgia to dial them in. Everything pretty much worked properly with the live results in Georgia""Sunday's bike race went perfectly for those looking on the web.
We did have some results troubles in Georgia, but this wasn't due to transponders or computers. That was due to bottlenecks. In the ATV race, one bottleneck got really big and riders ended up going way, way outside to get around it and found themselves on the wrong part of the track. You have to be careful around bottlenecks, gang! Luckily, we not only have transponders at the finish, we have them in the woods at two checkpoints, so we were able to figure out who had short laps, who had long laps and who had laps that were just right. It took awhile to sort through it, but we got it all fixed. Sorry for the delay on awards. But rest assured any of the issues we had at the races, either odd numbers, delayed results or live timing and scoring issues, were not due to transponders. They work.

A lot of people braved the cold in Georgia.
Hooper photo
For North Carolina, everything should gel. The kiosks and the software that runs them will be ready for AM and PM riders, ATVA and AMA cards and whatever else is coming, and that software will talk to the scoring software so everyone will be entered properly. Hopefully we won't have any giant bottlenecks, and we know the transponders work so we're looking at the perfect event there. Tune in the live timing and scoring and we'll see!
We're determined to get this all right. We were taking a chance trying to go to the next level with transponders and kiosk registration, but we want to keep pushing the sport forward""even at times when people are talking about a shrinking economy. We want GNCC Racing to be stronger than ever, and we've made an investment to make it happen. It cost A LOT of money to bring in this new technology. How much? Each new software programs cost, well, lets just say you could buy a nice new car for the same amount of money. Same for the satellite we purchased to get the internet at the track. Same for all of the new computers and kiosks we had to buy. Then we hired new staff to manage it all. All the extra bandwidth the website uses after adding live timing and scoring and new weekly videos adds up to another nice car. Add that all up and you're looking at the price of several new cars, or, the price of one really, really nice one (maybe Porsche 911 Turbo money""have you ever priced one of those?). I had a gentleman email me this week saying we raised the gate fee $3 and he knows he will never see any of that money. Trust me, we already spent it and you're already seeing it.
We're less than a month away from our next big project: UTV racing at the Pirelli Big Buck GNCC in Union, South Carolina! We're getting flooded with calls and emails about this, and it appears that a lot of those that will be racing are newcomers to the series, and they don't quite understand some of the basic rules. So, if you know someone who is thinking of racing a Rhino or RZR in South Carolina, tell them these basics:
Limited classes mean Limited Modifications. It's close to a stock class, but we let you change things for durability purposes: tires, wheels, skid plates and bumpers. A lot of people have already put intake and exhaust stuff on their Rhinos, so we'll let that go in this class (sadly for those that spent money on exhaust work on a Rhino, we've heard it doesn't even add any power). But you must NOT have an aftermarket CDI box, because they provide a huge boost in top speed and that's a major advantage.
The Production classes are modified classes. Anything goes, but you have to use a machine based on a production side-by-side. No custom-built tube frame race buggies.
Everyone is asking what width we're building the tracks. We don't know because we haven't built it yet! A stock Rhino is just under 55 inches wide. 60 inches would probably work, anything more than that and you'll have to take some bad lines in some sections just to get around.
Drivers and passengers must be 16 years of age or older.
That's it.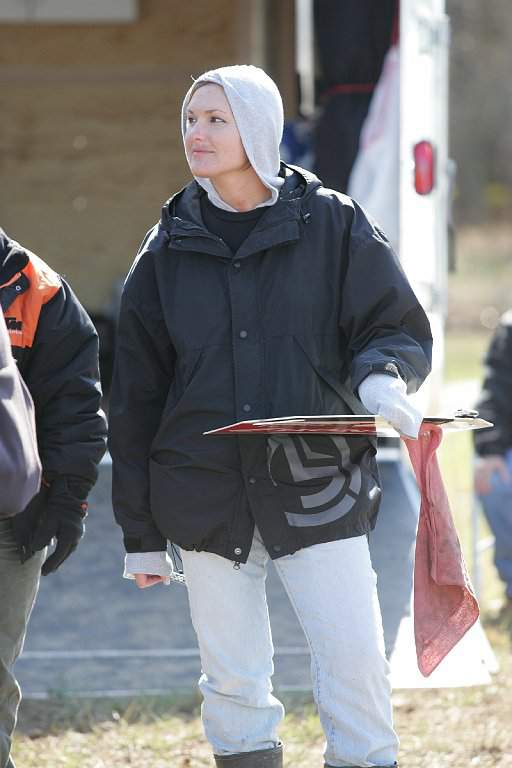 Bonnie Cook is happy that her husband
Bryan is right in the points chase.
Hooper photo

So let's talk about the Maxxis General GNCC in Georgia. On Saturday we were greeted by some of the worst weather of all time. I drove up to the track with the Scott Goggle guys after the Daytona Supercross on Friday night. We got to the track at about 5 a.m. We opened the door. We realized it was about 30 degrees out and snowing. We all took a long nap.

The weather didn't really get warmer, and I give credit to the families and pit crews who hung out there all day. Riders get warm from riding. Mom and dad in the pits""well, they were just plain cold.

The Women's ATV class, ironically, is heating up, with Traci Cecco wrestling an overall win away from Angel Atwell and the rejuvenated Steph Parton. Now that Parton is on a Yamaha and Atwell is on a Honda, all three ladies are capable of winning races. It's going to be a great season. I was especially pumped to see Parton back up there. A few years ago she used to own the podium. In fact, we used to joke that she could write an owners manual on how to uncork champagne, because it seemed like every week she would be up there showing some new kid in the Four-Stroke Stock class how it was done. In '04 she was up there in more than half of the races, and that Stock class she had to beat was stacked! Now Steph keeps saying this will be her last season, but if she keeps riding well, I'm not so sure it will be.

As for the PM race, how crazy is it that Ballance and Borich DNFed the same race? Here's some trivia. When was the last time neither Ballance nor Borich led the overall ATV points? Scroll to the bottom for the answer.

Ballance had electrical problems. In fact, his machine was dead by the time the pack first hit the woods on the first lap, and our own Jeff Russell found Ballance just sitting there unable to get his machine started""the next two rows of riders went past by the time Bill got the machine running.

Then Borich had troubles on the first lap with a crash, put in a big charge from behind, and then hit something hard enough to smash his whole rear end assembly and break a chain.

Of course, with the Killer B's out of the race, it's hard to judge just how fast the rest of the ATV pack is, but with Adam McGill winning the race by some six minutes, I think it's pretty safe to say he would have won this one no matter who was out there. Six minutes! Barry Hawk told me he won a race at Elkins once by that much, but that's about it. McGill's win is one of the most dominant we've ever, ever seen. Then his teammate finished second! Those KTMs run!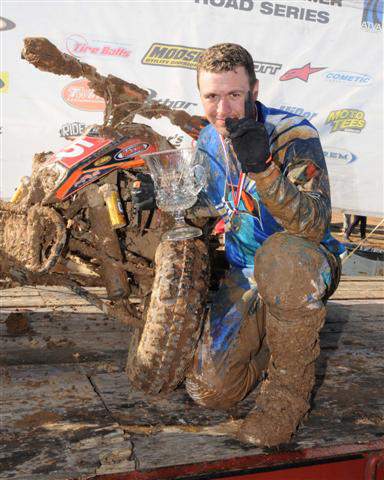 Yeah, he was number 1 for sure.
Scearce photo

This wasn't lost on David Knight, who told me on Sunday that "with those boys winning by six minutes, I'm gonna' have to try to do the same here or I'm going to look bad." I told Knighter he had to win the race by nine minutes to match McGill because he has a three hour race. He laughed. Then I asked if he would race the KTM ATV at some point, and he said he absolutely, positively wants to and plans to. He wants to do it bad. That will be awesome!

But, uh, Knight not only didn't win the bike race by nine minutes, he actually didn't win it at all, because Charlie Mullins and Nathan Kanney were on the same rail McGill must have been on. Mullins crossed nearly four minutes ahead of Knighter. This bodes well for a long, fun championship fight. After Florida, it looked like we were in for a Knighter romp, but now we can believe the off-season rumors that Mullins would be ready to fight him. And Nathan Kanney will be right there. He showed super speed in Florida and Georgia, and he's just getting warmed up. Nate hasn't raced a GNCC since November 2006, and he always gets better when the tracks are more technical. He was fast in the sand and clay, and he will be even better in the mud and rocks.

I'll talk XC2 next week.

Hey, did anyone see Barry Hawk with his Racer X holeshot award? Hawk hasn't gotten a holeshot in so long he didn't even know we had a holeshot award. By the time he figured it out and came up to the podium to get it, he had already changed and showered and no one was around. I think someone shot the photo with a cell phone camera. If you have the pic, send it.

How hard did the riders push in Florida? Garrett Edmisten and Josh Weisenfels both caught the flu after the race because they drained their bodies so bad. Both said if they had to race on Saturday in Georgia, they just would not have been able to. Crazy.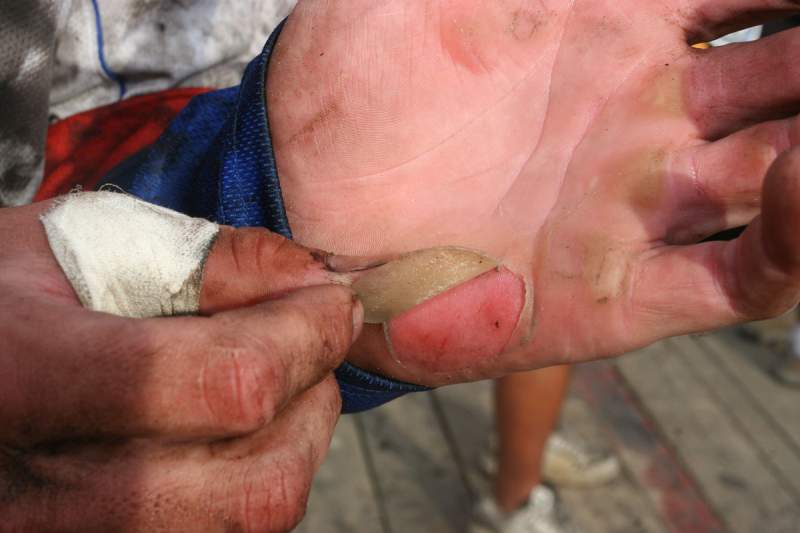 This was the blister on Garrett Edmisten's hand.
Hooper photo

Russell Bobbitt, the 2006 AMA National Enduro Champion, raced in Georgia and was strong in the early laps, just like enduro guys always are. He was hanging tough late in the race before suffering a massive get off coming around the back of the pits. At that point, the riders are tapped in third gear and going for fourth, so they're flying. Russell was knocked out after going over the bars, but he's pretty much okay now. He even came back to the track Sunday night to get his stuff. Tough kid. With Mike Lafferty suffering a hand injury right now Russell needs to go Enduro racing this weekend in Alabama and try to go for the title. I also hear Jason Raines is considering racing the whole series.

Let's congratulate our holeshot winners from our first two races:

Florida:
Racer X Holeshot Bike XC1 Russ Pearson
Thumpertalk.com Bike XC2 Kailub Russell
ITP Holeshot ATV XC1 Bill Ballance
Rekluse Holeshot ATV XC2 Curtis Crump
ATVRiders.com Morning Race Overall Win Bonus: Angel Atwell
AXA Advisors Morning Bike Holeshot Award Samuel Casebolt Open C

Georgia:
Racer X Holeshot Bike XC1 Barry Hawk
Thumpertalk.com Bike XC2 Johnny Barber
ITP Holeshot ATV XC1 Adam McGill
Rekluse Holeshot ATV XC2 Don Ockerman
ATVRiders.com Morning Race Overall Win Bonus Traci Cecco
AXA Advisors Morning Bike Holeshot Award Mike Schobert Senior C

Attention in the pits! Due to a scheduling conflict, the Klotz truck is not going to be at the next three events: Morganton, Big Buck and Loretta Lynn's. Plan accordingly (bring your own gas).

Here's the Klotz Truck schedule for the year:

THE TRITONMelbourne, FL
THE GENERALWashington , GA
THE JOHN PENTON Millfield, OH
THE SPARTAN Sparta, KY
MOUNTAIN RIDGE Somerset, PA
SNOWSHOE Snowshoe, WV
POWER LINE PARK St. Clairsville, OH
THE IRONMAN Crawfordsville, IN

Hello,

My name is Terry Downs and I am an amateur picture hound and a big fan of GNCC racing.I introduced myself to Jason Hooper yesterday at the race, and gave him a DVD of a slideshow I had made from Round 12 last year. I also have my own website (Dualsportpics.com).

I have dozens of good pics from yesterday, but this one is particularly heartwarming and kind of sums up GNCC Racing.

As I approached the podium for the Youth class awards, I happen to notice that this little fella' was being very still as he listened on. Obviously he was exhausted, but I can only assume he was dreaming of the day he made the podium!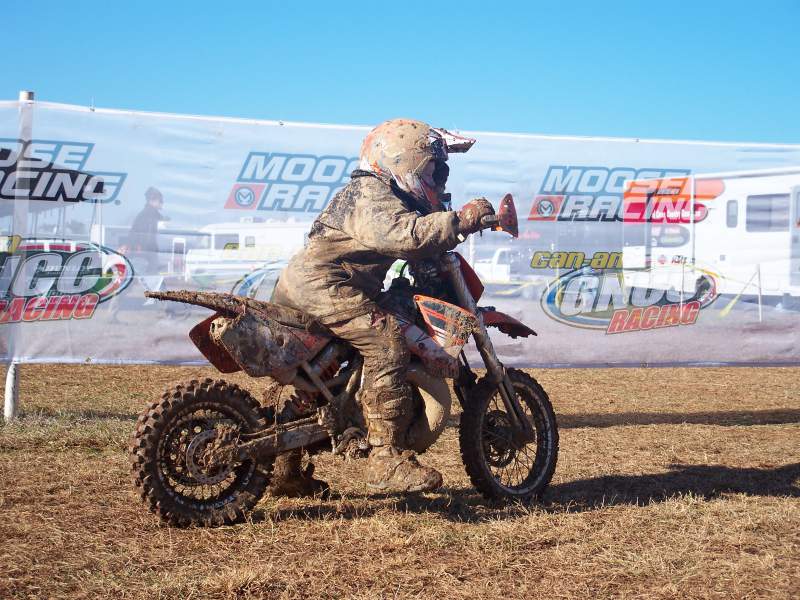 The picture.
And here's another letter.
Hi, my name is Todd Mummert and I am the father of 200 B rider Cody Mummert (# 419). Cody was injured in the Georgia race on his fifth lap when a broken off sapling punctured his inner thigh. He is doing well thanks to the family who was camped at the motocross track. The reason for this e-mail is to see if there is any way you guys could post a thank you to the unknown family that helped Cody and let them know that the Mummert family really appreciated their willingness to help. We also would like to thank the EMT staff, they really did an awesome job with an injury that could have been very serious!
Thanks,
Todd, Tammy, Cody, and Colton.
Finally, a belated congrats to Jon McCabe, who finished third overall in the bike morning race in Florida (behind pros Shane Watts and Cole Calkins). McCabe earned his third spot by outdueling Yamaha's Kevin Foley, who took fourth. Foley is a nine-time National Motocross Champion at Loretta Lynn's and no stranger to the GNCC podium in Florida. He said he's raced McCabe many, many times over the years, but Jon got the better of him on that day. Congrats to John McCabe. And good luck in that presidential election in November!
Okay, the last points leader in GNCC ATVs that wasn't named Ballance or Borich? William Yokley after he won the 2004 (!!!) season opener in Texas on a Suzuki. That's four years!
Okay gang, enjoy a weekend of recovery from the mega road-trip that was the last two weeks. We'll see you at the races in a few weeks!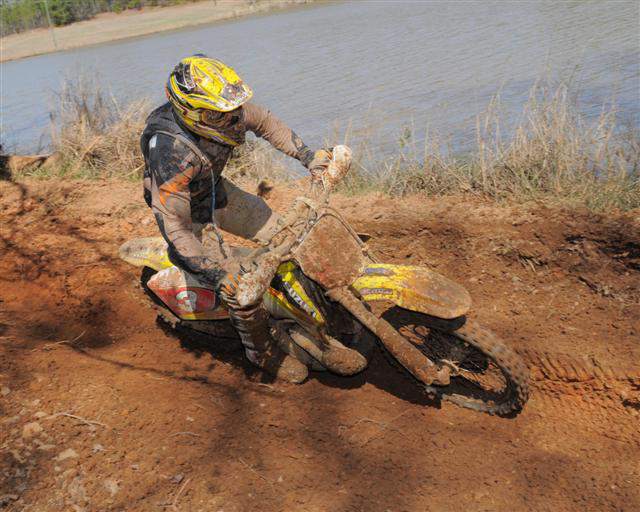 "Hot Rod" is going good.
Scearce photo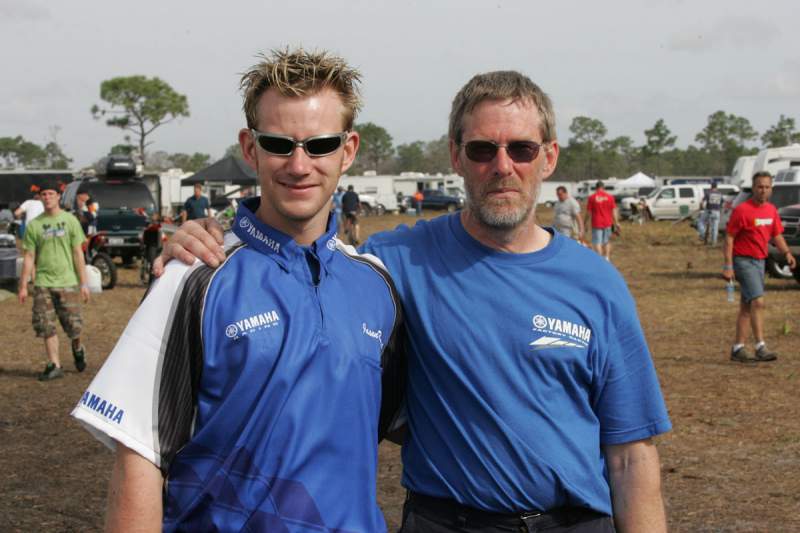 Team Raines won the first ever Moose Racing Mechanic's Challenge.
Hooper photo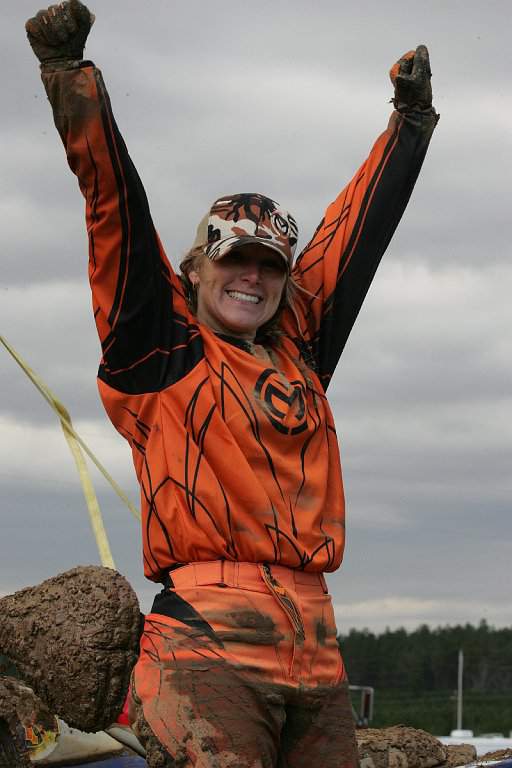 Parton back to the podium!
Hooper photo