Jason Weigandt
Quick Fill #10....This Week in Your Sport
Friday, March 7, 2008 | 12:00 AM
Welcome to Quick Fill. Wow what a weekend.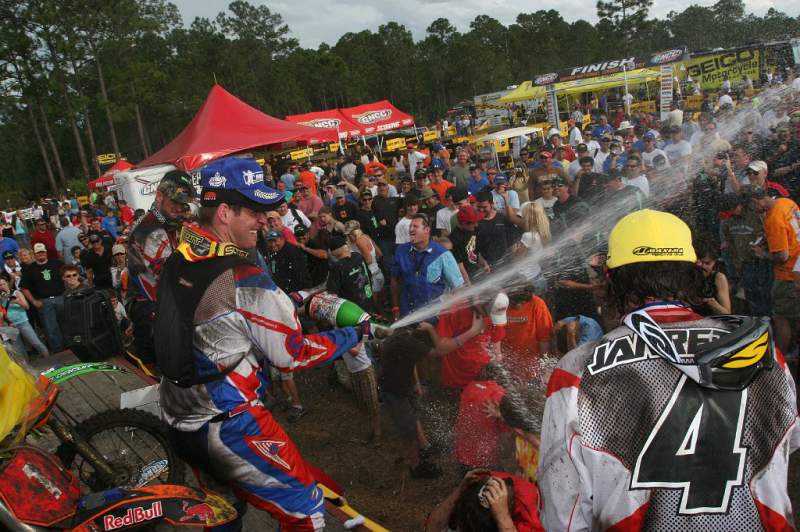 It was really good in most ways down here in Florida, but we must start this Quick Fill off by admitting we had some problems. And we apologize for them. First, we know there were some hang-ups with the new technology we're running, which included a few glitches in the signup kiosk system and included the live timing and scoring on the internet, which didn't get rolling. The sign up problems were minor but the internet timing and scoring is a real issue, and again, we apologize for it.
What happened? Well, we ran tests on the system for two-straight weeks leading up to the race, including mock races and mock sign ups and mock internet casts. Everything was working but once it was all put together, and running through our new internet satellite, something went wrong. We've figured out the sign up issues and that's all set, but we found that using the live internet scoring was causing trouble with our scoring at the track, so we had to shut it down altogether before the whole race became a disaster.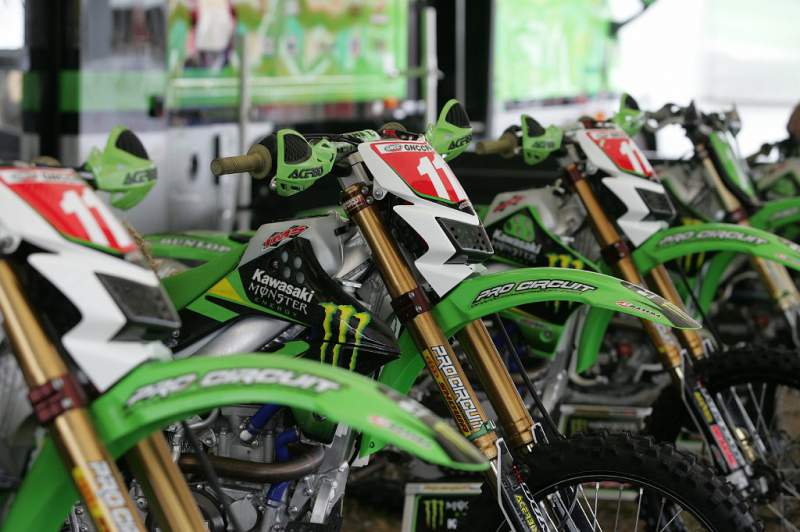 The Monster/Kawi team struggled.
Hooper photo

This week the GNCC crew is working in two sets to solve all the issues. One crew is solving sign up issues, and then another is working on the live internet stuff. We'll give it a go again for Georgia this weekend and we hope it works. We're not going to give up on this and we know it will all work right soon, and perhaps as soon as this weekend. So tune into the website again for the timing and results, and wish us luck.

Onto another issue we had in the morning ATV race. We will make this simple. We have production rules in some of our ATV classes. Production does not mean stock. We've had some rants from people claiming that Can-Am is violating the production rule by running dual a-arms on their 500 Outlanders (the 500s come with struts stock). But the 500 Outlander frame has tabs right in it to bolt up the a-arms, and you can buy the a-arm parts right at your dealership. It's all production parts, and it's not any different than bolting up aftermarket a-arms and shocks on any other quad (which is legal). And the pivot points are all how OEM intended because it's all production parts that bolted right up the existing frame without and frame modifications. Production does not mean stock. The Outlanders are not illegal.

Now that the bad news is out of the way, let's talk about the good stuff!

The weather in Florida was great. There was practically a guarantee of rain on Tuesday and it held out, so besides about 5 minutes of rain on Monday, everything was good.

The racing was great. We had a killer battle right from the start in the Youth ATV race between Jerry Welch and Seth Mumford, another great one in the morning ATV race with Angel Atwell scoring a big overall win, and then a big brawl in the ATV p.m. race""at least until the halfway point when Chris Borich put the hammer down and left everyone.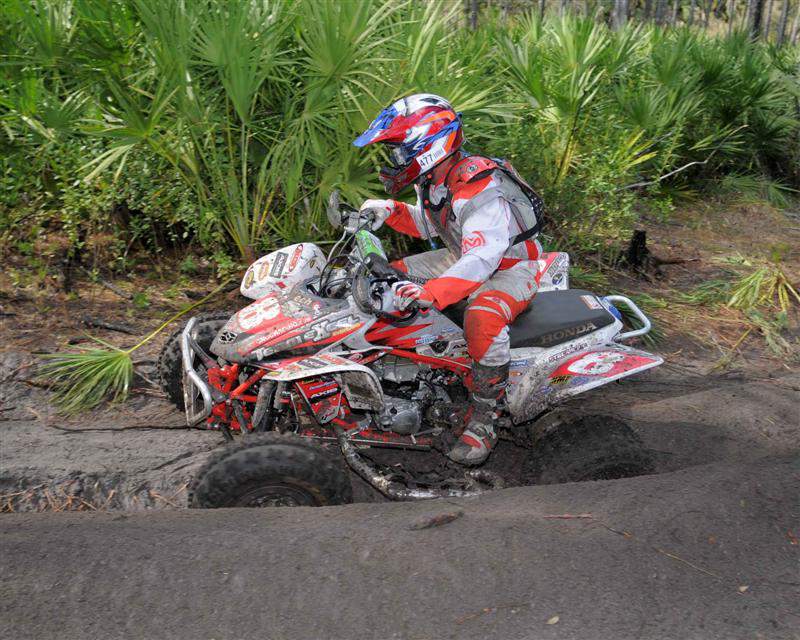 Awesome run for Bryan Cook.
David Scearce photo
The new ATV manufacturers had a great weekend. At one point in the race, we had a Suzuki, a KTM, a Honda, a Yamaha and a Can-Am in the top five! The end result saw a Suzuki a Honda and a Yamaha on the podium, and the two KTMs took fourth and fifth. A great debut for the Orangemen. Adam McGill was especially thrilled with his fifth, he told me that's exactly where he hoped to be in the sand, and that the team was doing more testing this week and would be ready for a podium in Georgia.
The Can-Ams? Jury is still out. Bithell looked good and fast early and finished tenth, while his teammate Chris Jenks cut a rear brake line and lost a few minutes in the pits getting it fixed.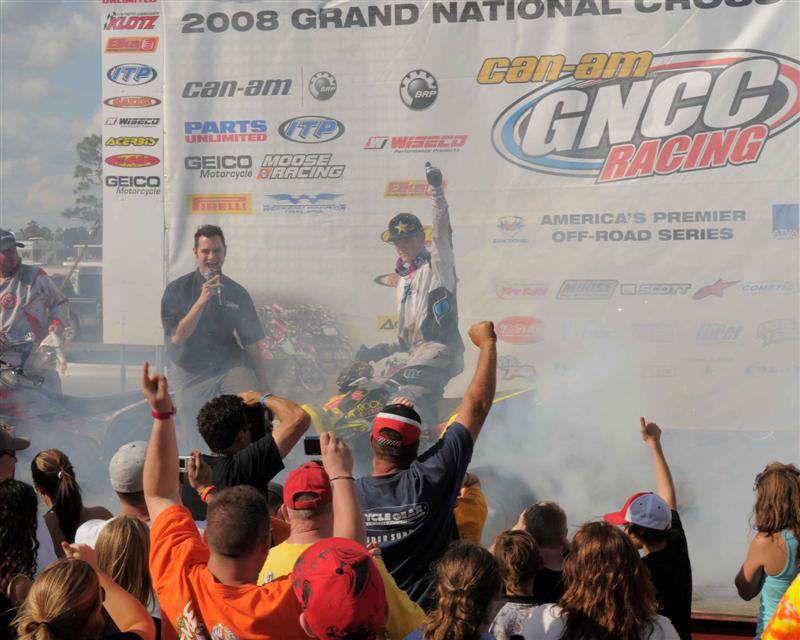 They told me not to allow burnouts on the podium anymore. I just couldn't stop Chris....
Scearce photo

Then there's Bill Ballance, who was struggling at mid race after a crash and managed to pull himself back up onto the podium. When Ballance was back in sixth, we all started to think his interview from last week was true!

So will the Can-Am DS450s work? Will the KTMs? Is Ballance done? Hey, that's why we run the races!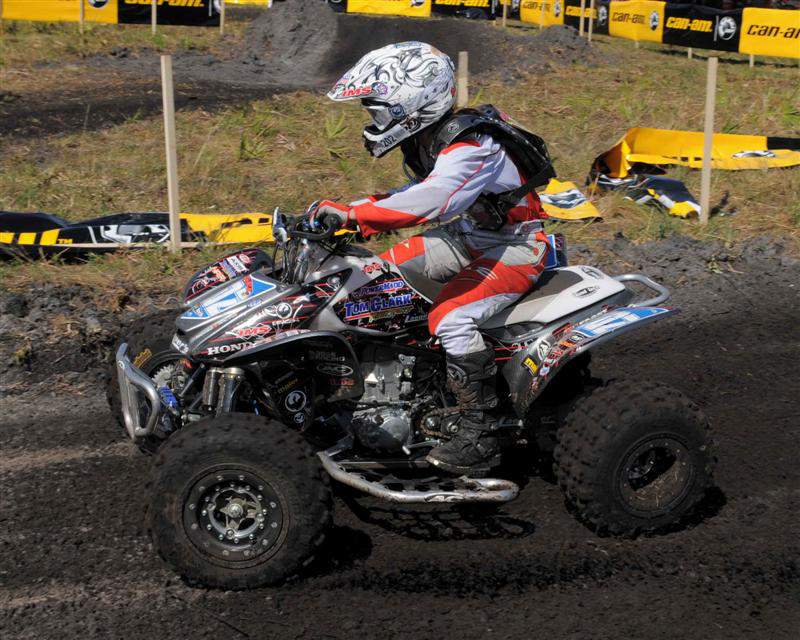 Rumor had it that Angel Atwell would be fast this year. Rumor is now fact.
Scearce photo
On Tuesday, everyone got what they wanted when Travis Pastrana not only showed up, but he made it through the first turn and the first lap and he even came around in the lead! Travis just couldn't help but put on a good show, and he was hollering at the Racer TV camera men around the track just for fun. At one point he yelled out "I can't keep this pace up for three hours!" and then he proved it when he, as he said "just died" on lap two. But he even got to talk some trash on Knighter when he passed him in the pits, and then Knight tried to give it back to him but he was "Too knackered" to get it out. (Note: knackered is tired in Isle of Man Speak).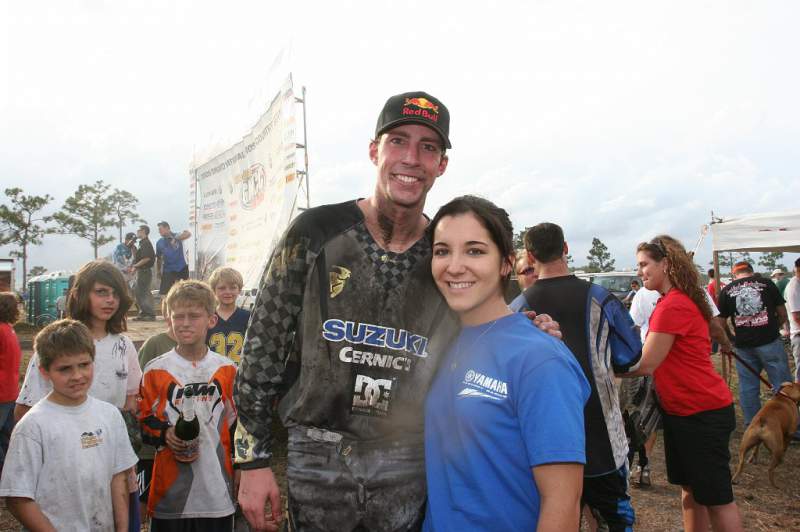 Pastrana took lots of pics for lots of fans. He's no Adam McGill, though.
Hooper photo
Travis gave everyone credit and said the GNCC guys were "amazing athletes." For sure. After practice on Monday, everyone knew they were in for a rough one. The expected sand whoops were combined with unexpected palmetto roots, and it led to a rough, rough race track. It was so bad that Shane Watts decided not to race the afternoon event, because he realized he had 1 and ½ hours in him and doing three would be impossible. So he rode in the morning and indeed had 90 minutes in him. He cruised in to the morning overall win""that's two overall wins in Florida in a row for Wattsy! And behind him was Cole Calkins, who finished third last year in the XC2 Lites class. So two podiums in a row for Cole!
Calkins uncrated a new Husaberg 450 for the race and he liked it. He may stop by a do a few more GNCCs this year but right now he and Wattsy are focused on the Dirt Wise riding schools (http://www.shanewatts.com/).
Also props out to Youth overall winner Steward Baylor, and good job to Floridian Palmer Lynch and third-place overall Zach Nolan.
In the afternoon we all know Knighter killed it. He had a giant lead but he couldn't back it down because the track would get rougher if he slowed down. So he had to keep holding on and the big man looked whipped at the finish even though he had a three-minute lead on the last lap. But the guys behind him were even more tired, Jimmy Jarrett and Garrett Edmisten looked like they had seen ghosts! Big credit to then for digging down deep, I hope they find a way to recover for Georgia (Edmisten had a THREE INCH flap of skin on his palm).
You know who impressed? Barry Hawk. The last few years Barry hasn't been that impressive in Florida, finishing 8th, 5th and 8th for the last three years. This time Barry looked to be in mid-season form, charging from about 10th up to the big podium battle and nearly passing Edmisten at the end for third. It was a great duel to the end, and what's more Barry wasn't that beat up after the race and should be strong in Georgia.
Charlie Mullins had a bad day. He smashed the pipe on his new Suzuki and had to ride a whole lap without hardly any power until he finally got all the way around to the pits to get a new one. His bike still wasn't running perfect after that, so he was lucky to just get some points.
Impressive was Gordon Crockard. The BMW team doesn't have their BMW's ready yet, so they're racing Husky's for now. Crockard, in just his second GNCC ever and just getting to know his new mount, finished 9th.
Thad DuVall had a good day. So did XC2 ATV winner Don Ockerman--Yamaha's Donnie Luce was proud of these boys. The XC2 races on Sunday and Tuesday were great battles and made up for certain XC1 riders pulling away in their race.
Glenn Kearney had a bad day. Glenn jacked his knee in December and is trying to make things happen right now, but it may be a tough year for him starting out injured.
Nathan Kanney had a bad day. He looked unbelievably good early on when he ran down Pastrana and took the lead. I thought, in fact, that he was going to win the race and make it two-straight GNCC wins (remember, he won the last one he raced back in 2006). But Nate apparently ate some bad food a few days before the race and he was struggling, and just held on for some points. As Nate said "I knew the way I felt that I was going to get tired. But I figured, even if I'm going to get tired I'm not going to go slow."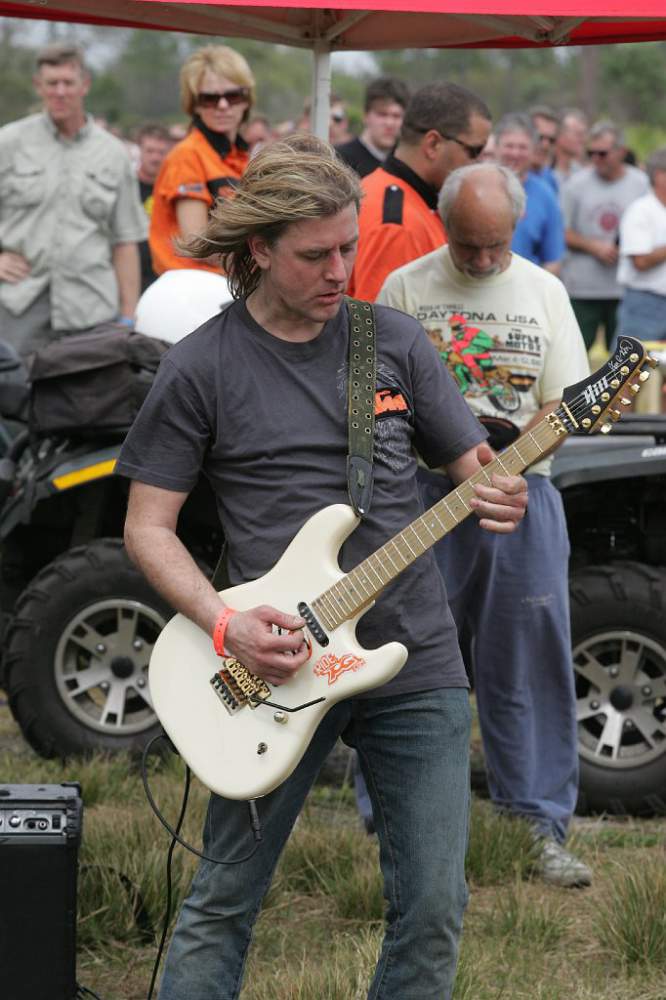 Warrant rocker Billy Morris won the 200 C class...and then played
the National Anthem on guitar. No doubt he had calluses built
up on his hands.
Hooper photo

The Monster Kawasaki team had a bad day. WORCS racers Destry Abbot, Ricky Dietrich and Damon Huffman all had problems. Abbot was nursing an injury from a previous race, Huffman's shock blew out, and Dietrich clipped something on the first lap and crashed unbelievably bad. Knighter said he was following Dietrich at the time and thought the guy was dead""I heard someone say he launched way high in the air. Luckily, he got up and was shaken, but not hurt. Too bad those guys had problems because Dietrich would have been fast in this terrain, and Jason Raines told me Huffman was riding very smooth and smart before he had problems.

Raines only got seventh in the race, but he did get a victory the night before in the first ever Moose Racing Mechanic's Challenge. Rider and mechanic teams competed. The racer started dead engine and then charged down a straight away, put the bike on a stand, and the mechanic removed the rear wheel and then put it back on, and then the rider charged back down the straight. Barry Hawk and Doug Whitmer put in a sizzling time of 1:19, but then Raines and his dad Darryl did one better with a 1:10. Their secret? They didn't have a rear disc on the bike, which made the wheel change way faster!

"Hey, I just grabbed a wheel out of the truck and it didn't have a disc on it for some reason," joked Darryl Raines. The Raines family won $600 all donated by fans during the Parts Unlimited Dinner Show.

The race garnered some good media attention.

Here's a story from a local paper:

http://www.floridatoday.com/apps/pbcs.dll/article?AID=/20080305/SPORTS/803050331/1002/SPORTS

And here are two stories from European newspapers on Knight's win.

http://www.visordown.com/motorcyclenews/view/david_knight_wins_usa_grand_national_/3895.html

http://www.iomtoday.co.im/sport/Knight-begins-GNCC-title-defence.3843434.jp

Finally, a good idea from a GNCC racer:

GNCC,

I raced a season and a half with you when I was in college. The races of course have been a real blast. Racing with all of you made for some of the best few years of college. Eventually I had to finish up school and started student teaching. After I graduated I was forced to move outside of Washington D.C. Due to the high cost of living and lack of open space I was forced to leave the bike at home. This year I realized I can't live without it and even if I only get to ride at races I decided to store my bike in my 2nd floor apt. I want to race this season and probably will anyway but I was just thinking that driving to GA to meet my buddies and do some racing would be much more fun if I had some friends to drive with and split those high gas prices. I don't know how to meet riders in my area because there is nowhere to ride. So, I thought it might be an idea to set up some sort of posting space on the GNCC website. Something simple, just a space to say hey "I'm 23 yrs old and trying to race GA anybody in the DC area want to go race?" Maybe it's stupid, I just figured with gas prices and what not, and being that most racers are pretty cool people that it might be a hit.

What do you all think?

I think it's a good idea and maybe it's something we can do?

And finally, Los Angeles Dodger major leaguer Jeff Kent was on hand at the Triton GNCC because he's a huge GNCC racing fan. He was hanging with the FMF Suzuki team all day, and then headed out just as the race was ending because he had a spring training game that night. And just after arriving from the GNCC track, during pre-game warm-ups, he pulled his hamstring and had to sit the game out! Wow, get well soon man!

Here's a story on it:

http://www.latimes.com/sports/la-sp-dodrep6mar06,1,2098293.story

That's it for Quick Fill. This was a tough one to do since we're on the road but we'll be back on time next week. Thanks and see you in Georgia!