Jason Weigandt
Quick Fill #9 .... This Week in Your Sport
Thursday, February 28, 2008 | 12:00 AM
Welcome to Quick Fill. I know a lot of you need to get going so let's get on it"¦and we'll see you at the races!

First, I called Jeff Russell and the GNCC track crew and it's all systems go. The Maxxis General in Georgia is all set up and ready, and the Florida track got finished up yesterday. Jeff said we could hold a race today if we needed to, but its best that we wait since it was 38 degrees at the Florida track last night! Should be perfect for the weekend though and all the way through what we're calling "Super Tuesday," the bike opener next week. Travis Pastrana is still in, the best bike riders on the planet are ready, and it's going to be awesome.
Just as a last-minute reminder for everyone, here is the schedule for the weekend in Florida:
Friday: Gates Open Sponsors/Vendors 9 a.m.
Gates Open Racers/Spectators Noon
Saturday: ATV Youth Sign-up 10 am - Noon
ATV Sign-up Noon
ATV Youth Practice 12:30 - 2 pm
ATV Adult Practice 2-5 pm
Sunday: ATV Sign-up 7:30 am
ATV Racing
Monday: Bike Youth Sign-up 10 am - Noon
Bike Sign-up Noon
Bike Youth Practice 12:30 - 2 pm
Bike Adult Practice 2-5 pm
Tuesday: Bike Sign-up 7:30 a.m
Bike Racing

Also, we will have a short "photo section" open at 10 a.m. on Saturday and 10 a.m. on Monday. This is for press that would like to do photos with pro racers. If you're down there and need to get something done, ask our track crew where to go and they'll send you to the right spot. Pro racers are also still eligible to practice at the regular 2 p.m. to 5 p.m. slot. Speaking of that, Jeff Kardas sent us these pics of the Monster Energy/Andrews Yamaha team riders, Dustin Gibson and Josh Weisenfels.

Gibson
Kardas photo


Weisenfels
Kardas photo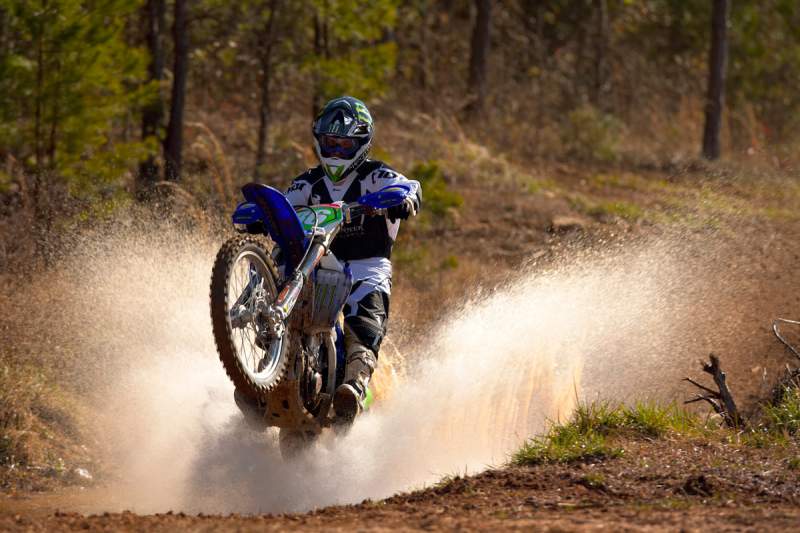 Former GNCC Youth Standout David Snyder is on board the Andrews' squad as well.
Kardas photo
With that out of the way, it's time to talk about the very last weekend of the off-season. First, an update from Racedaypix.com's Dave Smith:
Trackside Tidbits by Digital Dave

We are only a few days away from the start of '08 and there is some big stuff to report for the season opener at the Triton in Melbourne, FL. First things first. Do not wait until you get to FL to fill up your fuel tanks. Load up in GA. Fuel prices have soared all over the country but FL is always one of the highest with diesel hovering around the $3.75 mark and Regular around $3.20 it is best to fill prior to the race on the way down.

The new and improved version of KTM rider Adam McGill made his showing at the FTR race at Gatorback Cycle Park in Gainesville, FL last week and he has an all new look. Not just the orange quad, but 20 pounds lighter and conditioned from a hard winter of training Adam ran in the front position for three laps with Chris Borich shadowing him inches behind and looking great on his Suzuki. That's right, Suzuki. On the final laps Adam was spending time stopping and dialing suspension, while Chris ran into issues of his own. Adam finished second at the checkers, Chris finished out of the top three and through all of this Brandon Sommers snuck through and took the win for the day. Other GNCC regular John Gallagher Sr. showed up on his new Polaris 450 and put a whoopin' on the local Florida riders in the Super Senior Class. He is looking ready for a new season on his fixed rear axel machine. Angel Atwell returned and rode in the A class again upsetting a few boys and having a real nice ride of her own. I have a felling that Angel is not going to have the slow start that she did last season.

As far as the two wheeled riders go Garrett Edmisten took off and ran as usual in the sand but had to retire half way through the first lap when his engine gave out and rolled him to a stop. Good thing it was his last year GNCC bike. Travis Hullfish gave a hard charge but the win went to Jaco Wolmarans aboard his Honda. Now for the big news. The AM races this season are about to get more interesting. I have been trying to get a commitment from Jacqueline Ross (WMA regular) on her intent to race the GNCC's this '08 season. As of Sunday, it looks as though Jacqueline is going to be running at least the first few races of the series and possibly the entire season. Also Kelsey O'Donnell former FTR series womens champion will be attending at least the first two races. Looks like Amanda will get some new company this season. I want to finish off the report with some Junior news. With many riders leaving the Junior bikes and heading to the big races, chit chat around the pits has Steward Baylor, Jr. as one of the front runners for this season. Palmer Lynch from the FTR series has announced that he is going to make a run for the big wheel class. Both of those riders will be aboard their KTM's while Tanner Hughes also from FTR will be riding with them on his 4 stroke Honda 150. I look forward to seeing all of the Mini riders step it up and see who will fill in as the future champions of the sport.

See you at the races!
Digital Dave

http://www.racedaypix.com
Okay next up, the AMA National Enduro Series raced in Georgia last weekend, only about an hour from the General track. What's funny is, KTM got their rig stuck in the mud while they were pulling in on Saturday. So they gave Jeff Russell and call to see if he happened to have a dozer nearby! Jeff did""he was still setting up The General track""so he loaded up the dozer and drove it over to Georgia to bail the KTM boys out!
Once the race began it was good for KTM since Russell Bobbitt took the win. The big surprise? Jason Raines took second on his WR450F. That's a big confidence booster for Jason a week before the GNCCs kick off.
Next up:
The Mid-East Hare Scrambles kicked off their season at Bishopsville, S.C. Sunday with perfect weather and conditions. After rain on Friday the track was perfect, with the exception of one newly constructed dam for a pond. A heavy turn-out of riders preparing for the upcoming GNCC produced an exciting race. Barry Hawk jumped out on the hole-shot and led the first lap by 40 sec. over Jason Gilleland, Jesse Robinson, Thad Duvall and Louwrens Mahoney (one of the South Africians) who were wheel-to-wheel. Robinson made up enough time to grab the lead on lap two while Hawk gets goggles and a splash of fuel. Thad Duvall was about 30 sec. behind despite having a cast on his right hand from a broken thumb several weeks back. Lap three got interesting as lappers had become stuck in the dam. Robinson found himself at a standstill while watching Hawk find a line next to the water. After three laps Hawk had a 1 min. lead. Wisdom and experience was the key for getting through to the other side. Robinson found himself 1:38 down after lap four. On lap five, Hawk ran into the quagmire with nowhere to go, the race was at a standstill. It was like a grave yard of bikes. The officials were waiting on Hawk so they could reroute around the problem and this allowed Robinson to draw within 27 sec. for a last lap dash. The three time Mid-East defending champion came up 15 sec. short as Am-Pro Yamaha's Barry Hawk took the checkered flag over Jesse Robinson's Maxxis Tire/ HMF/ Monster Energy Kawasaki. Final results, after adjusting for the rerouting are:
Barry Hawk 1st
Jesse Robinson 2nd
Jason Gilleland 3rd
Thad Duvall 4th
Jordan Sain 5th
Just in time for the new season, we have new contingency posted. Suzuki (bike only) Polaris (ATV Only) Maxxis (bike and ATV) and Michelin (bike only).
And with that, ladies and gentlemen, we are done. It's time to go racing. The off-season is over. Since you're probably all packing and working and stressing how you're going to get down there or how you're going to do once you hit the track, we'll let you get to it. And finally, really, we'll see you at the races.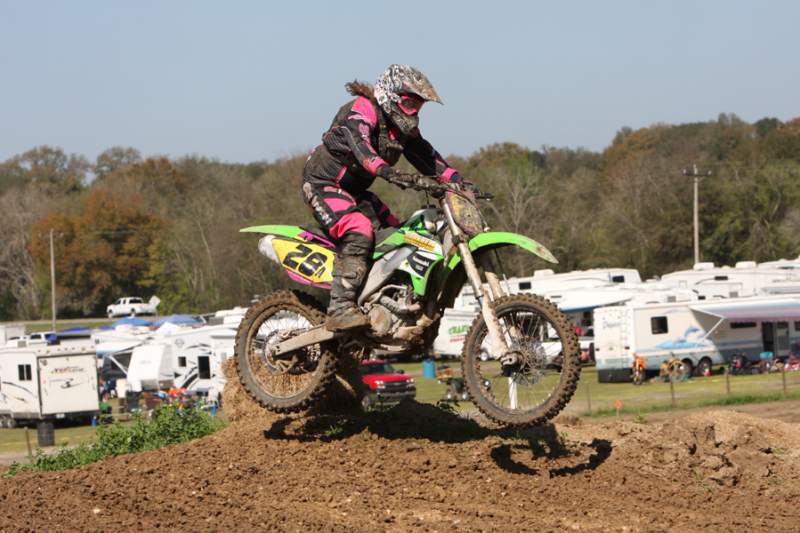 FRT Queen Kelsey O'Donnell will also be on hand to give Amanda Mastin a run through the Florida sand.
www.racedaypix.com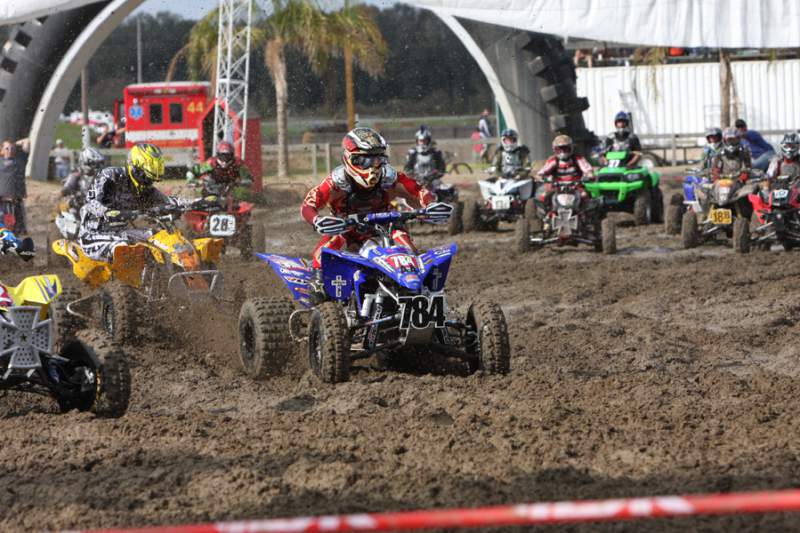 Brandon Sommers has a win under his belt against McGill and Borich. Can he translate it to GNCC racing?
www.racedaypix.com