Jason Weigandt
Quick Fill #8....This Week in Your Sport
Thursday, February 21, 2008 | 12:00 AM
Welcome to Quick Fill. We've already left!
Well, not all of us. The Racer Productions crew works in waves. The track crew is always the first to arrive, and then at some point at the very last moment the sign up crew rolls in. The track crew left Morgantown on Tuesday, and they're already setting up the pits for The General GNCC at Aonia Pass today. They'll spend the weekend building the Georgia track, and then head to Florida at the beginning of next week to start building the Triton GNCC in Melbourne. Yes, folks, we are that close to going GNCC Racing!
Heck, one of the newspapers in Washington, Georgia is already covering the race. Check this article out.
Before we start gossiping, let's take care of some business. Today, right here in this office, the sign up team is dialing in the new sign-up kiosks for the last time. Everything looks good. We should have live timing and scoring on the web for those of you who can't join us, and we should have the simplest, fastest, and easiest to understand sign-up procedure in the business. Hope so!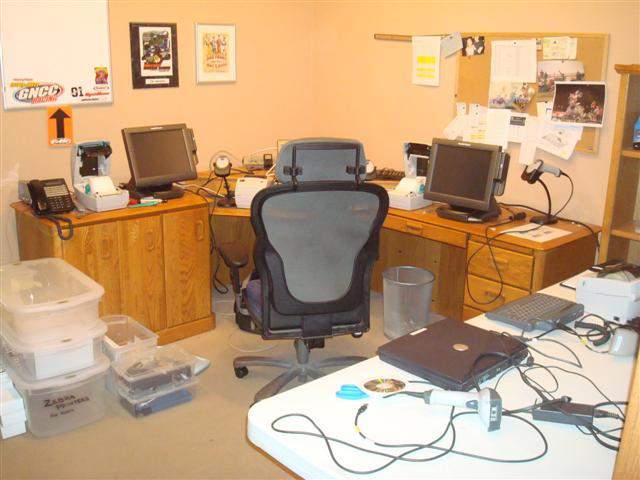 My old office has been taken over by all this stuff to test.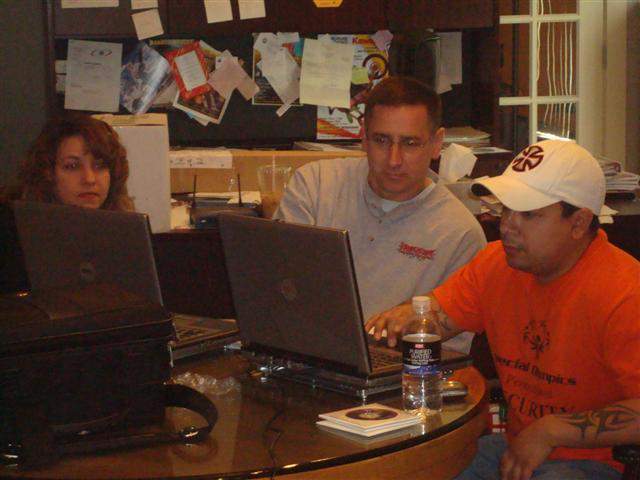 More testing.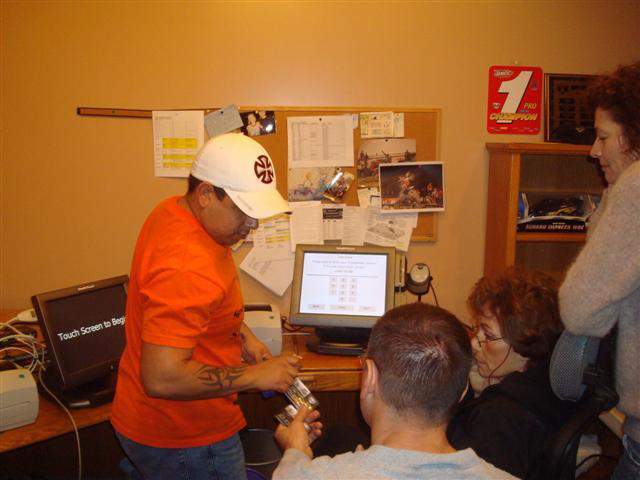 Even Rita and Carrie had to check things out. I'm sure they are
thrilled that I took this photo.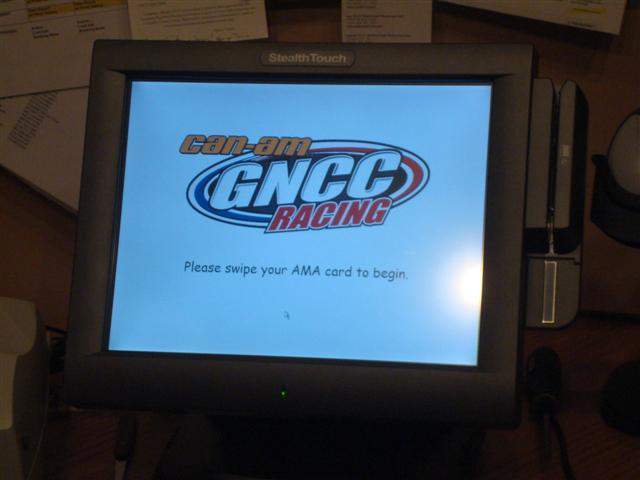 Get ready for the next level.
We've had a few questions about transponders. Many are wondering if you will need to get a new transponder each week if you don't have a reserved number, or if you race a bike and an ATV, or if you switch classes. You won't. To explain this simply, the transponder doesn't have a race number assigned to it. The transponder simply sends info to our computer database, and the database figures out what number you are for the day, and what class you're racing in. That's all determined when you sign up. So, if you buy a transponder in Florida, you can change your class and racing number every single week after that if you want, you will not have to get a new transponder.
Also, we're not making any money from these transponders. We're selling them at cost. So we're not going to push you to buy when you can rent. It's $10 per race to rent and $60 to buy, so if you're only planning on racing less than six times this season, rent one and save a few bucks (you'll have to give us a $50 deposit each time but we'll return it as soon as you give us the transponder after the race).
Hey last week we told you we'd give you a report from the Indy Tradeshow. Amy McConnell from www.quadzone.com sent us some pics--thanks!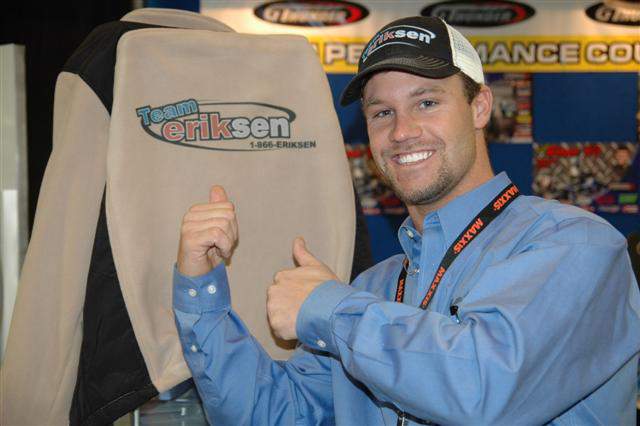 Brandon Ballance points out his new team.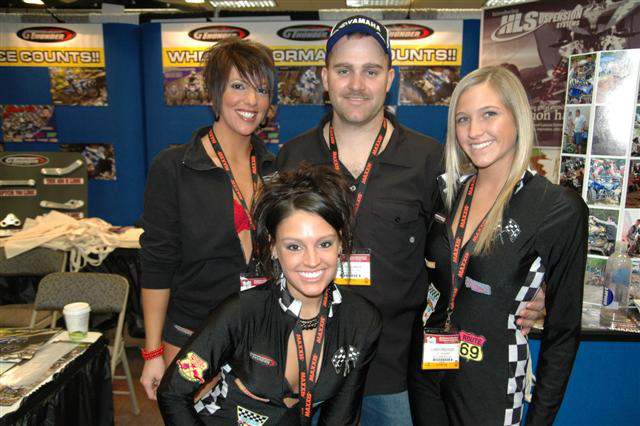 Bill Ballance enjoyed the show.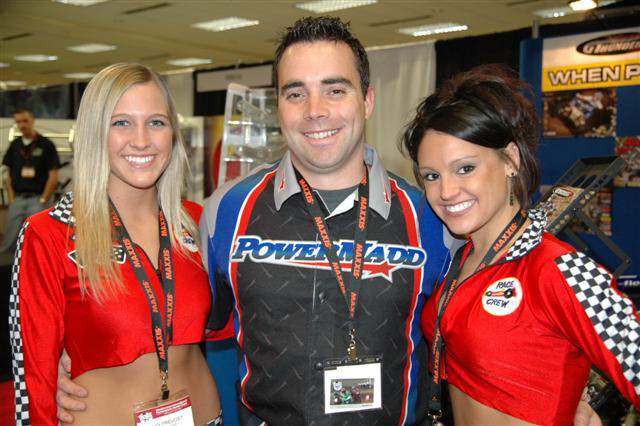 Johnny G had a good time too (was there ever any doubt?)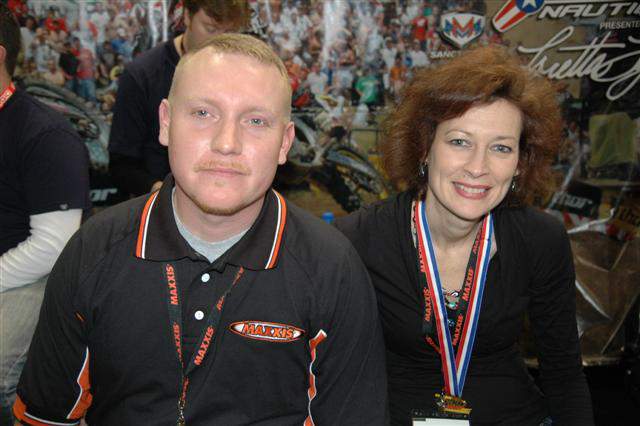 Jay Gobel and Carrie Russell (who probably likes this picture better).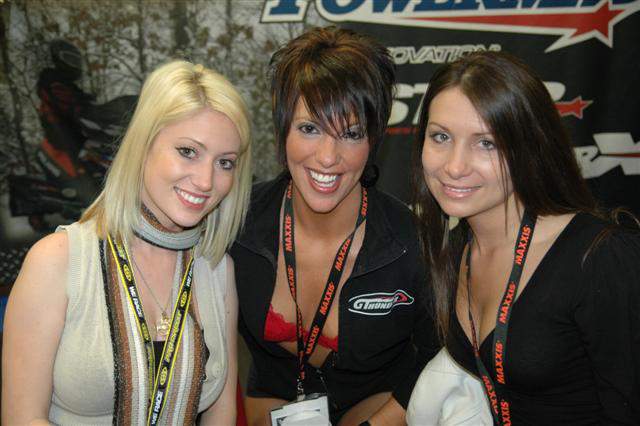 You're really missing out if you don't go to the trade show.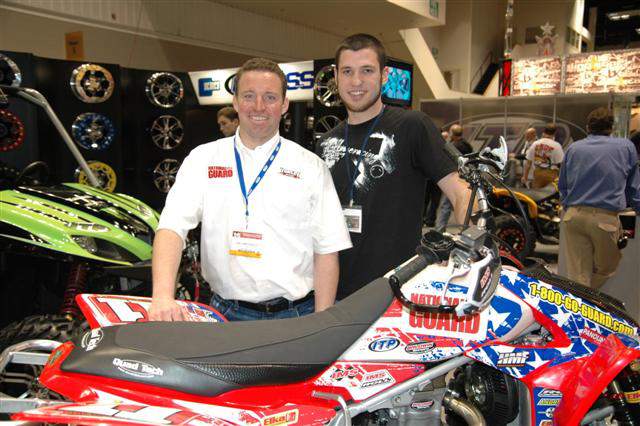 Team Yokley looks good!
Looks like everyone had a good time.
If you're racing this year (and we hope you are) you should check out a new section of the site called Get Press. It's under the Racers tab up on top. Anyway, head to that page and you'll find ready-made press releases for each GNCC event, so you can send a story to your local newspaper, radio or TV station and get some coverage. We've even included instructions to make it extra easy. Local papers love stories on local athletes performing well on the national level, so go out and get yourself some press!
Okay. By now almost every top rider and team is down in Florida. I spoke to FMF Suzuki Team Manager Mike Webb, and he said the team spent the week caravanning across the country from Rodney Smith's house in California all the way to Florida. After a grueling two months of boot camp at Rodney's place, now it's time for sand testing. Suzuki, like most of the teams, realizes that Florida is the only sand race on the tour, so they don't put a massive emphasis on it. But they'll still put in two weeks of testing to make sure they're competitive.
"It's hard to practice in the woods and practice technical stuff, and then all of a sudden you go to the first race and you just pin it in whoops," said Webb. "It's hard to get the guys comfortable for that. When we get back in the woods, you get back into that comfort zone."Â
Suzuki has a lot of changes with their team, bringing Charlie Mullins and Paul Whibley on board as well as switching to a half RM-Z450 lineup (Whibs and Josh Strang will ride the 450s, Charlie and Jimmy Jarrett will ride the old reliable RM250). But plenty of the attention falls on Mullins, who is expected to be an instant contender for the title this season.
"With Charlie, the main thing is, you can't deny his results and his speed," said Webb. "He works super hard, and Rodney has been super impressed with his dedication. Charlie had dabbled in training, but never gave it the full commitment before. But Rodney laid out a program and Charlie embraced it, and then he started seeing results, and then you get that confidence buzz when you're actually in shape. Then you're hard to stop. He's a great kid and we're really looking forward to the season."Â
Mullins in the best shape of his life? Look out.
Now Mullins is big news but one Suzuki rider can trump everyone when he decides to show up, and that's Travis Pastrana. Back in January Travis went on the DMXSRadio.com show and said he has one main goal this year on a bike, and that's to race David Knight in the sand of Florida. But we've heard crazy stuff from Travis before so I just listened and let it go. But then I saw Travis at the San Diego Supercross three weeks ago and he confirmed, indeed, that he will be racing in Florida, and Mike Webb and the gang already had an RM250 ready for him! Just to make extra, extra sure, he sent me an email this week explaining his goals. Travis has been beaten by Knight over and over at the Erzberg Enduro in Austria, and he thinks a high-speed GNCC through the sand will present his best chance at taking Knight down. Now it's just a matter of him getting into shape and trying to last"¦.hey who cares? This is Travis Pastrana. Finishing doesn't always happen but you know it's going to be spectacular watching him try!
(Yes Travis did race with us in 2006 and yes we never even saw him, he punched a hole in his radiator after falling in the first turn and only made it to mile six. I've seen Travis bummed out plenty of times before, but I don't think I've ever seen him as bummed as when he got towed into the pits that day. He really wants to give this a try).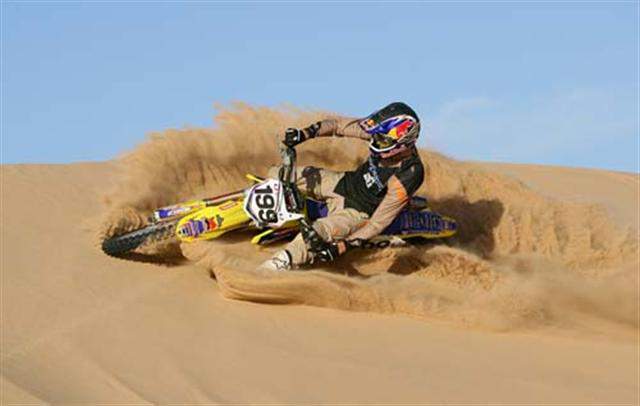 Pastrana does okay in the sand.
Simon Cudby photo
On Suzuki's ATV side, hopefully you checked out our Tuesday Toolbox with Chris Borich. I thought it was interesting to hear that Chris is running a kick starter on his LT-R450. Chris remembers the kicker on his Honda and that's the one part he is carrying over. Kick start Hondas are rare now, but John from Shenandoah Honda called me to say he has four brand-new kick-start TRX450s coming in, and he will offer them up with a discount for GNCC racers. Interested? Call 800-276-2036 or hit www.shenandoahhonda.com
The Honda contingent in the pro ATV ranks will be smaller than it has ever been""Honda has held a stranglehold on this series since the three-wheeler days. This year, I've only heard of about four top names on the TRX: Matt Smiley, Bryan Cook, William Yokley and Santo DeRisi. Smiley, #4 for 2008, gave me this info: Back on a privateer Honda. Backed by Safari Motorsports, Maxxis, Moose, R&D Powersports, Laegers, Hiper, Rath Racing, Scott, Acerbis, DP, IMS, Sparks, Quadtech, Fasst Company, Spider grips, CV4, Cardio Stack, and Kelner Motorsports. I don't expect to come to Florida and blow everyone away because I haven't been training in FL all winter. But don't get me wrong, I will make my mark on the series this year for sure.
Here's something cool on the Yamaha side. Remember back at the GNCC ATV Banquet when Bill Ballance was giving Youth rider Dylan Bradford heat for not riding a Yamaha? Well, now Bradford is riding one! We got this note from Dylan:
I want to say thanks to the people responsible for helping me get a Yamaha-supported ride in the GNCC School Boy class (Raptor 250).
Bill Ballance for the contacts at Yamaha. Sorry for giving you a hard time at the banquet!
Yamaha's support guys Donnie & Steve for giving me the opportunity to race the 250 Raptor.
Andrews Cycle for being the dealer that we use for this program. Phil you are awesome.
Greg at Greg's ATV who is helping us build a GNCC race ready Raptor.
Thanks again.
- Dylan.
Dylan will now be racing the 10 a.m. races on his Raptor, but he and his father Gary will be down on the starting line for every 8 am race to support the Cobras.
Now let's get into the nitty gritty. Racers are racing in Florida right now, so let's go to http://www.racedaypix.com Digital Dave for the scoop:

Here is the latest on the "Trackside Tidbits" by Digital Dave.

With only a few weeks left until the season opener many of the northern riders are spraying off the mud from Ironman and getting ready for the sandy conditions in Florida. I spent a few minutes this past summer talking with Travis Pastrana and talking about the less than pleasant experience he had a few years ago at the Orange Crush GNCC. He said he was very disappointed with his showing and hoped that he could make a better showing in the future. As your report states, Travis is ready to clear the slate and let every one see that his back ground really is in the woods. There is another Supercross Pro rider named Tyson Hadsell (AMA National #97) that has been playing in the sand of Florida of late and he should give The Triton a good run for its money in the XC2 class. Tyson was giving chase to Garrett Edmisten this past week in Ona, FL until he came around one lap missing some helmet parts and a minute or two down. He spent the rest of the race in chase mode but still finished a respectable top 10ish. Garrett Edmisten and Jesse Robinson were both out in force and proving that are getting serious about the 2008 GNCC season. After a poor starts Jesse spent the entire race trying to catch Garrett and moved his way past the top FTR riders with some great battles with Skaggs and Baker. Garrett did take the win and even spent some time riding around on his 2008 GNCC prepped and ready Walpole Kawasaki. I got this shot of Garrett and Jesse riding together, they mentioned something about teaming up swapping every few laps? Just kidding.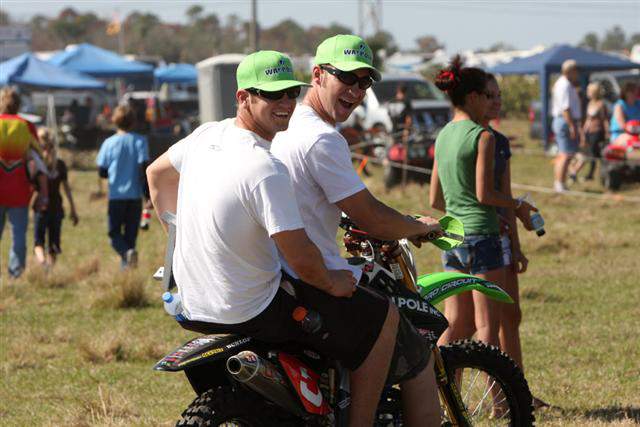 Edmisten and Robinson.
Now to the world of four wheels. After a very close second last season, Angel Atwell made her way down south to try her hand in the sand. Once Angel got her suspension dialed in last year she became a rider on a mission. On her new 08, with even better suspension, we will see a great battle again this season. As usual Brandon Sommers drove down and teamed up with one of his riding buddies, Taylor Kiser. These two put on a heck of show and rode most of the race with in eyesight of each other. They swapped positions every few turns, and even a few times in some turns. A great race. Brandon however did get the best of Taylor by seven seconds at the end of the race.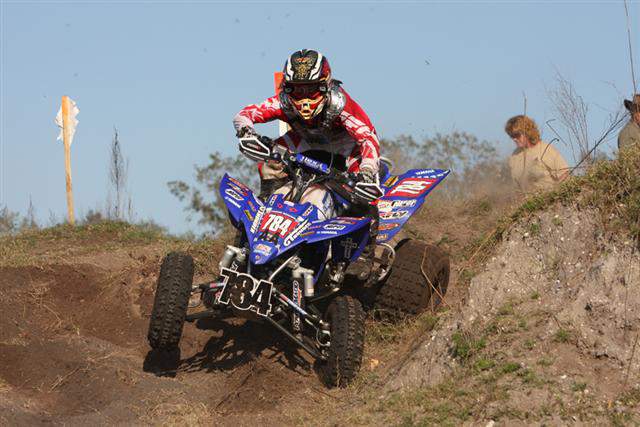 Brandon Sommers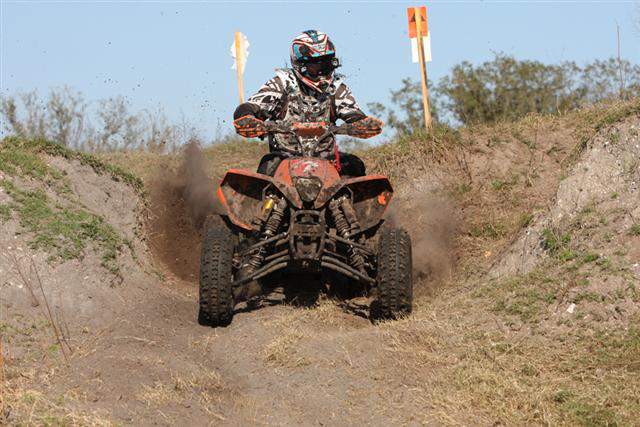 Taylor Kiser.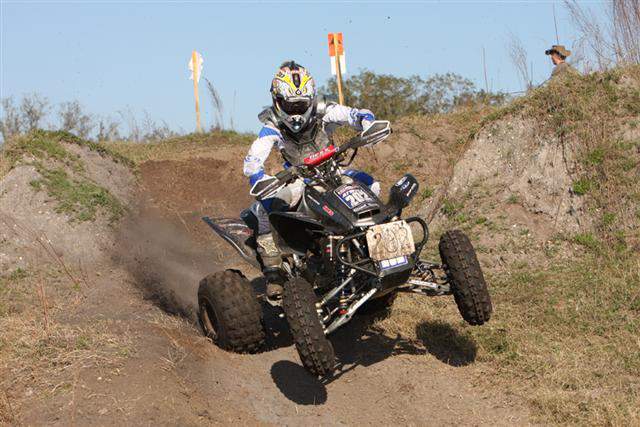 Angel Atwell.


I am guessing that we will see many more of the riders this weekend in Gainesville, FL for the next round of the FTR Series. I have heard rumor that many of the riders are just down the road from us in Croom, FL getting in some sand and testing on their new machines. We had a bit of rain today her in Florida, but all in all it is sunny and warm. Bring your tanning lotion!

- Digital Dave

http://www.racedaypix.com
For a different angle, here's a report from the Jesse Robinson clan: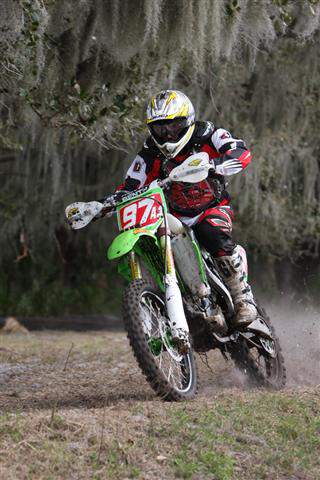 Look for supercross and motocross rider
Tyson Hadsell to be up front in Florida's XC2 class.
Dave Smith photo

Garrett Edmisten and Jesse Robinson make it a 1-2 finish at the FTR hare scramble in Ona, Florida. Edmisten grabbed the lead off the start and never looked back while Robinson worked up from a mid-pack start to finish about 1:40 behind Edmisten. Robinson made the pilgrimage south a few weeks ago to train with Edmisten. These guys are determined to prove that they can run with the factory teams. Edmisten will stay in Fla. to run another FTR at Gatorback while Robinson travels back north to test on Saturday and race Sunday in South Carolina at the first round of the Mid-East Hare Scrambles.

I also checked in with the Walker Fowler camp today. Walker has been working hard with Randy Hawkins and his new Am-Pro Yamaha team. His dad Danny can't say enough about how well Randy works with the new kids. Walker had a whole new life experience this year flying down to South Carolina and going to races without his parents, but Randy and the boys really made him feel at home. The extra racing and practice time should pay off when Walker unloads his WR250F in the Four-Stroke A Lites class this year. What's funny is, he'll be racing his old buddy Cory Buttrick in that class!

Danny Fowler also mentioned that Ryan Belue is going good on his Am-Pro Yamaha as well.

Last weekend at the Houston Supercross Yamaha of Troy supercrosser Zach Osborne told me he had to go get ready "to race the GNCCS." Look for him in XC2 Lites as well!

The other night (Knight?) I checked out the new DVD David Knight: The Ironman of Enduro. It's an awesome epic (over 2 hours long) but you learn a TON about the GNCC Champion, including home movies of him riding trials bikes, interviews with his mother and brother, and really in-depth coverage of his GNCC tour this year. Got to hand it to the Duke video guys, this DVD will tell you everything you want to know about the Knighter. Click here.

Well, there's one more thing to know: Knight's racing and training and ready. Here's an update:

Knighter steps up pre-US GNCC training, wins GB XC Rnd 1

Red Bull KTM Off Road Team's David Knight stepped up his preparations ahead of the opening round of the '08 US GNCC series, which takes place in Florida on March 4, by competing in and winning the first GB XC event of '08 at Matchams Park. With his previous competitive outings this season having been on a 250cc two-stroke, Knight wanted to use the race as a pre-GNCC shake down and compete for three hours aboard KTM's new 450cc four-stroke.

Claiming the holeshot Knight's early advantage vanished when he momentarily took a wrong turn and dropped to second. Then getting rope caught around his rear wheel the reigning GNCC champion was forced to pit having lost the use of his rear brake. Quickly back out on track Knight needed little time at all to work his way into the lead before opening up a commanding advantage of some eight minutes.

David heads to the States on Monday, February 25, where he will spend several days testing with his Red Bull KTM team in Florida ahead of the opening round of the "˜08 US GNCC series. In the meantime Knight will continue testing and training at his home in the Isle of Man.

David Knight: "The event was great preparation for me. I knew the conditions would be sandy, like the first race of the US GNCC championship, so it was perfect for me. I wanted to race the bike for three hours before heading to the US. I've spent a lot of time adjusting to and setting up the new bike in recent weeks and everything went well during the race. There are still one or two little things that can be improved but I'm really happy with the way the bike performed. I also felt fresh at the end of the race, which is good.

"The race itself went well. I got about the only holeshot I've ever had on a 450 but then I took a wrong turn and dropped to second. I got some rope caught in my rear wheel then, which lost me about 45 seconds as I had to come into the pits to sort it, but after that everything went well. The track was quite fast so it wasn't easy to make up time. But I pushed hard and was about eight minutes ahead at the end of the race. It was a really good event and I feel much happier now that I've raced the new bike for three hours."Â

Well, it sounds like just about everyone is ready. And we still have a week to go. See you at the races (next weekend).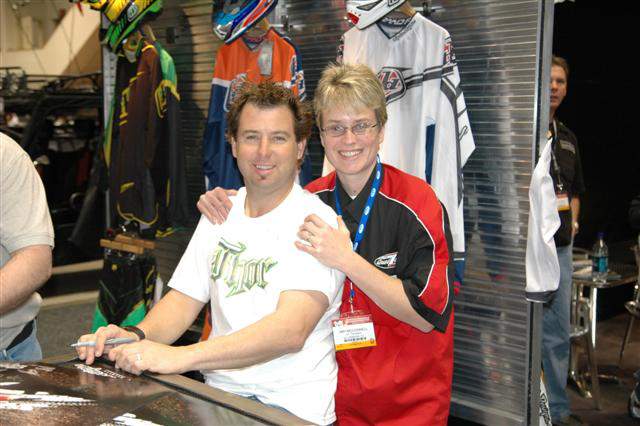 Our shooter Amy got to meet McGrath!