Jared Bolton
Thursday, October 14, 2021 | 11:10 AM
Welcome to Quick Fill.
Believe it or not, this week's edition of Quick Fill comes to you from Loretta Lynn's Ranch! No, you're not missing a GNCC event or anything here. Kayla and I are at the ranch helping out with their Fall Trail Ride which is taking place throughout this weekend. Trails are open today, Friday, Saturday and Sunday and things are looking really fun, along with a full weekend of riding, music, and good times. They've got a 13 mile main loop, two bike-only single track sections that are around 5 and 6 miles each, a Novice loop, Kids loop, plus a night ride Friday night. So in other words, there's a lot of riding going on! Check out the ranch's website for more details if you're just now hearing about it and want to ride.
So, with that said, we're actually pretty busy helping the guys here and this week's edition of Quick Fill will be quick. We'll be back next week with all the latest leading up to Ironman but as an early reminder here are a few key notes we want everyone to keep in mind as we prepare to head into the final round of the season…
Gates will open on Thursday, October 21 from 6pm - 10pm. There is an additional Admission Fee for Thursday Arrival which is $30 Adult (12+) / $15 Kids (6-11)
As usual regular weekend admission (Fri-Sun):
$25 Adult (12+)*
$10 Kids (6-11)*
5 & under free
Don't forget about the amended weekend schedule, which is as follows:
Saturday, October 23
8 am – ATV Youth Race
8:30 am – Bike Micro Race (separate track)
9:15 am – ATV Micro Race (separate track)
10 am – ATV Amateur Race
1 pm – ATV Pro Race
4 pm – Bike Youth Race
Sunday, October 24
8 am – Bike Amateur Race 1 (90 min)
10 am – Bike Amateur Race 2
1 pm – Bike Pro Race
There's also tons of extracurricular activities taking place throughout the weekend including:
Monster Energy Concert Series:
Friday, October 22:
8:00 pm - Temecula Road
Saturday, October 23:
7:30 pm - Davisson Brothers Band
9:30 pm - LOCASH
Trick-Or-Treating: Saturday from 5:00 - 7:00 p.m.
ePeeWee (STACYC) Racing: Saturday at 6:30 p.m. at the finish line; trick-or-treat candy will be handed out at the STACYC race.
Halloween Costume Contest: Saturday at 7:00 pm at Team Faith
STACYC Track: Open All Weekend. Must wear a helmet.
Don't forget there is an Indiana Helmet Law that we want our GNCC racers to know about. All minors under the age of 18 must wear a helmet at all times on a dirt bike or ATV at Ironman Raceway. This means if you are riding your bike to the start line, registration or tech, you must have a helmet on at all times.
That's all I have for this week as I'm about to head back into the woods of Loretta Lynn's. Enjoy your weekend and we'll see you back here next week… Unless I see you at Loretta Lynn's this weekend.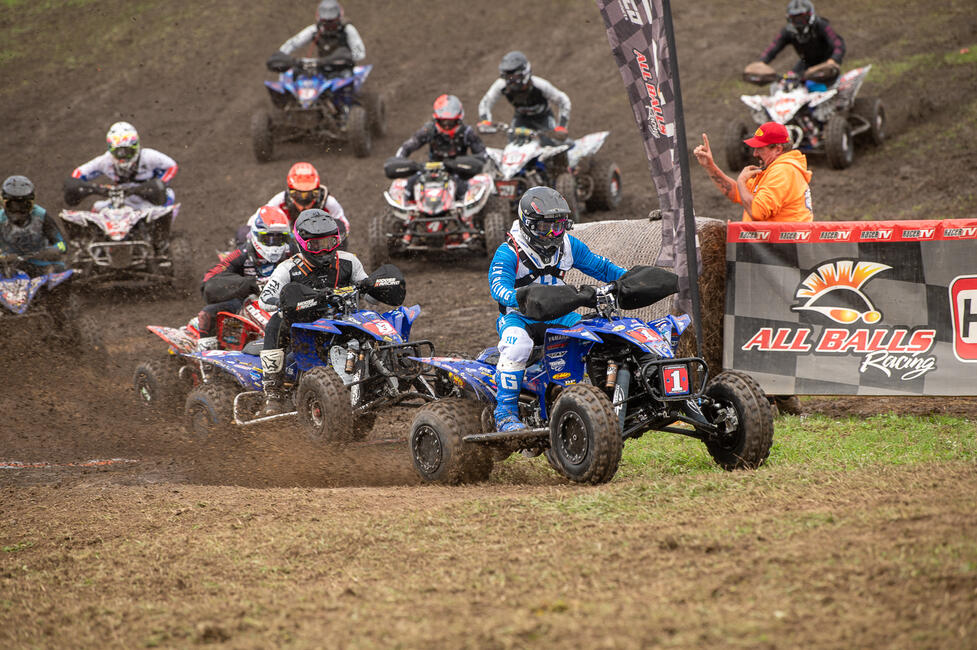 Catching Up With Ken (Ken Hill)
I sure hope you made it out to the Buckwheat 100 as it turned out to be a drama filled weekend both on the track, in the pits and some of that will follow us all right to the final round. Ok, drama may make things seem a little goofy but the ongoing points battle between Baylor and Kelley raged on as the pair lined up for three hours of very intense cat and mouse games that indeed saw Kelley rise to the occasion and take the win. I, as well as many others, were expecting a bar banging finish but the last lap saw Baylor fall off the pace as Kelley strolled across the finish line without anything in the way the craziness we all seem to seek. When Baylor did roll in, he was visibly concerned and of course exhausted as the mental crash and physical drain hit home. In minutes one could hardly tell the top three had even raced hard much less what we all know is so crazy out on the course that it is an amazing change for fans to watch. Did I mention Thad Duvall decided to twist the throttle a bit harder and landed on the podium? It was really great seeing him back in the mix and we can only hope he continues to get back on pace and be fighting for wins as his season has been one he would probably care to move past.
When the season started and the front row was absent one Kailub Russell, all eyes were on a few riders that everyone expected to slug it out for the number one spot as they try to build their own dynasty as other champions that came before them had done. Here, with eleven rounds down, we still have basically a one and done as the final three hours of 2021 will mean the most. There is no way to predict what's going to happen as both of these incredible racers know what they have to do. It could come down to who wants its more, who can control the emotion during the race and then there's always the skill set, lappers, weather, you name it and they are going to deal with it. There have been final round battles before no doubt but I can't recall one with such a larger than life figure at the helm in Steward Baylor. Not discounting Ben Kelley one bit, but if Baylor wins the party will be epic and if he comes up short, the enormous let down will be harsh to him and his immense fanbase. We will all know how it plays out soon enough so be sure to get to Ironman.
Now the ATV side was nowhere near what the bike side was in respect to the drama as Walker Fowler has already wrapped up the XC1 championship, Landon Wolfe has the number one plate in 4x4 Pro and Ronnie Rusch finally and officially locked down the XC2 championship. All those number one plates left little to go on beyond solid racing. The course was well received this year and turnout was solid as this venue gains momentum. I know Adam McGill was happy to have yet another round in his backyard and even was able to claw his way onto the podium to join Walker and Cole Richardson giving a good vibe as we closed out Saturday's racing. To add, Jessica Ellioff claimed another win in WXC giving her something to build on as the final round approaches.
Ok, all the usual info dumped off now how about the fun stuff? I really wasn't looking forward to Saturday due to the weather. We have been fortunate this season but if there's one thing I can't stand is shooting in the rain. Thankfully what did fall was fairly light and the parking areas stayed passable thanks to the cows making the ground like concrete. Of course, cows, and I made it a point to remind everyone that forgetting the other deposits left by the bovines would be everywhere yet I still saw folks slurping on camelbacks or licking their lips especially after the checkered flag. So if you caught me chuckling and shaking my head it was because I was reacting to that first realization by folks that something didn't taste right!
Now if you notice in my images, I did not travel far and wide this round. With the weather and mud on Saturday it wasn't worth the effort and on Sunday I knew other shooters would be heading to the typical spots, so things were covered. Overall, I think the weekend was another job well done by everyone and that's a good thing leading into Ironman. I will probably have my UTV with me so I can scoot around and carry more gear without causing harm to myself so if you see me in a new ride throw a wave! I may find it easier to get around driving it versus the ATV but we'll see how it goes.
That's it for me this week as for once, I have no doctors appointments! I think next week is clear as well which is unusual, but I will take it. We are starting to get dialed in for the actual final round of tests to verify if my wife can be my living donor and then if all goes well, schedule the actual operation. We also finally started a gofundme to help us tackle these enormous medical bills and the support thus far has been amazing. My wife cries, I shake my head and we pray every time we see a new round of donations. We are the ones who openly ask for help but we are so glad we finally did. I was informed by the IXCR crew that they are getting something by way of a raffle set up for their remaining two rounds to benefit us and the entire racing community has really stood with us as we face this ordeal. I will have more info hopefully soon because I really want as much recovery time before the 2022 season busts open which for me is usually now in late January.
One of the best donations as it were came in the form of a private message on my Instagram from a young fellow who had the same operation I am facing and it's been a blessing being able to ask real world questions to someone who has been there done that. Sometimes you must have blind faith and just follow what you feel and let things happen and I'm at that point! As I sign off this week, please be safe in all you do and may the good Lord continue to bless us all!