Mikey Waynes
Time
Tuesday, June 1, 2021 | 3:45 PM

Stemming from the grassroots of family racing, Wiseco has over 75 years experience manufacturing pistons, whether it be for fun, weekend riding, or professional racing. Wiseco is one of the few manufacturers forging pistons in the U.S., providing quality and performance you can trust. Click here to see the latest Tech Tips from Wiseco.
I've had three people, close to me, suffer spinal cord injuries over the last three years. Cody Fox, Forest Smith, and most recently, Lucas Grounds.
I don't mention that to give myself validation to speak about spinal cord injuries. I guess the point of mentioning those friends is to point out, if you're around this sport long enough, you're going to know at least one person who's incurred such an injury while riding a motorcycle.
I cannot begin to speak on their behalf. I can, however, vouch for how their lives are not defined by their injury. And they'd all agree, racing is still in their blood and on their mind.
Rory Mead fits that mold perfectly. Quite simply, the man is an absolute (ear muffs kids) badass. (I tried, I really did, to find a synonym for "badass" but nothing drives home the point quite like that word did. So, mom, if you're reading this, forgive me for cursing.)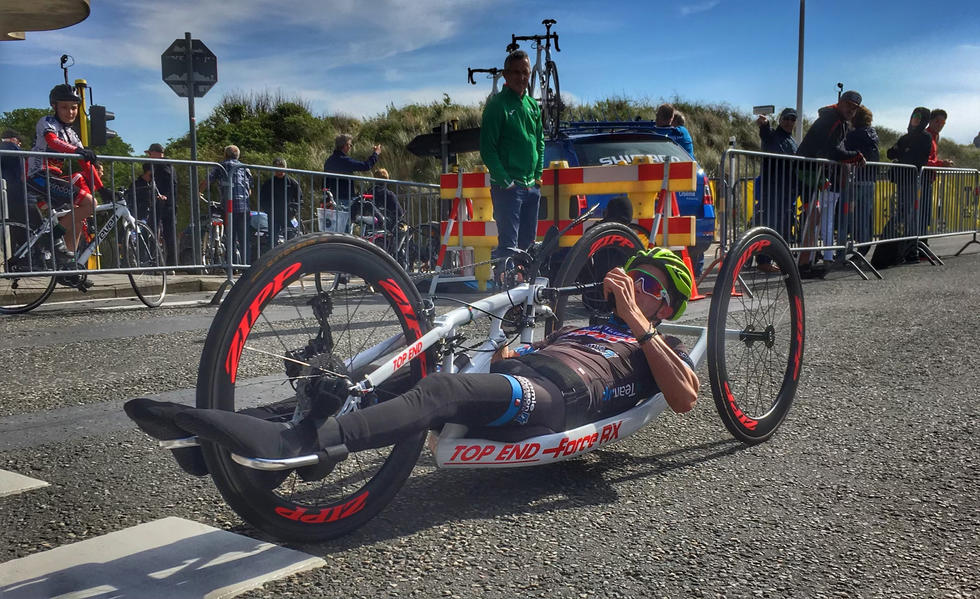 GNCCRacing.com: Rory, thank you so much for joining me today. What have you been up to?
Rory Mead: Thanks for having me! I'm actually on my way to the gym. I'm currently training for the Paralympics.
Wow! Well thanks for making some time for us today. To get things started, I think it's safe to say 99% of the folks out there are well aware of who you are, but for those that may not know, tell us a little bit about yourself. How'd you get into racing and how you got to where you're at today.
I grew up in New Zealand as most people know. I had a pretty normal childhood; I wasn't heavily involved in racing. I'd go on the odd-weekend with my dad once in a while. But the more I got involved with that the more I started liking it. I started traveling to Australia to compete in Moto Trials and once I got into my late teens, I was sort of over that, at that point I wanted to go fast. You know like any other kid that age. I ended up getting into Enduro and Cross Country racing. I caught onto that pretty quick with my Trails background. I reached the top in New Zealand and was looking to venture out. Obviously GNCC in the states was huge. Paul Whibley was racing it and we came up with a plan to come over here and race a couple rounds. We ended up borrowing a bike off of Paul and gave it a shot. It ended up working out really well. I even got picked up by the Geico Honda Team as a fill-in ride for Jimmy Jarret for a few rounds. Then I ended up staying on with him for the rest of the season. After that I was hooked! That got my foot in the door. Came back in 2012 on the WMR Team and had a really good year. Managed a couple of wins and a few podiums and it took off from there. Then in 2014 at Steele Creek I broke my neck. Everyone kind of knows how that went down. Life changing, it really derailed the future I saw for myself. But I bounced back from that. Sure I'm not walking and I'm still in a wheelchair but honestly, my life is so normal you wouldn't believe it. I'm really into Hand Cycling, trying to make the Paralympic Team for New Zealand. I should find out about that in a couple of weeks. And in the meantime, I came up with a fund raiser for Lucas Grounds.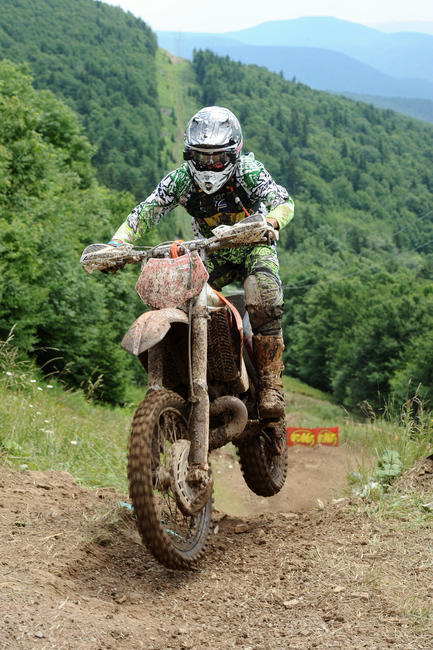 I talked to some of the guys that did the ride with you from Spyke's KTM in Lafayette to Ironman Raceway for the Hoosier GNCC. They mentioned along the ride you all ended up on a two mile stretch of gravel road and you never skipped a beat, you're a beast! Is there where you came up with the idea for the Ride for Life fundraiser?
The idea of riding up Snowshoe Mountain, for me, isn't really a new idea. I've been wanting to do it for a number of years. Really as sort of a crazy adventure more than anything. On my way back from the Hoosier GNCC I thought, this would be a perfect time to do this as sort of a fund raiser for Lucas.
Your injury happened in 2014, Lucas' injury was obviously a lot more recent. Can you speak to the experience you've had in the last 7 years and maybe even provide some insight on how drastically it changes your life.
I think everyone handles it differently. And where you're at in life plays a major part in that. For a 15 year old kid, like Lucas, I can't imagine going through that. I was 24, I believe, when my injury happened. So I was a little more mature as a young adult, I had a little more life experience and that gave me a bit of a better understanding. I think the older you are, maybe the easier it is to deal with. I'm not saying it's easy for anyone. It takes a lot out on you personally, but also the people around you. Your family and friends are affected too. So for me, I never really got caught up in idea of self-pity. It never crossed my mind that I'm a GNCC Pro, this isn't fair, now I've got a broken neck this is it. I thought, yeah, this sucks, but it's a new challenge. You have to get on with it. It's difficult to describe, but really, you have to embrace and enjoy the journey. Because if you're just sitting there thinking, man if I could walk again, I'll be happy. To me, that outlook, you're going to be unhappy because everything hinges on whether or not you can walk again. And if that's not happening and you let that one thing in your life control your happiness, you may never find it.
A spinal cord injury can happen to anyone. Sure there are things that increase the probability of such an injury, but realistically we're all one mis-step away from something like this. Do you think, being an athlete, specifically a GNCC Pro Athlete gave you an advantage in mindset and focus when it comes to perspective after such an injury?
There are two answers to that question. Physically, yes, because you know your body and you know what's needed to get better. You know how hard you have to work. But mentally, sure you're a GNCC racer, you've got a large amount of mental toughness to get through a three hour GNCC, but it's almost a curse because you know what you used to be. You mind was so in tune with your body and now, it's not. So that can really play on your mind. It's tricky to course.
Jumping back to the Ride for Life up Snowshoe Mountain. Let's talk details and training. That mountain has a peak elevation of 4,848 feet. How are you training for this?
It's really that high? I might have messed up the math on that…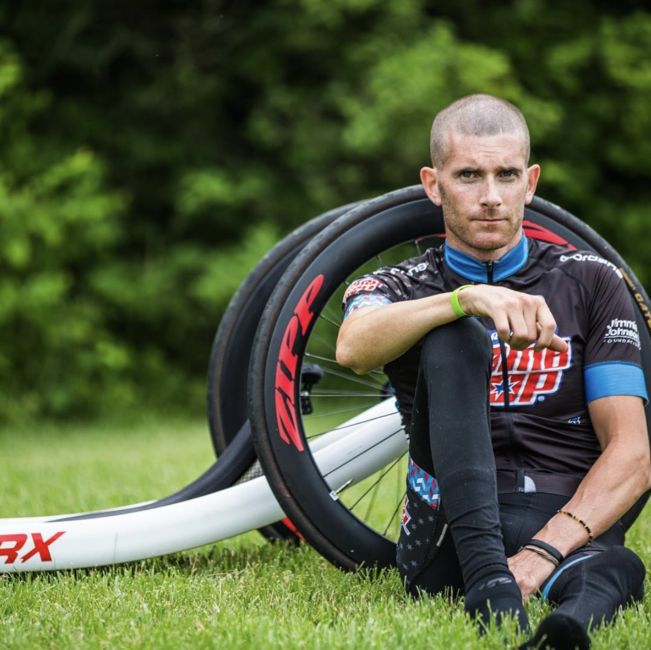 Well I did pull that from Wikipedia, they've been known to be wrong a few times.
No I kid, the elevation doesn't worry me too much. Mostly what I'm concerned about it is the elevation-gain and the distance. That tells me how steep it is. That's the issue. On a Hand Bike, we just don't put out enough power on the hills to climb at a decent speed to where the gearing is appropriate. I did some quick math on it and if it takes me two hours and my cadence is 50rpm, it's like bench pressing 3,000 times. That's how slow my arms will be spinning if I don't get the gearing just right. So yeah, I'm going to have to hit it right. I've never attempted something like this before, but I'm up for the challenge. I'm not scared one bit.
As I sit here sipping my third cup of coffee and eating a sandwich, I've come to realize I'm out of excuses. This is absolutely incredible! You're training to qualify for the Paralympics. Does that training provide you what you need to train for the Ride for Life up Snowshoe Mountain, or have you had to adjust that training a bit to accommodate that terrain?
Bike setup is the biggest thing I'm worried about. My training really hasn't changed up. My biggest goal is the Paralympics. So as long as I'm on track for that, it should condition me for the Ride for Life. I will allow myself some recovery time after this event. Outside of that, I feel I'm ready for anything. I'd say my biggest issue outside of bike setup, I haven't been to Snowshoe in a number of years. So I really don't remember that road very well. That's another thing I'm trying to figure out.
What do you do for a living?
I work at Dick's Sporting Goods as a Bicycle Mechanic. You know, if you'd have told me years ago that I'd be working at Dick's Sporting Goods as a Bike Mechanic I'd have laughed. I'm not saying I'm too cool to be working there. It's just that when you're at the top in racing and everything you race and ride is high-end, it's not really what you see for yourself in the future. But I really enjoy working on bikes. For me, to go to a place like that and fix people's bikes and do a good job at it, it's very rewarding. I also work at Bonzi Suspension with Levi Kilbarger. I help him out with 2-stroke top ends and clutches. Little things here and there. Those two things along with all my training, that really fills up most of my time. You know prior to the injury you're so busy. You're racing and when you're not racing your training and when you're not training or racing, you're traveling to the next race or some place to train. It consumes so much of your time that once you're injured you go from that constant schedule to a wheelchair; it really makes life move slow. But things do get back to normal. You end up filling it with things that you enjoy and keep you busy.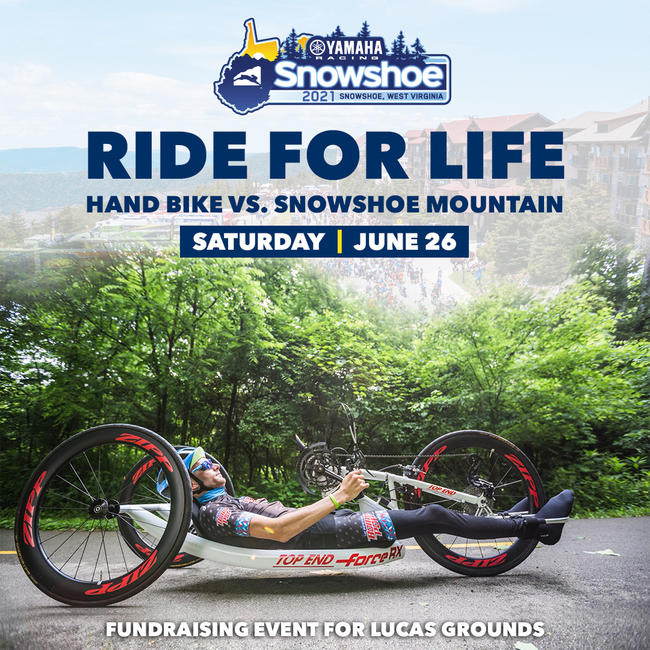 On a personal level, riding a motorcycle again after someone close to you suffers a spinal cord injury. There is this level of guilt. I know as I write this, our GNCC family understands what I mean when I say that. For example, Lucas' crash happened in November. Here in Indiana we had two warm days in February. I was chomping at the bit to get the street bike out for the first time this year. I ended up doing a short ride around town. The pavement is freezing cold still, the tires are cold, there's still sand on the roads from the State Highway plow trucks, and none of the pot holes have been fixed. I go around a corner and the rear-tire breaks loose. I was fine, I regained control of the bike quickly and it really wasn't a big deal. But in my mind, I thought, is this worth it? I've got a wife, family, and friends… what if? I'm sure this is something you've seen in people close to you too. What would you say to those people?
It's a funny one when people on the other side feel that way. It's not like that at all for us. We want to see people riding and having fun. People need to know that if we could be out there with you, we would be in a heartbeat. If it's what you love doing it, you gotta do it, otherwise what's the point. I mean that is living. Dirt bikes, street bikes, whatever it is, get out there and enjoy it. Seeing people enjoying riding and racing is a wonderful thing.
One last thing, I want to make sure I give you a chance to plug the GoFundMe you've setup for the Ride for Life.
Oh thank you! Without getting into the weeds, it's such a costly injury. And those costs and expenses continue to come for several years. So every little bit helps. I've got the GoFundMe setup, it's gofundme.com/f/ride-for-life-lucas-grounds-fundraiser