Jared Bolton
Time
Friday, February 12, 2021 | 1:40 PM
Welcome to Quick Fill.
Crunch time is on! This time next week we'll be preparing to roll into the Big Buck Farm in order to get ready for the first round of GNCC Racing in 2021. Well, actually, our crew will have already been there for a few days at that point and I'm sure we'll have some teasers to share. For us this means crunch time is absolutely here and we're counting the hours instead of days at this point. Regardless, it's almost time to go racing and Big Buck is on the horizon.
There has been a bit of pre-season racing taking place recently, and the one I talked about the last several weeks took place last weekend. The Sumter National Enduro traditionally serves as the opening round of the AMA National Enduro season, and this year was no different with a huge turnout of racers. It actually ended up being a pretty close race for the overall win, and a little bit of drama made it even more exciting.
Steward Baylor would once again squeak out a Sumter win, finishing just 32 seconds better than Grant Baylor, and 34 seconds faster than Craig Delong who rounded out the podium in third. The really impressive part of this is that Stu actually crashed with somewhere around 20 miles remaining, caught his handlebars on his lower back and pretty cut himself, well, pretty much wide open. Stu remounted and not only finished the race, but won it. Then did podium presentation, interviews, packed up and more before heading to get it stitched up.
So, if you have a strong stomach for these kinds of things and are curious as to what the gash Stu rode with looks like you can see it HERE. I will say it's not overly disgustingly graphic, but it's a pretty sizable cut. Evan Smith rode really well to finish fourth on the day with Ryder Lafferty rounding out the top five. Sixth would go to Ben Kelley while Jesse Ansley ended up winning the Pro 2 class and finished seventh overall.
Ricky Russell ended the day in eighth, Zack Hayes second in Pro 2 and ninth overall and Liam Draper rounded out the top ten overall. Josh Toth gets the gutsy ride of the day award as he rode to an 11th place finish with a broken hand that he actually had surgery on earlier this week. So, while that's a serious bummer for Josh, hopefully he'll heal up quickly and we'll see him back up to speed as quickly as possible.
It was also interesting to hear that Stu Baylor is actually suffering through Epstein Barr at the moment as well. There's no doubt that also made the Sumter event really tough and we'll see what this means for Stu when the GNCC season gets rolling as well. It's no secret that Stu is one of the toughest guys in the pro ranks but the Epstein Barr thing is no joke and can make any sort of physical activity really grueling for anyone.
A little further down south the Florida Trail Riders series was also in action last weekend and had a pretty good race of their own. Cole Richardson would end up winning the ATV race with Hunter Hart in second and Walker Fowler in third while Brandon Frazier and Johnny Gallagher rounded out the top five. On the bike side, Jordan Ashburn rode to the win ahead of Garrett Edmisten, who is always really tough to beat in those FTR events.
We premiered another episode of Behind the Bars this week, which is also posted below. This time we took at look at the season opening round from 2001 with the Kirton Ranch bike race in Okeechobee, Florida. Steve Hatch was able to join us for this episode as he finished third behind Shane Watts and Mike Kiedrowski. It was a pretty interesting race all around and Steve had some great input as well. These days Steve is a world-class coach, working with a number of racers which he talks a little bit about in the episode. Take a look because it's definitely worth the watch!
This actually brings the Behind the Bars series to a pause for a bit as we get back to racing. We'll work towards having a few more episodes either after the season ends, or possibly even sooner. These are always really cool shows and getting first-hand input from some of those involved is always a unique angle as well. There's still a ton of really interesting shows to go through, and we're still looking forward to putting together a Blackwater 100 episode in the future as well.
That's all I've got for this week. Be sure to check back next week for a teaser of what to expect at Big Buck because the Track Crew will be there really, really soon and we'll be putting together a course layout early next week. Enjoy your weekend and we'll see you here next week as we roll into Big Buck!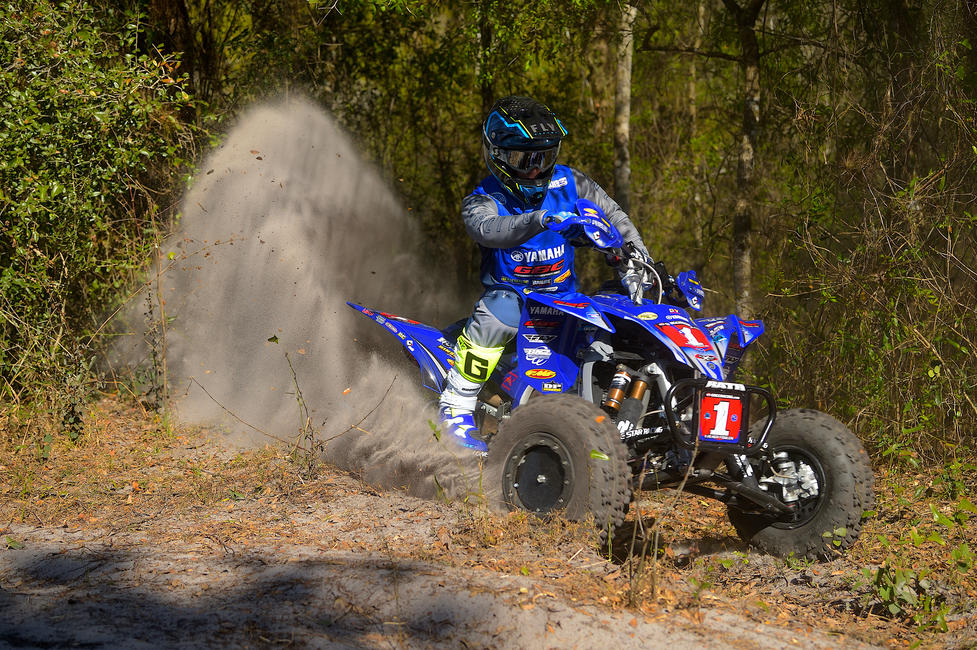 Catching Up With Ken (Ken Hill)
Well folks we are under 9 days to go before we all hit the first round of the 2021 season! That's right, we are going GNCC RACING! Now I look like a gun shy pup when it comes to the opening round simply because it gets insanely busy as riders and teams all want images before they send their new ride through the first few races, not to mention our own needs, and then there is the need to get as many of the series sponsors pits shot as well as the people. For me, the racing really comes second at the first few rounds but I accept the challenge.
Now if I could ask for all of you to pray for good weather because nothing kills the vibe or the images like bad weather can, will and often does. I had planned on staying south until the first round but a cancelation along with so many riders not having everything they need to finish things up left me in a quandary, drive home and enjoy the family and make sure work around here got done or lounge around the south acting busy. The fact that the day after I left for that run saw our area get a nice icy knee deep snow so making sure the wife was staying mentally fit was my steering factor as I headed back north, happy wife, happy life stuff! In any event, the trip was productive as I nailed down several of our series superstars and got the chance to generally just hang out and see what they had been up to.
After leaving central Florida, I headed into South Carolina to pay the AmPro Yamaha team a visit to get the needed work done. Randy Hawkins is a class act and his team is looking very strong as we look to the new season. Of course the weather was crappy but we didn't allow that to deter us even though it really curtailed what we could get done but I think we managed to satisfy everyone. Over the years it has become apparent to me that certain riders are fun to shoot, some are not and I say that because those riders know one thing, go fast in the trees and to hell with anything else. That's not a bad thing but for a photo shoot I need them to look fast for like 5 feet, which is harder than you'd think especially on two wheels.
All my riders did exactly what I asked so no complaints its just something you work with. Now adding Steward Baylor to the mix has me wanting to apologize to all my teachers from my school days! Stu is like the kid who gets all the other kids worked up; be it humor or his general fun nature, which is a blessing as he indeed shows his leadership abilities through his antics. Nothing bad was done; he just has a confidence about him on the bars that when combined with having fun really works. You just have to understand going in that what you planned will keep his attention for a span of a few passes through a corner only lasts until he sees a tree root, a jump, a stump or whatever catches his eye. This usually leads to the other riders following his lead which I enjoy as they really get captured doing what they love and tend to forget I am even there at times. The stress on these riders is immense and to see them truly loosening up is important. I left the boys on blue and turned the Dodge back south, as my next two victims were ready for me, or were they?
One thing you can count on in this racket is you will have time to kill as a planned day gets pushed back or delayed. For the ATV crowd this is usually due to waiting on parts but as I explained in the last Quick Fill, EVERYONE is being impacted it appears this year. I was eager to see our champ Walker Fowler and the eternally vigilant Johnny Gallagher the day before we were scheduled to shoot. Arriving at Walkers pad, I was directed to hang out as Mark Notman was due in the next morning to assemble the actual quad we would be shooting. I had faith in Mark, he is a top shelf wrench so after chewing the fat I left to return the following day to get the work done, peering in the direction of the chassis I had seen the following day proved we had to have a plan B as a miscommunication had parts in one state and the ready to go chassis sitting in another.
Again, expect delays and roll with them and that's what I did as Johnny applied new graphics and Mark attacked another ride for Fowler. Only a few hours late but we headed off to shoot and knocked it out in no time. Hanging out with Johnny is like walking around with a history of the sport at your side as he closes in on his 27th year of racing with no end in sight, Johnny has become a legend and a true asset to not only the companies he represents, but to the sport itself. Watching him and Walker banter back and forth had smiles and laughs coming at a non-stop pace. My time with these two and Mark was awesome as usual and I can't wait to see how things play out in 2021. Fowler looked strong, his systems are proven and in place although one has to wonder who will be the next rider to put together an epic season to try and dethrone the muti-time champ.
That's about all from me this week as I continue to clean sand out of gear and keep my health pointed in the right direction. I know everyone is going a gazillion miles an hour as we hit crunch time but please remember that most of this is for fun and the memories so make it count. And please be safe in all you do and especially in your travels as we converge on the Turner family farm for another Big Buck round! May the good Lord continue to bless us all!