Jared Bolton
Time
Tuesday, January 5, 2021 | 4:30 PM
Stemming from the grassroots of family racing, Wiseco has over 75 years experience manufacturing pistons, whether it be for fun, weekend riding, or professional racing. Wiseco is one of the few manufacturers forging pistons in the U.S., providing quality and performance you can trust. 
Click here
 to see the latest Tech Tips from Wiseco.
Dahlonega, Georgia's Mike Grizzle has been a pretty well known name among racers in the southeast for many years. The, dare we say, 'grizzled' veteran has been around the block with a long history racing GNCC, National Enduro, SETRA and many other local level events. Working his way up through A class ranks, to a local level pro, and now into 50+ age classes, Grizzle is no stranger to finding success at the front of the pack. This year he made more GNCC appearances that he has in quite a few years, and it paid off with the Masters A championship. We caught up with Grizz himself to talk about his season, and much more.
GNCCRacing.com: Hey Mike, how's it going today?
Mike Grizzle: Things are going great! Just enjoying a good day at work.
So what do you do for a regular job outside of racing?
I've worked for Slack Auto Parts for over 30 years now, and we have 13 locations all across north Georgia. In my early days with the company, I got into selling a few motorcycle parts and that turned into my daily job at All Terrain Powersports. We are in the back of the Dahlonega location.
Since its dirt bikes, dirt bikes and more bikes, do you have any other hobbies? Asking for a friend who has no other hobbies.
Nope, its just dirt bikes, and has just been dirt bikes for a really long time (laughs) Racing, Trail Riding, Dual Sport… I just enjoy all aspects of the dirt bike lifestyle.
You had a pretty successful 2020 season. Tell us how it went.
2020 was definitely a great year for me. I was lucky enough to clinch the Masters A championship in GNCC and also claimed the 50+ A class win in the National Enduro Series. It was a long year with some tough competition but I also had a lot of fun, which is just as rewarding as a title.
What pushed you to chase the whole series this year?
That would be my 15-year-old daughter, Megan. She loves going to the races.
After wrapping up the Masters A title, you actually rode the Senior A class at Ironman. How'd that go?
Well, I really wasn't too sure how I would hold up for 3 hours, so I set my goal to try and make the podium. Things started out a little rough, as me and another guy got together, and I went over the bars. I got up and the bike was a little bent up but I put my head down to see what I could do. I was able to make the podium. Mission accomplished!
You actually did pretty well, any ambition to run a whole season against some of the slightly younger guys?
(Laughs) No, I think I'll stick to the AM race. It was a lot of fun but three-hours is a long time, especially when you've got a long drive home!
Some folks newer to GNCC Racing may not have recognized your name as racing the whole series. However, you've raced the whole series in the past, but it's been a while!
Yeah, it's definitely been a while. The last time I did the whole series was back in 1998. I actually won the Open A class championship that year.
You've had a pretty good racing career. How did you get started racing?
When I was in middle school, my Principal, Larry Kenimer, took me to some races and that's all it took. I've been hooked ever since.
You and pro mechanic extraordinaire Allen Gravitt, who's been working with Liam Draper, battled it out in the SETRA series over the years. If you and AG lined up right now, what kind of racing would take place?
It would definitely be a lot of fun. Allen is still really, really fast and I think we'd still be swapping back and forth. We raced and traveled lots of miles back in the day, so it definitely wouldn't be anything new to us!
You've seen a lot of change over the years. What are the biggest differences between your early days racing and now?
There have been several big ones, but I'd say that overall bike technology is probably the biggest. Between improvements to suspension, the switch to fuel injection from carburetors and 4-strokes becoming the great race bikes they are now, it's really hard to pick out one big difference.
What have been some of the biggest accomplishments of your career?
I've been fortunate enough to win several Regional and National titles. Race wins are always great but championships are always really special. I've also been lucky enough to be a Husaberg support rider and KTM support rider, both of which were cool experiences. It all has been great!
What kind of goals for you have for the future?
To try and beat my friend Wormy (Jeff Harris) Battling back and forth with your friends is always a great time.
As a 50+ guy, what advice would you give to the younger racers?
It has to be fun! Always remember that's what got us into dirt bikes to begin with and remember to take GOD with you wherever you go.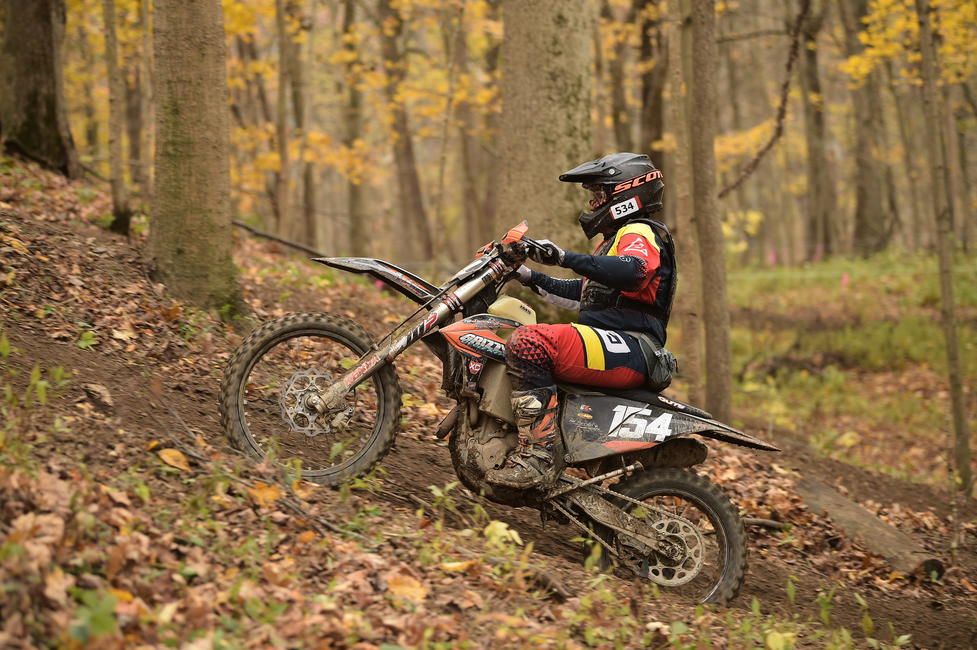 How about the guys that are just starting to crack into the 25 and 30+ age range? Most of them can be considered savvy Veterans at this point, but what would 50+ class Mike Grizzle want to tell 30+ class Mike Grizzle?
I really wouldn't change a whole lot in my racing career. As I said before, keep it fun and cherish the friendships you make along the way. Riding and racing is a special thing. You get to meet a lot of really great people and we should never take that for granted.
Awesome. That pretty much wraps everything up, but before we're done who would you like to thank?
First off I always have to thank my wife, Valarie, and daughter, Megan. Thanks to Enduro Engineering, XCGear, E Line, IMS, FMF, ODI, Bell, Scott Goggles, HBD MotoGrafx, Answer Racing, Mika Metals, All Terrain Powersports, Slack Auto Parts and Kenda.