Rachel Gutish
Time
Tuesday, December 22, 2020 | 2:05 PM
Stemming from the grassroots of family racing, Wiseco has over 75 years experience manufacturing pistons, whether it be for fun, weekend riding, or professional racing. Wiseco is one of the few manufacturers forging pistons in the U.S., providing quality and performance you can trust. 
Click here
 to see the latest Tech Tips from Wiseco.
Twenty-two-year-old Austin Abney, from Veedersburg, Indiana, is the 2020 ATV XC2 Pro-Am National Champion! One of the most dominant ATV riders Indiana has ever seen, Abney won a record 32 out of 34 local races he contested in the 2019 season. He planned on doing the same in 2020, but on a whim decided to step back up to the National level. He plans to pursue the GNCC series again next season but racing in the XC1 Pro class.
GNCCRacing.com: Correct me if I'm wrong, but was this your first full season racing GNCCs? I saw you were only at one last year.
Austin Abney: This was actually my second full GNCC season! My first was in 2018, I ended up placing second in XC2 that year. Last year I was just getting settled into my full-time job, so I decided that I needed to take a year off and focus mainly on that, and just race locals. I was still able to have a great year though, winning 32 of the 34 local races that I did that season!
That's an impressive record! Since I'm from Indiana I knew you were dominant locally, but I didn't realize to that extent. But it is still a pretty big jump to go from being the local fast guy to racing at the pro level nationally… what was it like making the switch?
Thank you! Racing nationally for me is totally different than the locals in my opinion. From the traveling to the tracks… it's a lot of mind game, and there's so much more involved.
Why did you decide to start doing the nationals?
I honestly didn't decide to do them until two days before round one this year! I told dad we needed to load up because we were going. He immediately said okay, so that's what we did! I really wanted to challenge myself.
How did you get started riding and racing?
I've rode since I was three years old and wanted to race for years but dad would never let me. I finally talked him into it in 2014, and as soon as we actually tried it, he instantly was all about it (laughs). That year I won two local C class championships, then went straight to the pro class the next season Since that year, I've won two or more local pro class championships every year, between IXCR, MWXC, Crossroads and Extreme XC, and now I've won a GNCC title as well!
Yes, finally getting around to the point of this interview, congrats on winning the XC2 title! That has to feel pretty good.
Thank you! Yes, it is what I have dreamed of ever since I started back in 2014! It was especially great being able to lock up the championship at Ironman, my home track, with some of the craziest fans out there!
Can you briefly take us through your season?
Well, I started out the year with a couple of second place finishes. I finally was able to get my first win of the season at round four! I had a few issues that fed the fire, and I was able to start clicking off wins! Had some good overall finishes and some great battles with the other guys in the class. It was a stressful year with all of the schedule changes, but I was just glad to be racing and to earn my first national championship!
Prior to the interview, I did some mild social media stalking to help me come up with questions – what's up with that #mosthated hashtag?
Well, as I mentioned earlier, racing is a pretty big mind game, and I had a few issues. I don't want to go into much detail because at the end of the day it's racing and we're all friends here. Anyway, a friend of mine started the #mosthated hashtag after one of those races I had an issue at, and it just stuck. It served as a motivator for me throughout the season as well! But like I said at the end of the day, there's no hard feelings and we are all there to have fun.
What do you do for your full-time job?
I'm a manager at Delta Welding Supply. I have a lot of roles there, ranging from managing day-to-day business to instructing classes! I also have my own welding truck to do jobs on the side.
What does an average week look like for you?
I work Monday-Friday. After my main job I will start prepping my quad for the weekend. I usually race every weekend, whether it's a GNCC or a local. If I am able to get prepped early enough, that's when I will take on side welding jobs. With all of that I don't really have time to train or ride much during the week, so that's why I race almost every weekend, so I stay in shape as much as possible!
What are your plans for next year?
My plan for next year is to race XC1 while still hitting as many locals as possible. Racing XC1 has also been a dream of mine since I started, so I'm very excited to see what next year brings!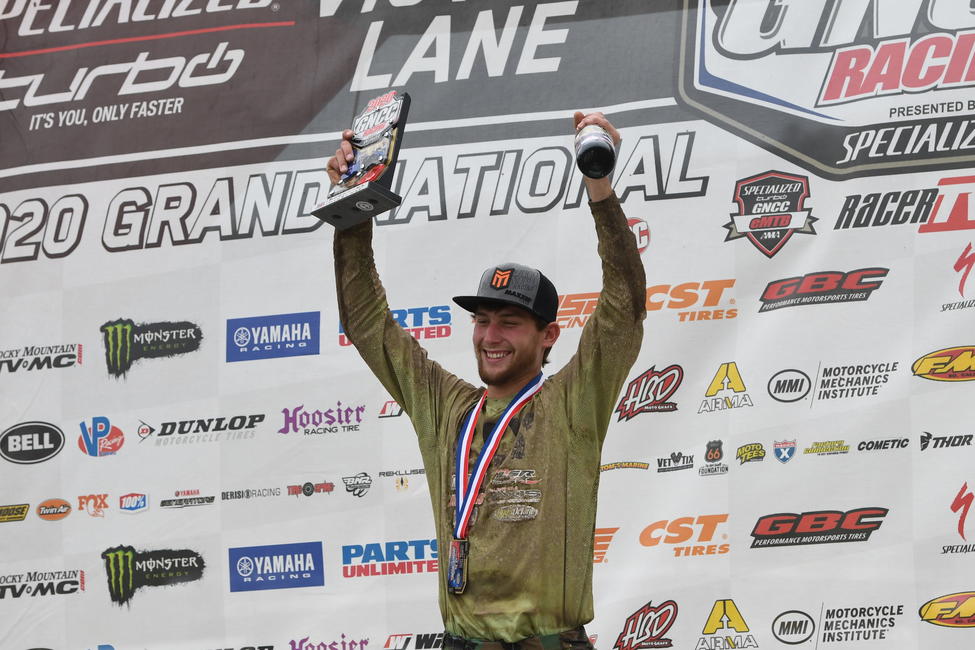 Do you have any long-term career goals?
Honestly, right now my goal is to just to get through my first year in XC1! I would love to race full-time and do it for many more years, but we all know how expensive racing is, so we'll see how this year goes.
And who would you like to thank?
I want to thank all of the people that have supported me through this journey, we aren't done yet! #mosthated. Especially my family, my girlfriend Sadie, and all of my sponsors: Action Off-Road, Topthe podium, Demaree Motorsports, Blud Lubricants, Hygh Octane Graphics, Custom Axis, DP Brakes, Yoshimura Exhaust, Sunstar, Twin Air, Vanillagorilla Racing, Mike Palmer, MZM Performance, Ryland Johnson Racing, Lonestar Racing, Maxxis Tires, Pandas Powder Coating, Alco Cleaners, Fasst Company, Evans Coolant, Fly Racing, Tireballs, Hiflofiltro, Stacy Mundy Photography, Works Connection, BodyworkbyKristin, Hinson Racing, Precision Racing, Quad Tech, Wiesco Piston and Scott Motorsports.