Rachel Gutish
Time
Tuesday, November 17, 2020 | 3:10 PM
Stemming from the grassroots of family racing, Wiseco has over 75 years experience manufacturing pistons, whether it be for fun, weekend riding, or professional racing. Wiseco is one of the few manufacturers forging pistons in the U.S., providing quality and performance you can trust. 
Click here
 to see the latest Tech Tips from Wiseco.
Hannah Hunter earned her first WXC championship this year! The 18-year-old from Saylorsburg, Pennsylvania had a near-perfect season, winning every race but one. She also made it on to the Morning Overall Podium several times, despite starting a row behind the 4x4 pro class.
GNCCRacing.com: So, Hannah how does it feel to win your first WXC championship?
Hannah Hunter: It feels amazing!! Just to know my dream became a reality is incredible, but it still doesn't seem real.
And you didn't just win the title, you narrowly missed a perfect season, winning twelve of thirteen rounds… pretty impressive!
Yeah, the first couple of wins were especially crazy. I didn't think coming into this year that I would do this good.
I don't know that anyone else would have predicted such a dominant season either. What do you think was different about this season versus the last?
I just tried to be smarter and not ride over my head early on in the race. I definitely had a good off-season training and riding with my buddies in Jersey and my local sand pit.
Will you be aiming for a perfect season next year?
For sure! I'm going to try to keep the championship, but my main goal for next year is aiming to become more consistent in the overall.
Speaking of the AM overall, you've made it on the podium a couple times this year, right?
Yes, I got third overall twice this year, one was at The General and the other was at Burr Oak when I locked up the championship.
How far away from an overall win are you?
I got about four minutes to shave off this winter and I'll be ready to contend for the overall next season.
Did wrapping up the title early change your race strategy or the way you rode the remaining rounds?
Not really, once I wrapped up the titles I really wanted to go for the overall podiums, but I made a couple mistakes at each race which kept me off it. For the 2021 season I'm going to try to get my head on straight again and ride smarter and faster.
Last year it seemed consistency was your biggest problem as far as the WXC points went. You were able to fix that this year though – how did you address it, and what's your game plan for eliminating mistakes and increasing your speed before next season?
Last year was our first full season on the 450, so we had to learn what we had to change to last the whole race or multiple races. This year we got the problems fixed and the bike dialed in perfectly which helped a ton. For next season my plan is to ride a lot more during the winter break. I've still got to learn, and I'm eager to get faster and make my brain a lot smarter (laughs)
What does an average week of training look like for you?
Well, I graduated high school last year and haven't decided if I want to go to college yet. Right now, since I'm not in school, I've been doing landscaping with my dad and grandpa all week. I also started my own business vapor blasting, which is basically cleaning parts like motors, bolts, calipers, pretty much anything that's metal. So, I've been staying pretty busy working and trying to make some extra cash to start supporting my racing career more and to grow as a person.
Did you ever consider competing in the afternoon race for fun after wrapping up the title? That's something some of your bike WXC counterparts have done in the past.
I definitely want to try at least one afternoon race in my racing career. If I wrap up the championship early next year, I've got a huge surprise that will most likely happen at Ironman.
Cool, if you repeat next year, we're looking forward to seeing it. Can you give us any hints or nah?
No, not yet, but if anyone is interested follow my Instagram page @hannah718 to follow me along with my journey test riding it this winter.
Since we're talking about equipment, I have a question I've always wondered about. I have almost no experience with race quads, just dirt bikes. What is it like trying to race a machine that's like triple your size?
It's harder being so small, especially if you get stuck it's really hard to get it out. But other than that, it's super fun and you crash a lot less than most dirt bikes do in a race. But when you do crash, be ready for the quad to land on you or flip over.
What were the best and worst moments of your season?
The worst moment this year was Ironman when I flipped down the twin hills right in front of my dad… but I'm super glad I finished the race with no scratches. The best moment was when I wrapped up the championship at Burr Oak. That same track (Penton) was also where I had my first-ever GNCC win back in 2011. I also loved the first race this year, Big Buck, because Traci Pickens and I battled back and forth all day and finished only a second apart. That's when I knew it was going to be an awesome year.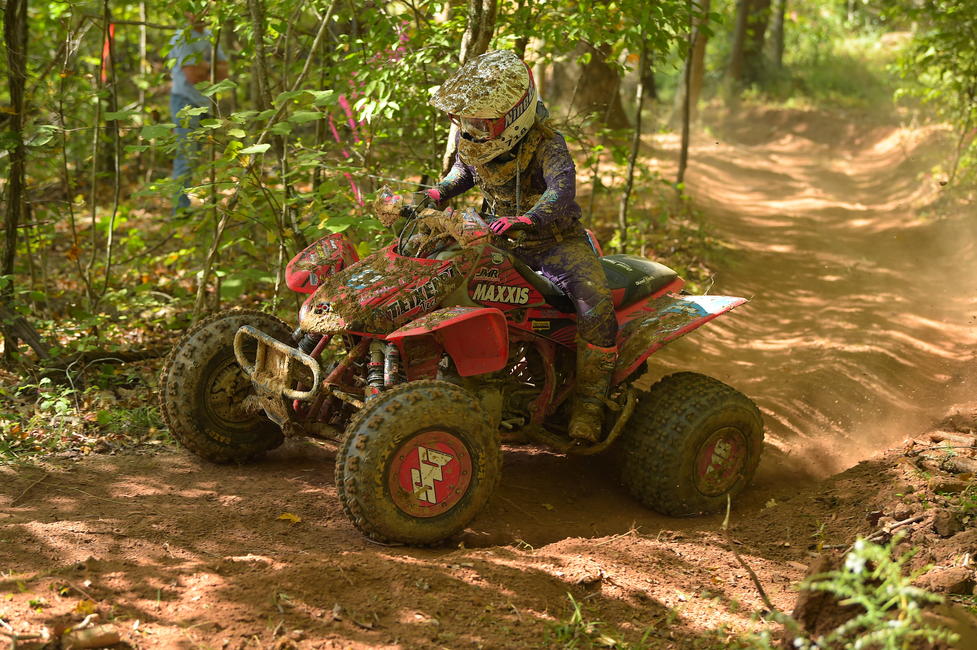 It seems like most of the WXC ATV riders have good relationships with each other, and I know Traci and Alicia both trained you when you were younger. Would you say it's a pretty supportive group?
Yes, it definitely is! This is the only place I've ever raced against people more like family to me than rivals. I love how all of the WXC ladies love each other off the track but aren't afraid to race our hearts out against each other on the track, even if we get a little close to each other sometimes. I'm super glad I got to grow up with Alicia and Traci showing me how it's done and being the best role models a young girl could ask for, which is something I'm trying to do for the younger generation. Just trying to be a great role model for the younger girls and to remind them to keep their heads and keep working for their dreams because anything is possible.
Sounds like that was a great experience for you and it's nice to see you trying to pay it forward. Is there anything I didn't ask that you would like to talk about?
Not really, I'm super excited for next season, I already miss GNCC racing!
And who would you like to thank?
I want to thank all my amazing sponsors that supported me this year. My Mom and Dad, the Whitehead family, the Pickens family, the McCormick family, Jarrod McClure and Kiote, Teixera Tech, Maxxis, JMR, Mika metals, Hinson, Fly Racing, Elka Suspension, Impact Solutions, Spider Graphix, Kellner Motorsports, Malaska Pro Head, Stone Concepts, Powermist, Precision Racing, Tireballs, Renthal, Mattos Cycle, Wiesco Pistons, Fourwerx, Quadtech, Cecco Racing, HMF, Powermadd and Nine2Crew