Jared Bolton
Time
Thursday, October 15, 2020 | 1:25 PM
Welcome to Quick Fill.
How about the Mason-Dixon? It turned out to be a bit on the dusty side and by Sunday afternoon, the silt made a few places look and feel a bit like Florida sand. Maybe I'm just an oddball but I actually kind of enjoy riding in the loose, silty dirt like that and while it hides some rocks and roots some folks will agree they'll take that over the mud. Of course, I know quite a few of you would rather ride in the mud as well but hey, to each their own! Any weekend of racing, in any conditions is still better than doing anything else.
Mason-Dixon proved to be quite the exciting weekend of racing. We saw both the ATV and bike champions crowned in the form of Walker Fowler and Kailub Russell once again, and at the same time both XC2 battles are beginning to heat up as well. It's pretty cool to see Kailub Russell end his professional GNCC career as the champion once again, as going out on top is surely what many folks strive for, and being an eight-time champ at that is pretty incredible.
It seems as if eight titles is just about the pinnacle in any form of racing. While Bill Ballance and Ed Lojak both hold nine GNCC titles, there are a number of others who have eight titles across the board, earning them the nickname "8x". Barry Hawk holds seven GNCC ATV titles and one GNCC bike title, making him an 8x. Mike Lafferty and Dick Burleson both hold eight AMA National Enduro titles, making both of them 8x. Now, KR557 or KR1, can also be known as KR8x. I doubt he wants to stray from KR557, but 8x does have a good ring to it.
The XC3 class was also wrapped up this past weekend with Zack Hayes claiming the championship. Zack has been racing GNCC since his mini bike days and after claiming Top Amateur honors a few years ago, he tried his hand at the XC2 class for a couple of seasons before jumping into XC3 this season. It turned out really well for Zack as he now can add "2020 GNCC XC3 Champion" to his race resume.
Then there's Steward Baylor. Man, what a story. Since returning to the series, Stu now has three wins in three races and each of them have been a little bit different. At a tough and rocky Mountaineer, Stu worked his way into the lead on the second lap and rolled on to a big win, finishing over a minute ahead of Ben Kelley. Burr Oak saw some dry and dusty conditions, plus some nearly perfect areas and a long, tough and technical John Penton Section. Stu would lead that one wire to wire for the overall win, before securing a come from behind victory at a very dry and dusty Mason-Dixon GNCC.
The pit stops were one of the most interesting things about the Mason-Dixon. The KTM and Husky riders all made stops and changed out entire filters. Those bikes have easily accessible filters hidden just behind part of the side number plate, which essentially just pops in and out of place. The Kawasaki team was forced to make longer stops as access to the Kawasaki air filter is more traditional and requires removal of the seat.
The Yamaha guys, however, had the easiest stops of all. The Yamaha air filter is located high on the front of the motorcycle, just above the gas cap. The location of the Yamaha filter allowed them to finish the entire race without stopping for a filter. This came into play big time as it allowed Steward Baylor to make up extra time needed and come away with the Mason-Dixon win, and the fans were pumped.
The interesting thing about GNCC Racing is how accessible the pro riders are. It's normal to see them out milling about with everyone else, standing in the same sign up line as everyone else, and just generally enjoying the weekend the same as everyone else. This allows a certain amount of fan interaction, and in the past it seems as if just about everyone likes everyone. However, over the past few seasons it seems like people REALLY like Steward Baylor. When he came to the finish line to claim his third win in three races, the fans went nuts. This is cool to see, and its undoubtedly cool for Stu to experience as well.
Backing up to the air filter talk, it really is amazing how much of a difference it makes to have that air filter placed just a little further forward on the motorcycle. I put around 10 hours on my KTM sweep bike in a weekend and at these overly dusty races I always make a filter swap at least each morning, and sometimes halfway through the day. I made a filter swap in the middle of the 10AM race on Sunday, and when I washed it earlier this week it was still dirty enough that you couldn't read the Twin Air logo.
However, I also have a 2010 Husaberg FE390, which was one of the models they made with the funky 70-degree motor. The air filter on that Husaberg is also located higher on the bike, towards the front just a smidge below the gas cap. The weekend prior to Mason-Dixon I ran the NECXC Buddy Race at High Point Raceway, which was also pretty dusty and had some deep silty spots as well. I rode the Ironman class for 3 hours and 13 minutes, and when I finished the filter was dirty but still good enough to read the Twin Air logo.
These kinds of dust issues are such a rarity that I would highly doubt we see manufacturers take suit of trying to change their air filter placement, but on the occasion we do have a brutally dry and dusty race it can prove to be a huge advantage to have an air filter located higher on the motorcycle.
Now attention turns to the Ironman. If you've never made the trip to Indiana for the Ironman, then you've really been missing out. This is always the biggest event of the season, and while it may not be the final round this season that doesn't mean it will be any smaller. People love the carnival-like atmosphere and the super fun racecourse and amazing dirt that goes along with it. It seems like the entire town of Crawfordsville shows up to watch, and of course there's always a lot of riders who show up to do some racing of their own.
If you ask any of the GNCC regulars what their favorite event of the year is, I'm fairly certain the majority of them will tell you it's the Ironman. Personally, I agree, as the Ironman is something special. There's no other event quite like it, and while events like Snowshoe and Camp Coker have their own amazing little advantages to them, the overall atmosphere of the Ironman is unlike anything else. As usual, in next week's edition of Quick Fill I'll give you the low-down on what to expect out on racecourse, so be sure to check back next week.
That's all I've got for this week. Enjoy your weekend and we'll see you back here next week getting geared up for the Ironman!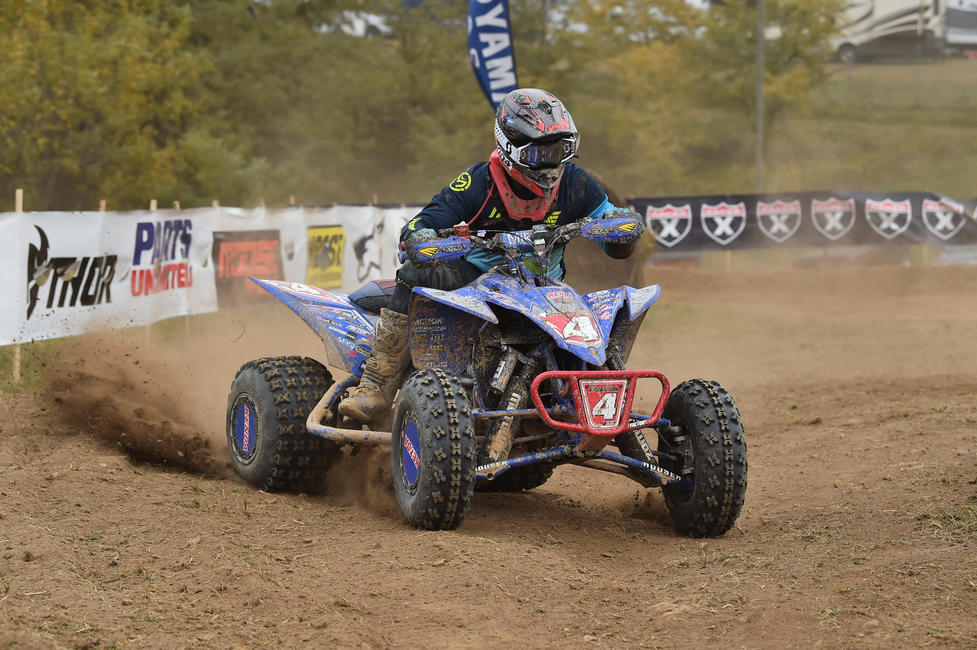 Catching Up With Ken (Ken Hill)
So who is still coughing up dust? It was a bad one, but not the worst I've seen but man oh man it really forced the teams to be on their game as pit stops. Some who found success fully accredited their teams for keeping them in the fight as the conditions deteriorated and with good reason. You could easily hear and see rider's engines choking as they struggled with clogged air filters making this race as much about strategy and prep as it was about ability.
In that aspect, I thought it really added a new dimension to the weekend but would prefer to not have that confounded dust. If there was any saving grace to be found it was on the wings of a breeze that at times would clear out sections allowing a respite from the conditions although the silt like powder caught more than one racer off guard as it started getting really deep in places.
The hoopla of the weekend fell on those who wrapped up their championships and got to finally take a deep breath after a challenging season. Friday evening I got a chance to chew the fat with Walker Fowler and wow, I wasn't fully aware of the amount of damage he had done during the summer break when he lopped off a good portion of his ring finger! He is a warrior so he didn't let it stop him but it did curtail his seat time and training so nothing was guaranteed. 2020 is a train wreck but he shook things off and got the job done. The winning didn't stop with him as Landon Wolf clinched championship number two and Becca Sheets earned back that coveted number one plate after a real battle this season. Of course the main event on Sunday was watching Kailub Russell finish out his GNCC career with another championship. It was a full weekend of podiums for sure.
Now over the years, we see a rider rise to the top and reach a level where they seem to be unstoppable. You can gaze at the big trophy on display every year at the banquet and see the blocks of time one name is repeated over and over. With Kailub locking down eight years on that trophy the question is who will be next? No rider below him has a sustained win streak that I can think of that would point to a shoe in for the next few seasons and I've learned that with the bikes, ability and talent can be scrubbed by injury. Even though Kailub has raced many races injured, hurting and generally beat up but he pushed through it. He has taken time off when he knew it was so bad he didn't dare thread the needle and other times clinched his teeth as he rode through incredible pain. Is that the mark of a champion? I say not but it is a huge factor that surrounds those who seem to claw to the top and wish to remain there at all costs. I do know that respect is earned and he has earned every ounce of it through determination and perseverance, the marks of high character.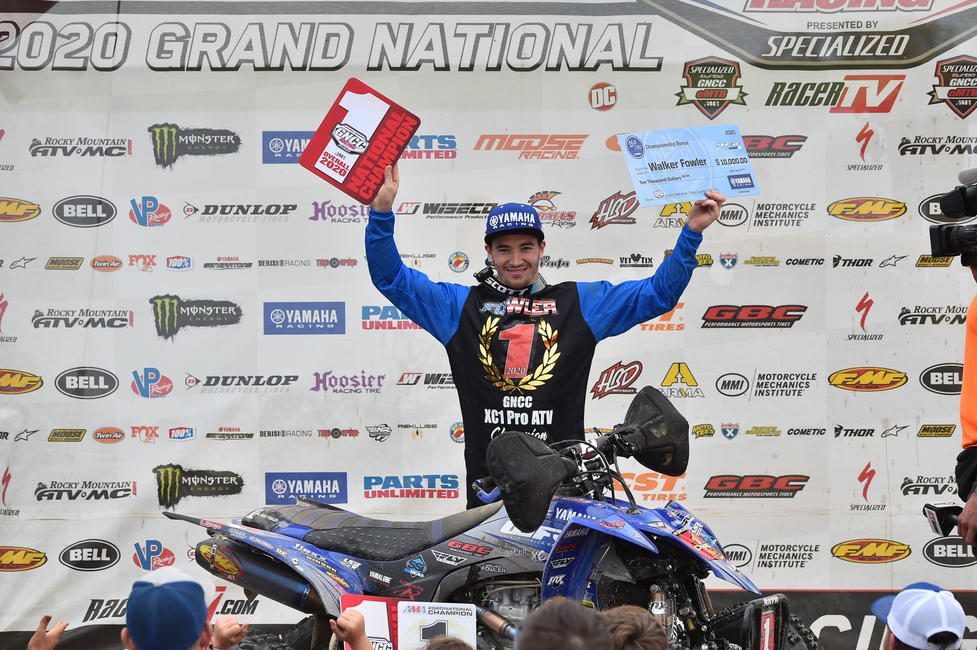 Now as we try to close out 2020, the 2021 season is already being figured out and a few teams have locked in riders, some are in negotiations as others are still in limbo so there isn't any real way to predict how things are going to go down just yet. If Ben Kelley stays healthy he would be a rider that stands a great chance to be the next superstar but wait, there's more! Oh my, his name is on the tip of my tongue but I can't place it. Good guy, full of spirit and fun loving, fan favorite that's won the last three races… Oh yeah, Steward Baylor! No doubt Baylor has been on fire since returning to competition and his future looks bright heading in to the final rounds but 2021 isn't concrete yet although I am hearing big things.
If he can get onboard with AmPro Yamaha and go into the 2021 season healthy and on fire I would say he indeed is the rider to beat. But what does it all mean? Well predicting a star rider or two isn't difficult but it takes way more than that to win not just a championship but several, in fact more than several like near a decade of championships and that is what makes it hard to see the future of an entire class of talent all who have the ability to win and even claim a championship. In a sport where 30 is old, peaking before the stars align and the ducks are all lined up can be a curse so many factors will shape the next decade.
The ATV side seems to be much different. Take Landon Wolfe, who was a struggling XC1 rider who never was able to find that mix of support and luck to launch him to podium finishes. He comes out in 4x4 Pro and has been a winning machine. If he remains in the series for a decade he could see his name amongst those who found what it takes as the combination of skill, talent, team and all that which goes into multi year championships. The opposite side of that is Adam McGill, he was (is) fast, he was a contender but he never was able to put it all together to win championships even though he remains a fan favorite and loyal racer. It doesn't mean he sucks now, it just shows that sometimes, all the effort and work and pain doesn't equal success if you define it by championships.
Maybe it's the struggle that makes some who they end up being, and not the amount of big trophies at home. I wouldn't change any of these guys stars because like I said, it makes them who they are and we cherish our time at the races together so I don't mean to tick anyone off but reality isn't always nice or kind. Take Traci Pickens, a winning machine that for over a decade has been a powerhouse in the WXC class. Looking behind her over the past few seasons didn't have any one rider looking as a stand out to fill her boots. Bang, just like that it seemed that Hannah Hunter started clicking off wins and now she is the rider to beat! Can she keep a streak alive like the legends of our sport tend to do? I don't have an answer for that but she very well could be the next "one".
So as we head into the final two rounds, when you see those number one plates, tip your hat because earning it did not come easy, cheap or without a train load of problems that had to be overcome. I often say I don't have a favorite rider or racer or team and I don't, but I do have a dump truck load of respect for everyone out there from Micros to the XC1 so keep fighting the good fight and we all will be cheering you on!
That's all from me this week as I'm going to enjoy the weekend off as we prepare for our son to finally get home after his deployment. I am trying to get him to come ride the last round on his new Yamaha that he bought while on deployment. He was able to put away enough dough to get what he wanted and probably pay off his truck so the time away from home wasn't all wasted. He has been watching the live RacerTV broadcasts when he can and usually had a crowd around him by the time it was over. I think a lot of our problems in this world could be solved by having everyone race because they would be to tired and to broke to do much fighting. As always, be safe in all you do and may the good Lord continue to bless us all, see you at IRONMAN!