Rachel Gutish
Time
Tuesday, August 18, 2020 | 8:00 PM
Stemming from the grassroots of family racing, Wiseco has over 75 years experience manufacturing pistons, whether it be for fun, weekend riding, or professional racing. Wiseco is one of the few manufacturers forging pistons in the U.S., providing quality and performance you can trust. 
Click here
 to see the latest Tech Tips from Wiseco.
Multi-time GNCC WXC champion Tayla Jones has had a busy summer break. The Australian native has been living in and racing here in the states since 2017 and has been one of the most successful female off-road racers in recent memory. But she can do far more than win GNCCs, as she has proven in the last couple weeks. Between qualifying for and taking third place at Loretta Lynn's Amateur National Motocross Championships, winning the first ever FIM North American eMTB women's championship, breaking her hand at the most recent Full Gas Sprint Enduro and adopting what might be the world's cutest puppy, there's been a lot going on in Tayla's life lately, and it seemed like a good time for a Tuesday Toolbox interview.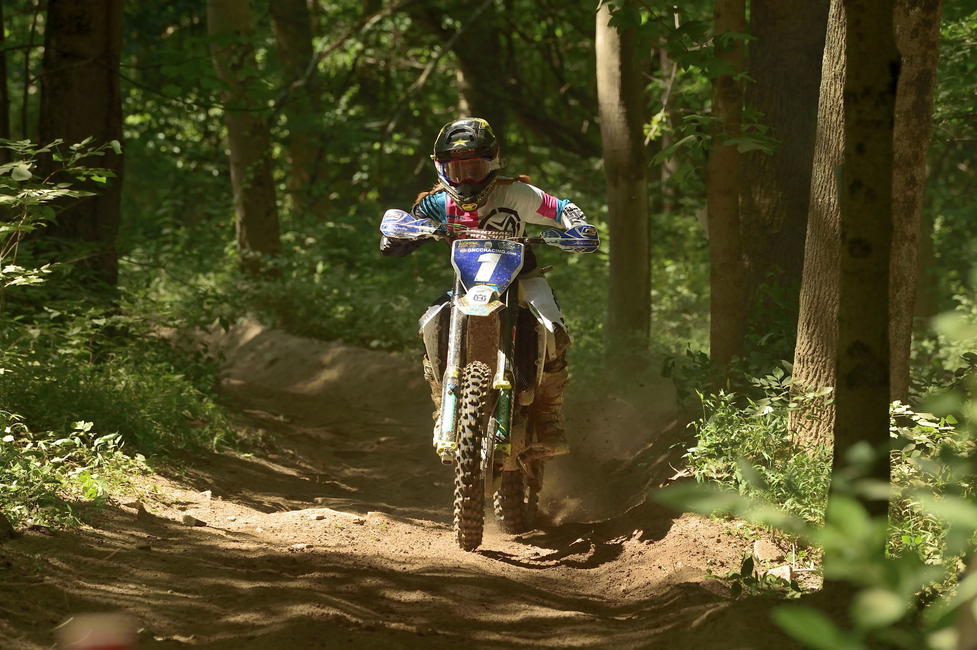 GNCCRacing.com: For those of us who somehow don't know you, tell us a little about yourself.
Tayla Jones: Well, as I'm sure it says at the top in the introduction, my name is Tayla Jones (laughs) I'm from a small town in Australia called Yass, a few hours south of Sydney. I grew up in a racing family – both of my parents raced dirt track cars, my uncles and cousins raced bikes, and it was just a matter of time until my brother and I got into it. I got my first bike, a peewee 50 when I was three, and learnt doing flat track races before moving into MX not long after. I raced MX up until the age of 16 before transitioning over to off-road fully. From there the story really starts – that's when I got to start traveling the world doing what I love, and now being able to live in America to race!
So, in a way you got to return to your moto roots by racing Loretta's here recently. Why did you decide to pursue that this year?
Loretta's is world-known to any dirtbike kid and it was definitely something I wanted to do throughout my whole amateur MX days, but I really didn't give it much thought after going into off-road. With this year being so screwed up due to the virus, I had the opportunity to hit up Loretta's for the first time, so I was like "Why not!" Since there were only regional qualifiers this year, and I had an off-weekend for one, it was a perfect fit into my schedule and that's what made it all possible. I was super excited to get to do moto again. This was my fourth moto race since moving to America in 2017. I love being able to hit up moto tracks here and there so I was for sure pumped about it!
Given that all of this came about due to a pretty unique set of circumstances, do you anticipate ever being able to do Loretta's again?
I honestly would love to get the opportunity to go back. I obviously hope this year isn't the new norm, and if racing returns to a normal schedule next year it will make it much harder to qualify given all the other racing I do. If there is a way to make it happen though I will be there next year!
Congrats on taking a podium finish in the women's class! Especially given that competition is steep and moto isn't even your primary focus. How did it feel?
It was awesome! I had no expectations going into the race at all. I hadn't raced against these girls before so I didn't know where my speed was at, and without having a lot of moto under my belt as of late, there were no thoughts about winning or podiums. I went into each moto with the mindset of "How sweet is this, I'm racing Loretta Lynn's MX!" and I kind of think that helped me do as well as I did. Just not having the pressure of getting results on my mind. In saying that though, it is still Loretta's and everyone wants to put on a good show, and I wanted to show I can still do a little moto (laughs)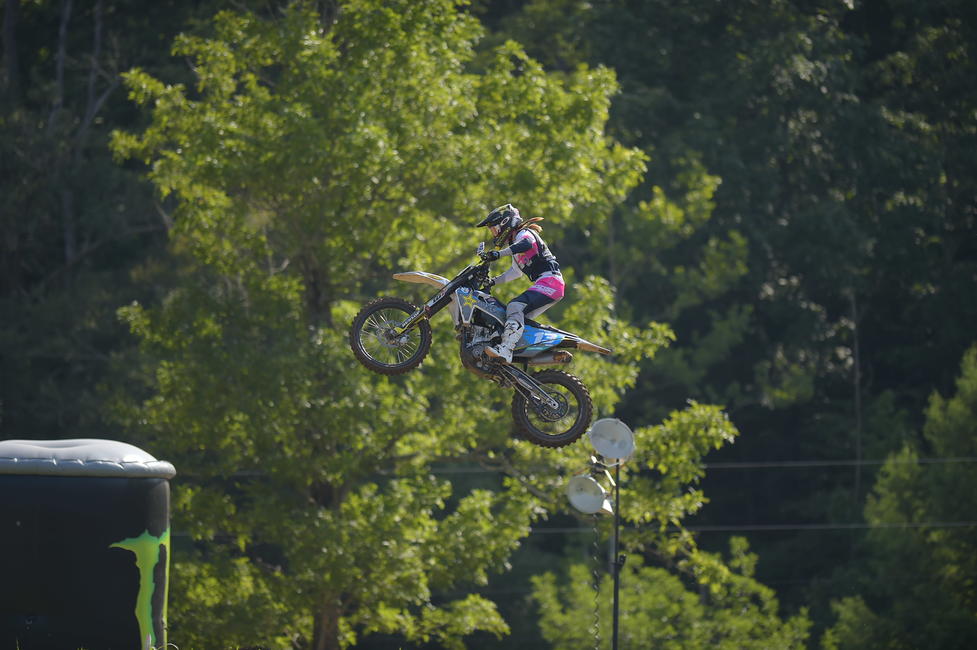 Well, you definitely showed that! Can you tell us about how each of your motos went?
For moto one I was all hyped up and super excited. I had an afternoon race at 2pm so the track was definitely rough which was good for me. I had some nerves for sure with it being the first race – going into a corner with 40 super fast women is just as intimidating as it is for the guys (laughs). I knew I needed a good start to help me out and stay clear of any accidents. I did just that, coming off the start within the top five. I was riding good, then on the third lap I hit a soft spot going into a corner while trying to make a pass on 4th. It put me into one of the big inflatable Monster Energy cans and I got tangled up in the wires and struggled to pull my bike free, losing a fair bit of time. I got pumped up pretty bad after that and just rode through to the end to finish sixth.
The second moto was an early one at 9:30am which was cool. I really like that all of the motos are at different times of the day so you get a different track and feeling for each. We did a warm-up so I was ready before heading to the line. I was happy with moto one and pumped to go racing again. I got another sweet start and was second for a couple corners before dropping to third. I ran there the whole race with a small tip-over in a corner but other than that it was a solid ride. The front two girls took off so fast and I'm not quite used to that intensity. They dropped me so I was fairly alone the whole race but it was a fun one and I was super stoked to make a podium finish. It's crazy how a 3rd can be a bad day at one race but the best day ever at another race (laughs) And Loretta's is for sure a race where getting third is not a bad day!
Moto number three was at 5:30 PM on Friday. It was our last race of the week and since it was so late in the day it was brutal. Just sitting around all day in the heat makes you tired and the way the track gets really late in the day is gnarly. I was still pumped to go racing, because again, how could you not be pumped to go racing at Loretta's? I got off to another top three start which is awesome, I'm super happy with how great my stock Husky starts, it definitely made my life easier. I had a decent race, but not great. Arm pump set in early, and watching it you could probably tell (laughs)… all form went out the window and I was just trying not to crash. I rode it home to 4th in the moto, but it was enough to give me an overall podium which was freaking sweet! I had no expectations and to come away with an overall podium was super cool, but best of all I had a lot of fun, and that's what my number one goal was.
Straight after that race though we loaded the van and drove to Georgia for the sprint enduro, arriving at 1:30am, ready to go race some more.
Did you do any training specifically for Loretta's, or did you just rely on your existing fitness and experience?
I got the chance to go train at Underground MX with Zac Mashburn before Loretta's. For sure didn't get in the amount of moto training needed to be fully prepared for even a local moto race (laughs) but the few days out at Underground I got in were fun and helped me get into a bit of a moto groove before heading to the ranch. Other than that my training off the bike stayed the same, as I still had my usual races to go to and had to be prepared for them.
In addition to your podium in the moto race, you also took home the first-ever FIM North American eMTB women'c class championship! Tell us about that.
Honestly I wasn't even planning on racing the eMTB race until just a couple days before it. Pretty much the same thing happened – I had the opportunity to do it and said why not. I did my first eMTB race last year but hadn't been able to do another one since, so it was awesome to be able to race it again. The MX sports guys do a great job with all the events they put on and this was no different. I had a good ride, just kept a steady pace that I knew I could maintain and wouldn't drain the battery, and was able to grab the win! It was a super muddy track with rain all day leading up to the race. A lot of bikes had trouble, but my Carolina Pedal Works Giant Liv eBike killed it with no problems at all.
Before we switch back over to talking about woods racing, you mentioned earlier that Loretta's is something riders all over the world dream about – did the experience live up to those expectations?
It actually exceeded my expectations. I knew it was going to be big, but the whole production and the amount of people was just awesome. MX sports does an incredible job of putting on that event.
Are there any other bucket list races out there you want to do besides Loretta's?
I'm lucky enough to have done most of my bucket list races. I get to race some of the most amazing series out there all year round. I'm always down for a cool race whenever they come up. If anything else, I'd probably do a hard enduro, west coast desert racing or maybe more moto one day.
Unfortunately it looks like you sustained a pretty nasty-looking injury at the last Full Gas Sprint Enduro – what happened and what is the prognosis?
The Full Gas was an up and down weekend. Saturday was decent and I ended up getting the win. Sunday we made some changes in the right direction early on. I must have gotten excited about those and grabbed a little too much throttle (laughs) I crashed hard into a tree and shattered the outside bone of my right hand. I was able to finish out the day for 2nd, but ended up needing a pretty significant surgery to fix my hand. Two plates and a couple dozen pins, but the hardware makes it strong enough that I'll be able to race the next Full Gas!
What are your goals for the rest of the season?
My goals for the rest of the year are ultimately to win every race I line up for. With this injury I'm sure it might take a bit to get back to full 100%, but I'm ready to finish the season strong.
You've done some awesome stuff this season, although you've had plenty of rough patches and setbacks as well. What keeps you motivated during the hard times?
No matter how rough it gets, I love the sport and what I get to do. I wouldn't choose to do anything else and that's all the motivation I need to get up and train hard. I don't believe champions are made without rough patches, and I think they add more fuel to my fire too.
Tell us about Noodles!
Well. Noodles is hands-down the cutest thing in the world. I will fight you on that! (laughs) She's the sweetest, most cuddly puppy. She's a French bulldog, about 13 weeks old now. She keeps things interesting and has such a funny personality. She was the perfect addition!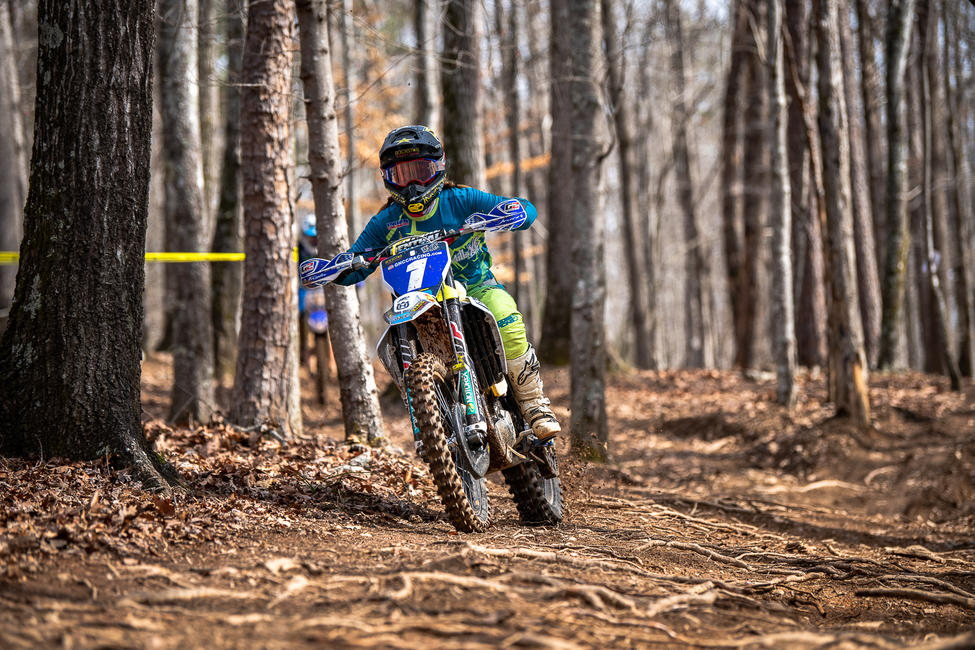 Is there anything I didn't ask that you want to talk about?
I want to give a shoutout to all the women racing this year. Just a few years ago the WXC line at the GNCCs was pretty small. This year has been the biggest I've seen so far. It's so awesome to watch it grow and I hope we can continue to welcome more and more women to the sport.
Who would you like to thank?
I have a lot of incredible people in my corner and I couldn't do all of this without them. My girlfriend Allie sticks with me through the rough and good. She pushes me to be better and keep going, and makes sure I'm on top of my game when I go to the line. The whole Rockstar Husqvarna team for their continuous support – I am excited to announce that I have re-signed with Husky for the next two years, and couldn't ask for a better team to be a part of. Andrew Bauer for having my bikes 100% ready at all the GNCCs, and to Joey Maurer for the bike builds and to Andrews Cycles as well. Lan Mills XC for jumping on board to be a part of the program, they're a great bunch of people and I'm super honored to be a part of their team. And to all of my awesome sponsors who support me: Moose Racing, Parts Unlimited, Surge Coaching, Alpinestar, Seat Concepts, Engine Ice, P3 Carbon, Pro Moto Billet, Regina Chains, Dunlop, WP Suspension, FMF, G2 Ergonomics, Renthal, Pro X, IMS Tanks, VP Racing Fuels, XC Gear, Rekluse, Motion Pro, Wikflo, Carolina Pedal Works and Giant Bicycles.