Rachel Gutish
Time
Tuesday, June 9, 2020 | 1:25 PM
Stemming from the grassroots of family racing, Wiseco has over 75 years experience manufacturing pistons, whether it be for fun, weekend riding, or professional racing. Wiseco is one of the few manufacturers forging pistons in the U.S., providing quality and performance you can trust. 
Click here
 to see the latest Tech Tips from Wiseco.
Josh Strang's recent victory at the FMF Camp Coker Bullet GNCC might be considered overdue. The former GNCC Champion's last win was clear back in 2016, though he hasn't missed the podium yet so far this season, and is currently in second place overall. The Australian native has been racing the GNCC series full time (with one year off, spent racing WORCS) since he came over here at the age of 18 back in 2007. He is currently riding for the Babbitt Kawasaki Team, and seems to be in a pretty good place - as he put it, "racing is fun again". We expect to plenty more podiums and maybe even another couple wins out of Strang this season.
GNCCRacing.com: Congrats on your win at Camp Coker! How did it feel?
Josh Strang: Thank you! It was really good. You want to be able to celebrate after the event but the race was so tough that there wasn't a whole lot of celebrating (laughs). But it did feel good.
Describe the race for us.
The race went well, nothing really stood out. I just did my own thing and it worked. The first couple laps when all the boys were together, it was fun. I enjoyed the track even though it was a little on the short side – after all that rain it turned out really good. Like I said, it was just a good day. I got out front early and we only had to gas once, so that helped. Towards the end of the race I just had to leave it all on the track. It's a shame KR [Kailub Russell] went down on the last lap - I feel like our race could have come right down to the finish line.
This is your first win in several years – what did you do differently that got you back on top.
Yes, 2016 was my last win, so it has been awhile! I just kept working away on my weaknesses and trying to adapt to change. I have been at this for a while, so it's hard to get out of a groove to try and make those improvements. It has been fun since switching to the new Babbitt's Online/Monster Energy/Kawasaki team. I've been enjoying the riding/racing/family time a lot which helps on race day.
What do you plan on doing to keep the momentum rolling into the rest of this season?
I don't want to change much. I'm enjoying the process at the moment and racing is fun again, which it always should be … so I will just keep plugging away, having fun and racing my own races. If that turns into more wins, that's great, but podiums are also good. If I put in the effort and enjoy myself, my momentum will keep rolling.
How did you get started riding and racing?
My parents own a motorcycle dealership in Australia. They have been open now for 45+ years (I think), so that's how I got into riding. I didn't start racing until I was seven and even then it was never anything serious. It wasn't until I was 15 or 16 when I realized I was okay at it, and then got a little more serious.
How long have you been racing here in the states? You came over before you went pro, correct?
I have been here full-time since 2007, so this is my 14th season – 13 in GNCC, 1 in WORCS. In 2006 I came for just two events and raced 250A to try it out and have a go. I liked it, so here I am.
Was it intimidating moving over here to race full-time the next season?
I signed with Suzuki that year, so I had a small salary to live off. Being that I was 18 with no real bills it wasn't super difficult to support myself. I lived with Glenn Kearney for that first year too – he looked after me and showed me the ropes even though he was an Aussie also. As far as moving to a new country, a lot of Australians want to get out and see the world. I was still living at my parents' house and I wanted to get out so it was perfect timing. If things didn't work out then I would have just went home, but I worked hard, made money and kept signing more contracts, so I stayed here. I'm glad it all worked out!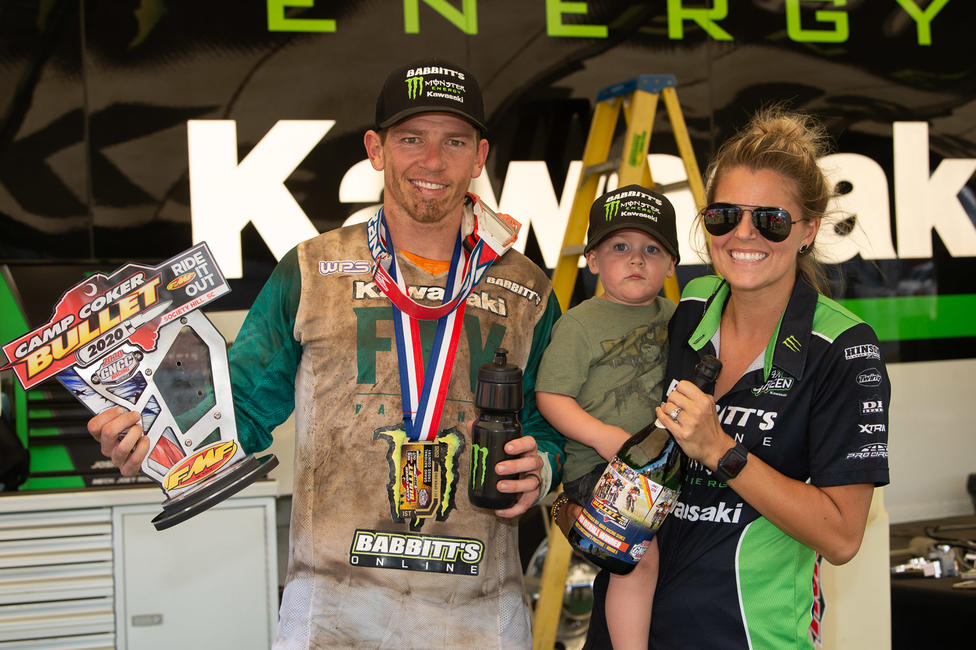 Do you live here full-time or do you return to Australia during the off-season?
I live here full time; my home is here. Australia will always be home too, but I have been here for so long and have put my roots down here so this is also home. I do enjoy going back when I can, but I also really enjoy living here. I feel like I'm pretty lucky to have two places I consider home!
Give us a rough overview of your pro career.
In 2006 I was a mechanic in my parents' shop. My dad and I went racing with little support, but we did it for fun. In 2007, I signed my first contract, and raced for Suzuki from 2007-2011, winning the GNCC title in 2010. In 2012 I raced WORCS series for a KTM team. It was fun, but I was never really comfortable and I missed the east coast. From 2013 – 2014 Rocky Mountain ATV/MC helped me get back to GNCC with the help of Randy Hawkins. That was a little tougher, as I kind of ran my own program, it was fun but also a lot more work than I thought in the beginning. From 2015 – 2018 I rode for Husky. I won the FGSE series in '18 and had a pretty good time there. In 2019 I signed with Babbitt's Online Kawasaki. That's the timeline in a few sentences. Just throw in six ISDEs for Australia and that's it I think.
You've won a GNCC title, but it does seem like things can be a little hit-or-miss for you. It seems like you struggle for a bit, people sort of write you off, then you come out with a great ride like this and make them re-evaluate your place in the pack. Do you have any thoughts on that, or on how you've stayed motivated in the years where things weren't going your way?
Yeh, I'm not really sure how to answer that. It's not like I ever stopped trying, it's just difficult to consistently be up front at this level. There is only one guy over the last eight or nine years who can say he's been up front almost every race. All the other boys can be put into the same category as me, in my opinion. Every rider on the pro row has earned the right to be there, and it's only normal to see ups and downs and injuries throughout the course of their careers.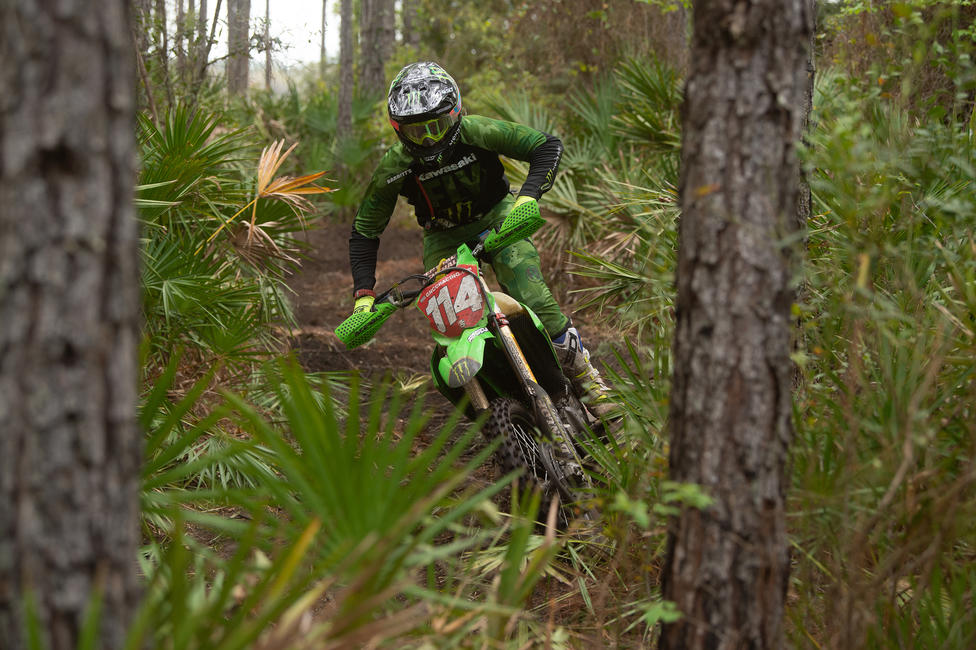 Speaking of injuries, I know you've had some bad ones over the years. Which one do you feel was the worst?
All things considered I think I've had a fairly small injury list for 14 seasons of pro racing. I broke my leg in 2011, that was bad, but the worst by far was when I shattered my heel in Spain at the 2016 ISDE. Besides that, there hasn't been anything major, just a shoulder separation, but a few weeks and that comes good. So, I honestly think I've been good in the injury department!
Having had such a long career, you've been with a lot of different teams and manufacturers. Have you ridden most of the brands out there?
No, far from every brand (laughs). Again, over 14 years change is bound to happen – teams fold up (2011), you realize doing things on your own doesn't always work (2013-2014), and then some teams you grow apart over the years (2015-2018).
Like many of the veteran XC1 riders, you have a wife and family now. Does being a father change your perspective on racing at all?
I don't know… over the years my perspective on racing has changed in general. I have realized the job isn't all about winning, though obviously winning does help! My job is to advertise products and the best way to do that is to be an approachable person, which I feel like I am. As far as being a dad in general goes, it's awesome! I like taking Maverick to the track and to the races. Sometimes I hope he just wants to kick a soccer ball or something when he's bigger, but racing is such a family sport, and to see so many families enjoying time together at the races, so a part of me hopes this is what he wants as well. We'll see what he chooses!
Tell us something interesting about yourself that doesn't involve dirt bikes.
I really enjoy cycling. I'm lucky enough to have Trek bikes as a sponsor, so I have a few bikes to choose from on my weekends off. I have some good friends that also cycle, so the weekends I have off tend to involve a long ride – sometimes not really enjoyable during, but always enjoyable after (laughs). I've cycled for years now and really enjoy it, plus it's perfect for my racing.
Thanks for taking the time to do this interview! Who would you like to thank?
I would like to thank Babbitt's Online and Monster Energy Kawasaki for everything they do. Starting a new team in a new discipline for the Babbitt's must have been hard so I'm very thankful for that. I want to thank Denny and Freddy for running the show, Joey for getting my bikes ready and Cameron and Maverick for keeping me in line! And GNCC for getting us back racing again post-Covid, I surely would have gone crazy by now if we weren't!