Rachel Gutish
Time
Thursday, March 26, 2020 | 3:55 PM
The Specialized General GNCC: Youth Bike Race Report
Joy and Goodman on top of the box
WASHINGTON, Ga. (March 26, 2020) – Round three of the 2020 Grand National Cross Country (GNCC) Series presented by Specialized, an AMA National Championship, took place on March 14th and 15th. The Specialized General GNCC is held at Aonia Pass MX in Washington, GA. Other than the motocross track and a mulch pile that always seems to make an appearance on the course, the most notable feature of the General is the red clay. When wet, it becomes insanely slippery. When dry, it gets hard-edged and rough.
This year rain earlier in the week had left mudholes and soft spots in the low-lying areas of the property, with the higher ground staying relatively hard. The course tended to be difficult to read – some sections were really tacky and grippy, while others were treacherously slick. Temperatures were mild, and the forecasted rain held off, aside from a few isolated showers on Sunday. Out of the 141 riders in the youth bike race, Jack Joy was the overall winner, while Colby Goodman took the overall win in the 43-rider micro bike race
In YXC1, Jack Joy earned his first-ever YXC1 and Youth overall win! Arguably this was a long time coming: Joy has often displayed the speed needed to win but was never quite able to put all the pieces together. After the first lap the top four came through in a tight pack – Joy, followed by Lane Whitmer, followed by Noah Cooper, who was in turn followed by Grant Davis. By the end of lap two, Davis had gotten within seconds of Joy, and the two of them battled hard all the way through the last lap, where Joy was able to pull a bit of a gap. Caleb Lane rounded out the podium in third after working his way past Whitmer, Cooper and Case Burton. When asked about his race, Joy said "It felt amazing to capture my first overall in YXC1! The season is going pretty good, and I hope to keep the ball rolling and keep it in the middle of the box. The race was pretty wild – Grant Davis and I battled almost the whole race, but I managed to stay in the top spot!"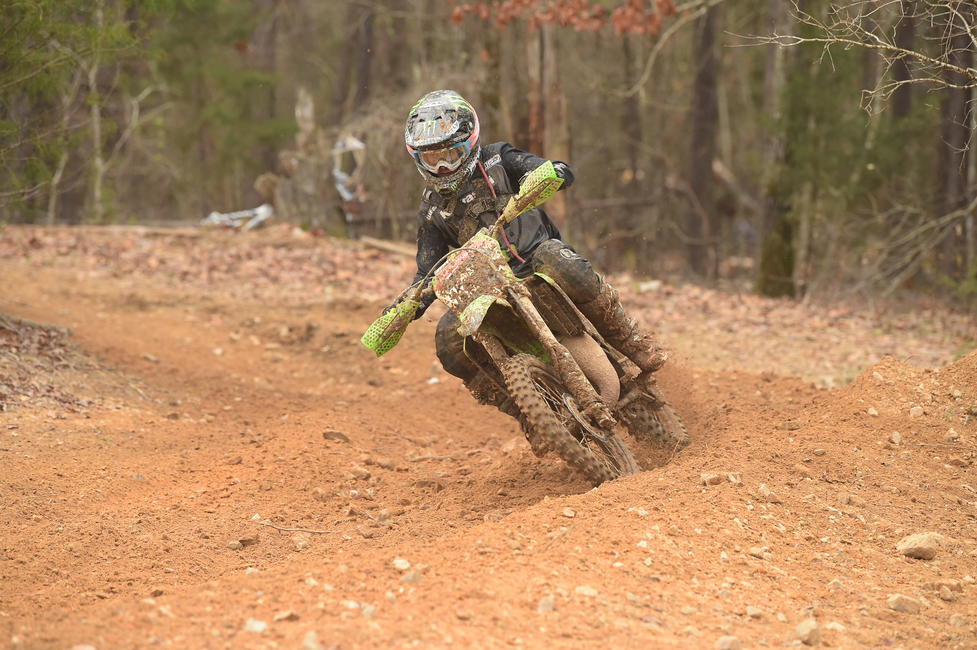 If the podium looked familiar in the YXC2 class, that would be because it was identical to the Wild Boar podium, even though the battles between those top three riders were the closest they have been all season. Andrew Segars was off to an early lead, until Owen Barnes passed him on the second lap after working his way up from fifth. Nicholas Defeo started in third and briefly dropped back to fourth before moving up again. Segars and Barnes both slowed down on lap four while Defeo sped up, putting him into the lead, which he held on to for an additional two laps. In the meantime, Segars had once again passed Barnes to take over the number two spot. After getting passed, Barnes dropped off the pace a bit and ended his day in third, out of sight of the lead pack. Segars passed for the lead with two laps remaining, and held onto that lead until the checkered flag waved, though Defeo stayed on his rear fender right up to the end. After two wins in a row, Segars is getting closer and closer to class leader Defeo in the series standings, with only two points currently separating them.
The overall non-YXC rider in the bike youth race was Rivers Morris (KTM) racing in the 85 (12-13) class. He placed 16th overall.
In MXC1, Colby Goodman kept his winning streak alive, taking his third win here at The General. It was a dominant win; he led from start to finish and increased his gap from second almost every lap. Although Landon Husted came around the first lap in second place, he was passed on lap three by Gavin Harwell, and that is where the two of them stayed for the remainder of the race. When asked about his race, Goodman said "I got to the front quickly and just settled into a pace that I thought was good enough to win. The track was super easy, but still fun!"
Hunter Hawkinberry was back on top of the box in MXC2. He, like Goodman, got out front early and put slowly but steadily put time on second place Ace Tokar. Likewise, Tokar and, eventual third place finisher Abram Shields were very spread out by the end of the day, and not much racing took place in-between. When asked about his race, Hunter said "It was a good track. Some places were muddy with ruts and some were dry. I got the holeshot, wrecked two times but got back on the bike quickly and made a lot of passes. It was fun!"
The overall non-MXC rider in the Micro bike race was Easton Vaughan (KTM) racing in the Trail Rider (7-9) class. He placed 11th overall.
Round four of the series is currently set to take place on April 18th and 19th in Society Hill, South Carolina with the Camp Coker Bullet. ATV and Micro racing will take place on Saturday, while Bike racing will take place on Sunday. However, please keep an eye on the GNCC Racing website and social media accounts to stay up to date on any potential changes to the schedule.
For more information on the GNCC Series, visit the official website at www.gnccracing.com or call (304) 284-0084. Join the conversation and be sure to always hashtag #GNCC.
The General GNCC
Washington, GA
Round 3 of 13
March 14th and 15th
Bike YXC1 Race Results
Jack Joy (KAW)
Grant Davis (KAW)
Caleb Lane (KTM)
Noah Cooper (KTM)
Cole Forbes (KTM)
Bike YXC1 National Championship Standings
Grant Davis (KAW) 59
Jack Joy (KAW) 57
Noah Cooper (KTM) 51
Case Burton (HQV) 46
Wyatt Marshall (KTM) 38
Bike YXC2 Race Results
Andrew Segars (KTM)
Nicholas Defeo (KTM)
Owen Barnes (KAW)
Matthew Hallenback (KTM)
Hayden Surrena (TM)
Bike YXC2 National Championship Standings
Nicholas Defeo (KTM) 58
Andrew Segars (KTM) 56
Owen Barnes (KAW) 53
Matthew Hallenback (KTM) 52
Caden Vick (KAW) 45
Bike MXC1 Race Results
Colby Goodman (KTM)
Gavin Harwell (KTM)
Landon Husted (KTM)
Bently Saxon (KTM)
Logan Schafer (HQV)
Bike MXC1 Championship Standings
Colby Goodman (KTM) 60
Landon Husted (KTM) 56
Garvin Harwell (KTM) 55
Jake Ellis (KTM) 45
Rylee Mattison (COB) 39
Bike MXC2 Race Results
Hunter Hawkinberry (KTM)
Ace Tokar (COB)
Abram Shields (KTM)
Brock Ragan (COB)
Karson George (KTM)
Bike MXC2 National Championship Standings
Hunter Hawkinberry (KTM) 59
Abram Shields (KTM) 55
Ace Tokar (COB) 54
Brock Ragan (KTM ) 48
Maddux Harris 42
How to Watch
Racer TV and MAVTV are the official homes for coverage of the Grand National Cross Country (GNCC) events. All 13 rounds, from the season opening Big Buck GNCC in South Carolina to the finale at Ironman Raceway in Indiana, will air in taped-delayed telecasts on MAVTV, while Racer TV provides live streaming coverage of the 2 p.m. ATV and 1 p.m. motorcycle races from each event. Catch all the action at http://www.mavtv.com/ and http://www.racertv.com/.
About GNCC Racing
The Grand National Cross Country Series presented by Specialized is the World's premier off-road racing series for motorcycles, ATV's and eMTB's. Founded in 1975, the 13-round championship is produced exclusively by Racer Productions. Cross-country racing is one of the most physically demanding sports in the world. The grueling two and three-hour GNCC races lead as many as 2,400 riders through racetracks ranging in length from eight to 12 miles. With varied terrain, including hills, woods, mud, dirt, rocks, and motocross sections, GNCC events are tests of both survival and speed. The series draws talent from all over the U.S., Central America, South America, Europe, Japan, Australia and New Zealand. Visit www.gnccracing.com.
About eMTB Racing
The Specialized Turbo eMTB GNCC National Championship brings off-road racing and pedal-assist or electric bicycles together for an eight-round championship produced by Racer Productions. Much like a typical cross-country racing event, these races feature varied terrain including hills, rocks, roots, and more. Limited to electric or pedal assist model mountain bikes only, the championship was added to the GNCC Series in 2019. Visit www.gnccracing.com.
About the American Motorcyclist Association
Founded in 1924, the AMA is a not-for-profit member-based association whose mission is to promote the motorcycle lifestyle and protect the future of motorcycling. As the world's largest motorcycling rights and event sanctioning organization, the AMA advocates for riders' interests at all levels of government and sanctions thousands of competition and recreational events every year. The AMA also provides money-saving discounts on products and services for its members. Through the AMA Motorcycle Hall of Fame in Pickerington, Ohio, the AMA honors the heroes and heritage of motorcycling. Visit www.americanmotorcyclist.com. Not a member? Join the AMA today: www.americanmotorcyclist.com/membership/join.