Jared Bolton
Time
Thursday, February 6, 2020 | 3:45 PM
Welcome to Quick Fill.
Wow, this off-season thing is really beginning to wind down, huh? In two weeks, we'll be on the verge of beginning the opening round of the season in South Carolina. I know I say this every year but it seems like the first part of the off-season took it's time and this second part of it has really flown by. Actually, at this point next week the GNCC Track Crew will have trucks loaded and will be ready to flock south. We've got a great Big Buck course in mind and I know I'm excited to see it all come together! Plus, I'm just excited to get back into the swing of racing all together, and I know a lot of you are saying the exact same thing.
Speaking of getting back into the swing of racing, the AMA National Enduro Series kicked off last weekend with the Sumter National Enduro in South Carolina. Sumter always draws a huge crowd of racers; not only those chasing the entire National Enduro season but there's also a lot of GNCC racers, both professional and amateur, who use it as a training run to get ready for the new season. I also made the trip to Sumter and did some riding of my own… I call it "riding" because while I was signed up for the event and I was on-course during the race, I really was out for a trail ride because one: I can't hold a candle to the Open A riders I was racing against. And two: I'm terribly out of shape!
In the pro ranks, a lot of folks were anxious to see how Steward and Grant Baylor would fair aboard their new Shercos, and at the same time a lot of folks were excited to see the likes of the KTM and Husky factory guys challenge them (Ben Kelley, Josh Toth, Thad Duvall and Trevor Bollinger). Then you had to throw Ricky Russell and 2014 National Enduro Champion Andrew Delong in the mix and you had a really stacked field! Unfortunately, that field dropped a bit just the Friday before the race when it was announced that Josh Toth had broken the same leg he broke last year. He actually even bent the rod that was put in after the last injury! So, Josh is sidelined for a bit but we wish him a speedy recovery and hope to see him back soon.
Ben Kelley started the day strong winning the first two tests. The Baylor Brothers would then come on strong with Stu winning test three and Grant taking the win in test four. While the majority of the 65-mile Sumter course is tight, twisty and technical, test five would be a little bit faster through some more open pines but still full of single track. Stu would come back for the win there before Ben Kelley would win his third test of the day in the sixth and final test.
This set up a tight chase for the final overall podium, but at the end of the day Ben Kelley would emerge with his first-ever National Enduro win just nine seconds ahead of Steward Baylor. Grant Baylor would land on the overall podium in third with Thad Duvall and Trevor Bollinger rounding out the top five. The Pro 2 class would see an exciting race as well but it would be Jonathan Johnson taking the win aboard his new Phoenix Racing Honda with Cody Barnes and local favorite Zack Hayes rounding out the Pro 2 podium.
The National Enduros also have a "AA" class, which serves as a bit of a stepping stone from the A classes into the Pro ranks. Brody Johnson claimed the AA class win, from all the way back on row 100! Will Sievenpiper was second and Andrew Matusek rounded out the AA podium in third. Overall, it was a pretty exciting weekend of racing and this gave a pretty cool little teaser of what we could expect when we kick things off at Big Buck.
What we learned is that the Baylors seem to be adjusting really well to the Shercos and all the rumors about them "blowing up bikes" that have floated around during the winter are nothing more than rumors, and that came straight from both Baylors themselves! We've also seen that Jonathan Johnson could be a threat in the XC2 class in 2020. He rode the Honda for the first time at Ironman and landed on the podium there, then claimed the Pro 2 class win at Sumter. It will definitely be interesting to see how things go for him in 2020, and of course his little brother Brody put together an impressive ride in the AA class as well.
On the ATV side of things, well, you guys have been really quiet! There was a pretty stacked Florida Trail Riders event I didn't discuss last week, which actually took place the previous weekend. Cole Richardson ended up taking the overall win ahead of Walker Fowler with Hunter Hart in third. John Glauda ended up fourth with Brandon Frazier rounding out the top five. That's a pretty stacked field of guys and a really solid ride by Cole to take the overall win.
If you're looking for some additional reading content this week, Jesse Ziegler with Cycle News did a story on his experience racing the Honda CRF250FX back at the Ironman, and it also has a couple of cool sidebars that talk about the Phoenix Honda team and GNCC Racing in general. It's worth the read to see an opinion from someone who doesn't attend every GNCC event, and comes from out west. You can read it in this week's Cycle News starting on page 78, or just click HERE.
That's it for the first segment of Quick Fill this week. I can't really call it an "intro" because it got a little long-winded but hey, that happens when there's good racing to discuss! We'll roll through this week's edition with some words from Ken, plus continue the 2020 season recap. Until next time, enjoy your weekend and we hope you're getting ready; the season is almost here!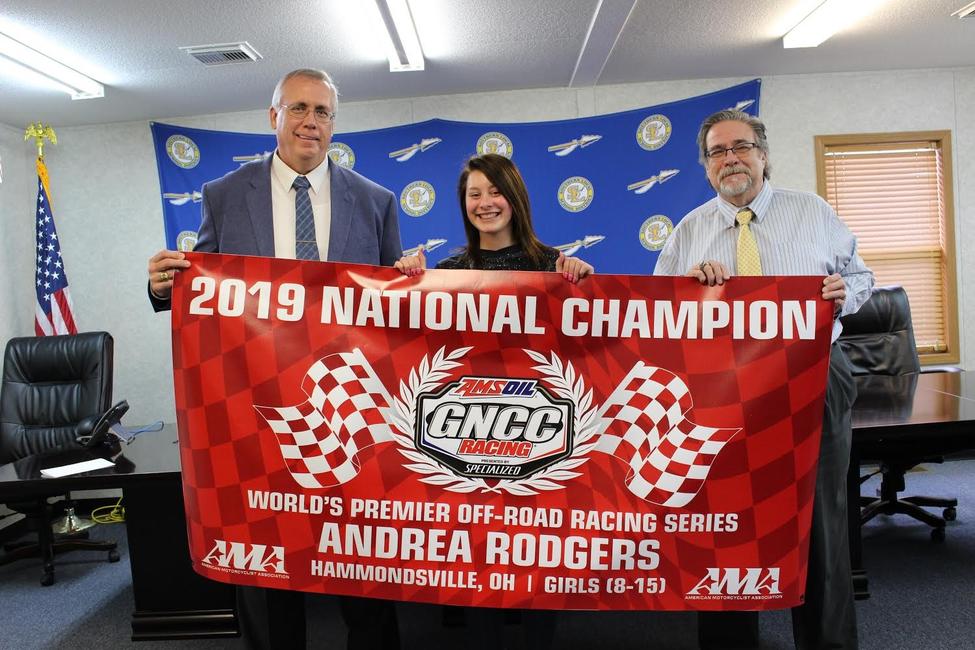 Catching Up With Ken (Ken Hill)
It does appear that we are growing short on days until we start another epic season of GNCC Racing! If you are active on the various social media platforms, you will have a feed full of completed builds or builds that are waiting on just a few more parts, which can send a person over the edge! The endless checking of tracking numbers or calls to make sure that one part is indeed on its way can raise the old blood pressure. For most of the bike guys, the hype over a build may be misunderstood because there is no comparing the tear down and rebuild process between the ATV and bike world.
I watched as a freshy was uncrated at Kailub Russell's house as I was unpacking camera gear and by early afternoon his mechanic had it literally ready for him to race. Just a few days prior, the same situation as I arrived to shoot Walker Fowler and he was in limbo as just one small item was being waited on after weeks of tear down and rebuilding. Even a brand new quad has to wait on the aftermarket world if it's being turned into a championship winner or even a mini racer who will be competing.
Heck I drove to Florida one season with a half finished quad and we finished it at Bill Ballance's compound! And if you are building a practice quad and race quad it is quite possible you end up in a straight jacket before heading to the line. Okay, so its not that bad but it can get frustrating and stressful no matter how many wheels you race on so relax, take a few deep breaths and forget about how much overnight shipping costs.
Last week I had the chance to go shoot with the AmPro Yamaha team and got to see XC1 racer Layne Michael and XC2 racer Mike Witkowski work through the stages that hopefully will have them ready for the opening rounds. Both teammates looked pretty strong but what caught my attention was that they weren't as stressed as I had seen them in seasons past. Witkowski just wants to turn the go fast thingy on the right side of the bars and looked like he had been riding blue all his life so the fit here could be really big for both rider and team. Michael on the other hand was relieved, carrying way less stress than ever and he was quick to credit the team behind him for that. With it broken down to bare bones, he gets to show up and race and not be turning wrenches or finding solutions to things that his mechanic will have already handled. Will it help in the 2020 season? There is lots of racing in store but one cant help but be excited for the upcoming season and the new blood flowing through the AmPro pit.
So why am I not down south yet? Well the riders we need to shoot are not ready! This goes back to the opening paragraph as I send messages, calls and texts to try and keep tabs on who is ready and where they will be. It appears I will be heading south the last week of February, now to Florida and work my way back north straight to round one. It will make for a crazy week that I pray is successful for everyone because we will be plum out of time. Thankfully I expect the list of riders given to me will be ready and we will get work done and finish things up between the opening rounds. And here I was figuring it would be a year that afforded a day or two open down south to breakout my fishing rod! Oh well, I may just steal some of Thad Duvall's pictures and say I caught those big bass.
Ok folks, that does it for me this week as I sit here looking out at puddles from a week of rain. I'm just glad it's not snow, but if it were snow I would make up a team in sunny Florida and be gone… Just don't tell the wife! As always, be safe in all you do and may God continue to bless us all.
2019 Season Recap Part Five (Jared Bolton)
Due to the torrential rainfall that flooded the opening round of the 2019 season, and scheduling conflicts for a makeup date at Big Buck, the decision was made to host a makeup event at an all-new venue on the West Virginia/Pennsylvania state line. Round nine of the 2019 season would see the High Voltage GNCC take place and what a wild weekend it was!
Rainy weather rolled in on the opening lap of the 1PM ATV race and it quickly went from a little bit of rain to a full-on downpour in a matter of minutes. Then rain would move its way out before the end of the race but it made a lasting effect with some incredibly slick conditions for the remainder of the PM ATV race. However, for Walker Fowler the majority of the race would be another day at the office as he led each lap. The excitement would actually come leading into the finish as he and Chris Borich would battle back and forth through the final corners of the race with neither rider giving up in their hunt for the win.
As they emerged into the final corners, Borich would make a pass stick on Fowler before Fowler would return the favor in the next corner and pass back for the lead. Fowler held on through the final turn to take the win with Borich in second and Cole Richardson ending the day in third. Brycen Neal would finish fourth and Jarrod McClure rounded out the top five. Heading into summer break, these guys had left everyone full of excitement, wondering what could come next when the series picked back up after the break.
Sunday's bike race would prove to be an exciting one as well. The track crew went to work early Sunday morning with the little Sutter Trail Dozers, scraping the hard packed clay top off, straight down to some great dirt. By the afternoon race, the course had what the cool kids like to call "hero dirt" and made for some great racing. Kailub Russell would jump out to the early lead, but Thad Duvall would be the rider on the charge. Rebounding from mechanical issues, which left him scoring zero points in the previous round at Snowshoe, Thad was on a mission to head into summer break on a high note.
Duvall would find his way into the lead on the second lap and instead of the traditional Russell/Duvall freight train battle; Duvall would put his head down and opening up a lead over the pack. First it was a six second lead at the end of lap two, then it was 17 seconds the next lap, then it grew to 43 seconds. By the time the checkered flag flew, Duvall had amassed a two minute and 11 second lead over Kailub Russell. While there have been many times that GNCC wins have came more than 10-minutes over the second place rider, this has become so uncommon in the past several seasons that a two minute lead seems like an eternity.
Duvall would claim the win with Russell in second and Josh Strang landing his first podium finish of the season in third. Jordan Ashburn would finish fourth and Grant Baylor would round out the top five of the XC1 class. Much like the race for the ATV win, this gave a feeling of excitement heading into the summer break that while Duvall had been put in a point deficit due to his misfortune at Snowshoe, it left many wondering what to expect in the final rounds.
In the XC2 class, it was once again all Ben Kelley. He would put together another incredible ride to lead the XC2 class from wire to wire and claim his ninth straight win of the 2019 season. Craig Delong would also put in a great ride to finish second place and Liam Draper continued to show that he was figuring the GNCC game out as he landed another podium finish in third. Mike Witkowski would put together a solid ride of his own to end the day in fourth while Evan Smith rounded out the top five of the XC2 class.
At this point, it was time for the summer break to begin and for many racers this would be a welcomed relief. It's time to reset, take a little vacation and regroup before beginning the push through the final four rounds of the season. Check back next week as we'll pick back up when summer break ends and we get back to racing!