Rachel Gutish
Time
Tuesday, January 21, 2020 | 10:05 AM
Stemming from the grassroots of family racing, Wiseco has over 75 years experience manufacturing pistons, whether it be for fun, weekend riding, or professional racing. Wiseco is one of the few manufacturers forging pistons in the U.S., providing quality and performance you can trust. 
Click here
 to see the latest Tech Tips from Wiseco.
Khyler Davis won the Micro ATV overall in 2019. The nine-year old from Bolt, West Virginia took home four overall wins this year and rarely finished outside of the top five, even though she spent most of the year starting from the second row in MXC2. This upcoming season will be her third year racing GNCC. She hopes to win another Micro Overall and plans to compete in the Youth Girls class as well – and hopes to someday race WXC. Keep an eye out for Davis, we expect great things out of her!
GNCCRacing.com: Congrats on winning the Micro ATV overall! Are you excited?
Khyler Davis: Thank you. Yes, I'm very excited to win the overall! I wasn't sure how many girls had ever won the overall, and I felt like it was going to be hard competing against the boys. So, it was a big goal of mine. It was exciting all year and the morning of the last race my dad told me that I needed to win the overall to lock up the championship, so I knew I had to ride really hard.
I bet you get asked this a lot, but what was it like racing with and beating up on the boys?
I used to get really nervous to race them because they can get rough but now I like it because I hear people say, "don't let that girl beat you" and then I beat most of them (laughs)
Tell us about your season – what were some of your good and bad races?
I liked Florida because of the sand and because it was my first overall win! I also won the overall both the Indiana races. The Summit was a hometown race for me and I really wanted to win the overall there and was happy I did. High Voltage wasn't a good race for me because I wrecked there. Georgia was another bad one because I didn't get to finish because of my transmission.
Out of all those good races, which one was your favorite and why?
The Mountaineer at Bechtel Summit was my favorite because it was close to home. My family and friends got to see what GNCC is all about. I also liked the trophy from that round.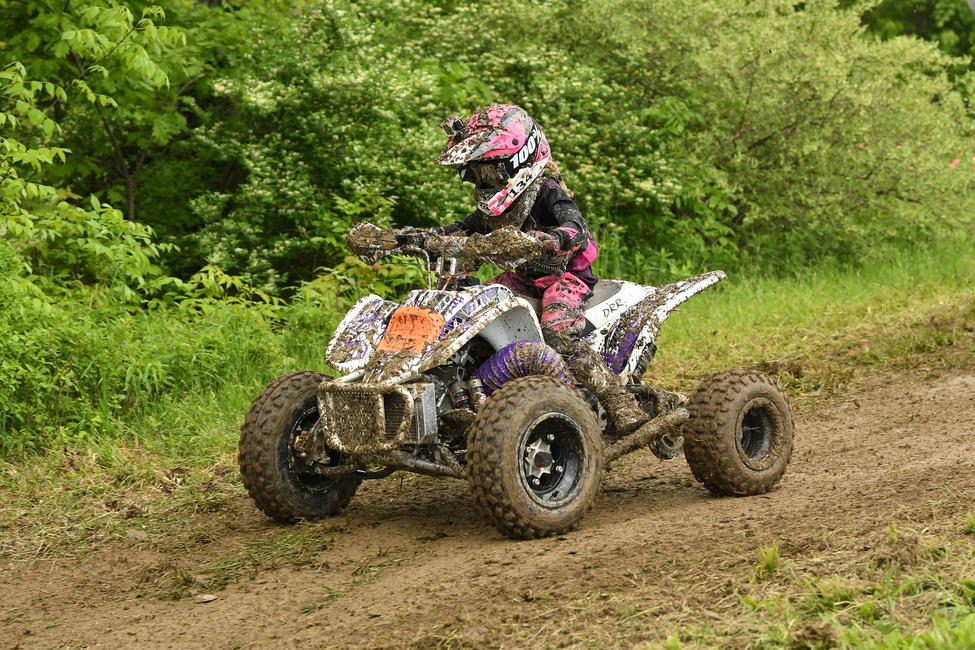 How did you get started riding?
My mom and dad used to race a long time ago. We have always had 4-wheelers but never races. I went to watch my dad's friend race in Beckley and when we left that's all my sister and I would talk about – how much we wanted to race. So, then we went to a local race and I loved it!
And then why did you guys decide to start doing GNCCs?
We decided to give it a try because that is where all the good riders race. Before GNCC I had only raced one race, a NECXC. I won that, so my dad was like "let's go try GNCC". I think the next weekend we went to Big Buck and it was packed. I was so nervous and didn't do good. I wrecked the first lap and finished the race 5th or something. They were faster than what I thought…
But it looks like you got the hang of it eventually! Everyone, even the pros' have to start somewhere. Speaking of that, do you have any pro riders that you look up to?
There is a list because I got to go ride with a bunch of them at Action Off Road camp and they were all really good to me. Adam McGill, Jarrod McClure, Katelyn Osburn, Dwight Pollard, Alicia McCormick, Hannah Hunter and especially Traci Pickens – my first year racing she gave me one of her hats that says 11x on the side of it and I'll never forget that. I really like it when they come to the line and wish me luck too.
What are your goals for the future? Do you want to be a WXC racer someday?
My goal for the future is to keep winning races! Yes, I want to be a WXC rider someday. I want to be able to ride a wheelie when my name is called out.
And looking more in the short-term, what are your plans for next season?
To keep racing and keep getting better. I want to win another Micro Overall Championship next season. I will also be racing the girls class in youth and I want to win a championship in that class.
Tell us something about yourself that has nothing to do with racing.
I play basketball, I like to hunt. I like to go to church and play with my friends.
And who would you like to thank?
The Crull family at Precision Racing Parts, Fly Racing, Engine Ice, ODI Grips, BRM Off-Road Graphics, 100%. My family for supporting me. Chris and my dad for always keeping my quad running up front. My mom for chasing me around the track. My sisters for coming to the races and being there for me. And all the pro riders that support us kids racing.