Rachel Gutish
Time
Tuesday, December 17, 2019 | 9:00 AM
Stemming from the grassroots of family racing, Wiseco has over 75 years experience manufacturing pistons, whether it be for fun, weekend riding, or professional racing. Wiseco is one of the few manufacturers forging pistons in the U.S., providing quality and performance you can trust. 
Click here
 to see the latest Tech Tips from Wiseco.
This year's XC2 champion is John Glauda Jr. He is originally from New Jersey, but like many other GNCC racers, has migrated south and is now living in North Carolina. This is the eighteen-year-old's second season racing pro. He plans to move up to XC1 next season, because he believes he will progress further than he would defending his XC2 title.
GNCCRacing.com: Congrats on winning the XC2 title this year! It's your first pro championship, right?
John Glauda: Yes, it is my first one. And it felt pretty good!
How many years have you been competing in XC2?
This is my second year in XC2. My first season went well – I wasn't very consistent, but I still got third.
Obviously you were a lot more consistent this season! What did you improve on or change to make that happen?
I rode a lot during the off-season. Josh Merrit was living with me and Cole Richardson stayed with us for a little while. Having fast riders to train with is always a good thing. I also went into every race telling myself I was going to win no matter what… having a good mindset is important.
I would agree with all of those things. Now, I saw you bumped up to XC1 for Mountaineer and Ironman. Does this mean you plan on competing in XC1 next season instead of defending your XC2 title?
Yes, I will be moving up to XC1. I'm moving up because I already won the class - no reason to do it again in my opinion. I won't learn anything or get any faster staying back for another year.
How did your XC1 debut go?
Well, I broke down at Ironman. We got it fixed but when I went out again I was a lap down. The Mountaineer was going much better. I think I was around sixth or seventh, but then I lost my seat and had to ride the whole last lap without it. So that wasn't great. But next year will be good I think
What are your goals for next season?
I'd like to be in the top five most races, hopefully get a podium too, and most of all be consistent.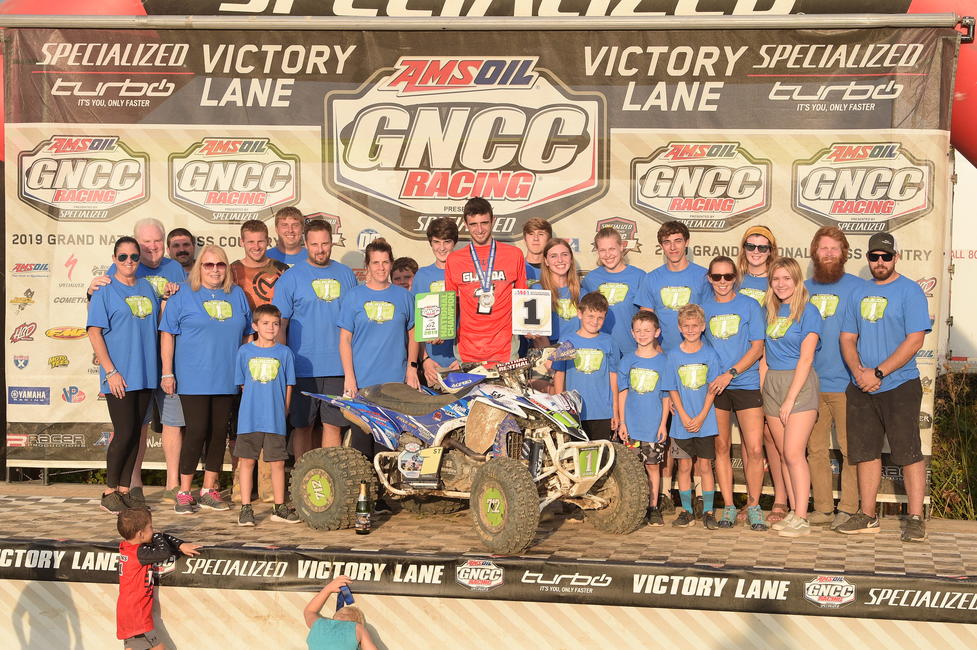 Any changes to your training or program this off-season to prepare for XC1?
Not really, just sticking to what I did last off-season. It seems to have worked pretty well (laughs)
Backing up a bit, how did you get started riding and racing?
My dad always ride as a kid and never raced, but he always wanted to. When I was three he bought me a Suzuki 50. Then when I was six years old, he took me and my cousin to watch a GNCC for the first time. It was the one they used to have in Somerset, Pennsylvania. I was excited because I got to meet Bill Balance and I got his picture and autograph. After that my dad bought me a 70cc Dinli, and I raced my first GNCC at Steele Creek. Been hooked ever since.
Best of luck to you next season! Who would you like to thank?
My family, Pierce Performance ATV, Maxxis Tires, Waynesburg Yamaha, Fly Racing, BNR Motorsports, Penske Racing Shocks, Houser Racing, Renthal, Leatt, Bell, Alpinestars, Crossfit Weddington, Urmosi Throttles, On Track School, Motohose, DP Brakes, Evans Coolant, SSI Decals, Sparks Racing, Hinson Racing, Alco Cleaners, Nine2, Greg's ATV and Cycle, Ye Olde Cycle Barn, Tire Balls, ODI Grips, Ryland Johnson Racing, Yamaha, Roman Empire MX, Josh Merritt, Cole Richardson, Levi Cohen and Stewart Boys Racing.