Rachel Gutish
Time
Tuesday, November 26, 2019 | 12:05 PM
Stemming from the grassroots of family racing, Wiseco has over 75 years experience manufacturing pistons, whether it be for fun, weekend riding, or professional racing. Wiseco is one of the few manufacturers forging pistons in the U.S., providing quality and performance you can trust. 
Click here
 to see the latest Tech Tips from Wiseco.
This year's 4x4 Pro National Champion is Landon Wolfe, from Glenville, PA. This is the 25-year old's first pro title. After deciding to retire from the XC1 class and full-time racing in 2017, he happened to borrow a 4x4 at Ironman and pilot it to a 4x4 Pro class win. After that, he rethought his retirement and instead switched classes. Wolfe finished second last season in 4x4 pro while still trying to adapt to racing a completely different machine. This year was a different story, as he finished the season out with ten wins out of thirteen races. His goals for next year are to repeat his success next season – or maybe even do a little bit better.
GNCCRacing.com: Congrats on your 4x4 Pro title! This is your first time winning a GNCC pro championship, right?
Landon Wolfe: Yes. I won a college B championship a while ago, but this is my first time winning a pro class. Its kind of funny too, it was actually my tenth year in the GNCC series as well.
How did it feel to finally win a pro championship after ten years of working toward that goal?
It took long enough, that's for sure. But it felt really, really good to finally put all the puzzle pieces together and make it all happen! It was cool to have so many race wins and a title, but to be honest it was more exciting for me to be able to succeed for all those people who surround me and my racing team and all the people who have helped me over the years. They've put in a hard ten years of work alongside me and I'm glad it finally paid off.
I'm sure they are as excited about this title as you are! You did have a lot of race wins this year – what were you able to change or improve on over last season to make that happen?
Last year was my first year on the 4x4 machines, before then I'd always raced a sport quad. There was a learning curve, and I made a lot of little mistakes with the machine which kept me from winning. Especially given how stiff the competition was… you just couldn't afford to make any mistakes. Once I figured out things and learned from those mistakes, I started to grab some wins, but it was pretty late in the season. This year, we just had a really flawless program. The mechanic had the ATV spot-on every weekend, we had zero mechanical failures all year which is really hard to do. It's just so rare to have that happen.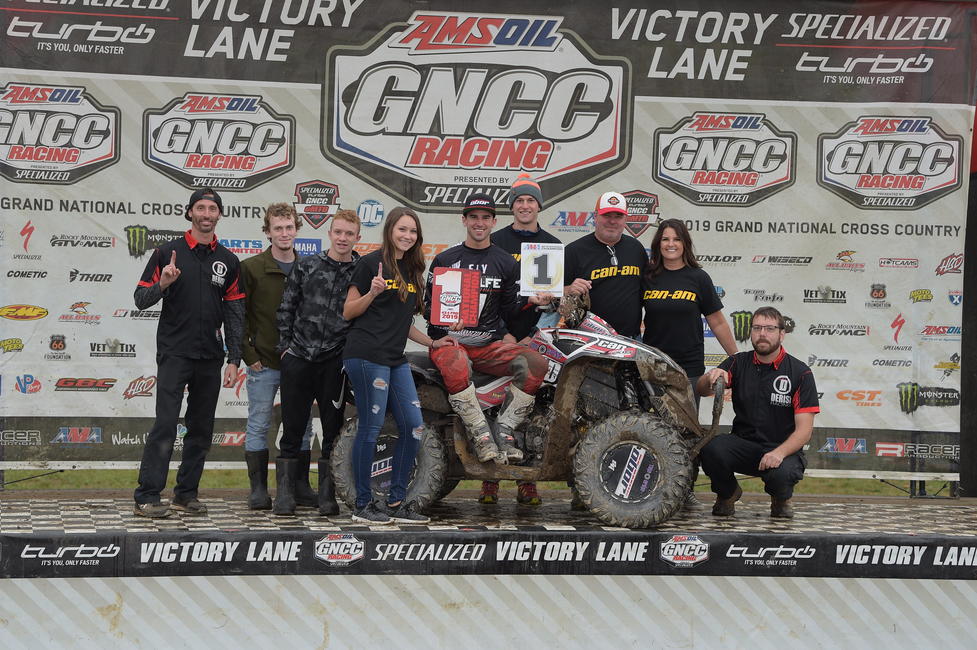 From a mechanical standpoint, are the 4x4's harder to keep together just because of the greater weight and therefore force they have to be able to withstand and power they have to put out?
Yes! We have a lot more moving parts than a sport quad has too, and since they are heavier hitting stuff causes a lot more damage. That was the biggest difference for me in switching to 4x4 from XC1, learning how to ride the quad so that it didn't break while still going fast.
So, did you just have to be more conservative than you were used to, like focus on and avoid the tree roots and rocks? What in your riding style had to change?
Yeah, I think being smoother was the key. On a sport quad a lot of it is just about how hard you can ride, so you're always smashing through corners and stuff. Really a good way to look at making the switch is that it's like riding a dirtbike versus riding a quad. On the dirtbike you have to be a little bit more careful, have a little bit more throttle control… really just being smoother is always faster. That's the attitude I eventually adopted last season while trying to learn how to ride a 4x4 the right way.
Can you give us a brief overview of your season?
We started off strong in Florida, got a good win there and then one after another things just started to come together. Things were pretty much flawless until we got to the John Penton. We had a real muddy mess there as I'm sure everyone remembers. We had some problems, but also some really good racing with Jordan Phillips and Robert Smith, we were back and forth all day long. In the end, I just couldn't get a pass to stick on Jordan, so we ended up second there. We had a few more wins and then a DNF at the Mason-Dixon … not a mechanical thing, it was completely rider error. I did enough laps that I still got last place points but obviously that's still not great. Took another win, and then Ironman was a total survival race, I was just grateful to manage to be on the podium in second place there.
Taking a quick break from the racing, in addition to your championship you did celebrate another big milestone this year ….
Yes, aside from the stuff in the GNCC world, I did end up tying the knot with my wife Danielle in August! We specifically planned it around the GNCC schedule to make sure there wouldn't be a conflict. This was definitely a hectic year for us – between training and racing and the wedding and working and the wedding planning … although to be honest she did most of that (laughs) In the end it was one of the most rewarding years I've ever had though.
Sounds like it! Now in your list of things that kept you occupied this year you mentioned working. What is your day job?
Steel working. My dad owns a steel working business, and I've been working for him for about four or five years now, and I just get more involved with it each year.
And you also do some stuff with RacerTV, right?
I do, I commentate the afternoon ATV race for the show.
That sounds pretty cool!
Yeah, it is kind of fun. I know the guys pretty well given that I raced with most of them for many years. I can pick them out pretty quickly, just because I recognize their riding styles after years of chasing them through the woods (laughs). It is cool to still be involved with the XC1 class.
What was it that made you decided to switch from XC1 to 4x4 Pro? Looking back at some of your past results it seems like you were a top-5 guy there for sure.
I was in XC1 for four years. The last year I competed in the class I earned national number six. Had quite a few top-5 rides and even a podium. I would consider us pretty successful, but what I ran into was with working full-time and all that it was just too much. The funding and support was hard to come by and I was really struggling to stay on top of everything. I had actually considered 2017 to be my last year racing, but then at Ironman my good friend, Dwight Pollard, who I now race full-time with loaned me his practice quad so I could race 4x4 pro. I went out and raced it at Ironman. I got a little lucky and ended up taking the win. As it turns out the 4x4 racing was exactly what I needed. I talked to Can-Am and got a little support, talked to my sponsors and they were all good with the switch. Now looking back on it, that was a really good decision at a really good time.
I take it you're glad to still be racing then (laughs)
Absolutely! It would have been tough. There's no way I could just quit racing entirely. I mean, the day will come when I have to step back from it a little bit – do it part-time or do it for fun, whatever you want to call it. But I'm not ready for that yet!
Yeah, once you're in a community like this I think it is really hard to ever leave it.
That's right. All your friends are there … that's the thing about me. Like 90% of my friends all come from GNCC racing so it would be super hard to just quit cold-turkey and never come back.
Even as ingrained in GNCC as you are now, ten years ago you were new to it. What made you decide to start racing them?
My dad and I got into all different kinds of racing when I was young. We raced dirtbikes, we raced 4-wheelers, we raced dragsters and snowmobiles and bicycles, we really just raced anything we could get our hands on. We ended up really liking the 4-wheelers though, did some local racing and then ended up getting hooked up with Chris Borich and Johnny Gallagher. They talked us into trying a GNCC. We had small success doing races here and there. Finally, we slowed down all of our other forms of racing so we could focus on this one. There was only one major series to race quads in, so that's the one we went to. And we're still here a decade later.
What are your plans and goals for next season?
The goal is to repeat the same thing we did this year. I'm happy with how things turned out, really happy with the support and the team, so going into next year we have almost the same program and all of the same people. We're going to fine-tune a couple things and hopefully come into round one swinging, repeat our success this year or maybe even do a little better!
And who would you would like to thank?
My mom and dad, my wife Danielle, Rachel and Jon. I also want to thank James Reeves and JoJo Bowden. Also, all of my sponsors: Obor, Can-Am, Derisi Racing, Tire Spine, Specalized, Spider Graphix, Custom Axis Suspension, DP Brakes, Nine2, Teixera Tech, Fly, HMF, G2, Flexx, Quad Tech, and STM Powersports.