Jared Bolton
Time
Thursday, November 21, 2019 | 12:10 PM
Welcome to Quick Fill.
The off-season is in full swing but just as quickly as things begin to wind down, we all know they're going to pick right back up again. This is the norm each year when the GNCC season ends. Things slow down for a month or so for some actual "off-time" but then it's back to work getting ready for the new season and that off time begins to feel like real work once again. We do have what we like to call "the 14th round" coming up, and that's the GNCC banquets which will be taking place in just around two weeks!
Speaking of the banquets, as usual we will be hosting our annual riders meetings with Friday afternoon dedicated to Pro ATV riders, Saturday morning to ATV Amateur, ATV Youth and eMTB riders, Saturday afternoon to Pro Bike riders and Sunday morning to Bike Amateur and Bike Youth riders. Additionally, you may email proposals for rule changes to be discussed in these riders meetings. We issued a Competition Bulletin outlining all the details, times and more. You can view that HERE.
For me it seems hard to believe that the banquet is just two weeks away, but I think that's because I'm just now beginning to slow down. If you read last week's edition of Quick Fill, then you're already familiar with the details of our trip to Japan for the JNCC season finale. I followed that up with attending last week's 2020 Yamaha YZ250FX and YZ125X Introductions in South Carolina, so this is really the first week I've sat down at my desk in Morgantown since the week before Ironman. More on that Yamaha event later in this edition of Quick Fill...
However, the big news out of last week comes from the International Six Days Enduro. I'm sure you've heard by now but for just the second time in the 94-year history of the ISDE, the US ISDE World Trophy Team claimed the win! This is a huge accomplishment, and if you're not familiar with the ISDE just think of it as if the US Team just won the Olympics overall. Additionally, the US Women's World Trophy Team claimed their second win as well, and the US Junior World Trophy Team rode to a second place finish following some tough luck throughout the week. To top it off, the XC Gear US Club Team topped all the Club Teams from across the world.
The World Trophy Team consisted of Kailub Russell, Steward Baylor, Ryan Sipes and Taylor Robert. As you know, Russell, Baylor and Sipes have raced their fair share of GNCC events but Taylor Robert has also tried his hand at GNCC as well. The Junior Trophy Team was full of GNCC talent with Ben Kelley, Josh Toth and Grant Baylor while the Women's World Trophy Team was made up of Becca Sheets, Brandy Richards and Tarah Gieger. Also, the XC Gear Club Team had Ricky Russell, Dante Oliveira and Austin Walton. So as you can see out of all these riders, a lot of them are familiar names to the GNCC Racing Nation, and we're very proud of what all of these riders accomplished.
Moving back to news from the world of GNCC Racing, we posted a story this week on our website written by Griffin Cotter. Griff is the son of Tim Cotter, who is the Director of Operations here at Racer Productions, and Griff is a multi-talented guy who can accomplish just about anything you throw at him. He's worked at the races on and off throughout his entire life, and while he's got another job working closely with Clemson University, he still found time to come help us out a few times this year including a long weekend at Ironman. Griff put together a really well written account of the Ironman, and it's well worth the read. You can check that out HERE.
Making a quick stroll around social media, it looks like Adam McGill and Jarrod McClure are with the Stewart Boys Racing folks getting ready to take on the Baja 1000! The race kicks off tomorrow, so we'll be keeping an eye out for updates from these folks. This is a really cool event and the Baja is a really big deal and it stands out as one of the most well known races in the world and to have some GNCC regulars there is always cool to see.
Another interesting post I came across was from Kailub Russell himself, who is offering up the unique opportunity to come stay and train alongside Kailub at Ranch Russell, his private facility in Florida. This is not a "get trained by Kailub" opportunity, but rather just the chance to come stay, ride and train AT his facility for a pretty affordable price in terms of training facilities. A typical motocross training facilities charges close to $2,000 per month, but KR was offering up a small amount of spots at Ranch Russell for $400 per week, or $1,400 per month. Notice I said 'was' because it looks like he's already sold those six spots for the time being. It's pretty cool to see this because it's definitely a great opportunity for someone looking to train at a good facility this winter.
Well, that's going to do it for the breaking news portion of this week's edition of Quick Fill. But, before we wrap this thing up, as promised below is my experience riding those 2020 Yamahas. I got a little on the long-winded side but nothing too crazy. So, read ahead to find out more about those bikes. Until next time, enjoy your weekend and stay safe out there!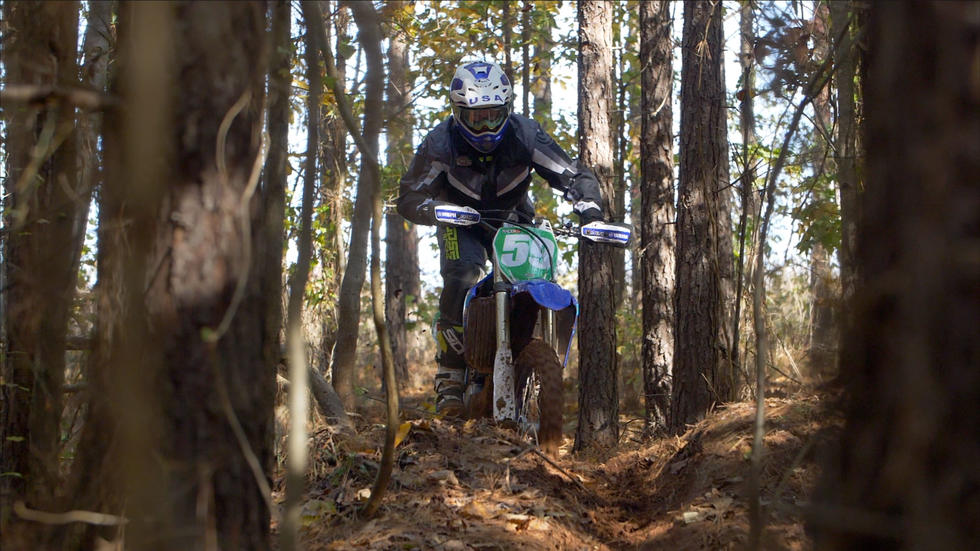 2020 Yamaha YZ250FX and YZ125X Intro
While the guys and gals making up our ISDE teams were racing their hearts out in Portugal, Racer X's Davey Coombs and I were riding some 2020 Yamahas in South Carolina, with Mason Rader catching all the action on video. This turned out to be a really cool event where the folks from Yamaha invited a number of media outlets to come test ride the newly redesigned YZ250FX and the all-new YZ125X. These bikes are designed with off-road racing in mind. In fact, Yamaha's technical presentation on the opening day discussed the growth of GNCC Racing and how Yamaha has designed these bikes to be competitive in the GNCC world in their stock form.
It was pretty cool to see editors and test riders who traditionally ride motocross bikes on Southern California motocross tracks, or off-road bikes in the California deserts, come out and give these bikes a whirl in the tight South Carolina woods. Guys from Dirt Bike, Dirt Rider, Motocross Action, Vital MX, Dirt Bike Test, Keefer Testing and Cycle News were all in attendance and at first glance I felt like I might have been the only full-blow woods rider in attendance. However, for one, these guys are all very good motorcycle riders who can adjust to different terrain fairly easily.
Also, Dirt Rider sent out Allan Brown to test ride these machines on their behalf, and after claiming this year's Super Senior A class championship, Allan knows a thing or two about going fast in the woods. For those who may not know, Allan does a lot of testing for Dirt Rider and is actually a longtime motorcycle industry professional who has served as a mechanic for several factory teams and even as Team Manager for folks like Moto XXX and Star Racing Yamaha. This came on top of other long-time industry professionals who have GNCC experience at some point or another, including Dirt Bike's Ron Lawson and Cycle News' Kit Palmer.
There were some really good test riders in attendance, and then there was me. This was my first-ever bike test of any sort and while I was very excited, part of me was also really nervous because I felt like I'm not picky enough to give a really good bike test. Thankfully, I'm actually a little pickier than I realized and on top of that, that's not the angle we decided to work. Racer X readers will know that the magazine is a moto lifestyle magazine and really doesn't do many bike tests or "shootouts" like you read in other magazines. Instead of me riding the bikes and nitpicking, we decided that a video showcasing Davey and I riding the bikes and discussing some of the benefits of these machines would be pretty cool!
So, that's exactly what we came up with. Of course, I feel like a lot of times I'm better at expressing my thoughts in written word opposed to talking about them out loud, and since news is slow this week I figured I would talk a little bit here about the bikes as well. The riding was broken into two days, with our first day dedicated to the YZ250FX and the second day dedicated to the YZ125X. I've ridden KTMs for as long as I can remember and have been around the KTM brand my entire life as my dad has ridden them for many more years than can remember... Yeah, that's a bit of a joke on my dad being "old".
With this longtime experience on the European brand, I was a little concerned about jumping onto a Japanese bike. In the past, I personally haven't meshed well with the Japanese brands but back in early October I actually had the opportunity to ride a 2019 YZ250FX as my sweep bike for the Yamaha XTR Challenge at Loretta Lynn's. After about an hour on that bike, I liked it but it felt wide, felt a little unstable in some corners and the motor felt like it needed a little something extra. During the technical presentation for the 2020 Introduction, Yamaha mentioned that they made the 250FX 18 millimeters slimmer, changed the frame to make cornering easier and beefed up the motor a little bit.
Within the first few minutes of riding the 2020 YZ250FX, I noticed all of these changes. 18 millimeters doesn't sound like much, but that little bit of a change made a significant difference in the width of the motorcycle. The bike was also incredibly easy to turn, even in the slick and greasy red clay we were faced with due to a thawing ground on day one. Then to top it off, the motor felt much stronger and much more powerful than the 2019 250FX. I've never been much of a 250F rider, but this bike felt a little stronger than a typical 250F and really felt like an off-road race bike. The apprehensions I had due to my comfort on a European bike went away pretty quick and before lunch that day I was really enjoying the bike.
Day two we were mounted with the all-new YZ125X. With the addition of classes such as XC3 and 125 B/C, Yamaha has taken notice that 125cc 2-strokes still have a place in the off-road racing world and decided to make an off-road specific 125cc race bike. It had been a long time since I'd ridden a 125 and this was the bike I was most excited about riding. Obviously, Yamaha based the YZ125X off the YZ125 motocrosser and made some changes to fit the off-road racing world. The majority of the engine components are the same but they made some changes to the cylinder. The YZ125 has a 8.3mm combustion chamber, but they increased the YZ125X to 11.3mm, and changed the compression ratio from 8.6 to 7.4. These changes help to curve the power a bit and make the YZ125X much smoother and more controllable in the woods.
The first little bit of my experience on the 125X was spent trying to remember how to ride a 125. I'm so used to lugging out my 300 2-strokes, that I had to remember this bike needs to be ridden on the pipe and once I remembered that, I really had a blast on the 125. Undoubtedly, the most fun I had all week was riding this bike. In fact, when we were done shooting, done with interviews and both Mason and Davey had left for the day, I went back out and rode the bike for nearly another hour! I rode a lot of the really tight single track available and the 125X worked incredibly well in these tight woods. Once I worked my way out into the faster, more wide-open stuff, it still worked really well and the power delivery was much easier than the typical 125cc motocross bike.
Both bikes come stock with an 18-inch rear wheel and an O-ring chain. I discuss this in the video, but these are two things that have pretty much become the standard for off-road racers. That 18-inch rear wheel works better in rocks, over logs and other spots that could pinch a tube or flex a mousse tube all the way to the rim on a 19-inch wheel. Both bikes come with a kickstand, which some racers may say, "I don't need that!" for the weekend warrior or someone who happens to do trail work or sweep ride, a kickstand is actually a nice addition.
They also come with KYB coil-spring style forks. Air forks are becoming more and more common on dirt bikes, but if something goes wrong out in the woods and you lose your air, this could make for a long and sketchy ride back to the truck. Air forks work incredibly well but for many folks the chance of an issue arising out in the woods is a deterring factor and pushes them back to the spring style forks. Overall, both bikes are great machines and are really fun to ride. If you had to choose between these two, it really comes down to what class you're looking to race and what you're used to riding. A 2-stroke faithful will mesh with this 125 quickly, and a 4-stroke rider can get on the 250FX in it's stock form and be competitive. I can't thank the folks at Yamaha and Racer X enough for the opportunity to test out these bikes.