Rachel Gutish
Time
Tuesday, October 22, 2019 | 2:10 PM
Stemming from the grassroots of family racing, Wiseco has over 75 years experience manufacturing pistons, whether it be for fun, weekend riding, or professional racing. Wiseco is one of the few manufacturers forging pistons in the U.S., providing quality and performance you can trust. 
Click here
 to see the latest Tech Tips from Wiseco.
Walker Fowler recently wrapped up his fifth-straight GNCC ATV National Championship. Since we have interviewed Walker quite a bit over the years, we decided to ask a little less about his season and a little more about him personally – to give us a chance to get to know the man under the helmet a little better.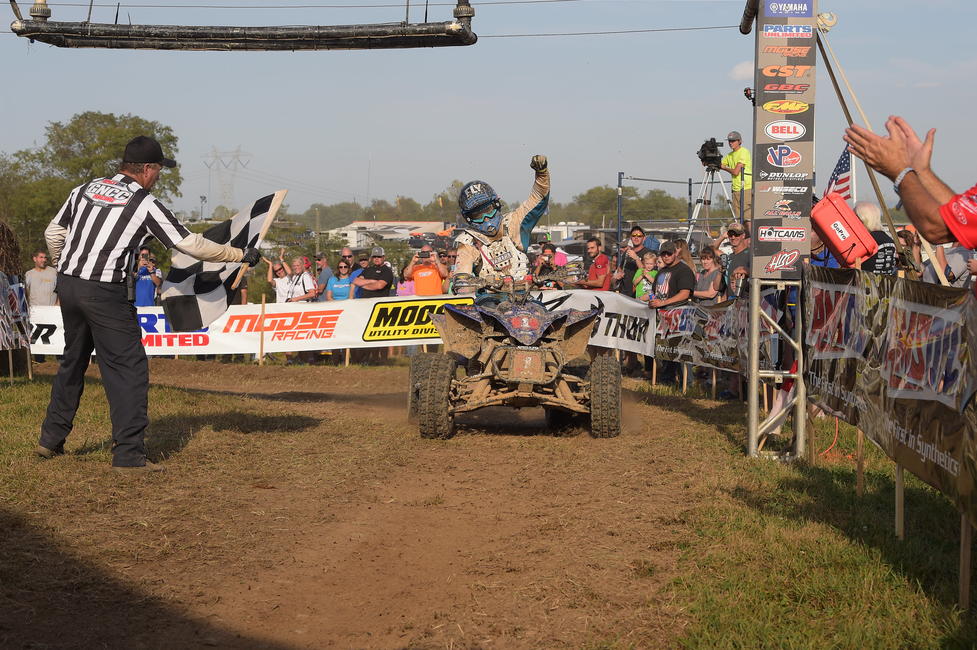 GNCCRacing.com: Congrats on the title! How does it feel?
Walker Fowler: Our fifth championship feels like the others. We have a job to do at the beginning of the season and until we are holding a new #1 plate we aren't satisfied and there's still work to be done. Only when we achieve that goal do we get to relax a little and embrace the accomplishment. There's such a short list of names who have been able to accomplish what we are doing right now. It's absolutely an elite group and we are honored to be a part of that.
After winning so much, do the years and races start to run together, or are there some that still really stand out?
On one hand, they do run together. I don't think it's any secret that as the years pass they seem to go by quicker and quicker. The last three seasons our race win margin has gotten a little smaller, but our win percent has increased so I think the race action is more exciting than ever. I'm still finding myself in a position to win at the end of most of the races. So, while the end result is pretty similar most of the time, each race presents a new challenge with a new racer or racers to battle as well as fighting through the terrain and weather conditions. Overall, the years are flying by and running together, but every race is still pretty unique and memorable!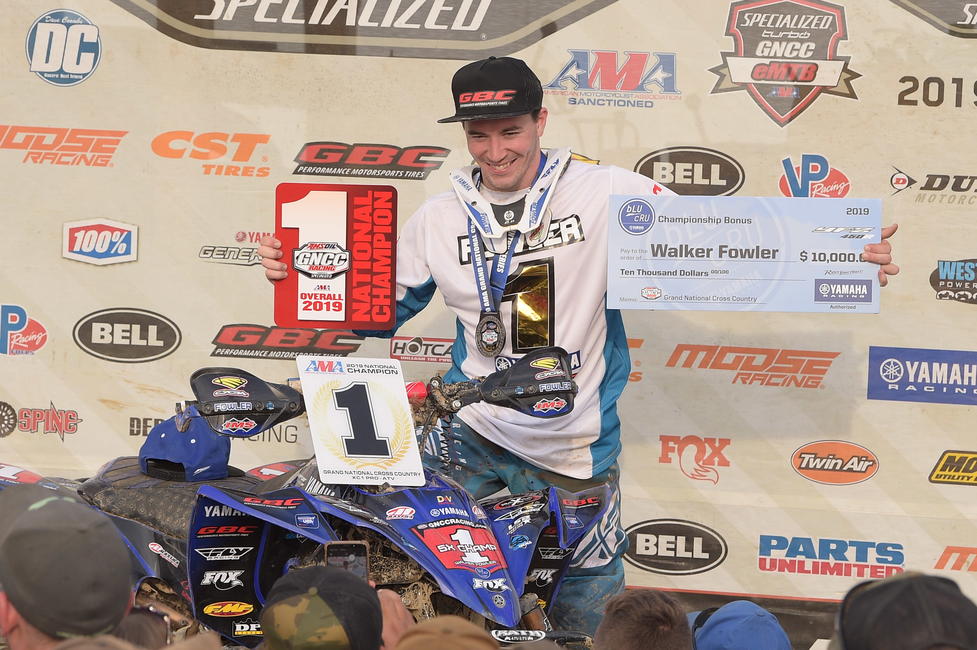 What made you want to be a pro racer in the first place?
(laughs) The hardest question to answer. Why wouldn't you want to be? Yet, how do you make that possible? My family has always had an interest in many types of racing and racing vehicles. My dad owns a trucking business in north east Ohio and Kim Kuhnle, a pro ATV rider in the early 90's, also ran a trucking company in Ohio (and still does). My father took me to a GNCC in 1996 to watch Kim and apparently, I said I wanted a four-wheeler and wanted to race it and wanted to be the best. I think every 4-year-old that's ever ridden says the same thing, but as the years passed, I got a little better with each one. My parents continued to support my racing addiction, but it got to the point where I either needed to get a job to help support racing or make money doing it. Luckily, Yamaha was looking for a rider and Bill Ballance brought me onto his team to try and morph me into a future champion. Making a living riding an ATV is absolutely worth it. There were a lot of days where it seemed like it would be easier or safer to do pretty much anything else but having "made it" I would never go back and never do anything differently. It's a dream come true. The people I've met, the places I've been, and the life I've lived are everything I had ever hoped for when I chose to be a pro racer.
What was the biggest obstacle you had to overcome in your racing career?
The mental game was the hardest part. Believing in yourself, knowing you are capable of winning a race, then winning several races, then being consistent enough to be a championship contender. Every person reacts to stress and nerves differently and it took a lot of years to finally convince myself I was capable of riding against Chris Borich and getting on his level to battle him straight up. He was the most dominant rider the sport had seen and that's super intimidating. He thrives on competition and I've actually learned a lot watching him all those years trying to figure out what made him so good.
What do you eat on race day?
A bucket of fried chicken from KFC and mashed potatoes (winks and laughs)
Tell us about a funny or interesting thing that happened to you while traveling to a race.
My mechanic Mark Notman and I drove to Quebec over the weekend for a race. There are very few English-speaking folks there and though I took French in high school, I remember very little of it. We didn't think much of it since the family we were meeting in Quebec speaks pretty good English and said they would help translate. Well, we needed to get something to eat and we didn't have our friends with us yet so we drove around for a while and eventually found a Subway. We had to use google translator on our phones to order our food in complete silence, since the people making the food couldn't understand us. There was an older gentleman in there and by the time the cashier was trying to use her hands to ask me how big or small of a coffee I wanted he starts knee-slap laughing at us. Turns out he could understand a little English and I could understand about every 4th or 5th word he said, enough to guess what he was asking. I then used my phone to tell him we were in town to race ATV's and he thought that was the coolest thing ever. Definitely a Subway sandwich experience I'll never forget! (laughs)
What is the most challenging part of being a pro racer?
Staying healthy! There isn't a pro racer, ATV or Bike, that isn't beat up and battling some kind of injury or illness by the time Ironman rolls around. We all say we are fine, but it's really just that we've all learned how to live with it and overcome it, or we're in really bad shape and have already missed races or are currently missing races. It's part of it.
Who was the pro rider you looked up to the most when you were growing up?
Barry Hawk and Bill Ballance. They are both awesome guys and I know them well now, but when I was younger they seemed like superheroes to me. They didn't even seem real. As I've grown, I've had the pleasure to get to know both of them and their families pretty well…. and I still think they're superheroes! Those are two names that get brought up in off-road racing and people argue who the G.O.A.T is!
Tell us something interesting about yourself that has nothing to do with dirt bikes.
I love fishing. And I'm absolutely terrible at it!! (laughs) Maybe it stays fun for me because I'm so bad at it … I really never know what might be in the water, since I never catch anything to actually know what lives in there! Saltwater, fresh water, lakes, rivers, storm drains, doesn't matter where I fish, I never catch a thing! But the time outdoors where it's quiet and peaceful is healthy for the soul, so if even if you're like me and not good at fishing, I still encourage you to go do it!
What do you think you'll do when you retire from racing?
I've lived my entire life by the seat of my pants. I guess when that day comes I'll just l have to figure it out! I would like to stay in the industry if I can, but at the same time it would be super tough to be around it and not be the one competing! I think the best way to avoid this mess is to just not retire!
What are your plans for next season?
More of the same! Race, win, repeat! It's a motto we've lived by for a lot of years now. We're shooting for championship number six, with a minimum of 7 overall wins, and to try to have more fun than anyone else while we're doing it. We all started racing because it was fun. When you lose the fun, you lose the dream.
Who would you like to thank?
Definitely my family. I have to miss a lot of family time due to racing, but they still continue love and support me. Same goes for my girlfriend Alisa and her family, I miss a lot of family time there as well. My mechanic Mark Notman who's my taller older brother from another mother. There's no WFR or WFR going racing without him. The results speak for themselves about how good he is at what he does and how passionate he is for the sport of ATV racing. The Notman family and the Kenreigh family and everyone else who helps us during the week and in the pits race weekends. Racer Productions and the AMA for giving me a place to showcase my talents.
And also, a very long list of companies who are like family as well: Yamaha Motor Corp., GBC tires, FLY Racing, Lonestar Racing, MXP, Fox, FMF, Hill International Truck, Fasst Goldspeed Wheels, Hinson Racing, Alpinestars, Atlas Brace, SSI Decals, Tireballs, Precision, AntiGravity Batteries, WebCams, WorksConnection, Fuel Customs, Vortex Ignition, Scott Goggles, Intense fabrication, Waynesburg Yamaha, Cycra, Cometic Gasket, CV4, IMS, ODI grips, DP brakes, Gytr, Maxima, Rath Racing, CryoHeat, D&V, VP racing fuels, BNR, Grenade Coatings and RCP.