Rachel Gutish
Time
Tuesday, October 8, 2019 | 3:40 PM
Stemming from the grassroots of family racing, Wiseco has over 75 years experience manufacturing pistons, whether it be for fun, weekend riding, or professional racing. Wiseco is one of the few manufacturers forging pistons in the U.S., providing quality and performance you can trust. 
Click here
 to see the latest Tech Tips from Wiseco.
Liam Draper earned his first-ever XC2 250 Pro class win at the Mason-Dixon GNCC a few weeks ago. The twenty-two year-old from New Zealand is currently living in in Waynesburg, Pennsylvania where the Tely Energy race team, who he rides for, is based out of. This year is Draper's second full season of racing GNCCs. He came to the states to try and make a living as a racer because he was on the top in NZ and there was nothing left for him back home. He just wrapped up the NEPG title last weekend, and we expect to see similarly great things out of him next year in the GNCCs.
GNCCRacing.com: Congrats on your first XC2 win! Tell us a little about the race.
Liam Draper: It was pretty good. I knew it was going to be a dusty day and being up front was going to help a lot. I managed to get a good start and followed Mike Witkowski for a few laps, then I got around him when he pulled in for an air filter change. I knew I had to put my head down and try to get away because I knew Craig Delong was coming and that he would be fast here. I pushed hard for a couple laps and thought I was going to get away, but when I looked back, Craig was still right there, and so was Ryder Lafferty. I came in for gas, and while I was stopped Ryder got around me. I got around him, but then he got back around me again when I stopped for an air filter change. I knew a lot of riders were sucking dirt so I thought it would be worth it to stop. My mechanics got it done in I think twelve seconds, so we didn't lose much time at all. I was surprised that he hadn't stopped yet, either for gas or a filter so I kept charging. I finally started to see his dust, then not long after, I saw him at the bottom of a hill – apparently, he blew a motor too. But either way, I was pretty pumped to finally win an XC2 race!
Other than the win, how has the rest of your season gone?
It's been up and down. It started off with a pretty big low in Florida, when I had a heatstroke and passed out, but we have had some good races this season. I podiumed at Snowshoe and then followed it up with another podium at High Voltage. On the break I was still doing the National Enduros and some Extreme Enduros as well. After the break I had a bad race at Black Sky, which was a bummer after I had those two good ones right before break, but then I got my first win at Mason-Dixon, so overall it's been good.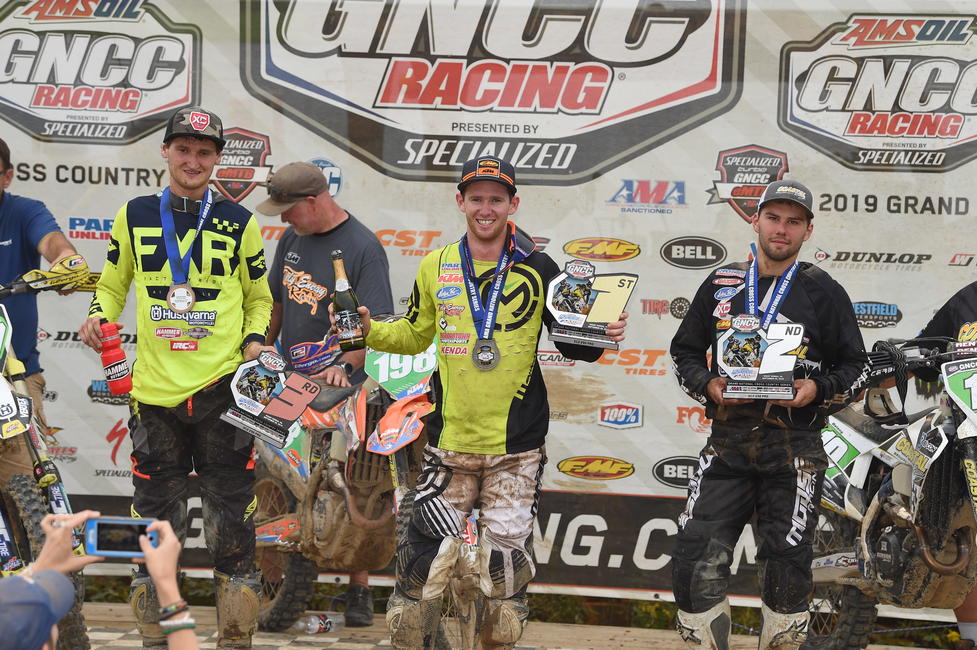 Overall, would you say your second season doing GNCCs has been better than your first one was?
Yes, definitely. It's been a lot better this year. My confidence has been better, I know that I can run up front with those boys, I think that's the big thing. The team has been great too, and all the people around me are awesome!
Confidence aside, what do you think are some of the biggest lessons you've learned about GNCC Racing?
One thing I've learned to do is not to sprint. Before, if I got a good start at a GNCC, I would go way too hard and burn myself out. Learning to pace myself really improved my finishes. And I still have to say how important confidence is, believing in yourself and knowing you can do it.
Was there anything about the format or the racing itself that took time to get used to?
Not really, just that everything is much rougher than it is at home. At the GNCCs there is probably triple the number of people we would have at home, so the tracks don't get beat up like they do here. Then having that many lappers out there just makes it that much tougher.
Why did you want to come here and race GNCCs in the first place?
I had basically got to the top in New Zealand and there wasn't much left for me there. I either had to start working full time or come over here and try to make it as a pro racer. I know Paul Whibley very well and he lined some stuff up for me so I could come over last year.
Earlier you mentioned the Extreme Enduros. I remembered seeing you at a couple, and I think one of them went really well for you, right?
Yeah. When Josh Toth got hurt, KTM had already set aside a bike for him to do the Extreme Enduros on, so I was given the opportunity to race it at Bad Medicine, Battle of the Goats and the big one, TKO. Bad Medicine went good for me, I was able to finish second right behind Wade Young. Battle of the Goats did not go well at all. I got stung in the face by a yellowjacket and one of my eyes swelled up so bad that I couldn't see out of it. I still managed to get sixth or seventh, but it was miserable. At TKO I didn't do very good in the prologue, but then the two knock-out rounds went well and I made it into the final. Ricky Russell, Trystan Hart and I were all battling it out for fourth or fifth place. But then I fell off the waterfall with two laps to go, and put a crack in my pelvis. So, I was unable to finish the main event?
You cracked your pelvis? But TKO wasn't all that long ago, and didn't you still do National Enduros all summer?
Well, they said there was nothing they could do about it and it was only a small crack anyway. I had to compete in the National Enduros because I was in contention to win the Pro 2 title. I actually just wrapped that up last weekend at the Muddobbers Enduro! When I wasn't racing though I tried to rest it as much as I possible. It's getting better now.
Well, congrats on the title! It's especially impressive that you did that with a cracked pelvis. Obviously, you're pretty tough… what are some of your other strengths, and some of your weaknesses on the bike?
One of my strengths is when it gets more technical, I tend to excel a lot more. I come from a trials background, which helps for that. One of my weaknesses is that I really struggle to look ahead. Like the Baylor brothers are so good at reading trail and picking out lines, especially at the NEPGs and stuff. I just tend to look at the ground too much. That's one thing I've really been trying to work on lately.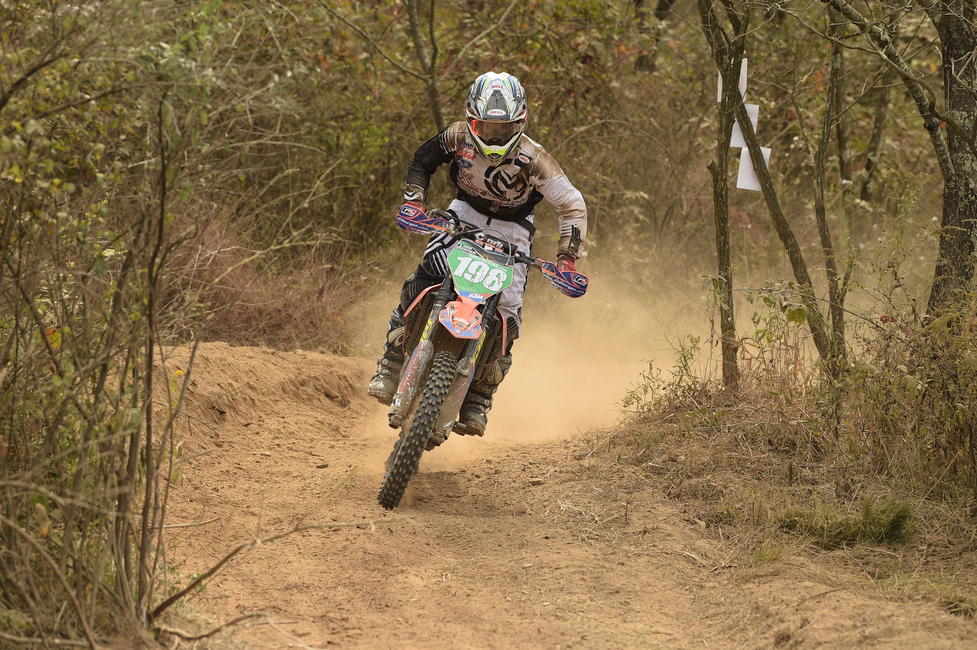 What are your plans and goals for next season?
My biggest goal for next season is to win the XC2 championship. I would like to be on the podium every race and win a few as well. Now that I've done it once, I think it will be easier to do it again! Hopefully I will get to do the Extreme Enduros next year as well, but I'm still trying to figure out at the moment what my secondary series is going to be. I would really like to try TKO again, that's for sure!
What is something you like to do that has nothing to do with dirt bikes?
I play a little bit of golf, and I like mountain biking and cycling. I like going out on the lake too, especially jet skiing.
And who would you like to thank?
Kenda Tire, KTM USA, Ride MPS, Seat Concepts, IMS, Twin Air, Spectro Oils, Cometic Gasket, G2 Ergonomics, VP Racing Fuels, ODI Grips, Senge Graphics, XC Gear, Tely Energy Racing, Evans, Moose Racing, FMF, Motion Pro, Bell, Oakley, E Line Accessories, Mojo Motorsport, TM Designworks, Motion Pro, Forma Boots, Live it Extreme, JDP Suspension, Wick Flow, Bike Sports NZ, Pod Knee Braces. I also want to thank my parents, Tod Ely, Allen Gravitt, Woody Bramlett, John Ross and Bill Gold.