Jared Bolton
Time
Thursday, September 5, 2019 | 2:20 PM
Welcome to Quick Fill.
We're reaching the final portions of the summer break and this time next week, we'll all be getting ready for the return of GNCC Racing! This is an exciting time; almost as exciting as the beginning of the season and it's even more exciting when we're heading to a new venue. Yes, torrential rains ended last year's chances of seeing the Black Sky GNCC happen but this year is looking much better and with some improvements to the facility, we will be going racing next weekend! Speaking of which, avoid the lines and get through registration quickly by taking advantage of pre-entry! It's open, so check it out!
We'll have the full details on the racecourse in next week's edition of Quick Fill but you can expect terrain that is sort of like a mix of Tomahawk and Unadilla. This isn't a very large piece of property, so expect a slightly shorter racecourse than a typical event, but still longer than what we raced at Unadilla. This course will run mostly in the woods with a few short grass track areas. We know that some of you really love the large field sections and others would prefer to stick to the woods, and after a couple of races earlier this season with big grass tracks, this is the chance to run a mostly wooded course.
Overall, the Black Sky is shaping up to be a fun weekend. The landowner, Rob Johnson, is an avid GNCC fan and is pretty excited to come race on his family farm. This is always cool to see because he's motivated to make everyone feel as welcome as possible and that makes for a really cool event. Check back next week as we'll have the latest info on the Black Sky and of course our usual lowdown of what to expect once your race starts.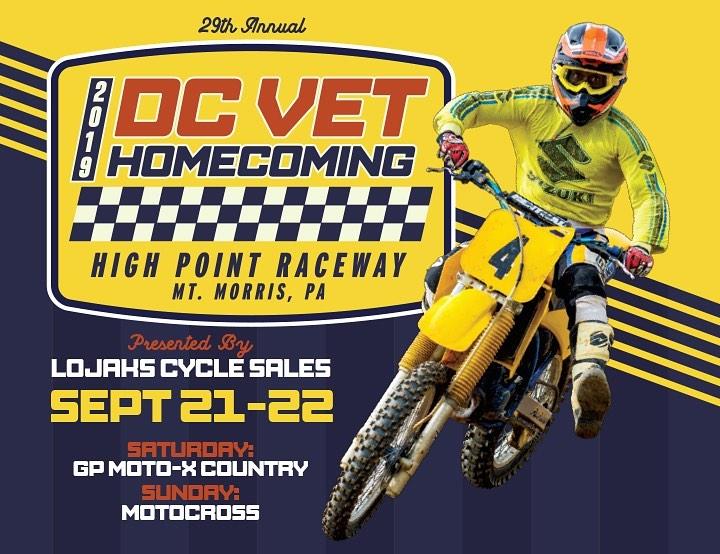 We've been talking about this for several weeks now but once Black Sky is in the books, we've got a really fun and laid-back event between Black Sky and Mason-Dixon. That's the 29th annual DC Vet Homecoming at High Point Raceway. We've updated classes, weekend schedule and everything else for that event, so check out all the info HERE! Saturday will see the GP Moto-X Country event, which is a hybrid mix of off-road racing and motocross. You'll race two 30-minute motos on a roughly three-mile racecourse with woods, grass track and motocross track. This is pretty cool because a portion of this GP course will be used for the Mason-Dixon GNCC the following weekend.
That's followed by the traditional DC Vet Homecoming motocross event on Sunday, which is always a good time! I'm usually too afraid to jump but it's such a fun event that even I get out there and do a little motocross racing. We've also updated the race fees and each day you'll be able to race a second class for a reduced price, with the exception of classes that payback money. Your first class will cost $40, and any additional class is just $25.
The race order for the GP event is posted on the High Point website and if you check out the order, just about anyone and everyone should be able to enter two classes. The "Open" classes for the GP event are true open classes, which means you are allowed to race at 250 in that class for that event. So, if you're an A rider on a 250, you have the chance to race the 250 A and Open A classes, which run in separate motos. Or if you're on a 450 you could race the Open A and Sportsman classes, which also run in separate motos. Signing up for two classes for the GP event gives you two laps of practice and four 30-minute motos. That's over two hours of riding! So, come on out and join the fun.
Last week we announced the upcoming Pitbike State Championship event that will be taking place at the Mason-Dixon GNCC. I did have quite a few folks reach out who are interested in forming a team, and please don't think I'm ignoring you! We've just gained so much interest that we need to confirm the other teams who were waiting on a final answer before we add the final ones. So, be patient and we'll get back to you guys soon! The current confirmed Team Captains are as follows:
Pennsylvania
Barry Hawk
West Virginia
Andrew Boggs
Indiana
David Quillen
Tennessee
Chuck Lemaster
Ohio
Fred Andrews
North Carolina
Tyler Shepardson
Wisconsin:
Jamie Fox Vance
Once we have the Captains finalized, we'll make an announcement and will announce the team riders as they are finalized. Expect to see some smack talk involved, but this is all for fun and just bragging rights of who will become the Pitbike State Championship. Thanks again to our friends at Yamaha, and Motozilli Yamaha in Ohio, as well as Rocket Rob Buydos for making this happen!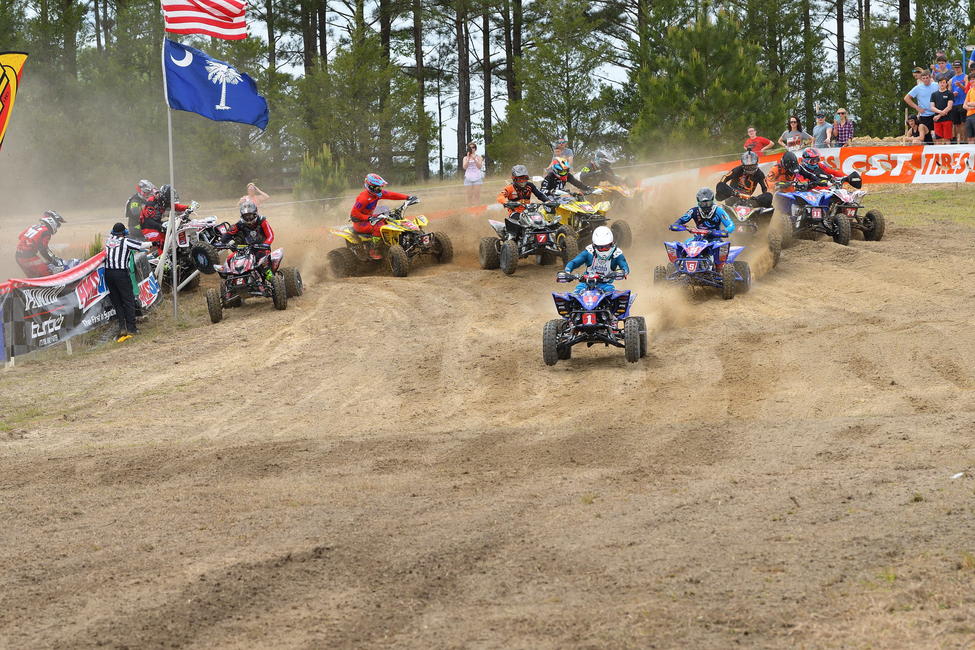 Another upcoming event in addition to the final four GNCCs is the Yamaha Extreme Terrain Challenge. This is another very fun and laid back event that takes place at Loretta Lynn's Ranch in Tennessee. This event is open to Yamaha owners who have a YXZ or Wolverine side-by-side, as well as Grizzly ATV owners. Riders will be challenged with a long course consisting of some tough terrain and gnarly obstacles that will test man and their machine. It's not a race, but simply just a challenging trail ride event and a weekend full of good riding, music, food and fun. You can get more info HERE.
Before we roll into Black Sky, now is a great time to catch up on some of the championship points chases. We'll take a look at the pro classes this week and check out some of the amateur classes in the coming weeks. On the ATV side, Walker Fowler sits firmly atop the overall standings. With seven wins and two additional podium finishes, Walker currently holds a 65-point lead over Chris Borich in second place. It's a close battle for that second place spot as Brycen Neal holds down the third place spot, just ten points behind Borch. Interestingly enough, Borich and Neal are the only other two riders to claim race wins this season!
Cole Richardson sits fourth place, just 18-points behind Brycen Neal. Cole claimed his first win at the Mason-Dixon last year, so one has to wonder if we could see Cole step it up even further in these final rounds. Rounding out the top five is another savvy veteran, Adam McGill. While the past couple of seasons haven't brought the results McGill strives for, he's still putting in very solid rides and landing some great results. At the same time, McGill has to be careful because just four points behind him is the Sneaky Snake himself, Jarrod McClure.
You could also consider McClure a veteran at this point, and while he's had some tough luck this season, he's also landed a number of top five finishes, including a pair of podium finishes. In the XC2 class, John Glauda Jr has been on fire, winning eight out of nine rounds so far. He holds a 66-point lead over Drew Landers, who has been the only one to beat Glauda so far this season. Jordan Poplaski sits third in points, just 13-points behind Landers.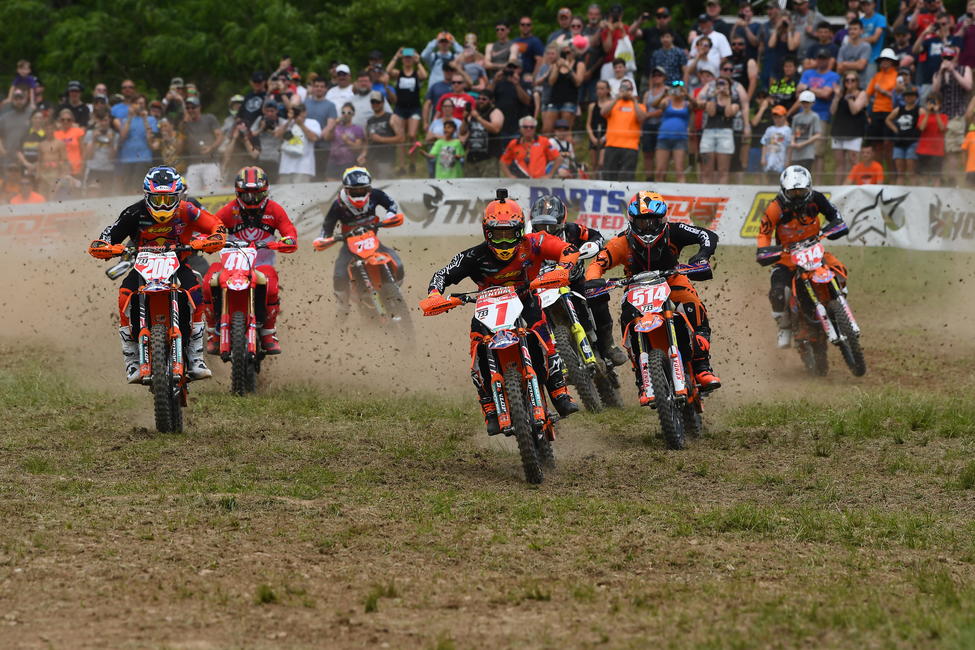 On the bike side, Kailub Russell leads the way in the hunt for his seventh straight GNCC National Championship. However, it's not over yet because even with the mechanical issue at Snowshoe, Thad Duvall still sits 43-points behind in second place. With the National Championship based off overall points, anything can happen! You receive 30-points for an overall win, but if you have an issue that leaves you finishing outside of the top 20, you'll find yourself scoring zero points for that particular race.
27-points behind Duvall sits Steward Baylor in the fourth place position. Stu claimed the opening round win and has only finished outside of the top five one time this season. The XC2 class points leader, Ben Kelley, also occupies the fourth place overall position, 23-points ahead of Trevor Bollinger, who rounds out the top five overall. Speaking of that XC2 class, Ben Kelley still remains undefeated and one has to wonder if he can make it a perfect season!
Mike Witkowski has been consistently inside the top five this season, and that puts him second place in the XC2 class. 25-points behind Witkowski is Evan Smith, who has really come into his own this season. Evan has hovered just around and outside the top five of the XC2 class for quite some time now. He actually finished last season fifth place in the final XC2 point standings and is looking to improve on that finish in 2019.
Yes, that's just a brief overview of the pro point standings but we'll take a closer look at these once we get back to racing. As for this week tough, well we'll end this edition of Quick Fill here. Get your last minute prep going because it's almost time to return to the track. Enjoy your weekend, and we'll see you next weekend in New York!