Rachel Gutish
Time
Monday, July 1, 2019 | 4:40 PM
Snowshoe GNCC Women's Race Report
Pickens and Sheets win at Snowshoe
The AMSOIL Snowshoe GNCC, round eight of the 2019 AMSOIL Grand National Cross Country (GNCC) Series presented by Specialized, an AMA National Championship, took place on June 22nd and 23rd.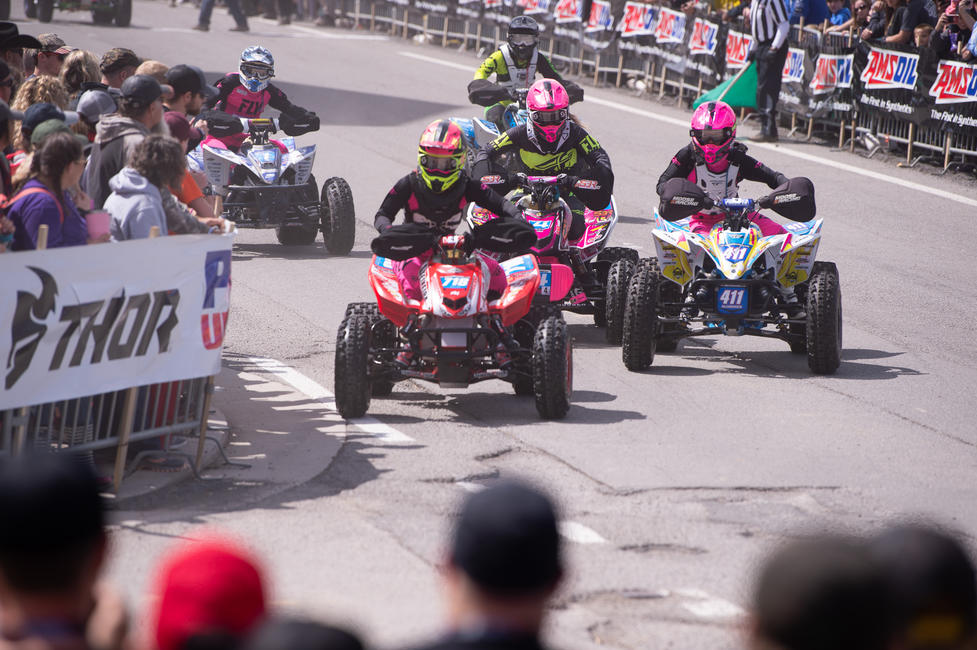 Snowshoe is undoubtably the most difficult race in the entire series, and one of the most picturesque as well. This round is also one of the most picturesque; as it is hosted by the Snowshoe Mountain ski resort, with breathtaking views of the surrounding mountain scenery. The village is beautiful as well, and the race begins with a unique live-engine start through the main street of the resort. The asphalt road is by far the smoothest thing riders see all day – everything else, from the high-speed fire road sections to the nasty mudholes is very rocky. In addition to the rocks, some tighter sections in the pine trees have massive exposed tree roots that take patience and technique to make it through cleanly.
Snowshoe is also a little different in that there are two different loops that riders compete on, instead of just one. For the AM riders, the East loop was the more difficult and technical of the two, although it also had plenty of faster sections. It was the longest loop; according to the track map, it was 9.2 miles for both AM races. The west loop was somewhat less challenging and also much shorter - 2.2 miles for the AM ATV riders and 4.9 for the AM bike riders. Conditions were finally pleasant and sunny for both races, a pleasant change of pace after the mudders we've had the last few rounds. A total of 74 women competed at Snowshoe, with Traci Pickens and Becca Sheets winning the premier WXC classes.
In the ATV WXC class, Hannah Hunter took the holeshot, followed by Alicia McCormick, Megan Shepherd and Traci Pickens. Pickens was able to make it around Shepherd when she took a bad line attempting to make a pass, and then Pickens and McCormick both passed Hunter. McCormick's turn out front was brief; a costly mistake in a technical rocky section sent her back to last place in WXC. She was able to extricate herself, but then spent the rest of lap one playing catchup and battling with Sadiee Gorrell, who had started on the second row of WXC.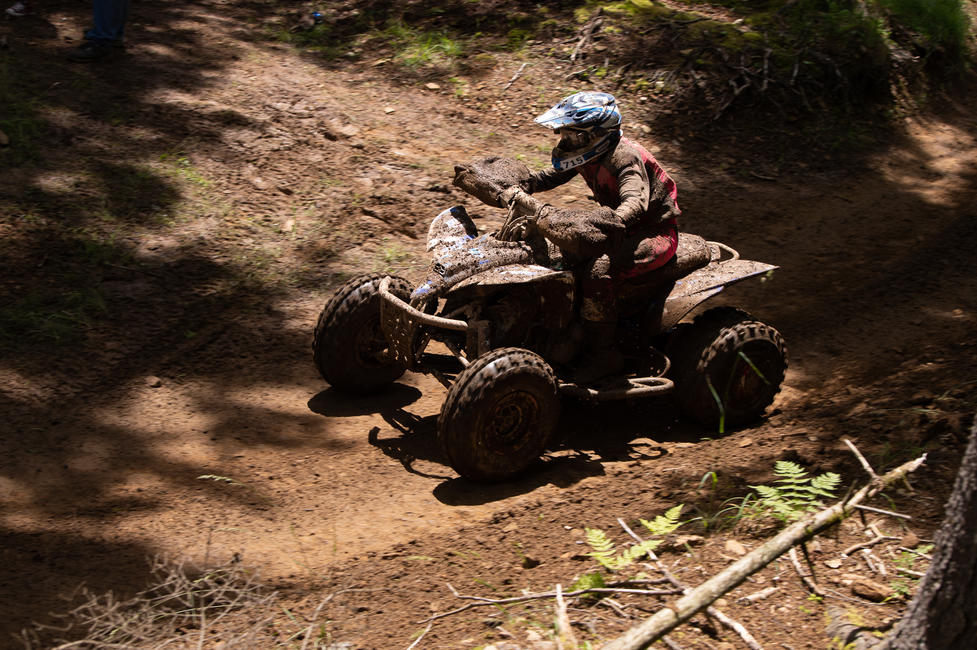 Kate Osburn experienced trouble early on. Her quad shut off on the first lap and took much longer than usual to get restarted. Osburn was able to catch up to third place by the time lap five rolled around, but unfortunately for her the earlier stalling incident had been a warning sign of a severe mechanical problem. That same lap she caught back up to the lead pack, her machine started smoking and eventually stopped running altogether. After the DNF, she still hands on to third place in series points, and with the drops she still has some hope of being a title contender. But as she put it "It was sickening, knowing that this could potentially be what costs me the championship." Hers was not the only DNF however – Jaida Phillips went out on lap four, Jordyn Trackwell on lap five, Jill Zink on lap six and Abbi Troy on lap seven. The mountain can be brutal!
Meanwhile, Hunter was having "the ride of her life", at least for the first half of her race…. After getting passed by Pickens she was able to stay within sight of her the next four laps. At about the midpoint of the race Shepherd took advantage of Hunter's pit stop to move into second place. Lap five is when disaster really struck for Hunter. She was heading up a hill when a lapped rider cut over in front of her. In the ensuing crash, both Hunter and her machine violently flipped into a parked bus, cracking the swingarm and frame of the ATV and putting a nasty crack in Hunter's helmet as well. After taking about five minutes to recover, Hunter got back on her machine and finished in sixth place, just behind Kara Short.
Though Pickens had a substantial three-minute lead from lap seven onward, her day was not completely uneventful. Mid-race she noticed one of her wheels felt loose and had to make an emergency pit stop to have the lug nuts tightened. This is Pickens' fourth win of the year. She now has an eleven point lead in the series standings. When I asked about her race, she said that she really wanted to thank her husband and pit crew for the awesome pit stop and getting her back out on the track so quickly.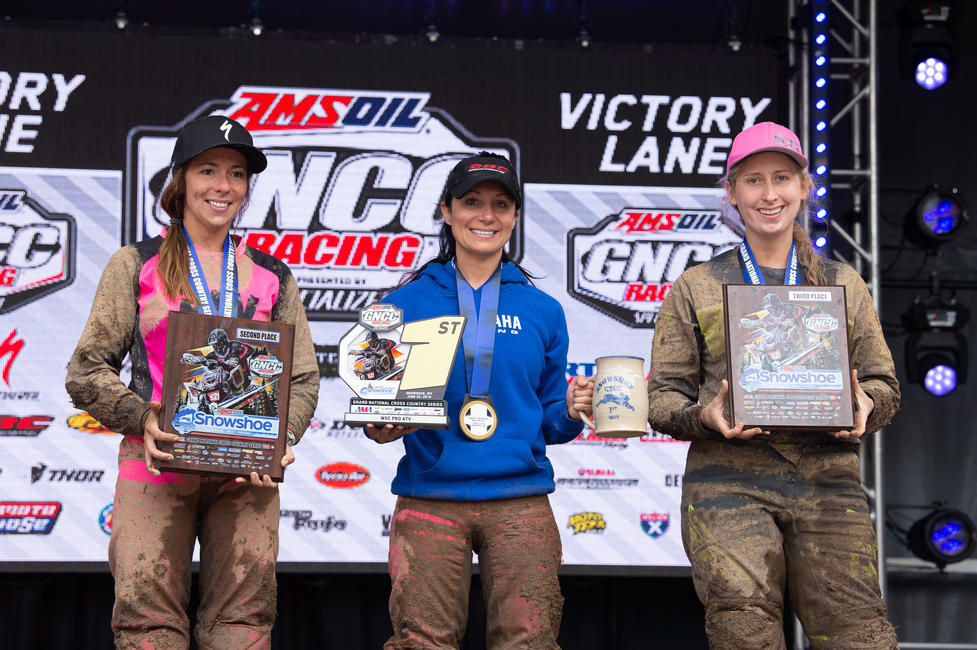 Gorrell and Shepherd battled off and on for the final podium position on laps five through eight. Shepherd had started to pull away just a little bit in the final laps as she tried to chase down McCormick, but the final nail in the coffin for Gorrell as far as the podium is concerned was getting caught up behind a lapper with a stick caught in his bike and having to help him get out of the way so she could pass through. Diligently working her way back up and regaining time was enough to keep McCormick ahead of third-place Megan Shepherd, but not enough to get her within sight of Pickens. McCormick and Shepherd had a fantastic battle going in the final two or so laps, but this time it was Shepherd who got hung up in the rocks, giving McCormick a little bit of breathing room in those final few miles. McCormick said that she "was able to make passes and gain ground, but I didn't keep my race mistake-free like it needed to be. I'm feeling better than ever on the Yamaha, I just need to work on some mental training so I don't beat myself!"
Andrea Rodgers won the Girls class, finishing 15th overall in the youth race. Alexis Keys and Hannah Moore rounded out the podium. In the Women's Amateur class, Sydney Sams came out on top by a jaw-dropping fourteen minutes.
In the bike WXC class, Rachael Archer took the holeshot. She was passed by Becca Sheets just a few miles into the first lap. Not long after that, Sheets hit the ground after taking a questionable line over some large exposed tree roots in one of the first technical sections. This allowed Archer to retake the lead. Rachel Gutish, who was finally back after an elbow replacement earlier this season, and Mackenzie Tricker were also able to get around Sheets while she was down. Speaking of injuries, although current points leader Tayla Jones was signed up to race Snowshoe, she was unable to race due to several broken fingers sustained at the Sprint Enduro the weekend before Snowshoe.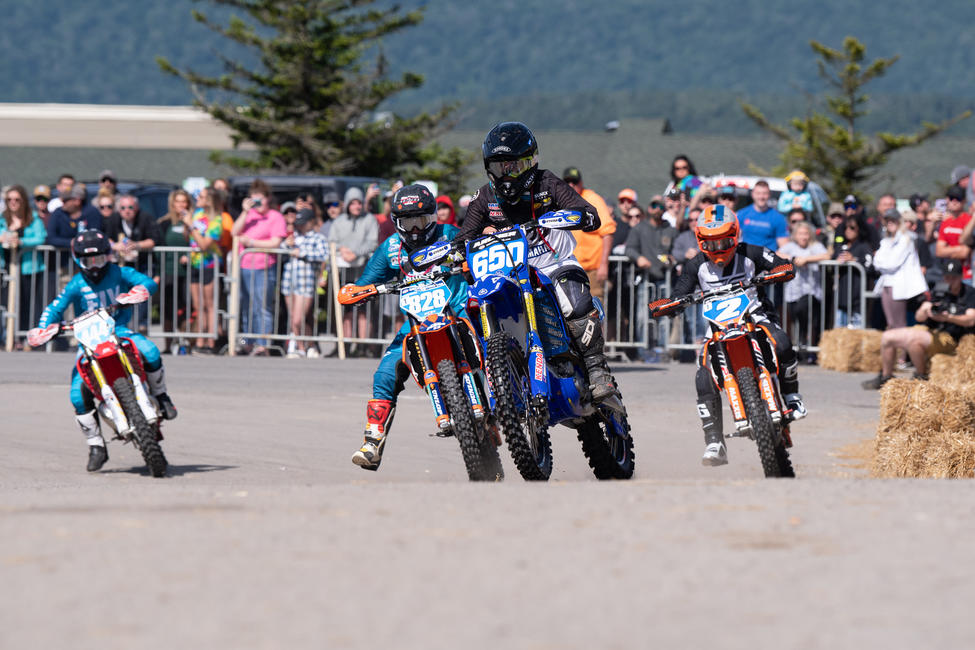 By the end of the first lap, Sheets was able to get back up into second place, with Tricker about thirty seconds down in third, and Gutish on her rear fender in fourth. Korie Steede, who had also fallen in a technical tree-root section on lap one, was down another thirty seconds, and was never able to get back within sight of the rest of the top five. Steede already had two minutes on the next closest rider at the end of the lap and spent the rest of the race riding alone as far as the rest of the WXC class was concerned. She was able to easily take fifth place for the day.
Although Sheets had moved up into second, she was still nearly a minute down from Archer after both the east and west loops had been completed. Archer continued to lead the next two laps, though Sheets was riding hard and closed in on Archer by the time they both hit the FMF Powerpoint hill climb on lap four. To be blunt, the hill climb was a sea of humanity, with so many C riders stopped and falling over it was difficult to actually see the hill. Given that the portion of the FMF Powerpoint that the AM race runs is not terribly difficult, this caught many of the WXC riders by surprise, which meant there were few pit crew members out pointing lines or helping to clear traffic. Both Sheets and Archer were clawing their machines up the hill and plowing past stopped riders with assistance from the crowd, but Sheets had chosen a less-crowded line and was able to crest the hill first.
Meanwhile, Tricker and Gutish had changed positions several times, both physically and on adjusted time (Gutish started one row back), though they were well behind the top two. Like Archer and Sheets, both riders entered the Powerpoint hill climb at the same time. Tricker fell partway up and Gutish collided with her. Both riders began pushing and dragging their machines up the hill, also with help from the crowd. Tricker made it to the top about a minute ahead of Gutish. No longer within sight of the other riders, Gutish rapidly fell off pace, and Tricker finished in third with a large cushion of time separating the two. Tricker said that ""This place [Snowshoe] is crazy! When you've won races it's hard to be stoked on 3rd, but I also can't say I'm disappointed. I have very little technical riding skill coming from a moto background, but I'm getting better."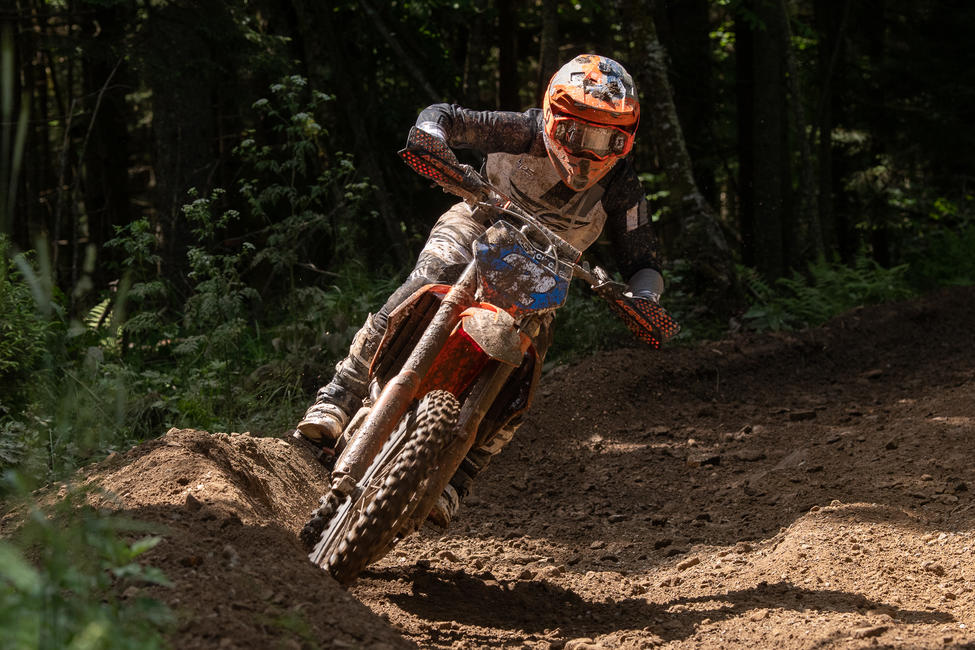 Though Sheets made it to the top of the hill first, after making a pit stop and a suspension adjustment, Archer was again in the lead. The two riders came to a second bottleneck on the fifth lap, and Sheets was able to pick her way through the crowd while Archer tried to go up the side of a bank to get around them and it "didn't go well". At this point, Sheets really put the hammer down, not knowing what kind of chaos they might see at the Powerpoint on the final lap. As it turns out, the course had been rerouted around the climb due to an excess of chaos, and Sheets won the race with a two-and-a-half-minute gap over Archer.
When asked about her race, Archer said ""My main focus going into the race was to minimize mistakes. Since the course was both technical and fast it meant that you had to be on your game and couldn't take your eyes off the track. Having completed eight GNCCs and four National Enduros now, I feel as though I've gained a lot of experience and I'm not playing a guessing game anymore. Getting podium finishes now just makes me hungry for more." Sheets described her race as follows: ""My snowshoe race was pretty eventful. After taking a dumb line and getting stuck in a technical section, I had to charge as hard as I could to catch up. I didn't know how bad the FMF hill would be on the last lap I just tried to pull as big of a lead as I could in a short time and was able to take the win"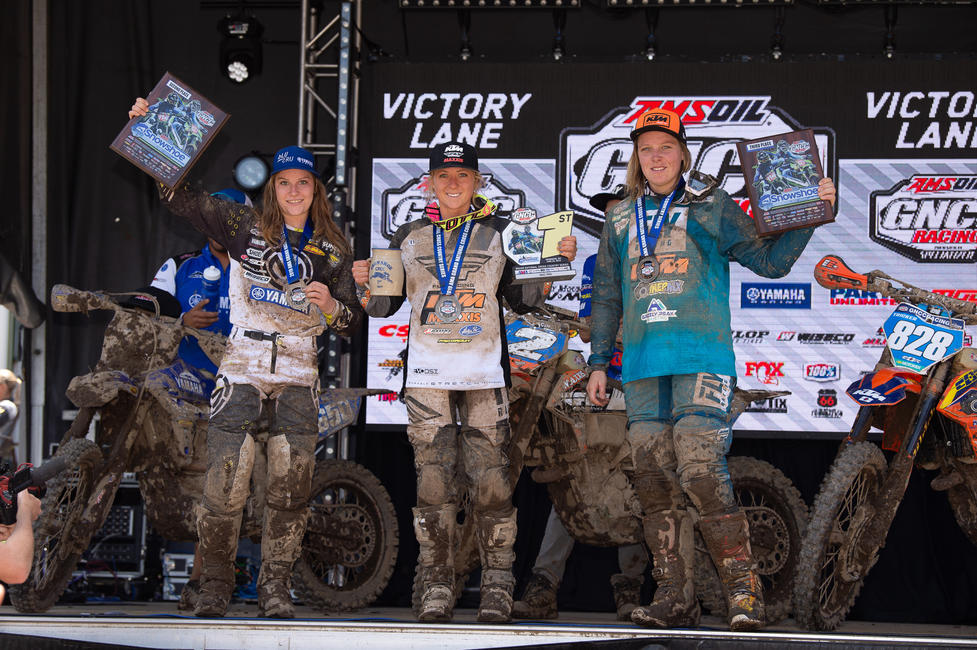 In the Girls class, Gracie Gooch brought home her first win since the Wild Boar in Florida. Rounding out the podium were Addison Elliot and Ellie Winland. In the Women's Amateur Class, Jocelyn Barnes won for the seventh time – so far this season she has won every GNCC that she has competed in. On the other hand, Snowshoe was Kerrie Knox's first win of the season in Women's C
The next round of the 2019 AMSOIL Grand National Cross Country Series will take place on July 6 and 7 in Dilliner, PA with the High Voltage GNCC. ATV and Micro racing will take place on Saturday while Bike racing will take place on Sunday.
For more information on the GNCC series, visit the official website at www.gnccracing.com or call (304) 284-0084. Join the conversation on the series Facebook page, follow us on Twitter and Instagram, and be sure to always hashtag #GNCC.
ASMOIL Snowshoe
Snowshoe, WV
Round 8 of 13
June 22nd and 23rd
ATV WXC Pro Event Results:
Traci Pickens (YAM) GBC/Fly/Yamaha
Alicia McCormick (YAM) Ye Olde Cycle Barn/Pierce Performance/Hammer Nutrition/Maxxis
Megan Shepherd (HON) Stewart Boys. Racing/LS4/Rage ATV/DeRisi Racing
Sadiee Gorrell (YAM) Maxxis /Fivesixo Graphics/Custom Axis/Pierce Performance
Kara Short (HON) Veterans Family Racing
Hannah Hunter (HON) Ye Olde Cycle Barn/Texiera Tech/Maxxis
Abbi Troy (HON)
Jill Zink (IN)
Kate Osburn (HON) Action Off-Road/Moose Racing/GBC
Jordyn Trackwell (HON)
ATV WXC National Championship Standings:
Traci Pickens 186
Megan Shepherd 175
Kate Osburn 162
Alicia McCormick 158
Hannah Hunter 128
Jaida Phillips 122
Sadiee Gorrell 107
Angel Knox 71
Kara Short 56
Sadie Welch 28
Bike WXC Pro Event Results:
Becca Sheets (KTM) FLY/Maxxis/Go-Ko Trucking/KTM
Rachael Archer (YAM) Ampro Yamaha/Moose/PWR
Mackenzie Tricker (KTM) KTM/Mepmx/Fly/Grizzly Peak/Traveler's Rest Speedway
Rachel Gutish (BET) Beta USA/Moose Racing/Arai/Mobius
Korie Steede (GAS) GASGAS/Fly/Mitas/Spectro/FMF/Rekluse
Annelisa Davis (KTM) Ride Free Ministries/Martin Motorsports/Joseph W. Davis
Natasha Lachapelle (KTM)
Shyann Phelps (KTM) Mike Beeler/Racer's Edge
Elizabeth Perez (KTM) Y&S Designs/Factory Connection/Fly
Shelby Rolen (KAW) Kawasaki Team Green/Gateway Cycles/FMF/Fox/Dunlop
Bike WXC Pro National Championship Standings:
Becca Sheets 215
Tayla Jones 183
Mackenzie Tricker 159
Rachael Archer 153
Korie Steede 118
Shyann Phelps 114
Shelby Rolen 96
Elizabeth Perez 91
Annelisa Davis 90
Brooke Cosner 84
About GNCC Racing
The AMSOIL Grand National Cross Country Series presented by Specialized is America's premier off-road racing series. Founded in 1975, the 13-round championship is produced exclusively by Racer Productions. Cross-country racing is one of the most physically demanding sports in the world. The grueling three-hour GNCC races lead as many as 2,400 riders through tracks ranging in length from eight to 12 miles. With varied terrain, including hills, woods, mud, dirt, rocks, and motocross sections, GNCC events are tests of both survival and speed. The series draws talent from all over the U.S., Central America, South America, Europe, Japan, Australia, and New Zealand. GNCC Racing is televised weekly on NBC Sports and RacerTV.com. For more information, please visit www.gnccracing.com.
How to Watch
Racer TV and NBC Sports Network (NBCSN) are the official homes for coverage of the AMSOIL Grand National Cross Country (GNCC) events. All 13 rounds, from the season opening Big Buck GNCC in South Carolina to the finale at Ironman Raceway in Indiana, will air in 30-minute, taped-delayed telecasts on NBCSN, while Racer TV provides live streaming coverage of the 1 p.m. ATV and motorcycle races from each event. Catch all the action at http://www.nbcsports.com/ and http://www.racertv.com/.
About the American Motorcyclist Association
Founded in 1924, the AMA is a not-for-profit member-based association whose mission is to promote the motorcycle lifestyle and protect the future of motorcycling. As the world's largest motorcycling rights and event sanctioning organization, the AMA advocates for riders' interests at all levels of government and sanctions thousands of competition and recreational events every year. The AMA also provides money-saving discounts on products and services for its members. Through the AMA Motorcycle Hall of Fame in Pickerington, Ohio, the AMA honors the heroes and heritage of motorcycling. For more information, visit www.americanmotorcyclist.com. Not a member? Join the AMA today: www.americanmotorcyclist.com/membership/join.