Rachel Gutish
Time
Tuesday, April 9, 2019 | 2:15 PM
Steele Creek Youth Bike Race Report
Cunningham and Poindexter Win at Wild Boar
Steele Creek was round three of the 2019 AMSOIL Grand National Cross Country (GNCC) Series, an AMA National Championship. It took place March 27 and 28 at the Steele Creek Park and Family Campground. This race is also known for elevation change, with long uphill and downhill sections. In short, it has plenty of elements that make it a traditional-style off road race.
The youth bike course at Steele Creek was approximately 5 miles, and the micro course around 1.6 miles. Conditions were near perfect for the micros, with only a few slick spots out on the course. Despite some showers in the early morning, conditions were still good for the youth, with it being just a bit more slippery, and of course, unlike the micros, the youth did have to face the bridge and creek crossings, the banks of which get pretty muddy. A total of 174 youth riders and 67 micro riders competed at the Steele Creek GNCC. Out of those riders, Joseph Cunningham took his third straight overall youth win while Brian Poindexter took his first micro overall of the season.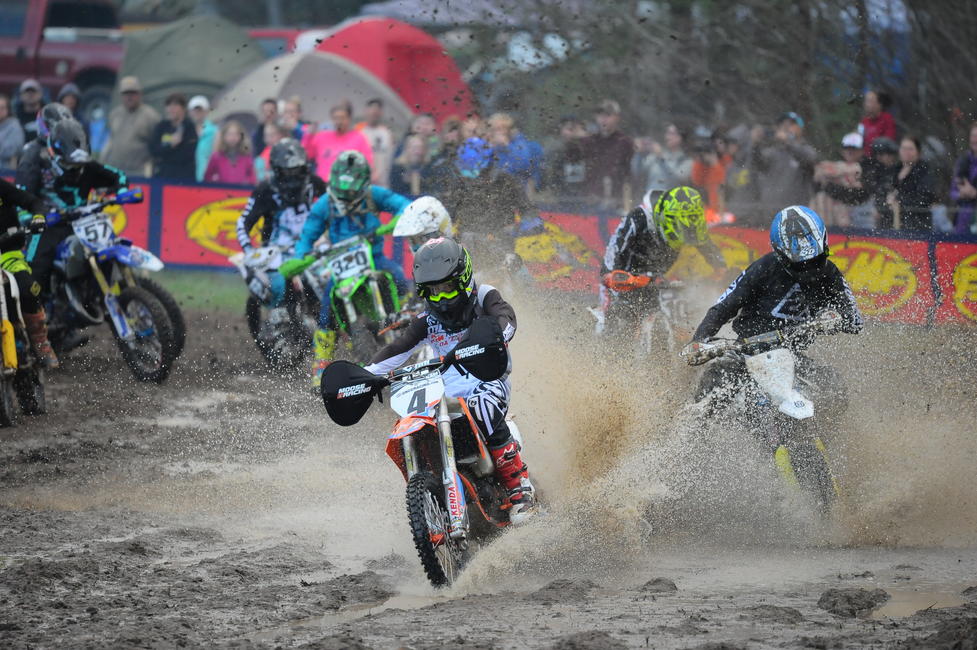 Since Cunningham has earned all of the YXC1 race wins thus far in the season, he holds a four-point lead in the points standings over Brayden Nolette, who finished third this race and second at the previous two. Canon Kuneff placed second while Nolette finished third after working his way up from a fifth place start. When asked about his race Cunningham said, "Steele Creek was most likely my favorite track of the year so far. I had a great start and just tried to stay smart and pick good lines while I was in the lead."
Grant Davis is also on a roll, picking up his third YXC2 win in as many races. He placed third overall in the youth race, and beat his next closest competitor, Cooper Jones, by a substantial margin. Likewise, third place rider Jack Joy was well spaced from Jones, though he did have to work hard fending off fourth and fifth place, who were starting to pressure him most of the race. This is the first trip up to the podium for both Jones and Joy in the 2019 season.
The overall non-YXC rider in the bike youth race was Logan Pellegrini (KTM), racing in the 85cc (12-13) class. He finished 17th overall.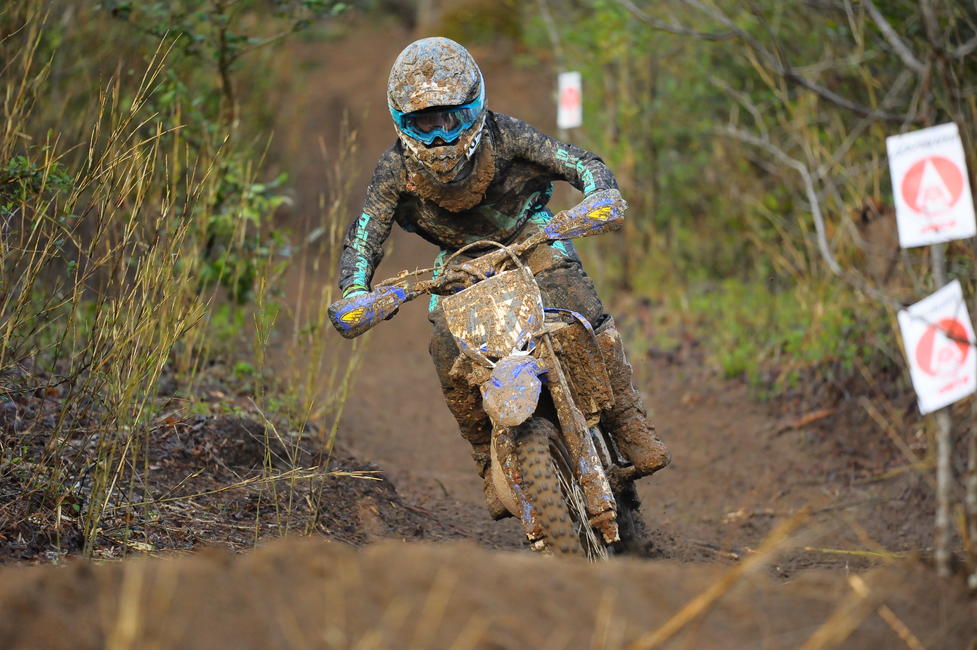 In the micro race, Brian Poindexter won MXC1 and placed first overall. Colby Goodman started out in the lead on lap one and held onto it until lap six, where he seemed to fall slightly off-pace and dropped back to third. This gave Poindexter the opportunity to take the lead, though Hunter Porco stayed close behind. Porco was unable to get the job done though, and finished second in MXC2, while Goodman placed not far behind in third.
Maddox Moretz placed 10th overall and won his second MXC2 race of the season at Steele Creek, edging him just ahead of Nash Peerson in the points. Moretz led the whole race and each lap extended his lead on Goodman by a few seconds. Likewise. Goodman was slightly but consistently faster each lap than the eventual third-place finisher Logan Schafer. Moretz is actually from Morganton, North Carolina, and said that "It was epic to get my hometown win!"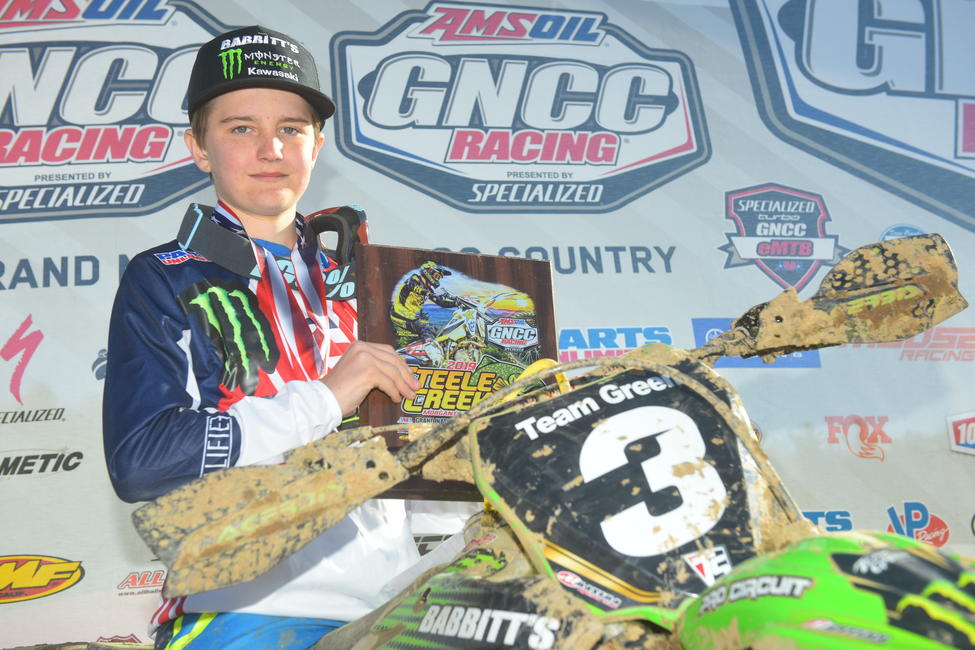 The overall non-MXC rider in the bike micro race was Trent Gaines, competing in the 50 Sr. (6-11) class. He placed 11th overall.
The next round of the 2019 AMSOIL Grand National Cross Country Series will take place this weekend, April 13 and 14 in Society Hills, South Carolina with the Camp Coker Bullet GNCC. ATV and Micro racing will take place on Saturday while Bike racing will take place on Sunday.
For more information on the GNCC series, visit the official website at www.gnccracing.com or call (304) 284-0084. Join the conversation on the series Facebook page, follow us on Twitter and Instagram, and be sure to always hashtag #GNCC.
Facebook: @gnccracing
Instagram: @gncc_racing
Twitter: @gnccracing
YouTube: @racertv
Steele Creek GNCC
Morganton, North Carolina
Round 3 of 13
March 30th and 31st
Bike YXC1 Race Results
Joseph Cunningham (KTM)
Canon Kuneff (YAM)
Brayden Nolette (KTM)
Payton Gwynn (KAW)
Parker Todd (HQV)
Bike YXC1 National Championship Standings
Joseph Cunningham (KTM) 60
Brayden Nolette (KTM) 56
Drew Calloway (HQV) 47
Canon Kuneff (SPE) 43
Dylan Hicks (KTM) 42
Bike YXC2 Race Results
Grant Davis (KAW)
Cooper Jones (YAM)
Jack Joy (KAW)
Nicholas Defeo (HON)
Case Burton (YAM)
Bike YXC2 National Championship Standings
Grant Davis (KAW) 60
Cooper Jones (YAM) 57
Nicholas Defeo (HON) 50
Case Burton (YAM) 44
Garyson Smith (KTM) 36
Bike MXC1 Race Results
Brian Poindexter (KTM)
Hunter Porco (COB)
Colby Goodman (KTM)
Ethan Harwell (KTM)
Caleb Wood (KTM)
Bike MXC1 National Championship Standings
Brian Poindexter (KTM) 58
Caleb Wood (KTM) 53
Hunter Porco (COB) 47
Ashton Pellegrini (HQV) 45
Colby Goodman (KTM) 36
Bike MXC2 Race Results
Maddox Moretz (COB)
Nash Peerson (KTM)
Logan Schafer (KTM)
Hayden Harper (COB)
EJ Lingenfield (KTM)
Bike MXC2 National Championship Standings
Maddox Moretz (COB) 59
Nash Peerson (KTM) 58
Bentley Saxon (KTM) 49
Logan Shafer (KTM) 34
EJ Lingenfield 33
About GNCC Racing:
The AMSOIL Grand National Cross Country Series ("GNCC") is America's premier off-road racing series, featuring motorcycles, ATVs and Side-by-Sides, for men, women and children of all ages. Founded in 1975, the 13-round championship is produced exclusively by Racer Productions. Cross-country racing is one of the most physically demanding sports in the world. The grueling three-hour GNCC races lead as many as 2,400 riders through trails ranging in length from 8 to 12 miles. With varied terrain, including hills, woods, mud, dirt, rocks and motocross sections, GNCC events are tests of both survival and speed, drawing talent from all over the United States, Central America, South America, Europe, Japan, Australia and New Zealand. GNCC Racing is televised on NBC Sports and RacerTV.com. For more information, visit www.gnccracing.com.
About the American Motorcyclist Association:
Founded in 1924, the AMA is a not-for-profit member-based association whose mission is to promote the motorcycle lifestyle and protect the future of motorcycling. As the world's largest motorcycling rights and event sanctioning organization, the AMA advocates for riders' interests at all levels of government and sanctions thousands of competition and recreational events every year. The AMA also provides money-saving discounts on products and services for its members. Through the AMA Motorcycle Hall of Fame in Pickerington, Ohio, the AMA honors the heroes and heritage of motorcycling. For more information, visit www.americanmotorcyclist.com. Not a member? Join the AMA today: www.americanmotorcyclist.com/membership/join.