Rachel Gutish
Time
Tuesday, February 5, 2019 | 11:40 AM
Stemming from the grassroots of family racing, Wiseco has over 75 years experience manufacturing pistons, whether it be for fun, weekend riding, or professional racing. Wiseco is one of the few manufacturers forging pistons in the U.S., providing quality and performance you can trust. 
Click here
 to see the latest Tech Tips from Wiseco.
The ATV Amateur Rider of the Year for 2018 is Jeff Pickens. He is 35 years old and from Uniontown, PA. He and his wife, Traci, both raced pro for a number of years before taking a break from GNCC racing to start a family and a business. Both of them returned to racing a couple of years ago. Jeff now races in the Vet A class. He won his first GNCC title in 2017 after 16 years of racing. He won the Vet A title for the second year in a row last season and also took his first-ever Top Amateur Award!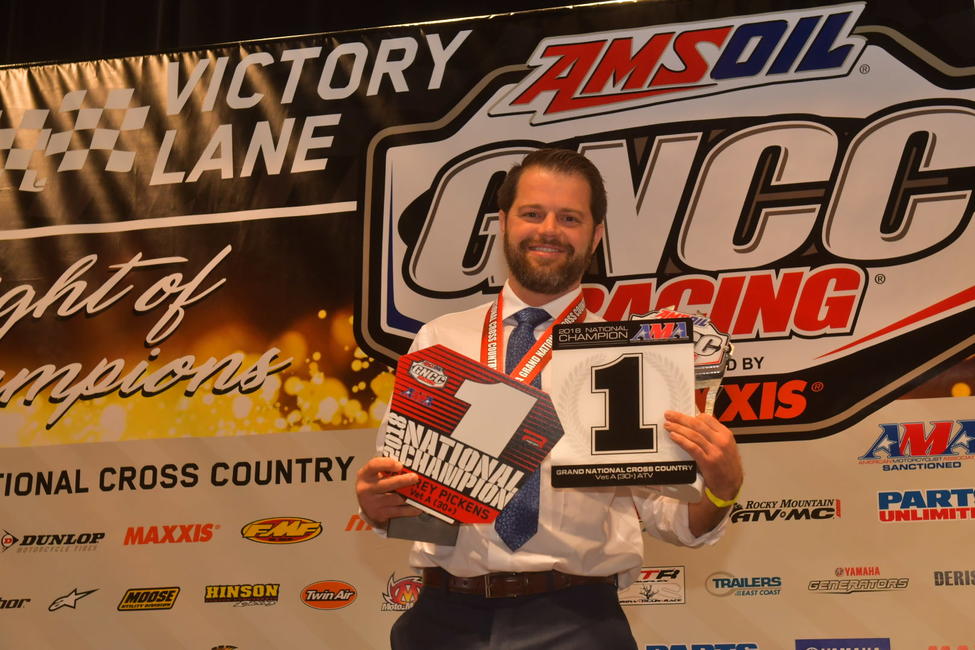 GNCCRacing.com: Congrats on winning the Amateur Rider of the Year Award! What does winning that award mean to you?
Jeff Pickens: It was kind of …. ironic, or different I guess, for me to win it. I used to be a pro rider and right now rather than battling to move up to the pro ranks like most people who win this award are, it's a battle for me to keep from getting pushed backwards as I get older. I guess you could say it's a role reversal. For the past couple years, I've been getting my butt kicked [in the overall], so to do well this year did feel really good!
Yeah, you are definitely a little different from the average rider who wins this award – how long has it been since you stepped out of the pro class?
My last year racing pro was in 2014. Traci and I decided to start a family, so she retired so we could do that, and then I raced one more year after that. But I was starting my own construction company and wanted to have time for my family, and was getting into my 30s anyway, so I retired from racing pro as well. We slowly realized that we just couldn't stay away from it though. We were still attending quite a few races though, just not racing – I remember we watched Florida from home with the live timing online, then said we'd never do that again (laughs) We'd been going to Florida for all of those years and we got used to getting that break from the cold weather. Anyway, the past several years we've been racing again. Traci went back to WXC and I dabbled in the Vet A class. I did okay at first, but didn't start winning championships or anything until the last two years. Some people weren't happy that I moved back, but at this point I'm just like everybody else – I just want to go racing, and there isn't really anywhere else for me to go. With a family and a company, I just don't have the time to put in the work it would take to race pro.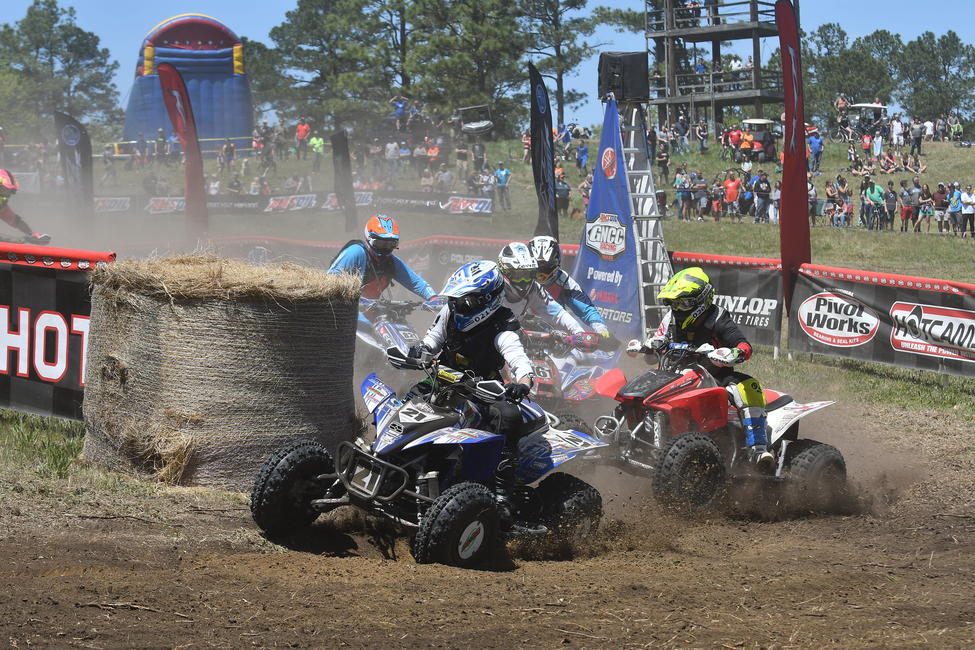 Can you tell us a little bit about your pro career?
Yeah, I can. I was never one of the front-runners. My first full GNCC season was in 2001 and then moved into the pro class in 2007. I probably shouldn't have been in the pro class yet at that point, I really needed a few more years to get better, but based on the rules back then I had to advance. I did have some good runs – I got on the podium once, which was pretty much the highlight of my career. I was really good at starts, I had my share of holeshots. Basically though, I was a 10th to 15th guy. I did manage to break the top 10 in 2013 and earn number 8 for the year. But like I said, at that point the younger guys were coming up and I was getting into my 30s and just didn't want to go that fast anymore.
Moving back a bit further, can you tell us how you got started riding and racing in the first place?
My parents bought me a 4-wheeler when I was 4 years old, so I've had one since I was really little. How I got started racing is a story that I don't think many people know. My dad's cousin, Rick Pickens, raced back in the late 80s and early 90s against Mike Penlon in the utility class. He was one of the first guys who started modifying utilities to race with. Because of him, that's how the Utility Mod class first came about. When I was young we used to go watch him at some of the closer races. This was back when Sloan and Hawk were racing and as an 8 or 10 year old it was amazing to watch! I really liked going to the races and I liked riding, but I never actually raced until I graduated from high school. In 2001 I tried them for the first time, and after that I was hooked and have been racing GNCCs ever since.
It's obvious that your season this year went well, but can you give us some of the details?
I had a pretty good year! I battled a lot with Koontz, our class is very competitive. I won the first couple races, but then we started switching back and forth – he'd win one, the I'd win won, then he'd win one again. Going into the summer break, I think I was only ahead of him by one point, but only needed one more win [because of drops]. I didn't finish that first race back, which was really disappointing, but as it turns out, neither did he, so that helped me quite a bit. I ended up second at the next one and then wrapped it up at Ironman.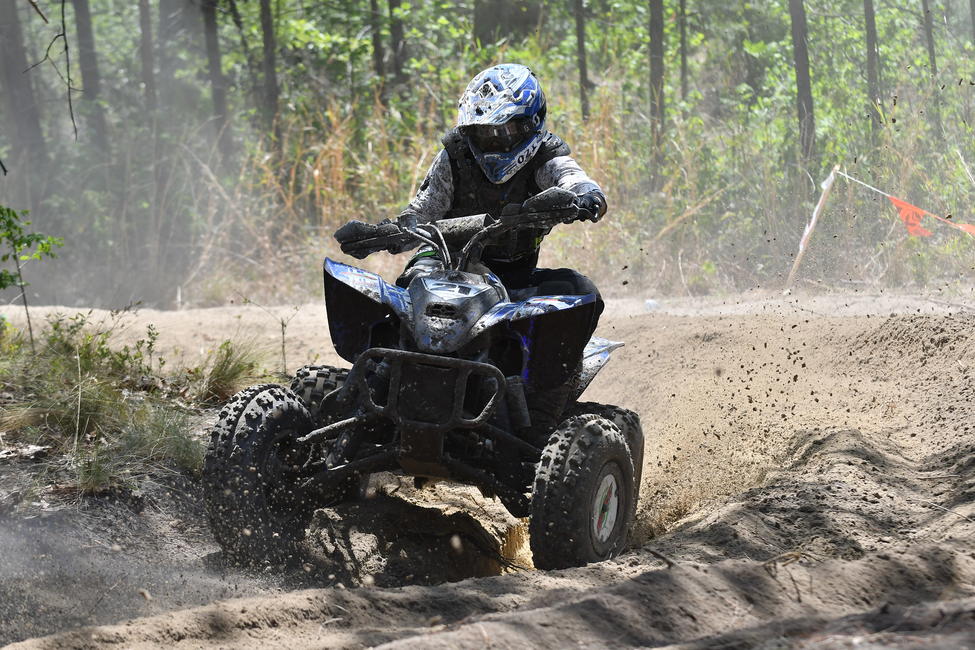 Did anything stand out as a really great moment or a really terrible one.
As far as racing goes, not really. I guess for Traci and I, our highlight is that our little boy raced his first race this year! It was a really exciting part of our year.
Since Traci races also, and especially since your son is starting to race now, it's got to be a really great family atmosphere for you guys, right?
Yes. Going into this year it will be the first year our son is old enough to race GNCCs, so we're looking forward to that! We're interested to see if he really takes to it and actually likes it. We don't want to make him do something he doesn't want to just because we enjoy it, but we're definitely hoping he likes it.
Do you and Traci ride or train together at all?
As far as riding and training goes, like most families out there, we don't really have time for much of that. Traci works full time and since I own my own company I also put in a lot of hours. Most of our spare time is spent getting the machines ready for the races. As far as riding or training goes, every once in a while we're able to jump on the practice machines for 20 minutes or a half-hour, and that's about the extent of it. We don't race locals or do things like that anymore like we used to do when I was racing pro.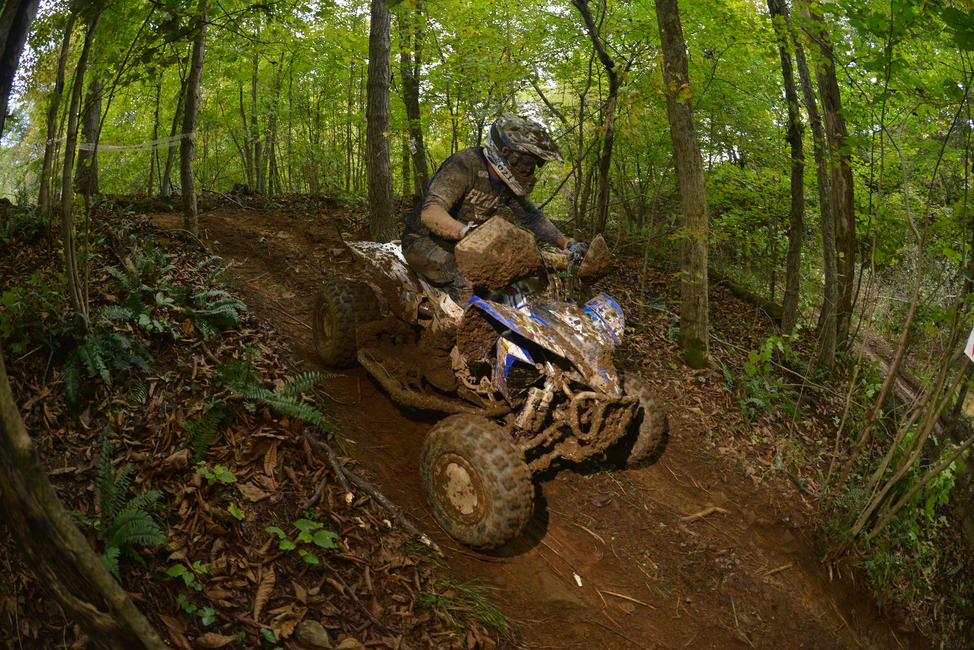 What are your plans and goals for next year?
I'll still be in Vet A, I don't have any plans to move up, obviously. Like I said, I'm battling just to not get pushed backwards (laughs), and then Traci will be doing the same thing as well, racing in the WXC class. As far as goals go, I'd like to win the Vet A class again, three in a row would be really special! Another goal is to hang onto that amateur overall number, it's the next best thing to racing pro or pro-am again. That's my main goal, to keep this overall again next year.
What is one interesting, non-motorsports related thing about you?
I guess it would be what I do for a living. I own a construction company that specializes in updating water and sewage plants. The water you drink, I install all the equipment, pumps and piping to suck it out of the river, clean it up, and get it to your house for you to drink. I do this all over the state of Pennsylvania. It's a very small company, but very specialized. Since everyone has to drink and use the bathroom, it's an important job.
Is there anything I missed during the interview that you would like to talk about?
Not really, I'm pretty boring (laughs)
Who would you like to thank?
First I would like to thank my wife, Traci, and our son, JP. Thanks to Tim Wise and his family, Todd Moskala, the Livengood family and all of my sponsors: GBC Tires, Waynesburg Yamaha, Fly Racing, HMF, Pierce Performance, Shoei, Powermadd, Precision, Spider Graphix, JP Environmental, DP Brakes and Craig Greenwood.