Jared Bolton
Time
Friday, December 28, 2018 | 12:20 PM
AMSOIL is proud to be the title sponsor of the GNCC Racing series for the past 7 years. New for 2019, AMSOIL is partnering with the series to bring a GNCC AMSOIL Moto Hero to each and every round. Racers, Fans, and Industry Personnel are welcome to nominate themselves or someone they know who are currently serving in the military, retired from the military, are a first responder or former first responder for this prestigious honor.
Welcome to Quick Fill.
It's hard to believe it but Christmas has now come and gone and we're staring the New Year in the face. We're now just four days away from the first day of 2019, and that means we're just a mere 57 days away from kicking off the 2019 GNCC Racing season. Things are really beginning to get exciting as we're already seeing many riders begin to head south for the winter and it's just a matter of time until we start seeing photos and videos being shared of these guys riding.
That's actually something very interesting about the modern day world. These things can now be shared in an instant where even just 10 years ago, you might not know what a rider had been up to for weeks at a time. 10 years ago social media did exist but it wasn't this giant powerful tool it is today. Not everyone shared their latest news and seeing video prior to an event weekend was a rarity… Unless you remember the website 2007 XC2 champ, Justin Williamson, used to maintain where he shared some cool riding videos before that was even a common thing.
I'm actually down in North Carolina visiting my family but did manage to squeeze in some riding of my own at the Brown Mountain OHV Park, just a few miles from Steele Creek last Sunday. I caught up with Senior A competitor, Will Lackey, and some Extreme Enduro specialists who proceeded to wear me out. I had a pretty worn out rear tire, and if you've ever been to Brown Mountain then you know it's not the place to ride with a worn out tire! Needless to say, portions of my day were a bit of a struggle but it was nice just to ride.
Things are a bit on the slow side so this week's edition of Quick Fill will be exactly what the title says; quick. We'll be back next week with the first edition of Quick Fill in 2019. As for the 2018 versions of Quick Fill, well, this is it! We'll start the count over next week. Until then, enjoy your week and we hope you catch up on some riding soon!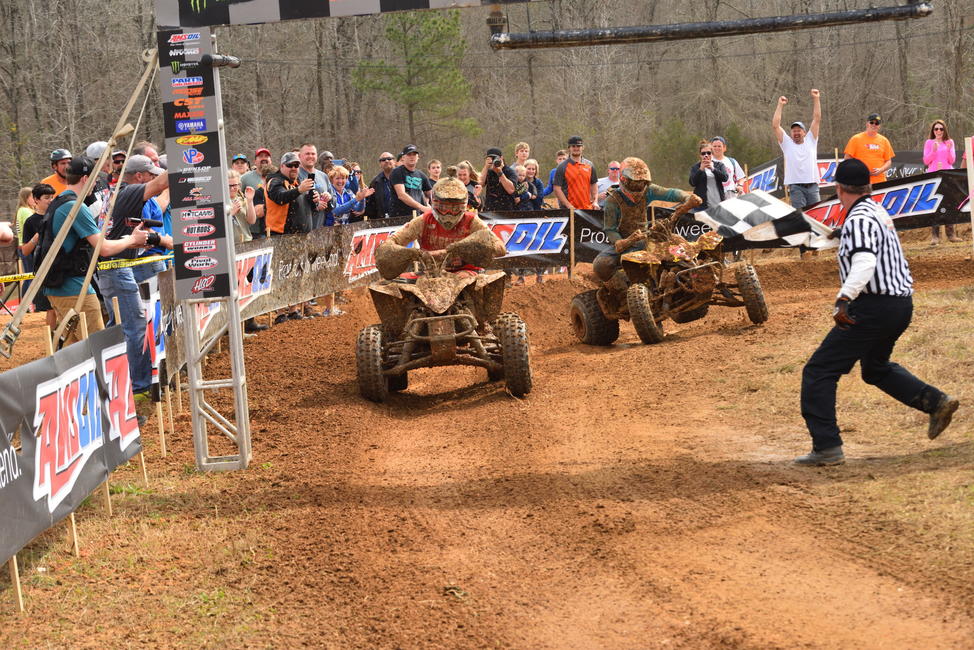 Looking Back on 2018 Part 3
For round three of the 2018 season, we would make the return to the Aonia Pass Motocross facility in Washington, Georgia. This facility hosted the GNCC family for a number of years until the long-time landowner, known simply as Mr. Perry, passed away in late 2015. His family originally chose not to continue hosting events on the property and we moved to Sparta, Georgia for the Cannonball GNCC in 2016 and 2017. Unfortunately some issues arose with the Cannonball facility and we were left looking for a new Georgia round for 2018.
Since we had left, Mr. Perry's family had changed their minds and while they converted a chunk of the property to farm use, they decided that racing did belong on the property because Mr. Perry loved it so much. They leased out the motocross track to a new promoter, Mark Ridgeway and his family. Thanks to the combined efforts of Mr. Perry's family and the Ridgeways, we were able to come back to Aonia Pass and breath life to The General GNCC once again. Some time off worked wonders as this turned out to be one of the most fun courses we ever had at The General and it produced some great racing as well.
On Saturday, Adam McGill would grab the holeshot but it would soon be Brycen Neal taking over the lead. After finishing off the podium at the previous round, Brycen was not only looking to return to the podium, but he was definitely hungry to win the whole thing. He had come close several times throughout the past few seasons but he was never able to put the whole race together for a win. That would all change in Georgia, as Brycen would lead from the opening lap all the way to the checkered flag to take the win.
However, this win didn't come easy. Chris Borich was hot on his heels throughout the entire race. In fact, each lap they came through the finish line they were not separated by more than 1.1 second! The finish was incredibly close too as Brycen would come away with the win by just 0.770 second ahead of Borich! On top of that, Jarrod McClure was right there as well throughout the entire race.
He would run less than two seconds behind Borich for the entire race, until the final lap when the lead duo managed to end the day just 12 seconds ahead of McClure. Cole Richardson ran in podium contention throughout the day but would end up with a solid fourth place. While fifth place is nothing to scoff at, it's definitely not what the defending champ, Walker Fowler, was hoping for. Fowler would end up fifth after struggling throughout the day.
On the bike side, Kailub Russell would take another holeshot but it would be Ricky Russell who would control the opening laps of the race. Unfortunately, Ricky would run into a mechanical issue on lap three, ending his day early. It would then be Thad Duvall inheriting the lead, which he would hold until the two-lap card when Kailub Russell would begin his late-race push for the lead. Kailub would lead the final two laps to take the overall win, but Thad Duvall kept it close and after 2 hours and 54 minutes of racing, the two were separated by just two seconds.
Steward Baylor would be the man on the move throughout the day as he came from as far behind as ninth place on the opening lap to end the day on the podium in third. Trevor Bollinger had run in podium contention throughout the day as well and would push Baylor to the finish, hoping to capitalize on a mistake. That mistake never came and Bollinger would end the day fourth place, but just over one second behind Baylor in third. Josh Strang also worked his way through the pack to end the day in the fifth place spot.
The XC2 class would see somewhat of a changing of the guard as Ben Kelley proved his win in Florida was no fluke. He backed that up with another win at round three, while defending champ Josh Toth would suffer a slight wrist injury and end the day 23rd. That left him scoring no points, which would have a major effect on the championship battle later in the season. Pascal Rauchenecker would have another great day, evening leading portions of the race before ultimately finishing second. Nick Davis ended up having a disastrous 2018 season, but the Georgia round was very good as he ended the day in the 3rd place position.
With three rounds down, the 2018 season was already living up to it's potential. With a stacked field of competitors on both the ATV and bike sides, things were beginning to get pretty exciting, as we had already seen a first-time ATV winner. Be sure to check back next week as we pick things back up at Steele Creek, which has a reputation as one of the most unpredictable events on the GNCC schedule. This year would live up to its reputation and it was a captivating race as it all happened.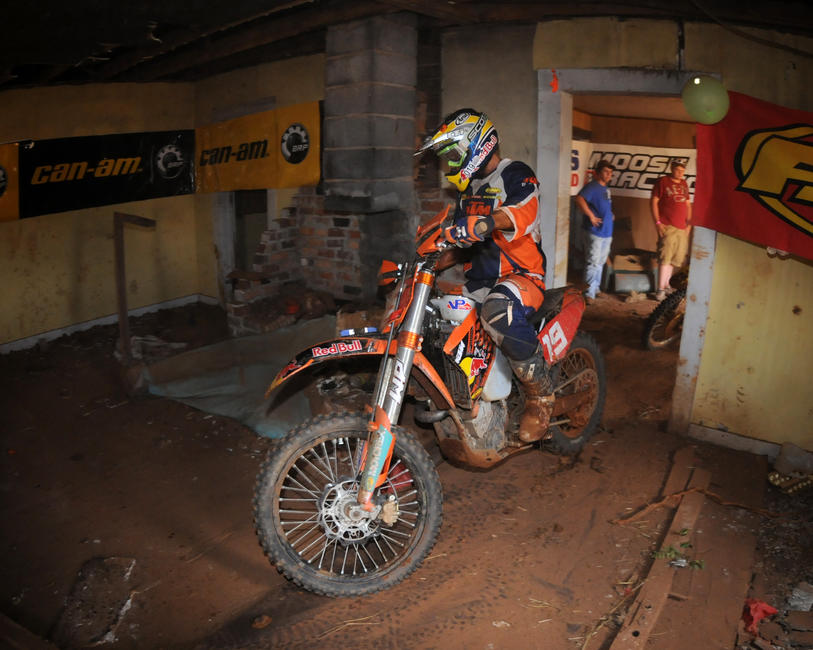 #FlashbackFriday
Last week in Throwback Thursday, we shared some old GNCC TV shows that the guys from RacerTV have been working on getting posted online. Since we're posting on Friday this week, we'll call it Flashback Friday and share a few more videos this week to help carry you into the New Year. Enjoy!
There have been two super close, battle to the wire, overly exciting bike races at Steele Creek. 2007 saw an intense battle between Barry Hawk and Glenn Kearney for the overall win, where Hawk passed Kearney in the very last corner. Check it out!
The second of those close battles came in 2011 when Josh Strang and Charlie Mullins battled down to the final corners. Strang made several attempts at a pass in the final grass track section. In the next to last corner, his back end would step out and look as if Mullins would win the race. However, Mullins front end washed out in the final corner and Strang was able to ride around him for the win. Here it is!
While those are two exciting races, the next one is arguably one of the most exciting finishes in the history of GNCC Racing. Chris Borich and Walker Fowler were engaged in a tight, winner take all battle for the 2014 GNCC ATV National Championship. Fowler would lead a good portion of the race, even down to the final section on the motocross track. However, in typical Chris Borich fashion, Borich made the pass and would ride on to take the race win and the title.
Last but not least comes the 2007 Spartan GNCC ATV race. This was also a pretty exciting battle to the finish as Adam McGill would make a mistake coming to the finish on the final lap, allowing Bill Ballance to make a pass for the win!