Jared Bolton
Time
Thursday, December 20, 2018 | 3:00 PM
AMSOIL is proud to be the title sponsor of the GNCC Racing series for the past 7 years. New for 2019, AMSOIL is partnering with the series to bring a GNCC AMSOIL Moto Hero to each and every round. Racers, Fans, and Industry Personnel are welcome to nominate themselves or someone they know who are currently serving in the military, retired from the military, are a first responder or former first responder for this prestigious honor.
Welcome to Quick Fill.
We're blasting through the off-season and as we close in on Christmas, that means we're getting closer to the beginning of the 2019 season. While nobody wants to fly through Christmas, it will be exciting to begin seeing photos and video clips of folks getting in that pre-season training and many riders will be heading south very soon. On top of that, it also gives a teaser of what kind of new gear, graphics and everything else racers will be sporting in the new season.
Other news is a bit slow right now as most folks have settled into the off-season and are soaking up the last bit of a break they've got before getting back into the swing of things heading into the New Year. With that said, there's not a lot to report on right now. We did get word that Ben Kelley would be back with the Trail Jesters KTM folks to defend his XC2 title but he will be joined on the team by Jesse Ansley. Jesse will be defending his XC3 title and there's another new Trail Jesters rider in the XC2 class in the form of Johnny Girror.
We've also heard that Beta will be back in 2019 with Mike Witkowski in the XC2 class, while Cody Barnes will be contesting the XC3 class. Both of these guys have been fairly successful on the Betas and will be looking to continue that success in 2019. Also cool to hear is that Rachel Gutish will be on the Factory Beta team in 2019 as she looks to challenge the front-runners of the WXC class.
If you're looking for a fun event to check out between the Florida and Georgia rounds of the 2019 GNCC season, then head over to Daytona and check out the Daytona Vintage Supercross, which will take place on Tuesday following the Wild Boar GNCC. It's part of the Ricky Carmichael Amateur Supercross, which takes place Sunday and Monday, but obviously if you're racing at Wild Boar you won't be able to race both. However, if you've got a vintage bike or just like watching vintage racing, then definitely check it out. Get all the details HERE.
That's going to do it for the intro this week. Things are a little slow, so we'll be a bit on the light side this week. Before we go, our friends at Racer X put together a really cool article that named Kailub Russell their "Off-Roader of the Year". Check that out HERE.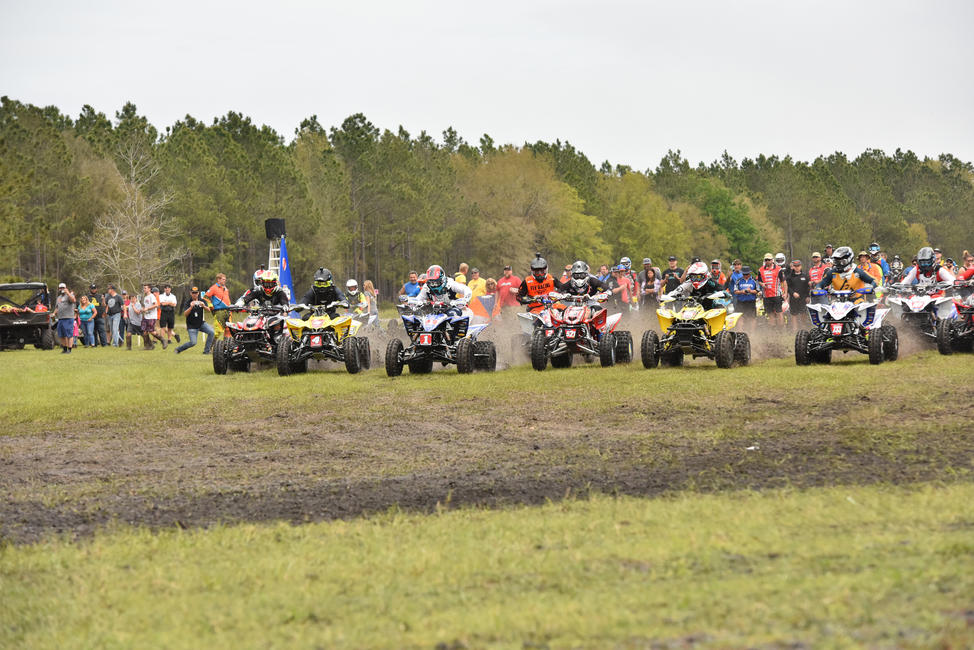 Looking Back on 2018 Part 2
Last week we began our recap of the 2018 season. Each week we'll take a look one or two rounds of the 2018 season and what made that event so interesting, and what kind of historical significance it may have within the GNCC world. We'll pick up with round two in the sands of Florida with the Wild Boar GNCC.
With a weekend off between rounds one and two, it gave riders the chance to get out of mindset for the South Carolina clay and begin to get their heads right for the deep sands of Florida. The 2018 edition would be our fourth visit to the Wild Boar GNCC, and the sixth time that the GNCC series has visited Palatka, Florida. For those who may not know, the Wild Boar GNCC was added to the series in 2015 but the property actually played host to the Hurricane GNCC in 2003 and 2004. The original Palatka event took place at the actual Rodman Plantation, while the modern-day Wild Boar GNCC is hosted just down the road at the Hog Waller Mud Bog.
Of course, in many ways that "mud bog" name is a fond memory once riders take to the trails as the course is littered with deep sand whoops, roots, tight woods and more. However, those muddy spots still appear at times on the Wild Boar course and they can be a pretty serious challenge. Overall, the Wild Boar course is one of the most favored Florida courses among series regulars. The tighter and twistier trails are a good bit different than some of the past events we've hosted in Florida.
When the green flag flew on Saturday's ATV race, it would be a similar story to the opening round in South Carolina. Walker Fowler would grab the holeshot and run away with the early lead. There's really not much to say about Walker's performance at the Wild Boar. He got out front, stayed out front, laid down some really fast laps and won the race. This is the kind of ride that all racers strive for and while race fans want to see a battle down to the finish, Walker's ride was exactly what he wanted. No drama, no struggles; just a dominating performance.
However, behind Walker a close battle would take place as Adam McGill, Jarrod McClure and Chris Borich would take turns swapping around podium positions throughout the race. McGill would hang tough in the number two spot for each lap, but that didn't come without a challenge. At the conclusion of lap one, he held just a mere 2-second lead over Borich, while McClure was 23-seconds back in fourth. Things would tight up even more as McGill and Borich would be separated by just 0.379 second on lap two. It would be the third lap where McClure would put on a charge and take the third place spot away from Borch.
When the checkered flag flew, Fowler would come away with another win while McGill would hang in for second. McClure came from 35-seconds behind Borich on lap two to take the third place spot and round out the podium at the end of the day. While the outcome for the win was the same as the opening round, the podium finishers would be totally different. This began to show that there were a number of top contenders in the 2018 season who could all contend for podiums, and possibly race wins. With just two rounds in the books, things were already beginning to look very interesting.
Sunday's motorcycle race would also see a similar beginning to round one. However, this time it was Kailub Russell getting the holeshot but KR would drop to fifth place by the conclusion of lap one. It would be Steward Baylor who would control the race early. In fact, Stu would lead the majority of the race holding down the number one spot for the first four laps. Josh Strang would run strong early, running second place for three laps while Ricky Russell, Kailub Russell and Thad Duvall would all exchange the third place spot throughout the first four laps.
It would look as if things were shaping up for another Russell versus Duvall battle but when Kailub worked his way into the lead on lap five, Baylor would continue to hold his ground in the second place spot. Kailub would finish the day with the win, just over 16 seconds ahead of Stu Baylor. Thad Duvall ended up third, just around 20 seconds behind Baylor. While it looked as if a close battle to the finish would happen, Kailub was able to get ahead of those guys and in a similar fashion to Walker Fowler the day before, was able to finish the race with no drama.
In the XC2 class, Ben Kelley would come away with his first-ever XC2 class win. This would be huge as the win helped to propel Kelley from being known as an XC2 competitor to a championship contender. Josh Toth would end the day second in XC2, while Pascal Rauchenecker would round out the podium in third. As for the XC3 class, it came as no surprise that Florida-native Jesse Ansley would take the win. However, it didn't come without challenge as Jason Raines led early and would eventually finish second. Jacob Rowland would round out the podium in third place.
With two rounds in the books, the 2018 season was looking pretty similar to the 2017 season but things would begin to heat up soon enough. Be sure to check back next week as we recap round three of the 2018 GNCC Racing season.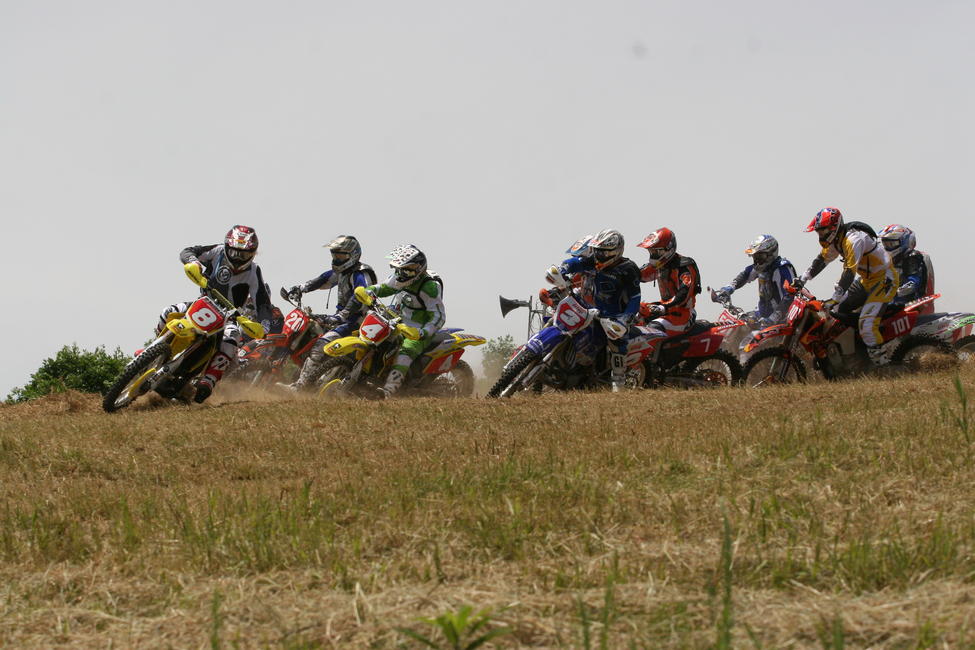 #ThrowbackThursday
You may not have noticed it if you're not subscribed to RacerTV on YouTube, but the RacerTV guys have been hard at work putting a ton of old GNCC TV shows online! This is a task that could take a long time, but they've knocked out quite a few and there's some really cool stuff. The eventual goal is to make these clickable when you view the "Wins by Event" pages on the GNCC website. That page tells you every GNCC event, EVER and who won them. What's cool about getting these shows uploaded is now you'll be able to see what it took for that rider to win that particular race!
Here's a few to check out for this week's edition of Throwback Thursday. First up is the 2005 Orange Crush GNCC bike race. This was the one where Pro Motocrosser, Doug Henry showed up and came away with the win. Some of these 2005 and 2006 shows are over an hour long as they are actually the versions that were available on the DVDs our friends at MotoTees produced back then.
Here's another from 2005 and this one comes from The Mountaineer GNCC. Now, don't confuse this with the Mountaineer Run GNCC we raced in Masontown, WV. The 2005 Moutaineer event actually took place in Summersville, WV at The Good Evening Ranch, which housed some really cool animals you may see some clips of in the show.
This one is only from 2011 but it was a pretty interesting race. This was our only visit to the Rock Run GNCC but it produced a pretty good bike race. There's a multi-rider battle between Paul Whibley, Josh Strang, Charlie Mullins and even Mike Lafferty was in the mix as well!
Here's another pretty interesting race. This is the ATV race from the first-ever Snowshoe GNCC back in 2007.
The 2010 Ironman GNCC would see Kailub Russell make his XC1 debut. He pulled the holeshot, led for a while and crashed in one of the creek crossings and drowned out his bike... and it's all in the TV show!
And last but not least, here's a pretty muddy version of The John Penton GNCC in 2010!