Rachel Gutish
Time
Tuesday, December 4, 2018 | 4:45 PM
Stemming from the grassroots of family racing, Wiseco has over 75 years experience manufacturing pistons, whether it be for fun, weekend riding, or professional racing. Wiseco is one of the few manufacturers forging pistons in the U.S., providing quality and performance you can trust. 
Click here
 to see the latest Tech Tips from Wiseco.
Jesse Ansley is the 2018 XC3 Champion. The 18 year-old from Myakka City, Florida won his first pro title this year. While he is on the injured list right now, he is already excited for the challenge of defending his title next season and is looking forward to working with a new team, the Trail Jesters.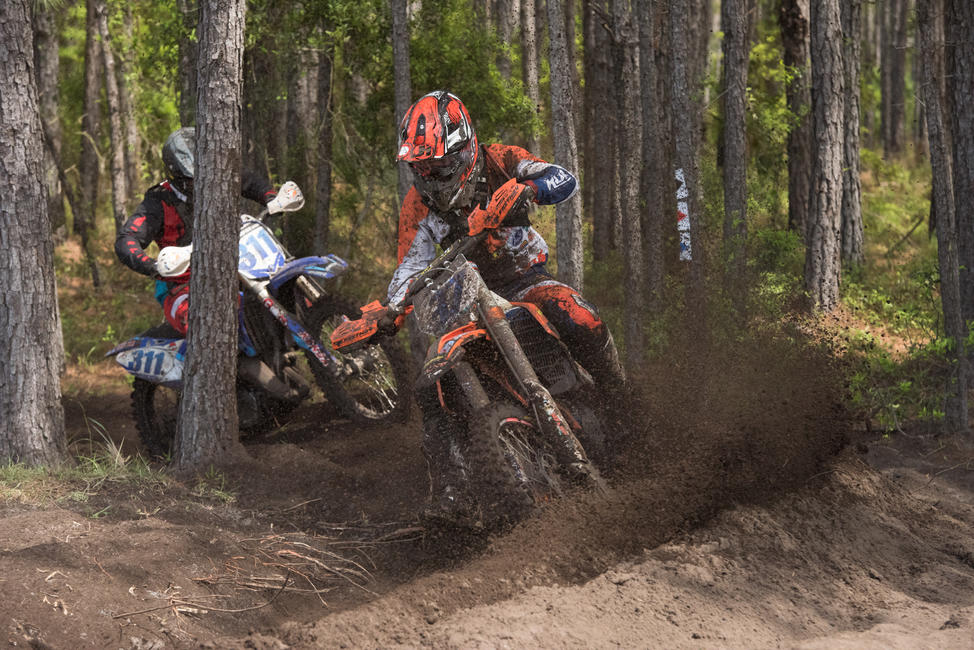 GNCCRacing.com: It's been over a month, but has the high of that first pro championship worn off yet?
Jesse Ansley: No, I'm still really excited about it! It's actually been motivating me a lot too this off-season because I want to come back and successfully defend it next year. Winning the championship was great, but the downside is the next year there's a lot of pressure to back it up. Anyway, coming into the 2018 season, I expected that I would be a front-runner, and although we had some really frustrating moments, we had plenty of times where I was right where I needed to be. Which I guess is how I got here.
You beat me to the punch a little bit there, my next question was going to be if you were staying in XC3 to defend your title …. sounds like the answer to that question is a yes. Do you anticipate that defending the title will be more difficult than earning it was?
Yeah for sure, I feel that it's always harder with a target on your back. Staying in XC3 was a decision jointly made by my new team and I. We think it's better for our future if we stay back just one more year so I can mature a bit. We still have plenty of time in my career – I am only 18. Some people might say I'm cherry-picking, but the class is only getting more and more stacked. I think the prestige level of XC3 has risen and will keep going up. So, getting a second title will be as hard if not harder.
What do you think made the difference as far as your success this season is concerned, compared with your results last year, which I know you weren't exactly happy with?
My mentality is that I hate losing. I've always been pretty successful and won a lot of races, from the FTR races at the beginning of my career on up through the GNCC youth ranks. That made last year's second place finish really aggravating for me. I know it sounds crazy, but that was one of my biggest motivators. The biggest difference between this year and last was getting on a really strict program, and making sure that every second of my day counts. With that being said, I was pretty fatigued toward the end of the season – now I see why the pro riders get burned out, pushing as hard as they do all the time. You can only do so much of that before it starts to wear on you. It all paid off for me this year though! Being injured I've had a bit of a break though, and I'm ready to start back up.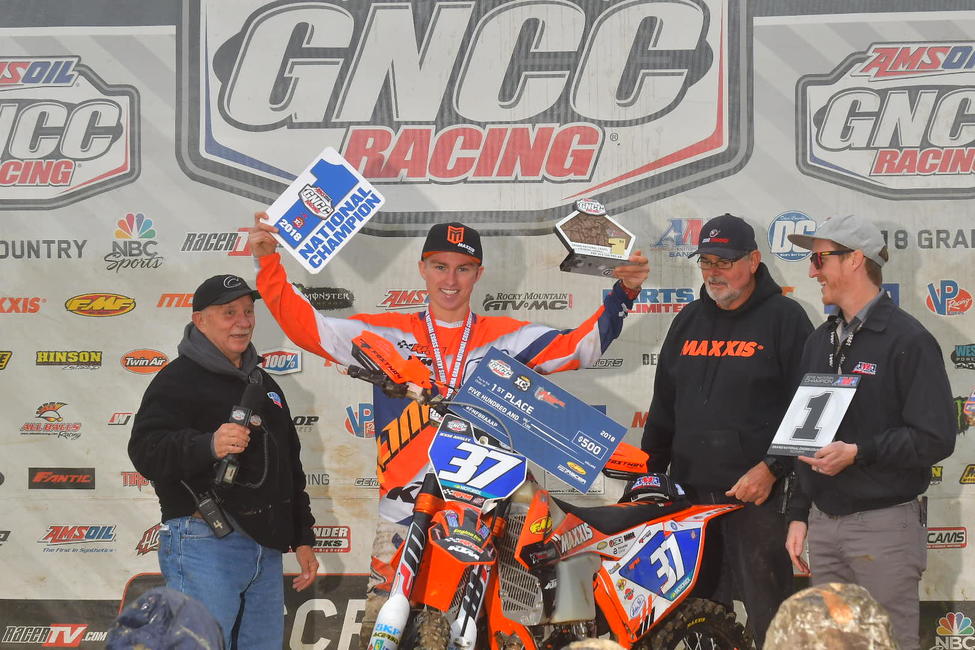 Speaking of your elbow injury, how long do you think it will be before you are back on the bike and able to train properly again?
Yeah, the elbow incident is pretty unfortunate… but if it had to happen, now was basically the best time. Sometimes it is good to get away from the bike and recharge the system like I was talking about. I think it will probably be about mid-January. It wasn't a huge break, and I still have full range of motion, so I'm optimistic. I can workout a little bit, as long as I don't do anything to irritate it. I do want to make sure it's fully healed before I start riding again, so we're just waiting on the doctor to clear me and we'll try and make up the lsot ground once I'm healthy.
I heard you got hurt at the Mini O's – what exactly happened?
How do I say this …. I decided to do the Mini O's after wrapping up both my championships this year. I really had nothing else going on and had the opportunity to do the Mini O's, so I was like "hey, why not?". I felt indestructible and since Kailub [Russell] did the motocross race, I thought it would be cool. On my last moto of the supercross portion of the week I got tangled up with another rider off the start and went down. I hit my elbow off the ground, got back up and started riding again, but I knew something was probably wrong. It's unfortunate that it happened at a motocross event, because now if I decide to do one again, this will be in the back of my mind and everyone else's.
Yeah, injuries can happen anywhere, so I understand what you're getting at. Is motocross something you would consider dabbling in next season or in the future more generally though? Like I know a lot of pro off-road racers, myself included, practice moto quite a bit, but I don't know that a lot of them race it regularly.
For me, I feel like motocross ..…. well, it's not the secret ingredient, but it is another important aspect of training. It's honestly intimidating and even a little scary when you're out there, but it really jacks your heart rate and teaches you to be comfortable being so close to so many people at once, which I think is valuable. You also have to learn to react quickly to the carnage, which obviously I'm not so good at. (laughs) I really enjoy the moto scene, although my roots and family are in off-road. Basically, it boils down to the fact that I want to be the best and most well-rounded rider I can possibly be. If becoming a better rider meant lining up to race flat track next week, that's what I would do.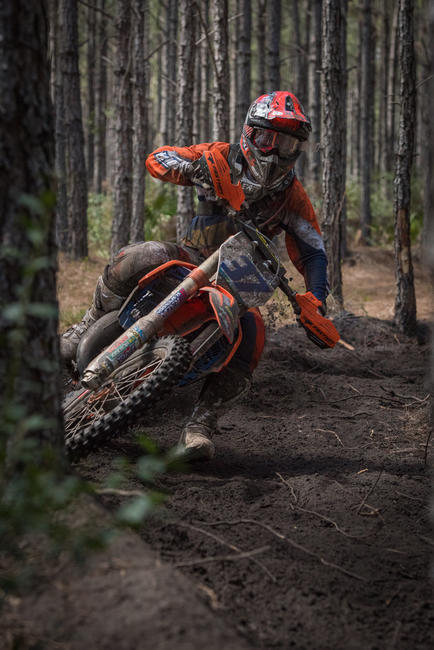 Are you excited to be moving on to the Trail Jesters team for the 2019 season?
Yeah, it's a great opportunity to up my level of support! It's pretty surreal, like I just got back from California for the KTM photo shoot, that's huge! I'll be working a lot more closely to the factory team and having those resources available is huge. Since I have this opportunity, I really need to follow through with everything and take advantage of what I have been given. I know that chances like this are slim, and not everyone gets to have something like this. So, I'm very fortunate and blessed to be in this situation. Hopefully next year I can put all of this to good use.
And did you have a good time at the photo shoot?
It was tough not being able to ride, but it was awesome to meet everybody while I was out there – like I got to meet Rodger DeCoster and Simon Cudby, which was crazy! Like these are people I've looked up to my whole life, followed on social media and watched on TV, so to be there actually talking to them and interacting with them is like I said earlier, pretty surreal. Not trying to jump the gun, but hopefully next year if everything goes well, I'll be healthy and able to rip some Cali dirt. It was especially heartbreaking not to ride because the dirt was absolutely perfect this past weekend too! I was smiling and having a good time, but man I really wanted to ride. (laughs)
Will the move to Trail Jesters alter your program much or change the way you and Tom have been doing things?
Luckily for me, at this point Tom and I are still together. We'll still be traveling to the races together and he will still be my mechanic. I am not sure how many more years that will last, but we're going to soak it up and make some great memories together while we have the chance to. As far as the rest of the program, I'll have a new look, the bike will be completely different, though Tom is still doing the suspension, so at least that will be familiar and comfortable for me, which is a huge plus. I'm looking forward to being healed so that we can start testing the bike and start getting comfortable on it.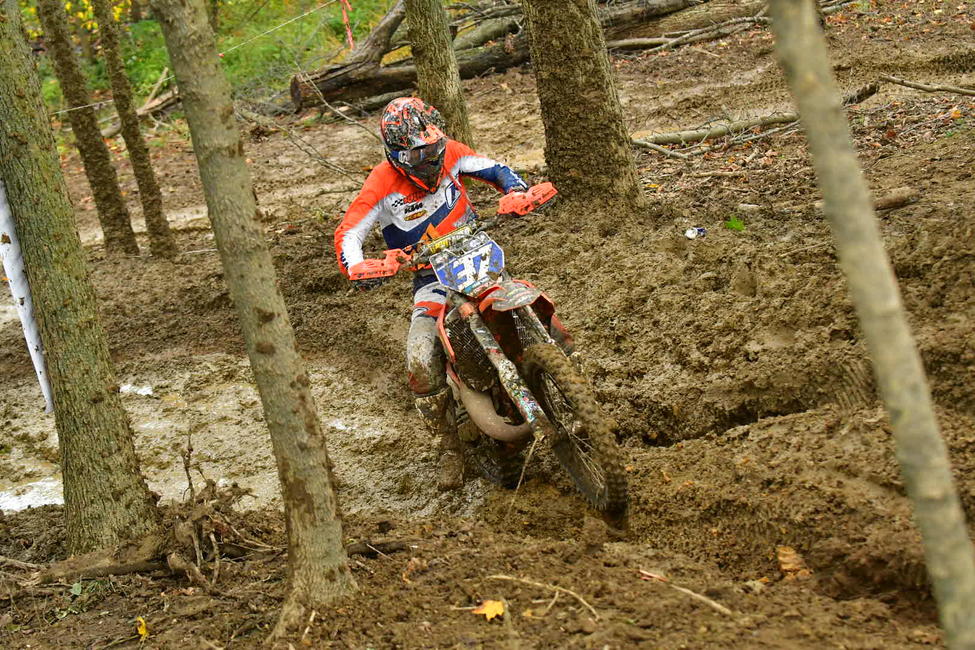 Good luck, I hope you have a great season next year! Let's end on a fun question: What is one interesting thing about you that is not racing related?
Umm… you might have to pause that for a minute because I'm going to have to think about that one. (pause) Okay, here's one. This is going to sound odd, but if I'm not training or racing I like to go work and learn trades. I like to stay busy, and learning stuff is cool. Not like school learning, I didn't ever like that much. But learning how to like, do construction work, or cut grass really nicely, things like that I enjoy learning how to do. I have friends in a lot of different industries, and they'll let me tag along and help out when I have time. It's interesting to see what the real world is about, and after a few days of hard work like that, it really does make me appreciate how lucky I am that I get to race as my career!
Yeah, racing is a really special career to have, that's for sure! Now, who would you like to thank for making that career possible?
Well, I need to thank my family, especially Tom and TF Racing Suspension, for all of the support over the years. I couldn't have done it without them. Then I need to thank the Trail Jesters for this great opportunity next year, as well as all of the team sponsors that make this possible: KTM, FMF Racing, Troy Lee Designs, Bullet Proof Designs, P3 Carbon, Motorex, Dunlop, Super B Batteries, WMR, and Nihilo Concepts.