E2 Class Win For Taylor Robert at 2018 ISDE
Time
Tuesday, November 20, 2018 | 10:20 AM
E2 CLASS WIN FOR TAYLOR ROBERT AT 2018 ISDE
International Six Days Enduro 2018 – Vina Del Mar (CHI)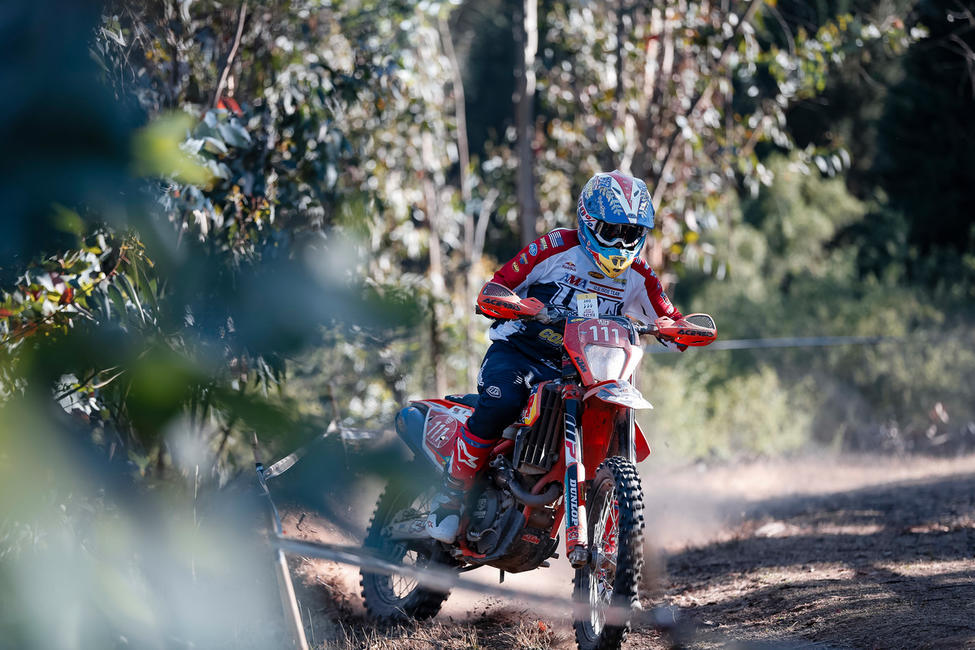 FMF KTM Factory Racing's Taylor Robert has won the E2 class at the 2018 International Six Days Enduro held in Vina del Mar, Chile. The American's result took him to the overall runner-up spot in what was a supremely successful event for KTM, with teammate Steward Baylor Jr. finishing runner-up in the class.
Held in Vina del Mar, a coastal resort city northwest of Santiago, the 93rd edition of the International Six Days Enduro brought over 400 riders from 25 nations together to battle it out in the Chilean dust. The U.S. World Trophy Teams brought home an outstanding finish of second-place in the World, Trophy, Junior World Trophy and Women's World Trophy categories showing the most consistency of any country in the six-day battle.
E2 class and overall leader after the first day's racing, Taylor Robert got his 2018 ISDE off to the perfect start. As the event progressed, the American continued to dominate E2 on his KTM, finishing fastest in class on every single full day of racing. Opting for a safe finish on Saturday's final motocross test, Taylor took the class win by over five minutes from teammate Steward Baylor.
In the overall classification, continued pressure from Australian rider Milner resulted in Robert dropping to second on day three. With the two KTM riders fighting hard to the final day, it was Milner who would ultimately take the win with Robert finishing as runner up.
Taylor Robert:"It's been an amazing week. I'm a little disappointed not to take the overall win but all-in-all I am happy with my riding. Days three and four were tough and I struggled a little there but I think everyone did. The tests were so technical, the dust was still a problem and the heat made everything a little worse. Day five went well, but I couldn't catch Milner – hats off to him, he's been riding really well out here in Chile. I'm really happy to take the win in my class and second for Team USA in the World Trophy competition is great too."
KTM's Brandy Richards finished as runner-up in the EW class, just less than three minutes from the win after six long and extremely tough days in the South American heat.
In the race for the Junior World Trophy prize, America's Josh Toth took fifth place in the E1 class to assist Team USA in finishing as runner-up in the category along with KTM riders Ben Kelley and Grant Baylor.
U.S. Trophy Team Manager, Antti Kallonen:"It's disappointing, for sure, when we're aiming for wins but at the end of the day you have to find always positive out of the situation and be happy with what you achieve. Our guys and gals gave it their all for six days and we're proud of their efforts and how they represented the U.S. on the podium for all three World Trophy categories. I must give hats off to the riders, they've battled through some tough days – we've had some crashes and some misfortunes but this is the cards that were dealt to us and we have to deal with it. It's racing and we have to learn from it and be that much better next time to avoid these kinds of situations."
Results – FIM International Six Days Enduro 2018
Enduro 1
Andrea Verona (ITA), TM, 4:37:32.45
Davide Guarneri (ITA), Honda, 4:38:07.91
Victor Guerrero (ESP), Yamaha, 4:39:04.06
Ryan Sipes (USA), Husqvarna, 4:40:00.41
Josh Toth (USA), KTM, 4:40:38.11
Other KTM
7. Thomas Dubost (FRA), KTM, 4:43:50.54
8. Patrik Markvart (CZE), KTM, 4:47:49.34
Enduro 2
Taylor Robert (USA), KTM, 4:31:47.96
Steward Baylor (USA), KTM, 4:37:01.50
Thomas Oldrati (ITA), Honda, 4:37:58:.89
Josh Strang (AUS), Husqvarna, 4:38:17.86
Loic Larrieu (FRA), Yamaha, 438:47.97
Other KTM
8. Grant Baylor (USA), KTM, 4:39:20.39
Enduro 3
Daniel Milner (AUS), KTM, 4:29:53.48
Daniel Sanders (AUS), Husqvarna, 4:31:56.22
Giacomo Redondi (ITA), Honda, 4:37:17.18
Matteo Cavallo (ITA), Beta, 4:37:55.66
Ruy Barbosa (CHI), Husqvarna, 4:38:41.92
Other KTM
8. Enric Francisco (ESP), KTM, 4:43:31.19
Enduro Women
Tayla Jones (AUS), Husqvarna, 5:08:48.18
Brandy Richards (USA), KTM, 5:11:43.87
Livia Lancelot (FRA), Honda, 5:13:24.78
Jessica Gardiner (AUS), Yamaha, 5:19:57.28
Mireia Badia (ESP), Husqvarna, 5:21:58.56
Other KTM
7. Sandra Gomez (ESP), KTM, 5:27:20.02
8. Rebecca Sheets (USA), KTM, 5:32:48.77
9. Mackenzie Tricker (AUS), KTM, 5:33:09.80
World Trophy Team
Australia - Daniel Milner, Daniel Sanders, Lyndon Snodgrass, Josh Strang
USA - Ryan Sipes, Taylor Robert, Steward Baylor, Zachary Bell
Italy - Davide Guarneri, Alex Salvini, Thomas Oldrati, Giacomo Redondi
Junior World Trophy
Italy - Andrea Verona, Matteo Cavallo, Davide Soreca
USA - Josh Toth, Ben Kelley, Grant Baylor
France - David Abgrall, Hugo Blanjoue, Theo Espinasse
Women's World Trophy
Australia - Tayla Jones, Jessica Gardiner, Mackenzie Tricker
USA - Rebecca Sheets, Tarah Gieger, Brandy Richards
Spain - Sandra Gomez, Mireia Badia, Gabriela Seisdedos