Rachel Gutish
Time
Monday, October 8, 2018 | 11:30 AM
Rocky Mountain ATV/MC Mason-Dixon GNCC Women's Race Report
Pickens and Sheets Come Out on Top After Summer Break
MOUNT MORRIS, Pa (October 8, 2018) – The Rocky Mountain ATV/MC Mason-Dixon GNCC, round eleven of the 2018 AMSOIL Grand National Cross Country (GNCC) Series, an AMA National Championship, took place on September 29th and 30th. Though technically a new addition to the series, the Mason-Dixon takes place on Mathews Farm, an old stomping ground of the series. The last GNCC on the property took place in 2003, which means the woods had time to recover for this year's event.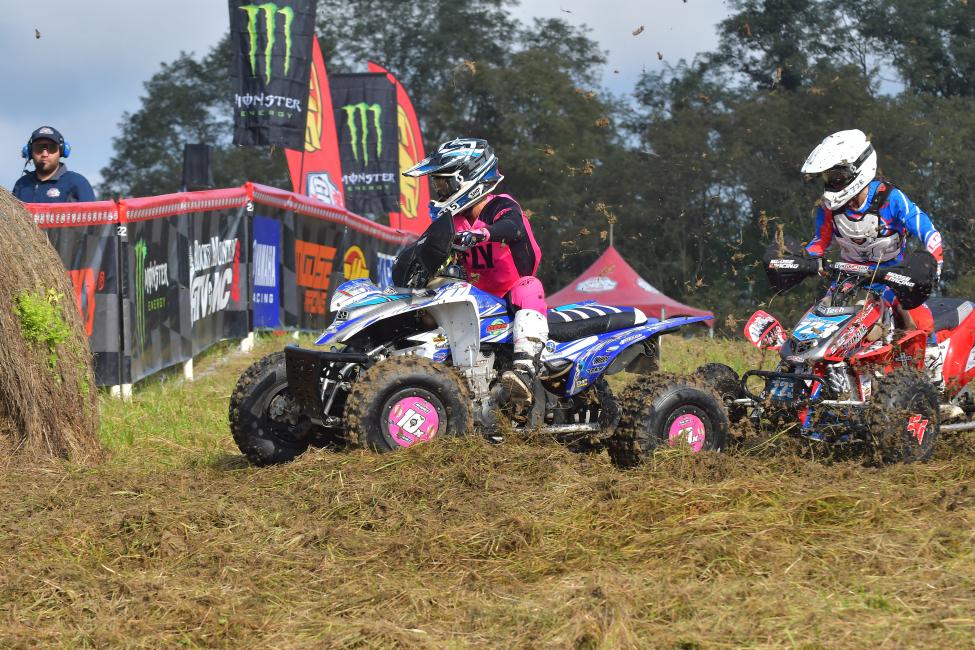 There were several miles of tighter bike-only sections, as well as flowing trails and plenty of grasstrack action. Though the afternoon riders had the pleasure of riding sections of the legendary High Point Raceway, those sections were bypassed for all of the morning riders, including the women. The course itself got very rough, and the softer sections developed deep ruts with lots of exposed tree roots. Rain earlier in the week probably helped to soften the ground, but partially sunny skies and temperatures ranging in the 70s and 80s made for great racing conditions. Around 106 women competed at the Mason-Dixon GNCC, with Traci Pickens and Becca Sheets winning the premier WXC classes on Saturday and Sunday.
Saturday morning, Pickens pulled the holeshot in the ATV WXC start and led the first few miles of the race before getting hung up in a rut. When she got stuck, it created a bottleneck that the entire lead pack – Pickens, Angel Knox, Megan Shepherd, Kate Osburn and Sadiee Gorrell all got stuck in the same section. While Pickens and Knox took turns pulling each other's machines out of the mud, Alicia McCormick and Kara Short, who both had less than stellar starts, saw the commotion and took alternate lines.
Once their ATVs were freed, Knox and Pickens took off in hot pursuit, while the remaining riders Shepherd, Osburn and Gorrell managed to pull all three of their machines out. By the time they took off again, they were about seven minutes down from the leaders. McCormick held on to the lead throughout the first lap, though she noticed that her quad did not seem to be handling right. Meanwhile, Knox lost her third place position to Pickens when she spun out attempting to pass another rider. Pickens was able to catch up to and pass Short as well, putting Pickens in second place. Short held on to third place, while Knox came through in fourth. Jaida Phillips rounded out the top five, with Osburn in sixth and Gorrell in seventh.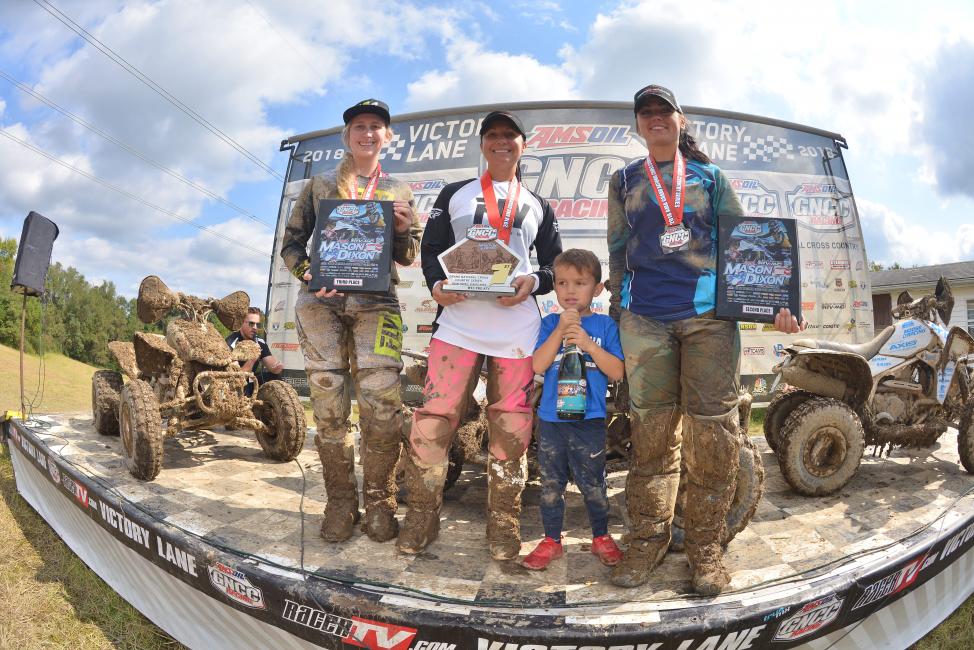 The second lap ended up being the lap of bike failure: McCormick's handling issues continued to grow and then cumulated with a set of blown front shocks, ending her race. Gorrell would also have a race-ending clutch problem this lap. Lastly, Knox's starter locked up and she lost over 10 minutes, which would have been more had spectators not helped her push the ATV up a hill so that it could be bump-started. This pushed Knox back to last place of the moving machines, though she was able to recover to take 5th place. Jaida Phillips, who was struggling with unfamiliar equipment, was able to finish, however she ended up a lap down from the other riders.
With both McCormick and Knox effectively out of contention for the win, and Osburn still struggling her way through the riders who passed her while stuck, Pickens was free to establish a substantial lead. By the end of the second lap, Osburn was down by nearly two minutes, with Short and Shepherd relatively close to her. The only position change that took place over the remainder of the race was when Short got stuck on a muddy uphill, allowing Shepherd around to take the final podium spot. Shepherd says, "Though my first two laps were rough, I just kept chugging and tried to stay moving," which turned out to be a decent strategy for her.
Pickens and Osburn both agreed that the track was a lot of fun. Aside from the first lap, Pickens' race was pretty uneventful – she "took the lead after passing Alicia [McCormick] and led the rest of the race all the way to the checkers." Osburn employed a similar strategy to Shepherd. She told us "After that first lap, I knew that I had a lot of time to make up so I just focused on riding smart and minimizing my mistakes."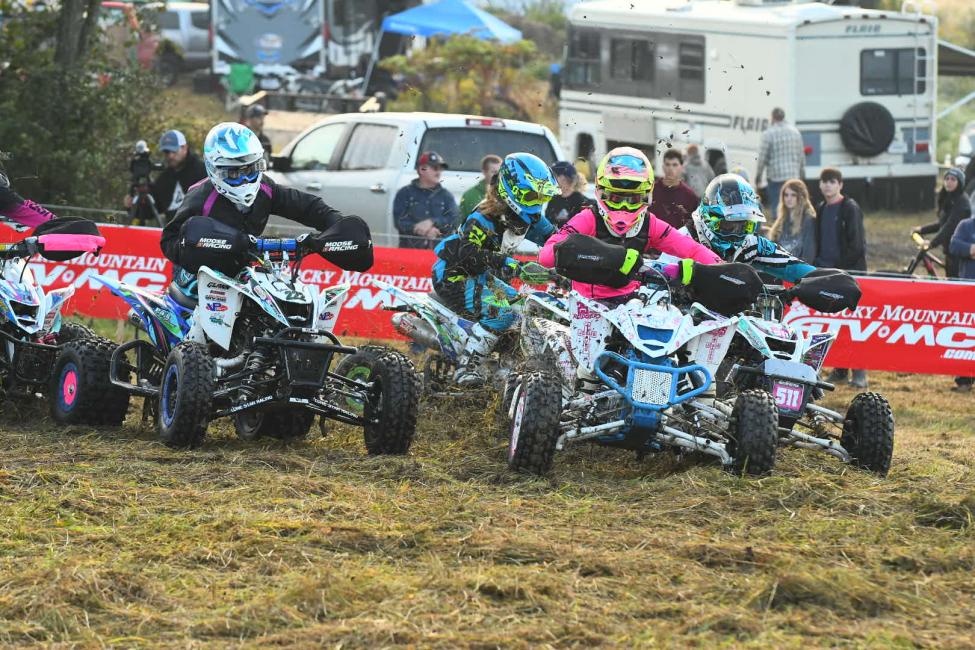 Morgan Johnson took home her sixth win of the season in another crowded Girls (8-15) class, as well as 21st in the youth overall. After this race she is now leading the class by two points over Andrea Rodgers, who took home a third-place finish from the Mason-Dixon. Hannah Moore took home second place after charging her way up from a fifth-place start. Sydney Sams won the Women's ATV class for the third time this season.
On Sunday, September 30, Mackenzie Tricker grabbed another holeshot, however she crashed early on and was passed by both Tayla Jones and Korie Steede. Jones would go on to lead the remainder of the first lap, while Steede would go over the bars in the first mudhole and come through the scoring zone in ninth place. She wasn't the only rider that went down though – both Becca Sheets, Rachel Gutish and Rachael Archer ended up on the ground at various times during their first laps as well. Archer's crashes resulted in bent handlebars and a lost drink system, which made for a long race, especially given that this is the New Zealander's first GNCC in over a year. When the dust settled, it was Jones, Tricker, Sheets and Brooke Cosner battling closely for the top four positions, with Gutish and recently-returned former WXC champ Maria Forsberg taking fifth and sixth place.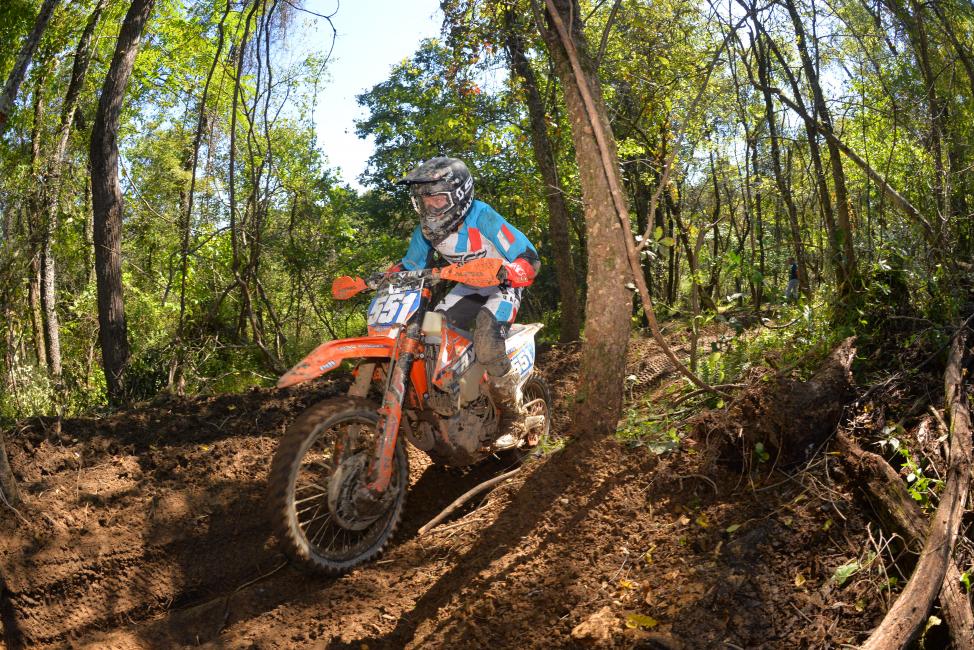 In a tighter bike-only section on the second loop, Tricker would get hung up on a root which would also catch Cosner up in her struggles as well. While the two of them were moving Tricker's bike off the root so they could continue their race, Gutish slipped past both of them through an alternate line. Though Tricker and Cosner both took off again, a malfunctioning starter and a bad case of arm pump dropped Cosner out of sight of the leaders and allowing Forsberg past. Despite the arm pump, Cosner was able to make up enough time on Forsberg to make a pass on the third lap and finish fifth for the day. Archer remained a little further back from Forsberg in seventh, but still had a several minute lead over Steede, Shyann Phelps and Eden Netelkos, who rounded out the top ten.
In addition to passing Cosner and Tricker, Gutish was also able to work her way around Sheets and briefly banged bars with Jones on the second lap, before the latter got tangled up in a bottleneck. Though Jones dropped several positions, and in her words "things got pretty hectic" she still managed to make it though the scoring zone in second place with only a 22 second gap between her and Gutish.
The next lap though, Sheets put down a smooth and consistent lap, not only passing Jones but also getting around Gutish, who had made a costly mistake in a bottleneck. Sheets had a decent gap over Gutish, Jones and Tricker, though all three were riding hard to catch her heading into the final lap of the race. Gutish dropped back to fourth as she was knocked almost a minute down from third-place Tricker and ended up fourth for the day. Meanwhile, a visibly exhausted Tricker was slowly fading back from the top two, but still had enough gas in the tank to come away with a third-place finish at one of the most physically demanding races of the season. She tells us, "I rode solid, just had way too many crashes, many of which were caused by lappers. I'm just glad I ended up on the box after how many times I crashed and how beat up I got this race."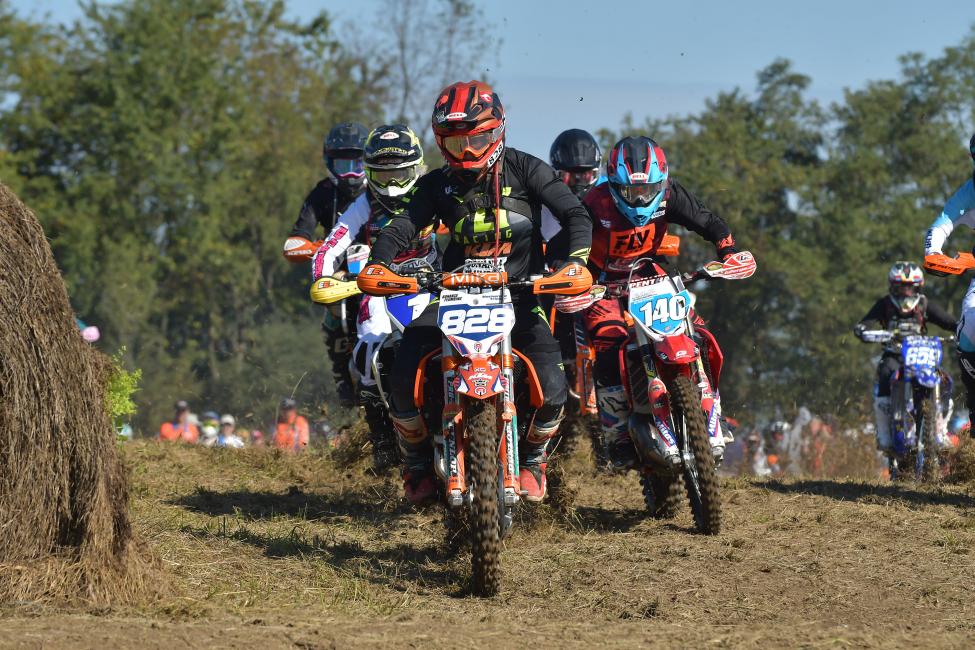 For Jones, it was a race against to clock to try and catch up to Sheets before that final lap was over. Despite making up close to 30 seconds on the last lap, it still was not enough to beat Sheets, who came in just sixteen seconds ahead of Jones. For her part, Sheets made some small mistakes (most memorably, crashing on the treacherous wooden bridge and ending up in the creek), and says that, "the track was crazy, but it felt like a true GNCC course, and that made me happy! I was also happy that I was able to hold it together and finished first today."
Although Jones might have lost this particular battle, she definitely won the war. With six total wins to her name and a 57 point lead over Sheets, Jones has mathematically won the title and therefore earned her second consecutive WXC championship with her second place finish at the Mason-Dixon GNCC. "I got pretty close to Becca going across the line, but I wasn't quite able to get there. It was a decent race for me, and I did wrap up the championship. So, I'm happy about that!" This was Sheets' second win of a very up-and-down season, given her injuries over the summer break, and it puts her in second place in series points over Tricker by a narrow two-point margin.
Prestin Raines took a dominating win over the rest of the field in the Girls (8-15) bike class. Haley Phillips placed second in the class, while Trinady Warrinner earned her first podium of the season. Olivia Judy won the Women's Bike class by nearly five minutes over series points leader Annelisa Davis. Meanwhile, Alexis Phillips won Women's C, which puts her in a numerical tie with second place rider Alli Phillips in the points.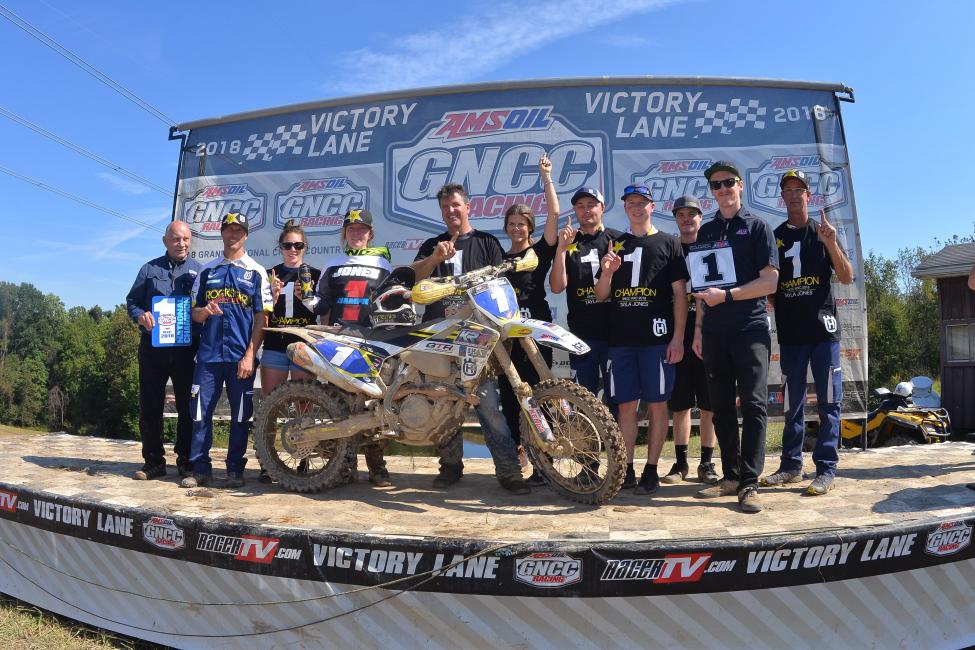 In the Micro ATV division, there were two girls competing, Raelynn Dickerson and Samantha Sollon. Of them, Dickerson had the highest overall finish, placing 10th. On the motorcycle side, there was only one girl, Brianna Kerr. She placed first in trail rider and 19th overall.
The next round of the 2018 AMSOIL Grand National Cross Country Series will take place on October 13 and 14 in St. Clairsville, Ohio with the Powerline Park GNCC. ATV and UTV racing will take place on Saturday while bike racing will take place on Sunday.
For more information on the GNCC series, visit the official website at www.gnccracing.com or call (304) 284-0084. Join the conversation on the series Facebook page, follow us on Twitter and Instagram, and be sure to always hashtag #GNCC.
Rocky Mountain ATV/MC Mason-Dixon
Mount Morris, Pennsylvania
Round 11
September 29 and 30
ATV WXC Pro Event Results:
Traci Pickens (YAM) GBC / Yamaha / Fly Racing
Katelyn Osburn (HON) Spider Graphix
Megan Shepherd (HON) Stewart Boys Racing
Kara Short (HON) Veterans Family Racing
Angel Knox (HON)
Jaida Phillips (YAM) GBC/Rekluse
Alicia McCormick (SUZ) Ye Olde Cycle Barn
Sadiee Gorrell (YAM) Maxxis / Fivesixo Graphics / Custom Axis / Pierce Performance
ATV WXC National Championship Standings:
Traci Pickens (260)
Katelyn Osburn (227)
Megan Shepherd (163)
Kara Short (157)
Sadiee Gorrell (152)
Jaida Phillips (140)
Alicia McCormick (96)
Angel Knox (62)
Sadie Welch (37)
Morgan Solesbee (14)
Bike WXC Pro Event Results:
Becca Sheets (KTM) Fly / Maxxis / Seat Concepts / KTM
Tayla Jones (HQV) KR4 / Husqvarna
Mackenzie Tricker (KTM) Trail Jesters / Bonanza Plumbing / KTM
Rachel Gutish (BETA) Beta USA / Braaap Shop / Fly
Brooke Cosner (YAM) Tely Energy
Maria Forsberg (KTM) FMF / RPM / KTM / Maxxis
Rachael Archer (YAM)
Korie Steede (GAS) GasGas / FAR
Shyann Phelps (KTM) Racer's Edge / Mike Beeler
Eden Netelkos (KTM) Garden of Eden Racing
Shelby Rolen (SUZ) Suzuki RM Army / Iron Pony Motorsports / FMF
Bike WXC Pro National Championship Standings:
Tayla Jones (255)
Becca Sheets (198)
Mackenzie Tricker (196)
Rachel Gutish (161)
Brooke Cosner (143)
Shyann Phelps (135)
Korie Steede (130)
Eden Netelkos (127)
Shelby Rolen (105)
Felica Robichaud (26)
About GNCC Racing:
The AMSOIL Grand National Cross Country Series ("GNCC") is America's premier off-road racing series, featuring motorcycles, ATVs and Side-by-Sides, for men, women and children of all ages. Founded in 1975, the 13-round championship is produced exclusively by Racer Productions. Cross-country racing is one of the most physically demanding sports in the world. The grueling three-hour GNCC races lead as many as 2,400 riders through trails ranging in length from 8 to 12 miles. With varied terrain, including hills, woods, mud, dirt, rocks and motocross sections, GNCC events are tests of both survival and speed, drawing talent from all over the United States, Central America, South America, Europe, Japan, Australia and New Zealand. GNCC Racing is televised on NBC Sports and RacerTV.com. For more information, visit www.gnccracing.com.
About the American Motorcyclist Association:
Founded in 1924, the AMA is a not-for-profit member-based association whose mission is to promote the motorcycle lifestyle and protect the future of motorcycling. As the world's largest motorcycling rights and event sanctioning organization, the AMA advocates for riders' interests at all levels of government and sanctions thousands of competition and recreational events every year. The AMA also provides money-saving discounts on products and services for its members. Through the AMA Motorcycle Hall of Fame in Pickerington, Ohio, the AMA honors the heroes and heritage of motorcycling. For more information, visit www.americanmotorcyclist.com. Not a member? Join the AMA today: www.americanmotorcyclist.com/membership/join.