Jared Bolton
Time
Thursday, July 26, 2018 | 2:20 PM
AMSOIL is proud to be the title sponsor of the GNCC Racing series for the past 7 years. New for 2019, AMSOIL is partnering with the series to bring a GNCC AMSOIL Moto Hero to each and every round. Racers, Fans, and Industry Personnel are welcome to nominate themselves or someone they know who are currently serving in the military, retired from the military, are a first responder or former first responder for this prestigious honor.
Welcome to Quick Fill.
This week's edition of Quick Fill comes to you all the way from Loretta Lynn's Ranch in Hurricane Mills, Tennessee. We're down at the ranch getting things ready for next week's Rocky Mountain ATV/MC AMA Amateur National Motocross Championship, so please bear with us as this and the next edition of Quick Fill will be a little bit on the short side. Things are beginning to come alive at the ranch, as there is already a pretty large number of riders camped out and ready to go racing next week. If you think people show up early for a GNCC event, think about the folks who have already been here for three days or longer and they don't even hit the track until Monday!
We do have a few folks familiar to the GNCC Racing Nation who will be racing here next week and we'll try to keep you updated on that as the week progresses. After a quick scan of the rider roster, it looks former XC1 competitor, Garrett Edmisten, will be duking it out in the 25+ and 30+ classes, but he'll have some stiff competition from the likes of Andrew Matusek and former Open-A competitor, Darin Downs. Mason Raynor locked up the MicroXC1 championship at Tomahawk, but he'll be searching for a 51cc (7-8) Limited title here at Loretta Lynn's.
So be sure to tune into RacerTV.com next week for all the live coverage of the racing action and keep an eye out for these folks. It should definitely produce some great racing, so don't miss out. Speaking of great racing, last week I mentioned that some of the top two-wheeled pilots had a tough race in store for themselves as the AMA National Enduro Series hit Pennsylvania. It was a tight battle all throughout the day, but in the end Josh Toth was able to secure his first-ever National Enduro win. Ben Kelley ended the day in second, while Steward Baylor rounded out the podium in third.
Toth and Stu Baylor now sit tied for the National Enduro points lead! With four rounds remaining in the series, these guys are locked into a tight battle but they have to stay smart! Ben Kelley and Grant Baylor sit just a smidge over 20-points behind them in third and fourth, respectively. This is less than a one race points lead, so if Toth or Stu were to suffer a DNF, Kelley and Grant are right within striking distance.
Well, that's going to do it for me. There's still a lot to be done here so we're going to keep things short and get back to work. Enjoy your weekend!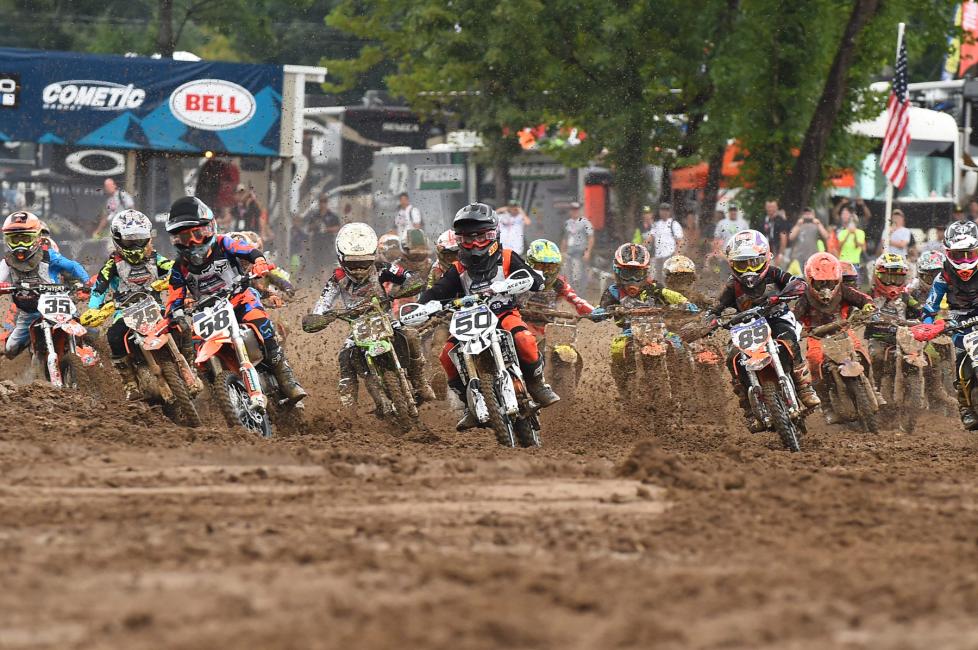 Catching Up With Ken (Ken Hill)
Well July is almost history and for many of us that means its time for the trek to Loretta Lynn's Ranch. If you have never been to the amateur nationals held there you are really missing out on a good time and what a full on industry press looks like as vendors are everywhere. The entire week features product launches, model releases and so much information that you can spend half a day just chatting with industry folks. I don't even recall how many years I've been tapped to go shoot this event but its one I love to hate! The heat and humidity take the toll on me but everyone else seems to just enjoy it and of course the creek is always there for cooling off. The first few days are like something out of a dream when you start towards the main vendor area and once the racing starts, its pandemonium non-stop for five days.
A few years rain has hammered us but the crews go to work like busy beavers as they whip things back into shape. Every 30 minutes another moto fires off the gate and it is like that from early morning until they are done for the day. It truly is incredible and to see the system or schedule on how things work has taken decades to perfect. I am talking full gates from the minis to our next motocross superstars, people that have never met, all following the process that so many before them helped to mold. From the office, registration and beyond, those behind the scenes work tirelessly to not only give everyone a solid program but to hopefully make life long memories as well.
What does this have to do with GNCC and Quick Fill? Well nothing really except that the very same family atmosphere that graces our cross country series can be found at Loretta's. In the end, many years from now when helmets are hung up and trophies discussed, it is usually the family time that is most often the topic that receives the most attention and that is how it should be. This is a big deal for any rider wishing to make it to the big time and in just the years I have been involved I have heard the same names each year as they climb to the top and march their way through the classes bound for glory. Those who don't make it have to deal with the agony of defeat and its family that usually pulls one through. And don't think they don't feel the gut wrenching pain that missing your goal brings. It truly is a team effort just as it is in the GNCC series. You can pin success on a myriad of things but family is the cornerstone of it all.
That's about all from me this week as I pack every bit of photography gear I own to get ready to roll out. My only wish is that I can properly show the world what its like to make it to Loretta's and do them and the staff right by showing it all. A tall order, one I see as a challenge! I hope and pray you all have a safe few weeks as I will be missing in action for Quick Fill for a few weeks so I can concentrate on the upcoming events at the ranch. God bless you all!