Rachel Gutish
Time
Tuesday, July 24, 2018 | 2:40 PM
Stemming from the grassroots of family racing, Wiseco has over 75 years experience manufacturing pistons, whether it be for fun, weekend riding, or professional racing. Wiseco is one of the few manufacturers forging pistons in the U.S., providing quality and performance you can trust. 
Click here
 to see the latest Tech Tips from Wiseco.
Despite being 71 years old, you can still find Pennsylvania's Thomas Ebersole out on the GNCC course, where he competes in the newly added Platinum (70+) class. Though the former ISDE club rider is currently second place in points, he has the most wins of anyone in the class, with five first-place finishes out of the six races he has attended. He hopes to win the championship this season, and if he continues to post finishes like that, he has a very good shot at it.
GNCCRacing.com: So Tom, what do you think of this new Platinum Masters class?
Tom Ebersole: I'm so excited about it, Rita [Coombs] came through for us!
Do you think this class is something the series has needed for a while?
Well, I've been doing GNCCs for a long time. I was in the 50+ class, and then the 55+ class. When I turned 60, Greg Davis, another rider my age, talked Rita into a 60+ class. Then we got older and got a 65+ class established, and now we are here. Us old guys just keep getting older, and still want to race and be competitive and have a good time. There is just a huge difference between being 50 and 60, or even 65 and 70. Most other types of racing, triathlons for example, their age classes go up in five year increments for that reason.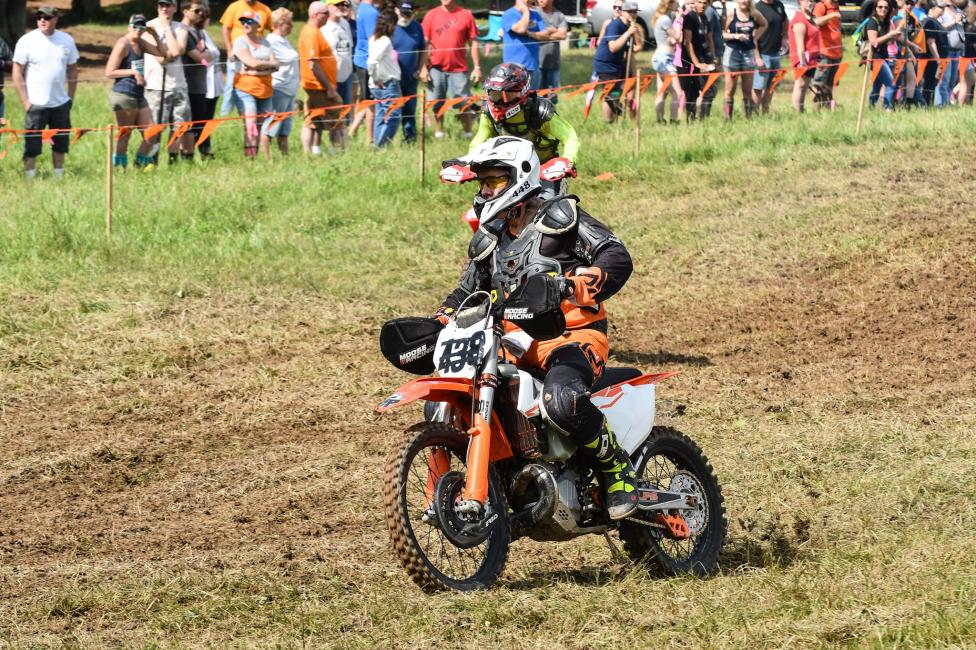 Makes sense. How long do you plan on continuing to race?
The only thing I really worry about is getting hurt while I'm out there. At seventy, broken bones, heart attacks, things like that are always a concern, especially when you're out there racing for two hours at a time. For me, I just have to eat the elephant one bite at a time. Chase people down one by one, and not think about the two hours as a whole, just focus on the moment that you're in. But to answer your question, I still love racing, and want to keep at it until I can't ride anymore!
It seems like you've had a pretty good season so far, although you missed a couple rounds you still have more wins than anyone else in your class. Are you happy with how it has gone?
Oh yes! I missed some early rounds at the beginning of the year because there was no 70+ class, and there were two guys just entering the 65+ class this year, and I knew I wouldn't be able to compete with them. And even though people outside racing don't understand, it's nice to still have a shot at winning on any given day, even if it's not like you make money for it. People sometimes ask how much I won when I finish first, and then I tell them they're asking the wrong question. It's not how much did you win, but how much did you spend? (laughs) So when they put in the 70+ class I started coming to the GNCCs again, and I've been having a great time!
How long have you been riding, and how did you get started?
Well, I'm 71 now, and started riding when I was 30 years old, so that makes 41 years. I'm a physician, and I did my schooling and training at the University of Miami, was down there for twelve years. There were no dirtbikes around, never got exposed to the sport. Then I came to Pennsylvania and started working. I was at an operating room picnic, and unknown to me my surgical partner had a dual sport bike. He let us all take turns riding it around the field. I jumped on it and just went crazy (laughs). The next thing I did was go buy a Yamaha dirt bike. Luckily, my neighbor two doors down raced motocross. I asked him to teach me how to ride it, and he said, "sure, I can teach you some basics". Within a year or two I started doing the ECEA (East Coast Enduro Association) races. It just progressed from there. My dream was to do Six Days [the International Six Days Enduro]. I qualified for and competed on the senior club team in Australia, and after that I was hooked - I ended up doing five of them in a row, and finished them all. Four bronze and one silver medal. When I got old and slow enough that I couldn't qualify even on the senior team, I turned my focus to the GNCC series. And here I am, still just trucking along?
What is one of your favorite memories from all those years you have spent racing?
Well, my favorite on-the-bike memory has to be finishing my first ISDE in Australia in '92 and getting my first bronze medal. When I first started racing, that was everybody's dream in the off-road world. There was nothing bigger you could do, and it seems like people are definitely getting interested in it again. Everyone knows about the ISDE, the way anyone who races motocross knows about the Motocross de Nations. Just getting picked to go is an honor, irrespective of how you finish. And knowing I was able to go represent my country, and that I finished and got a silver medal – there is no feeling like it, and that is something that nobody can ever take from you. I keep all my ISDE medals on my desk and look at them every day. Probably my favorite off-the-bike story is this one: I was at a national enduro years ago, I think maybe in Louisiana. So I was headed to the airport after the race because I have to be back Sunday night since I'm performing a surgery Monday morning at the hospital. I'm walking through the airport waiting on my plane and I happen to look over and see Josh Strang, Charlie Mullins, Andrew DeLong and Russel Bobbit all sitting at the bar having a beer. So I walk up and ask if I could join them. They said yes, and I got to sit down and share a beer with them – what a kick! Unfortunately, this was in the day before I had an iPhone, because otherwise I'd have that picture hanging up somewhere! There's more to all this racing stuff than the glory and winning and all that. A lot of the fun in this is about the comradery and all the people you get to meet.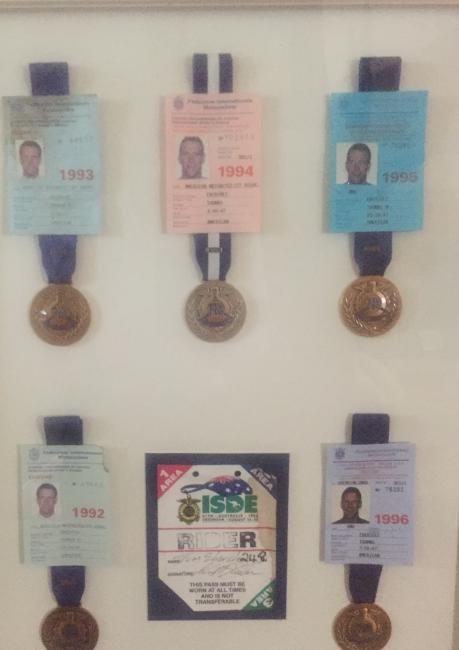 Why do you think you've been able to race this long?
Life kind of comes in chapters, you know, your 20s, your 30s, your 40s and so on. As far as being able to race in each stage of your life is concerned, it depends on what else is going on in that chapter. There's kind of a balance between your health, your economics, your dreams, your motivation and your support. Having that support is extra important, especially when it comes to choosing a spouse. I've seen a lot of guys' racing and other plans get derailed by an unsupportive partner or a bad divorce. But your best support can come from there too, and I have to thank my wife for all she has done for me and allowed me to do.
Besides being careful who you choose to spend your life with, do you have any other advice for younger people who would like to be able to enjoy the sport for as long as you have?
Looking back, having mentors and teachers is so important. So is using your head. Don't rely just on your hormone levels and twisting the throttle to go faster. Like so many other things, being better at riding, which also means being safer, is about the basics. I've played tennis and racquetball most of my life. Your basics there are serve, volley, forehand, backhand and so on. It's the same in riding, just different fundamentals: berm, off-camber turn, rut, hills, knowing when to go or when not to go. It's the same concept. Taking some classes having mentors and teachers, all of that will help you learn those fundamentals better, which will make you a safer rider, which in turn will give you a longer career than if you are constantly crashing and getting hurt. I mean, there's even videos now. Modern technology is awesome. Just go on Youtube, that's what I always do on my lunch break. Make sense?
Yeah, that sounds like great advice! Speaking of modern technology and the way things change as time goes on, do you feel like the sport is headed in a good direction?
That's way too broad of a question, I'm going to have to get a little more specific. First off, motocross is something else entirely, I'm not even going to try and comment on that. National Enduro: Alan Randt was very smart to do what he did with changing from a timekeeping to a start control format. Enduros were dying out, and still would be if it weren't for that. The biggest problem I foresee with enduro especially but a lot of disciplines as well is land use. Liability, expense, working with the landowner, getting access. I only foresee that getting harder. Sprint Enduro: that format is a little better off, because not much land is required. They're so much fun, especially for old guys like me since you get plenty of rest in-between the sections. GNCC: It's just grown and grown, it's so huge now. I never got to meet Dave Coombs, but I think he'd be proud of where it is now. The only problem they seem to have it that it's so big that it's got to be so hard to manage or to innovate or make changes when they need to. I'm also really interested to see where this electric bike thing is going. I have a Specialized, and I love it!
Is there anything I haven't covered that you would like to share with us?
I wish I'd had a son to pass this along to. I have seven grandsons now, but none of them are interested in racing at all. My wife jokes that because I never had anyone to pass my love of the sport on to, I have Peter Pan syndrome – I won't grow up, and I just keep racing!
And who would you like to thank?
My wife is great and is so supportive! I'd like to thank her first. The second person I'd like to thank is also my wife, and the third and the fourth and the fifth too (laughs). Then I'd like to thank Roxanne Erickson from Moose Racing, I've been with them for over 30 years now. Same for Motion Pro, it's been about 30 years I've been with them. I also want to thank Axis/Penske Suspension, B&B Sales and Service, Donny Lingle with LPS Sports, Kevin Hines with E-LINE, Spectro oils, Sunstar/Braking, and all the other people who have helped me over the years. Huge thanks to Rich Lafferty and RLR riding schools, he's a great teacher and I have done a ton of his schools. And thank you for taking the time to interview me. I am just tickled pink that anyone values my opinion on this stuff or be interested in what I have to say.