Rachel Gutish
Time
Tuesday, June 5, 2018 | 11:50 AM
FOR IMMEDIATE RELEASE
(304) 284-0084
[email protected]
The Wiseco John Penton GNCC Women's Race Report
Pickens and Tricker take the WXC class wins.
MILLFIELD, Ohio (June 5, 2018) - On May 26 and May 27 round seven of the 2018 AMSOIL Grand National Cross Country (GNCC) Series, an AMA National Championship took place. The Wiseco John Penton is hosted at Sunday Creek Raceway, a motocross track in Southern Ohio which frequently hosts Loretta Lyn's Amateur National Motocross qualifiers. GNCC has been traveling to Millfield, Ohio, since 1990, and the round is named after John Penton, a great innovator and leader in American off-road racing who is also from Ohio. The soil is primarily clay that is slippery when wet and slippery when dry. When the ground is soft, deep ruts will often develop in the fast, flowing trails.
Saturday afternoon there was brief, but heavy rain. The Women's Pro ATV riders (WXC) were not impacted, but between the first rainstorm and several more during the night, the WXC bike riders had to face extremely muddy and challenging conditions. One difficulty all the WXC riders had to grapple with was the heat. Temperatures reached the low 90's, with plenty of humidity to go around. There were around 65 women and girls who competed at The Wiseco John Penton GNCC. Of these, Traci Pickens took home her third-straight win in the ATV WXC division on Saturday, while Mackenzie Tricker walked away with her first Bike WXC win of the season on Sunday.
In a slight change of pace, Traci Pickens pulled the holeshot this round, just ahead of Sadiee Gorrell and Megan Shepherd. Gorrell stalled her machine toward the end of the lap, allowing Shepherd to move into second and Kate Osburn to move into third. This foreshadowed how the rest of the race would shape up for Gorrell, as she struggled with mechanical issues most of the race before her ATV quit altogether with two laps to go.
There was a large degree of separation between most of the riders, meaning that they had no battles with any of their fellow WXC racers. All but the top two held the same positions that they did coming into the second of five laps. Shepherd placed third, several minutes down from second, calling her race "uneventful…. but in a good way" Kara Short placed fourth, again several minutes down, but without any significant battles during the race. Finally, the last top-5 spot was taken by a frustrated Jaida Phillips, who was eight minutes down from fourth because machine kept stalling randomly throughout the day, on top of getting caught in a nasty bottleneck.
Osburn said that in the early laps, she had trouble finding a groove and was riding alone. A faster rider coming from behind proved to be a blessing, as it gave her someone to chase and pace off of. A one-minute-and-thirty-second deficit dropped to thirty seconds by the end of lap three and only one second going into the last lap. This was helped by the fact that Pickens got a log jammed into her rear break, which locked it on. Although she and several bystanders had to remove it, some time was certainly lost. The two riders pushed hard throughout the last lap. Although Osburn was able to pass for the lead in the woods, Pickens passed her back in the last field section before the finish line, taking home the win.
In the Girls ATV class, Alexis Keyes won for a second time this season. Andrea Rodgers placed second, while Gabrielle Lemley made it on the podium again for the first time since Florida, after a long string of fourth place finishes. In the Women's ATV race, Sydney Sams took home her first win of the season.
Addy Nible won her third UTV women's class race in a row at the Wiseco John Penton, while Vickie Fowler took a season-best finish of second, and Sarah Golden rounded out the podium in third. Nible also took home an eighth place finish in the single-seat UTV division, with Becky Widdicombe one position behind her in ninth.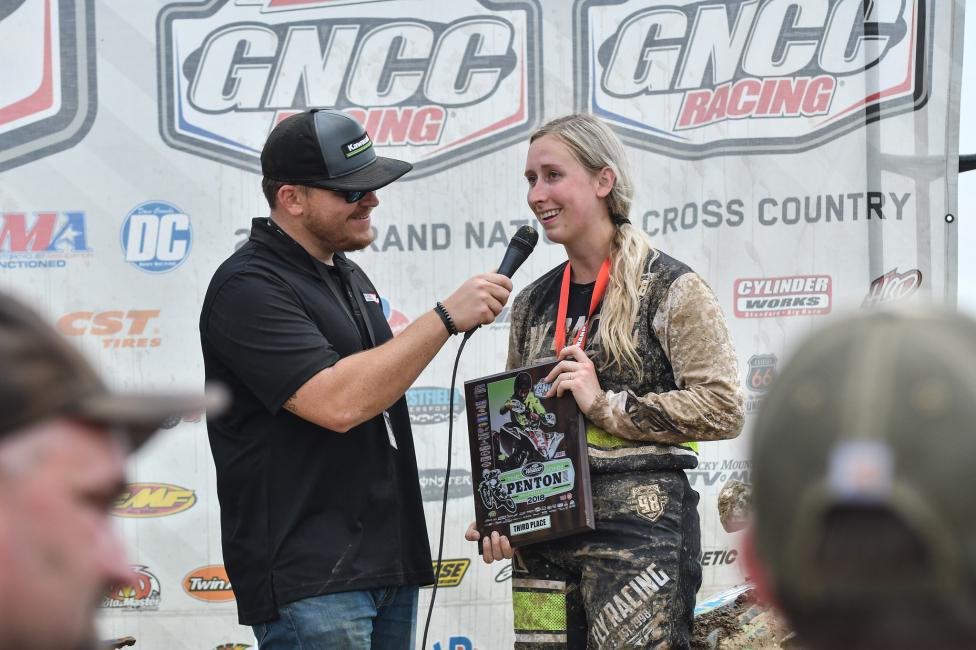 At the beginning of the WXC bike race, Mackenzie Tricker was again first off the start line. She crashed about three miles into the race, letting Tayla Jones take over the lead. Her first lap woes were not yet finished though. Shortly after, she crashed on a treacherous uphill, leaving her in third place and approximately two and a half minutes down from the leader. Meanwhile, Rachel Gutish had crashed in the second corner with Eden Netelkos and again several corners later with Korie Steede, but slowly picked off the other riders, before passing Tricker on the uphill and moving into second. Even in the first lap there was already a considerable spread between the riders. Shelby Rolen came through in fourth behind Tricker, but already two minutes down. Steede and Shyann Phleps were a further ten minute behind Rolen. The Phelps and Steede would battle for the remainder of their race, but Steede would come out on top to take the last top-5 position.
Due to a combination of the mud, heat, and bad luck, the WXC bike race was filled with mechanical problems and failures. Brooke Cosner was the first to go out of the race, with a water-pump leak that resulted in a loss of all her coolant. Gutish would be next, suffering an electrical problem that would eventually require her mechanic to jump-start her battery, pushing her back to fourth for the day, one lap down from the winner. Despite a decent lead over Tricker and Rolen, both would pass Jones after her bike overheated and shut down. Though she also finished one lap behind, she and her mechanic got her bike running quickly enough to secure her a third-place finish for the race.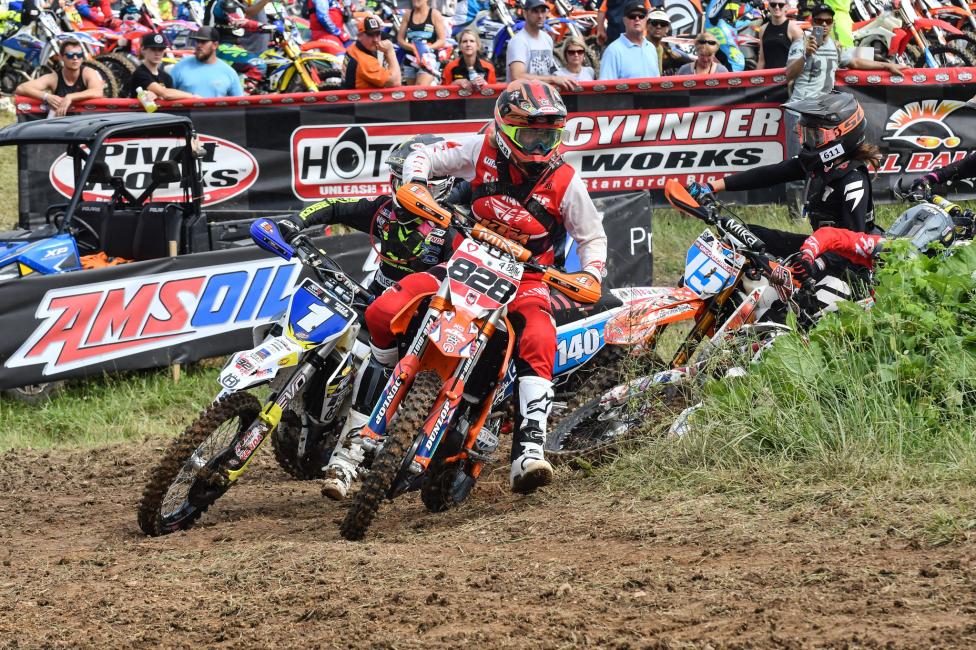 However, that is not to say that it was smooth sailing for the top two riders either. Tricker also had an incident where her bike stalled and refused to start, costing her somewhere in the neighborhood of five minutes on lap three. During the third lap, Rolen and Tricker battled for the lead, although by the time the checkered flag waved, Tricker had a three-minute lead. This was Tricker's first win of the season, which she was understandably very happy about, especially as she referred to the Penton as "definitely one of the most gnarliest races that I've ever done." She credits her win to perseverance and doing her best to make it cleanly through the bottlenecks and roadblocks. Rolen was also thrilled to earn her first "official" WXC podium.
Rolen tells us that "I can honestly say that fourth lap was the hardest lap of my life, but in the end it was all worth it and I couldn't be happier to finally land a WXC podium to go along with my WMX podiums. Huge thanks to everyone out there pointing lines, picking up bikes, and to Becca [Sheets], Brooke [Cosner] and Rachel [Gutish] who helped me since they couldn't race or their race ended early. It goes to show how truly amazing female racers are."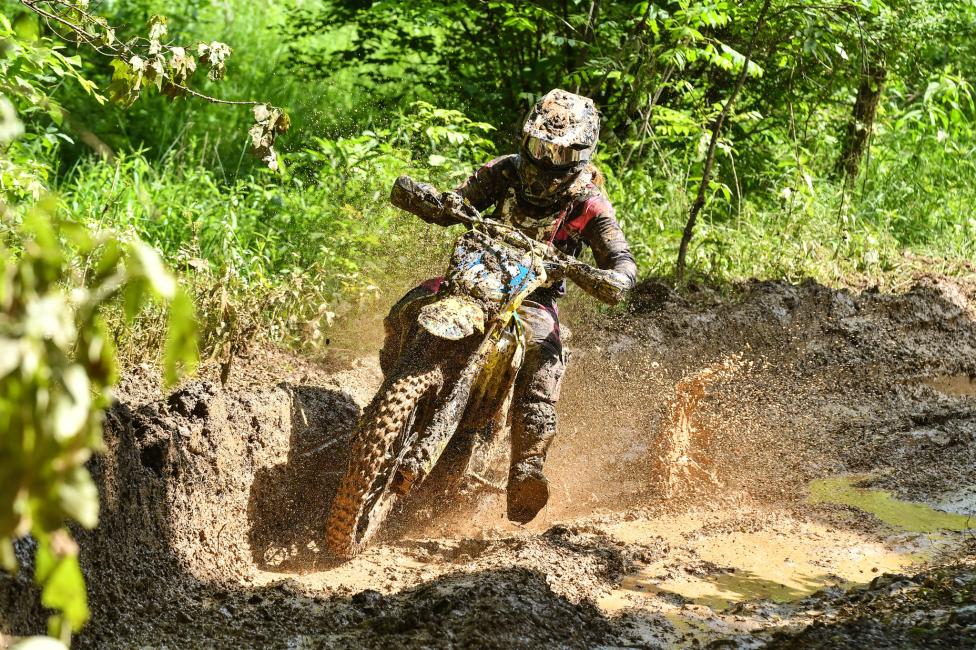 Prestin Raines was back on top of the box last weekend after a loss to her rival Jocelyn Barnes at the X-Factor Whitetails GNCC. Barnes placed second this weekend, just ahead of Brooklyn Horstmann, who netted her first podium of the season. It is worth taking a minute to mention the great sportsmanship shown between Raines and Barnes during the race. The deep mud proved incredibly challenging for adults on full-size machines; despite a shortened course, it was even more difficult for the girls competing on Superminis and 85s in the youth race. Both Barnes and Raines struggled to make it up one particularly difficult hill on the first lap. So they decided to team up, help each other get both bikes up the hill, and resume racing at the top. Given how cutthroat racing (and society) can sometimes be, it was refreshing to see two competitors work together like this to accomplish a shared goal. Back to the racing action, in Women's amateur Annelisa Davis dominated her class, lapping the competition, while Alexis Phillips also won in a commanding fashion, completing her lap almost 30 minutes faster than second place.
The 2018 AMSOIL Grand National Cross Country Series resumes June 9 and 10 in Alpine, New York with the Dunlop Tomahawk GNCC. ATV and micro racing will take place on Saturday and bike racing will take place on Sunday. For more information on the GNCC series, visit the official website at www.gnccracing.com or call (304) 284-0084. Join the conversation on the series Facebook page, follow us on Twitter and Instagram, and be sure to always hashtag #GNCC.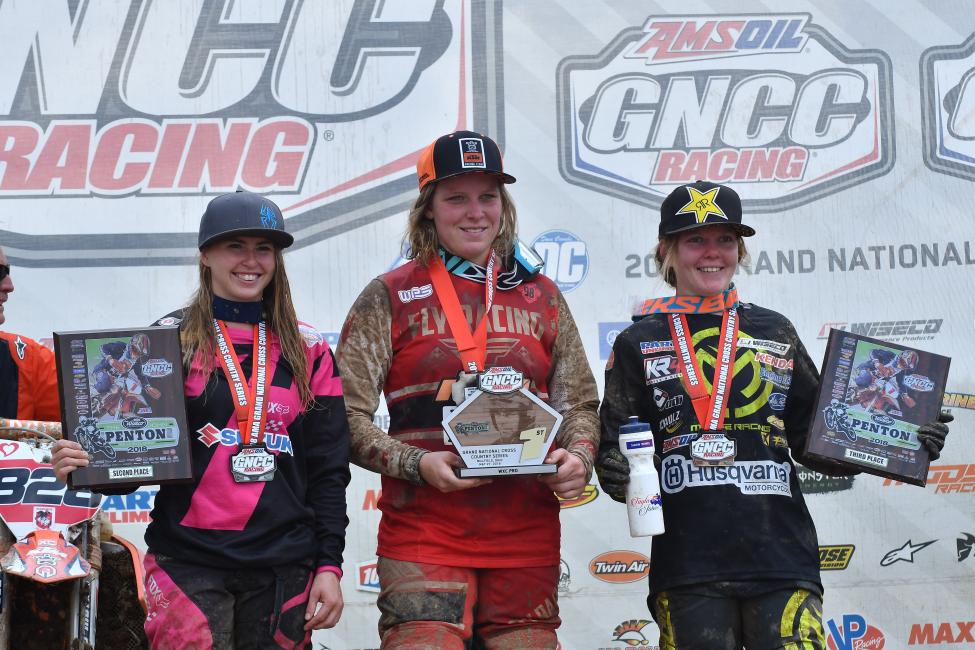 Wiseco John Penton
Millfield, Ohio
Round 7 of 13
May 26 and 27
ATV WXC Pro Event Results:
Traci Pickens (YAM) GBC / Yamaha / Fly Racing
Katelyn Osburn (HON) Spider Graphix
Megan Shepherd (HON) Stewart Boys Racing
Kara Short (HON) Veterans Family Racing
Jaida Phillips (YAM) GBC/Rekluse
Sadiee Gorrell (YAM) Maxxis / Fivesixo Graphics / Custom Axis / Pierce Performance
ATV WXC National Championship Standings:
Traci Pickens (200)
Katelyn Osburn (160)
Sadiee Gorrell (119)
Megan Shepherd (117)
Jaida Phillips (108)
Kara Short (100)
Alicia McCormick (82)
Angel Knox (46)
Sadie Welch (37)
Morgan Solesbee (14)
Bike WXC Pro Event Results:
Mackenzie Tricker (KTM) Trail Jesters / Bonanza Plumbing / KTM
Shelby Rolen (SUZ) Suzuki RM Army / Iron Pony Motorsports / FMF
Tayla Jones (HQV) KR4 / Husqvarna
Rachel Gutish (BETA) Beta USA / Braaap Shop of Mendota
Korie Steede (GAS) GasGas / FAR
Shyann Phelps (KTM) Racer's Edge / Mike Beeler
Eden Netelkos (KTM) Garden of Eden Racing
Brooke Cosner (YAM) Tely Energy
Bike WXC Pro National Championship Standings:
Tayla Jones (193)
Becca Sheets (143)
Mackenzie Tricker (117)
Brooke Cosner (106)
Rachel Gutish (103)
Shyann Phelps (103)
Eden Netelkos (99)
Korie Steede (90)
Shelby Rolen (74)
Felicia Robichaud (26)
About GNCC Racing:
The AMSOIL Grand National Cross Country Series ("GNCC") is America's premier off-road racing series, featuring motorcycles, ATVs and Side-by-Sides, for men, women and children of all ages. Founded in 1975, the 13-round championship is produced exclusively by Racer Productions. Cross-country racing is one of the most physically demanding sports in the world. The grueling three-hour GNCC races lead as many as 2,400 riders through trails ranging in length from 8 to 12 miles. With varied terrain, including hills, woods, mud, dirt, rocks and motocross sections, GNCC events are tests of both survival and speed, drawing talent from all over the United States, Central America, South America, Europe, Japan, Australia and New Zealand. GNCC Racing is televised on NBC Sports and RacerTV.com. For more information, visit www.gnccracing.com.
About the American Motorcyclist Association:
Founded in 1924, the AMA is a not-for-profit member-based association whose mission is to promote the motorcycle lifestyle and protect the future of motorcycling. As the world's largest motorcycling rights and event sanctioning organization, the AMA advocates for riders' interests at all levels of government and sanctions thousands of competition and recreational events every year. The AMA also provides money-saving discounts on products and services for its members. Through the AMA Motorcycle Hall of Fame in Pickerington, Ohio, the AMA honors the heroes and heritage of motorcycling. For more information, visit www.americanmotorcyclist.com. Not a member? Join the AMA today: www.americanmotorcyclist.com/membership/join.