Rachel Gutish
Time
Friday, April 13, 2018 | 4:15 PM
FOR IMMEDIATE RELEASE
(304) 284-0084
[email protected]
The FMF Steele Creek GNCC Women's Race Report
Pickens and Sheets come out on top in North Carolina
MORGANTOWN, W.Va. (April 13, 2018) – Round four of the AMSOIL Grand National Cross Country (GNCC) Series, an AMA National Championship, took place this past weekend, April 7th and 8th, at Morganton, North Carolina's Steele Creek Campground. It is truly a cross-country track, with a little bit of everything - steep hills, rocks, sand, clay, loam, tree roots, creek crossings and mudholes. The trail has a good flow, but can get slippery when it rains. The cherry on top of all of this is that it is a beautiful venue, with the backdrop of North Carolina's Blue Ridge Mountains providing a great contrast to the roughness and brutality of the trails.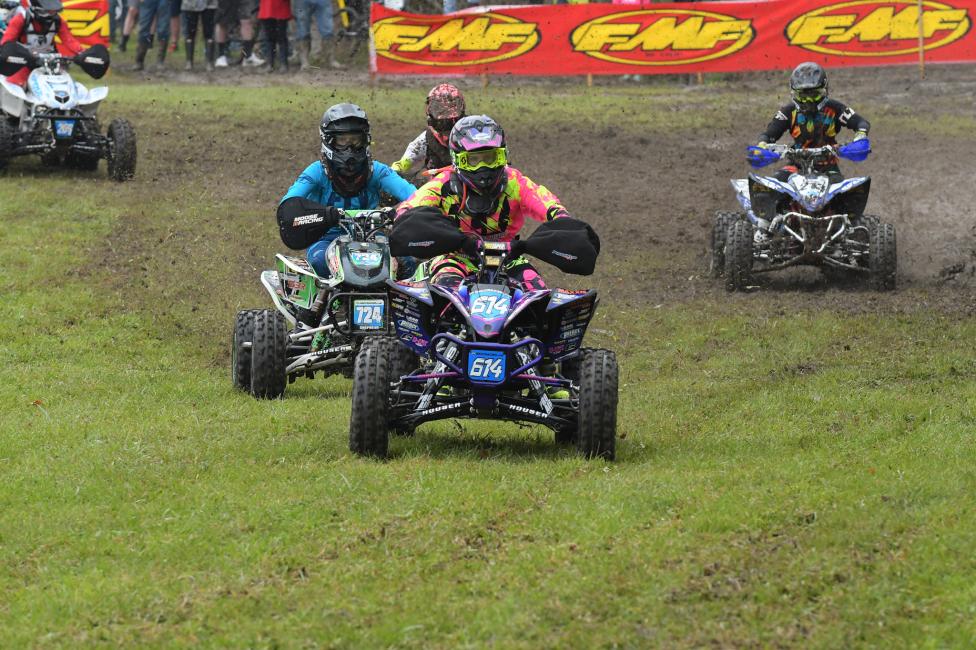 A grand total of 75 female racers were out on the track this weekend. Traci Pickens took her third ATV WXC win of the season, while Becca Sheets earned her first win in the bike WXC division, breaking the three-round winning streak of defending champion Tayla Jones. Conditions were pretty similar for both the Saturday and Sunday WXC racers. Intermittent rain before each race led to a slippery and challenging first lap. However, as the race continued and the top layer of mud was spun off, the trail tacked up quite nicely.
Sadiee Gorrell grabbed the holeshot in Saturday's ATV WXC class, and headed into the woods first. Megan Shepherd followed Gorrell in second, until misfortune struck costing her valuable time. Traci Pickens unfortunately had a dead last start, while Katelyn Osburn got tangled up with other riders in the first turn. Pickens picked up the pace throughout the remaining laps, focusing on getting through the mud and lapped riders. Gorrell continued to charge, but would ultimately be passed by Pickens on the third lap.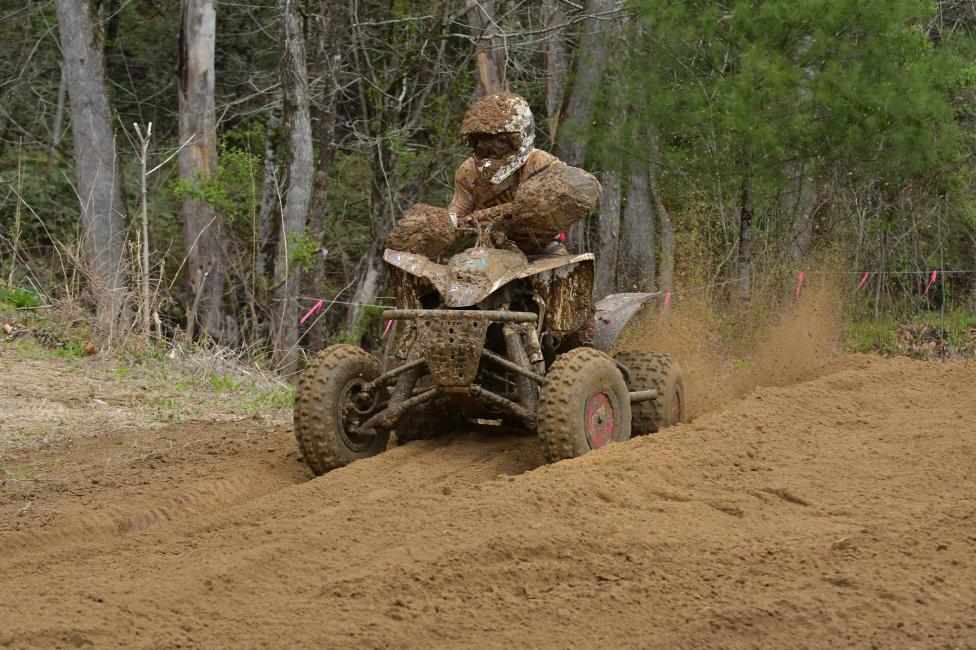 Osburn continued to fight her way through the traffic, making the pass for third and rounding out the podium at Steele Creek. Kara Short and Jaida Phillips would finish out the day in the fourth and fifth place positions.
We talked to Pickens after the race and she stated, "A dead last start is not what you need at Steele Creek, but one by one I was able to keep making passes. After I got out of the bottleneck on the last lap, I raced to the finish and was able to come out on top."
In the Girls ATV class, Morgan Johnson continued her perfect season, taking win number four of four and twelfth overall. Andrea Rodgers took another second place finish, and Alexis Keys took third, perfectly replicating last round's podium. The winner of the Women's class at the FMF Steele Creek was Hannah Hunter, who also continued a four-race win streak.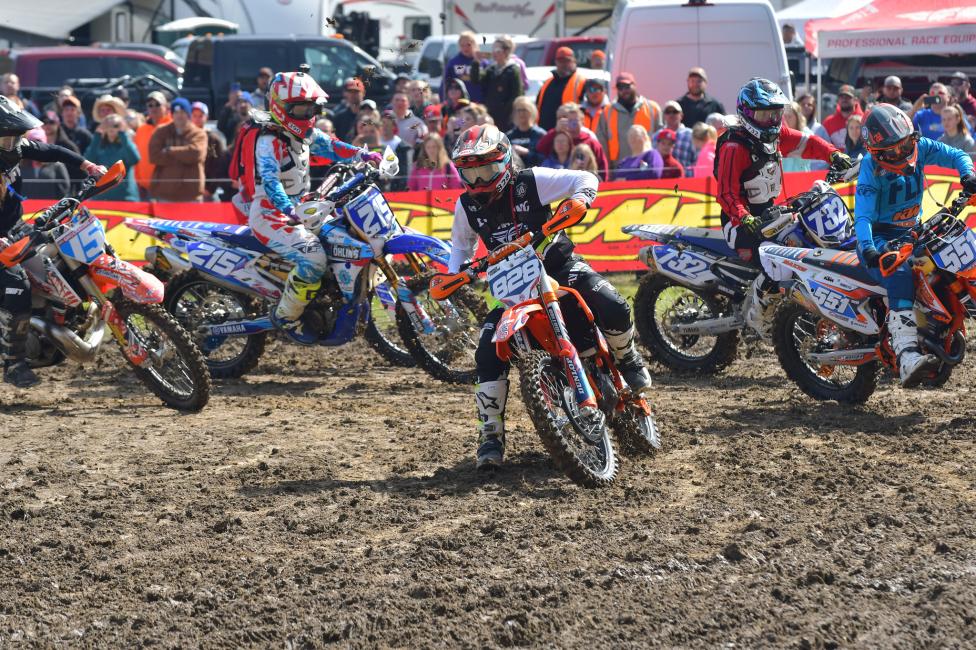 When Sunday's 10 a.m. race rolled around it was Mackenzie Tricker getting the jump off the start. Tricker grabbed the holeshot with Becca Sheets right behind her. Tayla Jones, defending WXC bike champion, would start the day mid-pack. However, at the end of lap one Jones had taken over the lead ahead of Tricker and Sheets. As the race continued on, the slick yet tacky conditions led to some difficult obstacles. Jones would lose a considerable amount of time after finding herself in the mud, but Sheets would put her head down and push ahead.
Sheets would ultimately come through timing and scoring first, earning her first win of the season followed by Jones in second and after struggling at the past two rounds, Tricker would cross the line in third.
Sheets was excited to earn her first win, saying "The race went well and it felt good to finally put all of the pieces together. It was sweet! And finally getting to spray Tayla [Jones] with the champagne was just icing on the cake! (laughs)."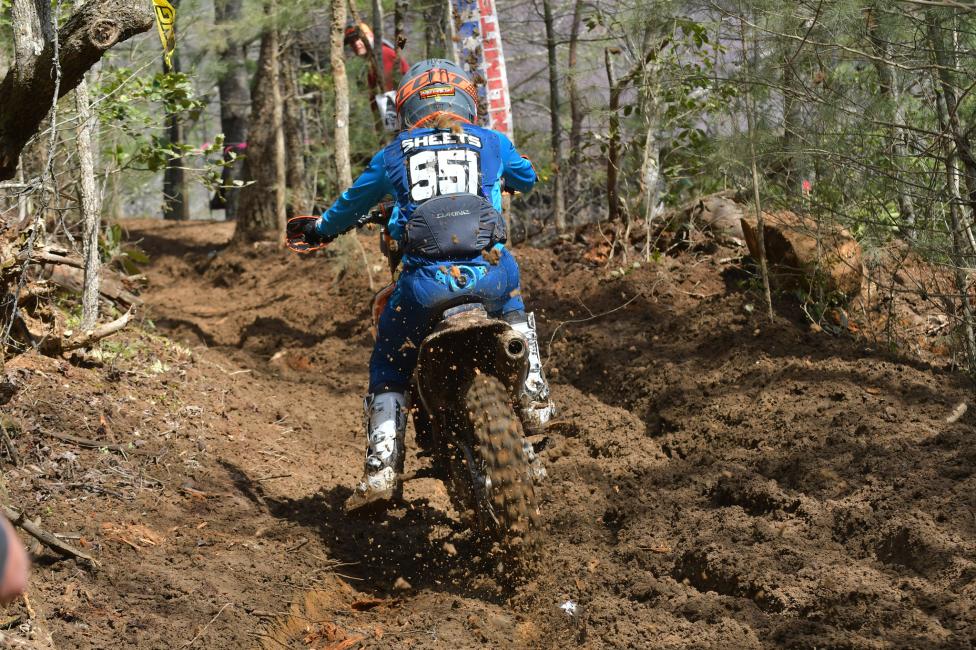 The top three WXC riders finished in the top three overall positions out of 564 riders. Brooke Cosner finished fourth, well ahead of the remainder of the WXC racers. Rachel Gutish was able to hold her machine together and hang onto a fifth place finish, edging out Shyann Phelps on the last lap.
In the Bike Girls (8-15) class, Prestin Raines took her second win of the season and finished seventeenth overall. Jocelyn Barnes placed second, and Nikki Russell out of Tennessee finished third. Pennsylvania's Annelisa Davis took another win in the Women's class, and this round's Women's C winner would be South Carolina's Alli Phillips.
The 2018 AMSOIL Grand National Cross Country Series resumes April 21 and 22, in Society Hill, South Carolina with the CST Tires Camp Coker Bullet GNCC. ATV racing will take place on Saturday and bike racing will take place on Sunday.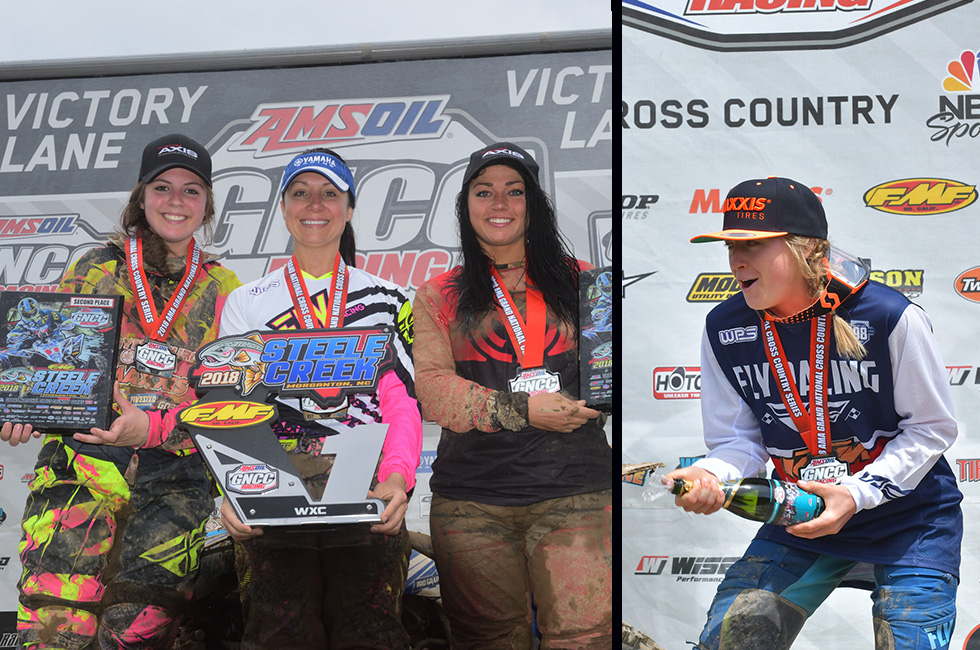 For more information on the GNCC series, visit the official website at www.gnccracing.com or call (304) 284-0084. Join the conversation on the series Facebook page, follow us on Twitter and Instagram, and be sure to always hashtag #GNCC.
The FMF Steele Creek GNCC
Morganton, North Carolina
Round 4 of 13
April 7 & 8
ATV WXC Pro Event Results:
Traci Pickens (YAM) GBC / Yamaha / Fly Racing
Sadiee Gorrell (YAM) Maxxis / Fivesixo Graphics / Custom Axis / Pierce Performance
Katelyn Osburn (HON) Spider Graphix
Kara Short (HON) Veterans Family Racing
Jaida Phillips (YAM) GBC/Rekluse
Megan Shepherd (HON) Stewart Boys Racing
Morgan Solesbee (YAM)
Alicia McCormick (SUZ) Ye Olde Cycle Barn
ATV WXC National Championship Standings:
Traci Pickens (115)
Alicia McCormick (82)
Katelyn Osburn (80)
Sadiee Gorrell (76)
Megan Shepherd (63)
Jaida Phillips (60)
Kara Short (49)
Angel Knox (25)
Sadie Welch (16)
Morgan Solesbee (14)
Bike WXC Pro Event Results:
Becca Sheets (KTM) Fly / Maxxis / Seat Concepts / KTM
Tayla Jones (HQV) KR4 / Husqvarna
Mackenzie Tricker (KTM) Bonanza Plumbing KTM
Brooke Cosner (YAM) Tely Energy
Rachel Gutish (BET) Beta USA / Braaap Shop of Mendota
Shyann Phelps (KTM)
Felicia Robichaud (YAM)
Eden Netelkos (KTM) Garden of Eden Racing
Shelby Rolen (SUZ) Suzuki RM Army / Iron Pony Motorsports / FMF
Jamie Astudillo (KTM) KTM / RadMX.com / Ohlins
Bike WXC Pro National Championship Standings:
Tayla Jones (115)
Becca Sheets (105)
Rachel Gutish (70)
Brooke Cosner (67)
Korie Steede (60)
Eden Netelkos (57)
Shyann Phelps (57)
Mackenzie Tricker (51)
Shelby Rolen (26)
Natasha J. Lachapelle (24)
About GNCC Racing:
The AMSOIL Grand National Cross Country Series ("GNCC") is America's premier off-road racing series, featuring motorcycles, ATVs and Side-by-Sides, for men, women and children of all ages. Founded in 1975, the 13-round championship is produced exclusively by Racer Productions. Cross country racing is one of the most physically demanding sports in the world. The grueling three-hour GNCC races lead as many as 2,400 riders through trails ranging in length from 8 to 12 miles. With varied terrain, including hills, woods, mud, dirt, rocks and motocross sections, GNCC events are tests of both survival and speed, drawing talent from all over the United States, Central America, South America, Europe, Japan, Australia and New Zealand. GNCC Racing is televised on NBC Sports and RacerTV.com. For more information, visit www.gnccracing.com.
About the American Motorcyclist Association:
Founded in 1924, the AMA is a not-for-profit member-based association whose mission is to promote the motorcycle lifestyle and protect the future of motorcycling. As the world's largest motorcycling rights and event sanctioning organization, the AMA advocates for riders' interests at all levels of government and sanctions thousands of competition and recreational events every year. The AMA also provides money-saving discounts on products and services for its members. Through the AMA Motorcycle Hall of Fame in Pickerington, Ohio, the AMA honors the heroes and heritage of motorcycling. For more information, visit www.americanmotorcyclist.com. Not a member? Join the AMA today: www.americanmotorcyclist.com/membership/join.