Jared Bolton
Time
Friday, March 9, 2018 | 10:50 AM
AMSOIL is proud to present the new AMSOIL Garage for the 2018 GNCC Racing season. Located in the Finish Line Village apart of the KR4 Arrive-N-Ride team pit area, the AMSOIL Garage will be the one-stop-shop for all of your oil needs, as well as advice and assistance on minor repairs or installation. Staffed by professional mechanics and an AMSOIL dealer, stop by and visit the AMSOIL Garage at each of the 13 rounds of the GNCC season. 
Welcome to Quick Fill.
This week we roll head first into round two of the 2018 GNCC Racing season with the Wild Boar GNCC in Palatka, Florida. This is a storied event as it marked one of the first occasions where we revisited a property after a lengthy hiatus from the series. This event originally joined the series in 2003 as the "Hurricane GNCC" at Rodman Plantation; a working cattle and timber farm that also hosts weddings and other events. We would return in 2015, but these days the race is based just a few miles down the road at the popular Hogwaller Mud Bog, which is still part of the exact same property we raced in 2003 and 2004.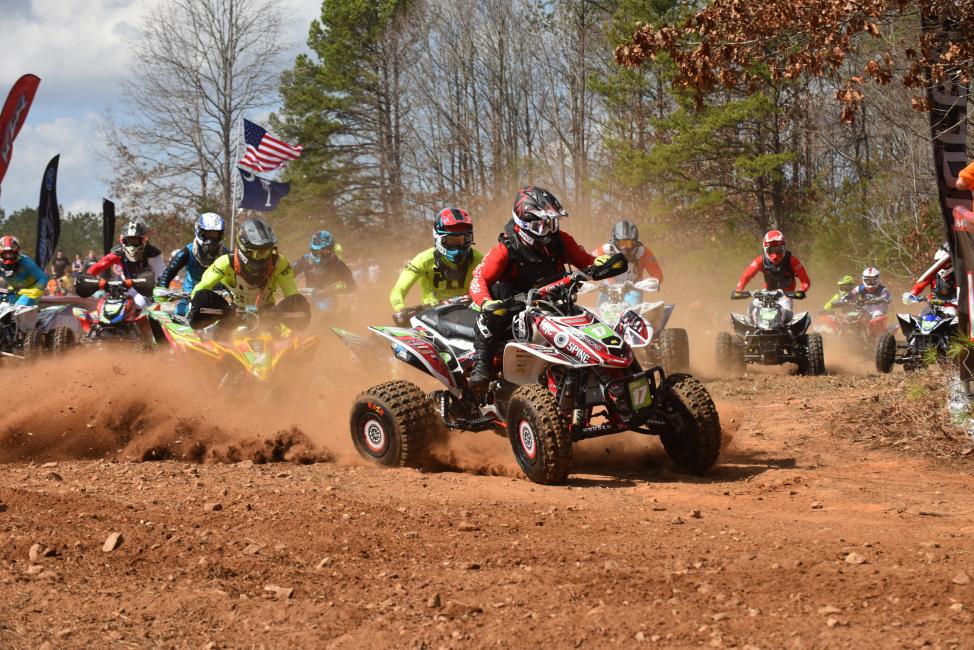 When we first visited Palatka in 2003, Brandon Ballance and Barry Hawk would emerge with the overall wins. The other Ballance, Bill, would go on to win the 2003 ATV National Championship, while BHawk himself would come away with the championship on the bike side. In doing so, he would become the first and only rider to hold overall National Championships on both the ATV and bike side; a feat that has still yet to be matched.
In 2015, a new crop of talent would invade Palatka for the Wild Boar GNCC. However, some names remained the same. Chris Borich finished fourth place at the first two Palatka events in 2003 and 2004. Johnny Gallagher would finish second place in the Pro Production class in 2003 and these same two gentlemen would contest the XC1 Pro class in 2015. Walker Fowler would emerge as the first ATV victor of the Wild Boar GNCC and Chris Borich would finally find his way onto the podium in Palatka, finishing third place. On the bike side, Kailub Russell would claim the 2015 Wild Boar overall win, which interestingly enough is his only other season opener victory prior to his Big Buck GNCC win.
Since returning, this round has become one of the most popular Florida rounds in the history of GNCC Racing. While the deep sand whoops are some of the most physically demanding conditions a GNCC racer will face all season, the Wild Boar GNCC is a little bit different than some of the other Florida courses we've raced over the years. Areas of this course are a little tighter, twistier and in places it's a little slower. At the same time, there's still the opportunity to open your machines up a bit and let them fly through some fast sections as well. We'll have more on this year's Wild Boar course coming up a little later.
Yamaha will once again be hosting UTV demo rides this weekend. They have several different models to try out including the Wolverine X4, YXZ1000R SS, YXZ1000R SS with GYTR Torque Assist Gear Kit, YXZ1000R and YXZ1000R with Rekluse Clutch. They'll be available to demo Saturday and Sunday and you will see the demo truck location when you enter the property, so stop by and give these machines a try!
Well, that's going to do it for the intro this week. Hope you enjoy the rest of the Quick Fill goodies and we'll see you in Florida this weekend!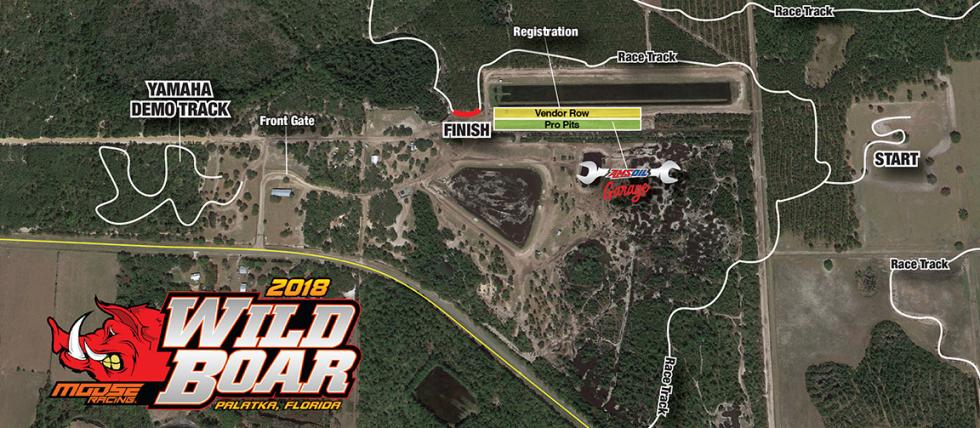 Wild Boar Course Preview
This course for this weekend's Wild Boar GNCC is packed full of a little something for everyone. There's a bit of tight trail, there's some fast trail, field sections, mud holes and lots of fun too. One thing we've been noticing about this year's course is there are a lot of sections that have a really nice flow to it. You're not hitting very many places with a perfectly straight shot, so some flowing back and forth turns are pretty fun, and a lot of them aren't tight turns either.
When you take off from the start, you'll actually be starting at the end of the lap. So you'll run about a mile and a half of some tighter trail through pine trees to bypass the finish your first time by. From there, you'll head out through some of that flowing trail I mentioned to the one-mile mark. Just beyond the one will bring you a little bit of the faster sections of trail before dropping into a short tight section out to the two-mile mark before opening up to some fast trail for just a bit, then into some twisty stuff once again.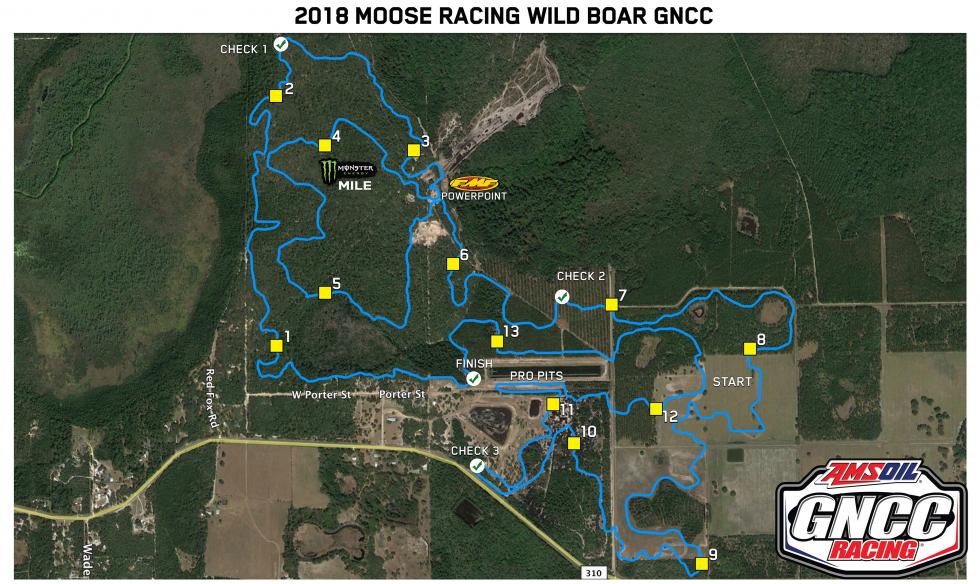 That brings you to a couple of sections of medium-speed trail with a few tight spots and out to the three-mile mark, then into the FMF Powerpoint, which is also the beginning of the Monster Mile. This will be some of the tightest trail you'll encounter on the course and it's a bit on the twisty side as well, so that will be a good challenge for the ATV racers. That takes you to the four and five-mile marks with some faster trail thrown in a few spots to give you a little break. About the five and a half you'll drop into the FMF Powerpoint once again, and back into some tighter woods over to the six-mile mark.
There, you'll pick up some faster sections through some pine trees and over to the seven-mile mark. Just past the seven you will get into some tighter trail that wanders through some tall pines and on the edges of a couple of natural ponds. The water is a little higher, so make sure you stay on the marked trail here because if you venture too close to the water, the mud can get sticky and deep! When you get to the eight-mile mark, you'll hit a big section of grass track around a couple of fields.
The second field you'll go into has two giant sweeping turns that are lots of fun and will be plenty wide enough that it will give you lots of options as the course gets rougher throughout the weekend. That takes you into a short section of woods at the nine-mile mark before popping into the field again and over to some faster trail to the ten-mile mark. You've got a couple of sections in and out of the woods past that which will bring you into trackside pitting to the eleven-mile mark, then back out into some pine trees to the twelve-mile mark into the field once again.
That will bring you back to the start field and you'll pick back up where you started at, wandering through the pines past the thirteen-mile mark and into the finish. It's a long course, 13.4 miles but the few miles in the fields and trackside pitting will be pretty fast, so that will cut your lap times down a bit. Overall, it's a fantastic course and the guys have been out running the dozers in places that need a little help before the race. We're also developing a plan to doze as much as possible Saturday night to give the bike racers as great a course as possible on Sunday.
It should definitely make for a great weekend of racing on a terrific course. If you're on the fence about coming, well, get off and get down here because it's going to be lots of fun in the sand. We hope you enjoy it!
GNCC Live This Saturday and Sunday
Don't miss the online coverage from the Moose Racing Wild Boar, round 2 of the AMSOIL Grand National Cross Country Series, an AMA National Championship this Saturday, March 10, at 1 p.m. and 4 p.m. and Sunday, March 11 at 1 p.m. EST on RacerTV.com.
Saturday, March 10
ATV Racing

Online: 1 p.m. EST, www.RacerTV.com (LIVE)
UTV Racing
Online: 4 p.m. EST, www.RacerTV.com (LIVE)

Sunday, March 11
Bike Racing
Online: 1 p.m. EST, www.RacerTV.com (LIVE)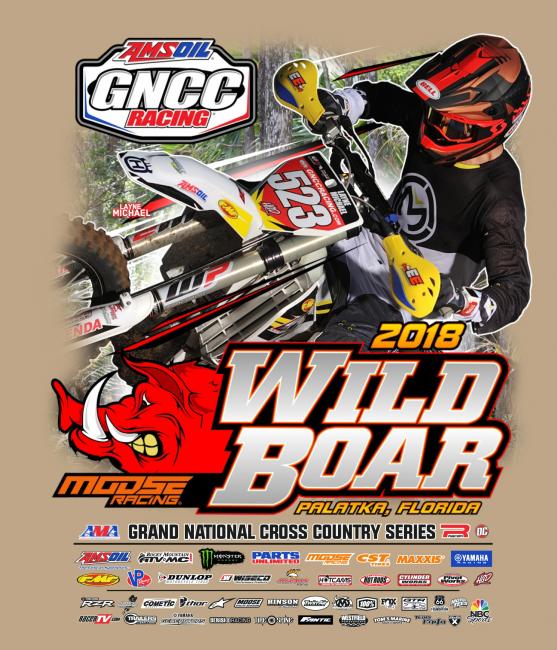 Get Your Wild Boar T-shirt This Weekend!
Be sure to swing by the MotoTees trailer this weekend and pick up an event t-shirt! Wild Boar features Jarrod McClure on the ATV shirt, Hunter Miller on the UTV shirt, and Layne Michael on the bike shirt. As great as they look on your screen, they look even better in person, so don't miss you opportunity to grab one!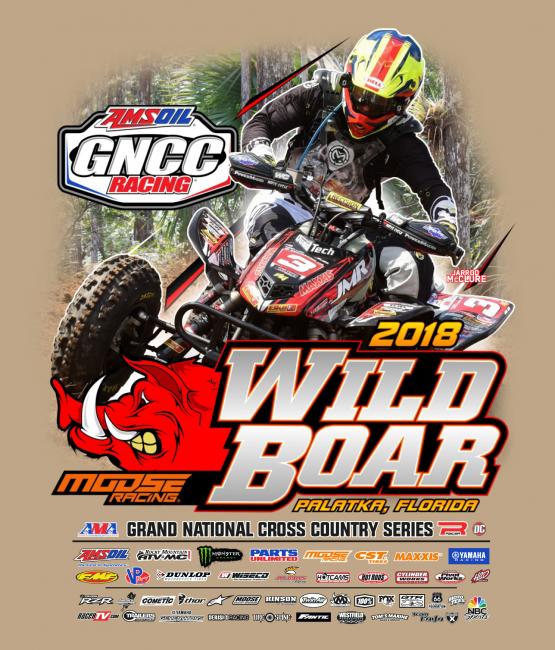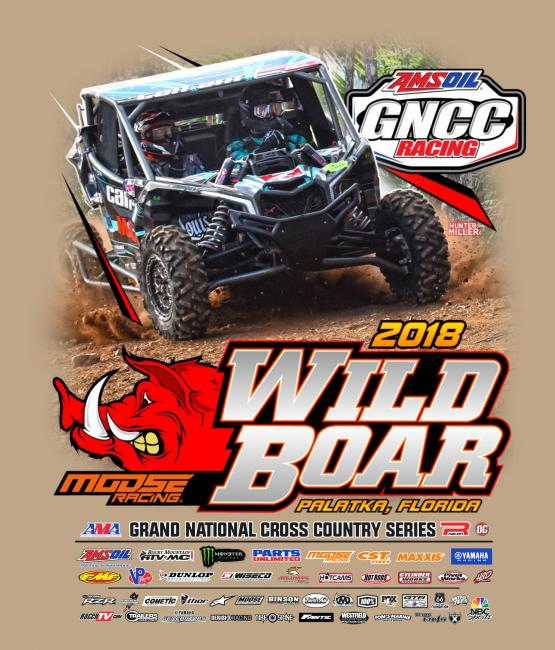 Special Events/Information for Wild Boar:

The woods are closed on Saturday from 4 pm - 6 pm for the UTV race.
Yamaha Demo Rides available Saturday and Sunday from 9 am - 5 pm
Moose Racing Dinner on Saturday from 5 pm - 7 pm
Quick Links: