Rachel Gutish
Time
Tuesday, February 13, 2018 | 10:15 AM
Stemming from the grassroots of family racing, Wiseco has over 75 years experience manufacturing pistons, whether it be for fun, weekend riding, or professional racing. Wiseco is one of the few manufacturers forging pistons in the U.S., providing quality and performance you can trust. 
Click here
 to see the latest Tech Tips from Wiseco.
Eric Siraton is a familiar face for anyone who hangs around the GNCC pro row on a regular basis He is the head mechanic for JCR Honda, and has been on the east coast running their GNCC program for over two years now. The 42-year-old from San Diego, California, is one of the nicest guys you'll ever meet at the track! I caught up with him to ask what a mechanic's "off-season" looks like, and learn a little more about his past and future as a mechanic.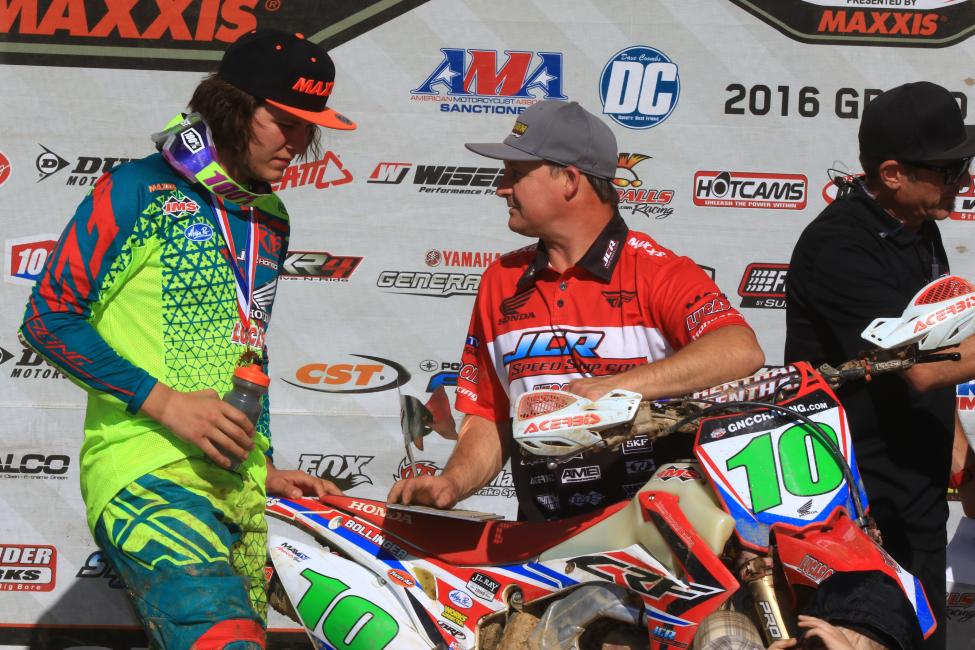 GNCCRacing.com: So Eric, who are you wrenching for this year?
Eric Siraton: I'll be working with Trevor Bollinger
And how many different riders have you worked with over the years?
Quite a few. I was the mechanic for Johnny Campbell, Steve Hengeveld, Kendall Norman, Quinn Cody, Robby Bell, David Kamo, Nick Brozovich, Timmy Weigand, Colton Udall, Andy Grider, Caleb Gossler, Todd Potter, Wayne Maddock, Chris Bach, Austin Lee, Jeff (OX) Kargola and Colton Haaker.
That's quite the list! Do you have a favorite rider that you got to work with over the years, or is it hard to choose?
Johnny would definitely be the most influential rider because of his knowledge and experience as a rider and as a mechanic. I was young when I was working with him, and still learning a lot about how to be a good mechanic and be as flawless as possible. A lot of my knowledge came from him and Bruce Ogilvie. Bruce worked in product development at Honda, and he was one of the reasons that Honda dirt bikes and ATVs were so good. But each of the riders I've worked for have their own little places in my career.
Where are some of the coolest places you've gotten to travel for work?
I've been to the ISDE with Trevor [Bollinger], and to the Global X Games back when that was running. For two years I did the Red Bull X Fighters with Todd Potter, and have been to the Dakar Rally twice. As far as countries I've been to, here's the list: Argentina, Peru, Bolivia, Chile, Morocco, Istanbul, Spain, Australia, Dubai, Japan, Baja California, Germany and Brazil. There might be a few more, but that's all I can remember off the top of my head.
That's awesome! What is one of your favorite stories from traveling overseas?
Being in Germany at the Global X Games. All the EnduroCross riders and mechanics would all hang out and go to the bars. All of us went to the Hofbrau House for lunch one afternoon which was a really great experience.
Did think you were going to be a globe-trotting mechanic growing up?
No, it wasn't even on my mind. I worked in the electronic industry and then with a specialized tubing company. My brother works for a company called Precision Concepts, and he needed someone to take suspension on and off the bikes. So I did that along with my full-time job at the tubing company. After awhile they needed someone full-time so I made the move and became a full-time mechanic.
Do you ever ride, or do you strictly work on bikes?
I do ride on occasion. Not as much as I would like though.
Most of us know what the "off-season" looks like for a rider. What does it look like for a mechanic?
Well, for me it's a lot different than it is for a normal mechanic. Generally a mechanic's off-season involves re-prepping the rider's bike, doing any other maintenance needed, maybe get old bikes refurbished to sell, and taking inventory of parts needed for next year. But it is hard for me to know though. Being on a small team like ours, we all have to do a lot of different tasks to fill in the gaps created by not having a lot of employees. Since I run the whole GNCC show now, that makes a difference as well.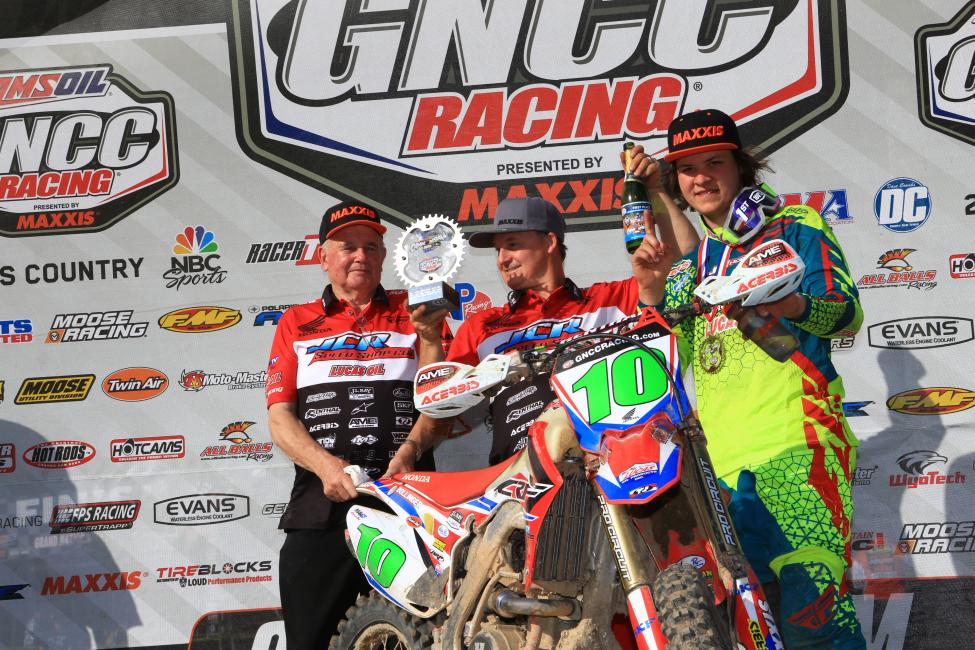 So what does your off season look like?
I organize the shop, do all of our parts orders from Honda and from all of the sponsors as well. I service the truck and trailer, and make sure the truck gets re-stocked as well. I fix up the bikes to sell when we are finished with them. I set up and schedule testing time, and make sure the bike set-ups are good. I also freshen up the practice bikes. And then I coordinate with Johnny to get any other tasks that need to be handled done. Stuff like that.
Sounds like you do pretty much everything! How long have you had that much responsibility on the team?
For about two and a half years now. I moved to North Carolina so it would be easier for me to handle. The first year I was flying back and forth from California and doing most of that.
Are you pretty satisfied with your job?
I am very satisfied with what I have been able to do over the years as a mechanic with JCR. But I also like to think that there is still more to be had in my life.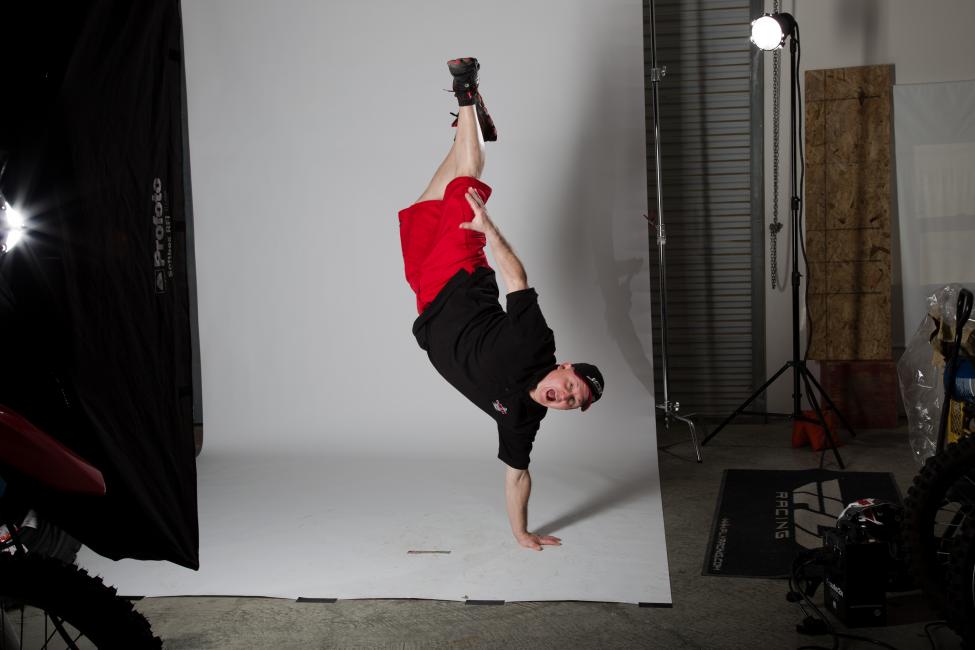 Is there anything in particular you see as a goal for yourself?
In the future I would actually like to try to minimize the amount of wrenching I do, and maybe take on more of a managerial role.
Are there any things that you would like to talk about that I haven't already covered?
The only thing I can think of is that I couldn't have done this without my amazing wife Cherlene and my three kids Ethan, Shane and Aubrey. They are very understanding and supportive of my career
Is there anyone else you would like to thank?
Yes, I would like to thank Johnny Campbell, Bob Bell from Precision Concepts, Brother Mark from M&M Off-Road, and the late, great Bruce Ogilvie.