Rachel Gutish
Time
Tuesday, December 5, 2017 | 1:05 PM
Stemming from the grassroots of family racing, Wiseco has over 75 years experience manufacturing pistons, whether it be for fun, weekend riding, or professional racing. Wiseco is one of the few manufacturers forging pistons in the U.S., providing quality and performance you can trust. 
Click here
 to see the latest Tech Tips from Wiseco.
Jason Thomas, originally hailing from Machylleth Pow, Wales, United Kingdom, is a multi-time GNCC champion. The 34-year-old's most recent title is in the brand new FMF XC3 125 Pro-Am class, with two previous titles in the XC2 250 Pro Lites division. This will also be his last GNCC title in a premier class, as he has recently announced his retirement from full-time racing. Expect to see him around though – he does not plan on returning to Great Britain, but will instead remain in Charlotte, North Carolina and focus on his riding schools, while perhaps occasionally hitting a GNCC.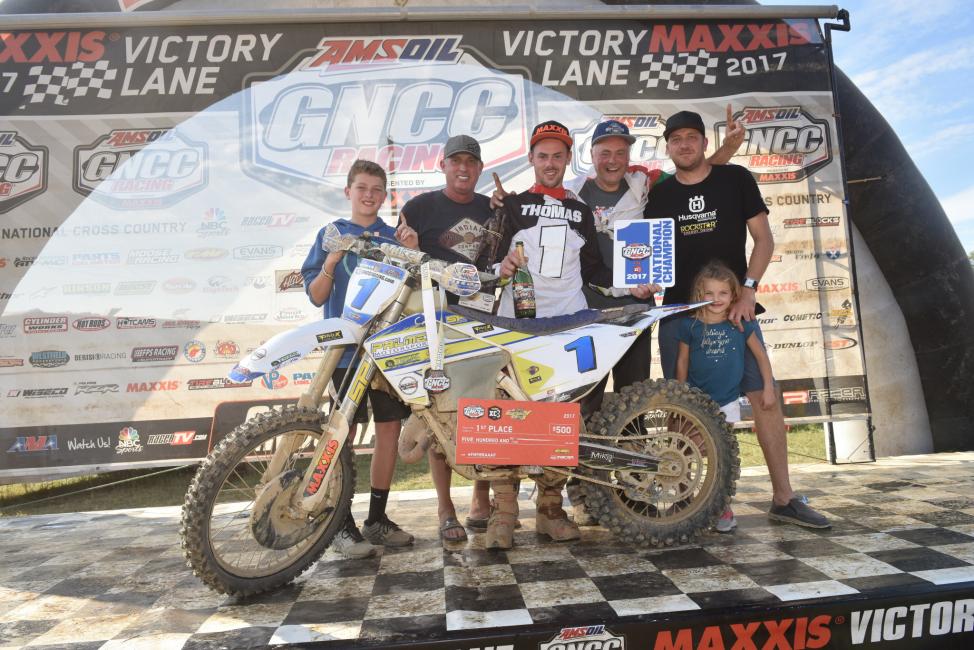 GNCCRacing.com: So Jason, how long have you been doing GNCCs, and when did you first come over?
Jason Thomas: My first year was 2008, when I was 26. I won my first ever race in XC2, at Yadkinville [South Carolina], and ever since then I've been competing in the series.
That's pretty impressive, to win your first GNCC in a pro class like that! What type of racing did you do back in Great Britain before you started competing in the states?
I did enduro-style stuff, which is more like a World Enduro than the type of Enduros you do here. I did some cross country racing, but not a whole lot. Maybe a year or so of it before I came over here.
And how did you get started riding and racing in the first place?
My dad was always involved with the racing scene, and he bought me a bike when I was six. We went trail riding a lot, I grew up in the forests of Wales, basically. So that's why I did mostly enduro racing. I did progress to riding a little bit of motocross and then one year when I was getting ready for motocross season, I decided to go try a hare scramble. I actually lead the whole thing, and then later the Honda factory team in Europe picked me up. That's really where the off-road thing began.
Now that you've retired from the GNCCs and full-time racing, do you plan on returning to Wales or will you stay here in the United States?
No, I'm definitely going to stay in America. I plan on focusing on my riding schools and …. yeah, I'm still going to race too, just not as a career. I'm still going to race for fun, and do our local series and probably some morning races at the GNCC. I'm still going to be involved with the sport.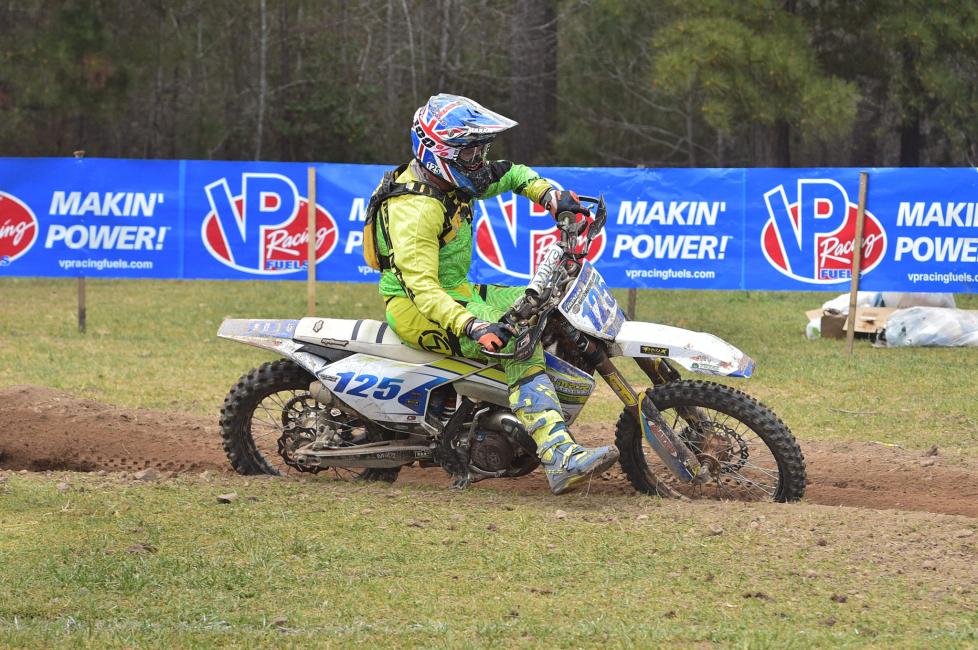 That's good to hear! So, you've won several championships now, and all of them were in XC2 correct? Why did you prefer the XC2 racing so much?
Yeah, I have two XC2 championships and now this XC3 championship, yep. The way the whole XC2 thing really came around for me was that when I came to America, you needed to ride it in order to progress to XC1, so that's what I entered in. Eventually I won a championship in XC2, but I was already 28-years-old when I won it. So, I was already too old to be able to get hired by a factory team by the time I had actually won in XC2. It wasn't really an option for me to move up since I couldn't get a spot on a team. So that is why I tried to stay in XC2 for the remainder of my career. The rule change obviously happened [an age limit was set for the XC2 class], and then they started the XC3 class, so that's where I ended up. It wasn't exactly what I wanted to do, but it was where I was forced to compete by the circumstances.
So what do you think of the FMF XC3 125 Pro-Am class as a new development for the GNCC series? Do you consider it a positive thing?
Yeah, I think that the XC3 class is the perfect class for a kid coming out of the minis [who wants to go pro]. That is the class they should be moving up into. It's called a Pro-Am class at the moment, and I think there's a bit of a …. they're a little bit skeptical because they think there's going to be a bunch of pro riders in there, so they don't think they're capable of running the class. But realistically, that's a stepping stone class. The bike is a 125cc and if your goal is to be a pro racer then XC3 is the stepping stone up from the minis to the pro classes. So I think it is going to be a really good thing and next year you're going to see a lot more kids riding that class.
I know that over the years you've been a bit of a somewhat controversial and outspoken figure at times. Do you think you're leaving with a good legacy?
I feel like I'm leaving with the legacy that I wish to leave with. I don't have any hard feelings for anybody and I've always said my piece when I felt like it needed to be said. I think I've been understood by some people, misunderstood by others, and I don't think there's anything wrong with that. I have no bitterness and I know who I am as a person. I do think that those who have misunderstood me over the years, if they took some time to get to know me a little better, they would realize that I am a good person too. I'm walking away with my head held high. I'm no superhero, I'm not someone special, I'm just me. I think I relate to the average rider more than the pro riders or wannabe pro riders, and I'm okay with that. That's where I came from. Those are my roots, and I've felt like I have always stayed true to them, and I'm happy to go out like that.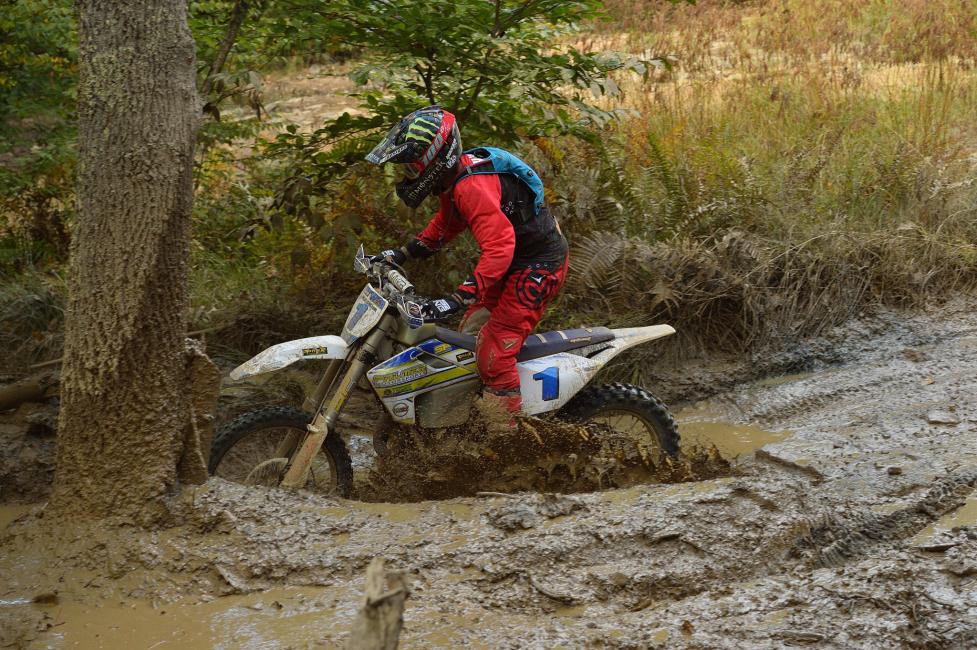 And what made you decide that it was finally time to walk away?
I don't know really – there were a bunch of things. I don't really have the drive or desire to want to keep doing this week in and week out at the level we do. Financially, I can't make the money that I was making before, I have bills and overhead that I need to cover, and I'm not able to cover that riding the XC3 class or pull it in from sponsors right now. Finally at 34-years-old I have finally reached a point where I want to focus on other things, and don't really have a choice but to do that at any rate. A little bit forced, a little bit voluntary, but this is the right thing to do and I'm ready for it – I'm walking away from it when I want to walk away.
Last question, who would you like to thank for all of these successful years?
There's a huge list of people to thank over the course of my career. Right from the beginning of my career, I have to thank Fred Andrews for picking me up. KR4 for picking me up after that, Shane Watts as well, and now this season Palmer Motorsports for sponsoring me in the XC3 class. I also want to thank the sponsors, you know, bike sponsors, product sponsors that have been with me throughout my career. Maxxis Tires, 100% Goggles, TCX Boots, Moose Clothing, DP Brakes, Mika Metals and Chains, DT1 Air Filters, Moto Seat, and Stickman Graphics. Lastly like I said at the banquets, I want to thank GNCC as well for providing me with a platform to base my career off.