Rachel Gutish
TimeTuesday, September 12, 2017 | 5:35 PM
Stemming from the grassroots of family racing, Wiseco has over 75 years experience manufacturing pistons, whether it be for fun, weekend riding, or professional racing. Wiseco is one of the few manufacturers forging pistons in the U.S., providing quality and performance you can trust. 
Click here
 to see the latest Tech Tips from Wiseco.
Meet Thomas Levesque, the oldest rider currently pursuing the full GNCC series. Thomas hails from Derry, New Hampshire, and has been riding for roughly the last 50 years. Grandparent's Day was the same weekend as Unadilla this year, so I thought it was timely occasion to talk to a rider who is old enough to be the grandparent of any youth rider out on the course (and in fact has several grandchildren who race). Despite having recently turned 71, he has been to every GNCC this year and is currently leading the Elite Masters (65+) class. On top of that, he is heavily involved in his local racing scene – president of a local motorcycle club and the longest continuously competing racer in the NETRA series.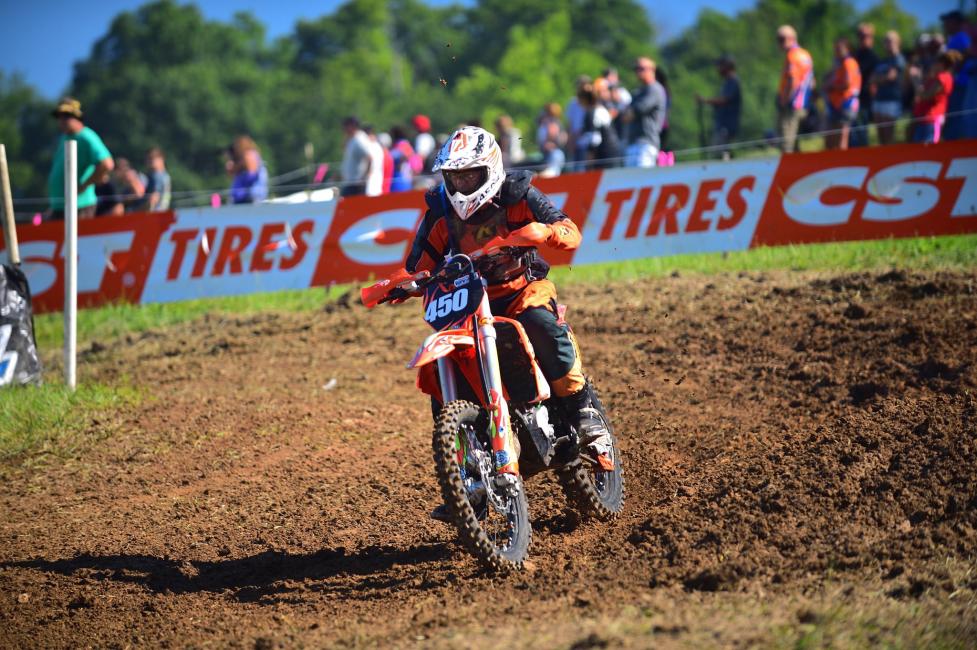 GNCCRacing.com: So from what I can tell Thomas, you are actually the oldest racer competing in the full GNCC series this year. Congrats on outlasting the competition!
(laughs) Thanks!
How was your ride Unadilla last weekend?
I finished, so I was happy… well actually, I wasn't as happy with my ride as I would like to have been. You know, if you're going at 100%, you're happy. If you're at 90%, you wonder why that happened and you're not quite as happy., so that's where I was.
Was the 10 a.m. race packed as usual?
Yeah, there was seven hundred and twenty riders I think. I know it's hard for the really aggressive and fast riders because they're always into lappers. For guys in my position it's rough too. In a normal GNCC or any scramble really, the fast guys catch us about 20 minutes in and maybe again on the last lap. But at Unadilla there's always a fast rider coming up on you real hot. Some of them are courteous – others not so much. It's different, but you take them as they come. You know, Unadilla was actually my first GNCC, years ago.
Really?
Yeah, I did it with my son the first year they had it out there, back in 2005. He was big into motocross at the time, so we decided to go and ride it, just because it's such a historic piece of ground. I mean, everyone wants to ride Unadilla! We did it last year too, and then of course I did it this year as well.
So have you been riding the GNCCs since 2005?
No. After I did that first GNCC at Unadilla, my son and I didn't do another one for about six years, when we did the one down in Florida. I started doing the whole series when my son suggested that the two of us go do the first two GNCCs last spring. He decided that he would do some more, but then work started to interfere and he couldn't keep doing them. But I'd already started doing them, so I figured heck, I might as well keep going anyway! My wife and I did all but one of them last year, and we're planning on doing all of them this year.
Does your wife ride?
She doesn't ride, but comes to all of the races with me and is my biggest supporter. She kicks my butt, and to be honest, I think that she has more competiveness in her than I do! My son, oldest daughter, and my two grandsons ride though. They're all faster than I am!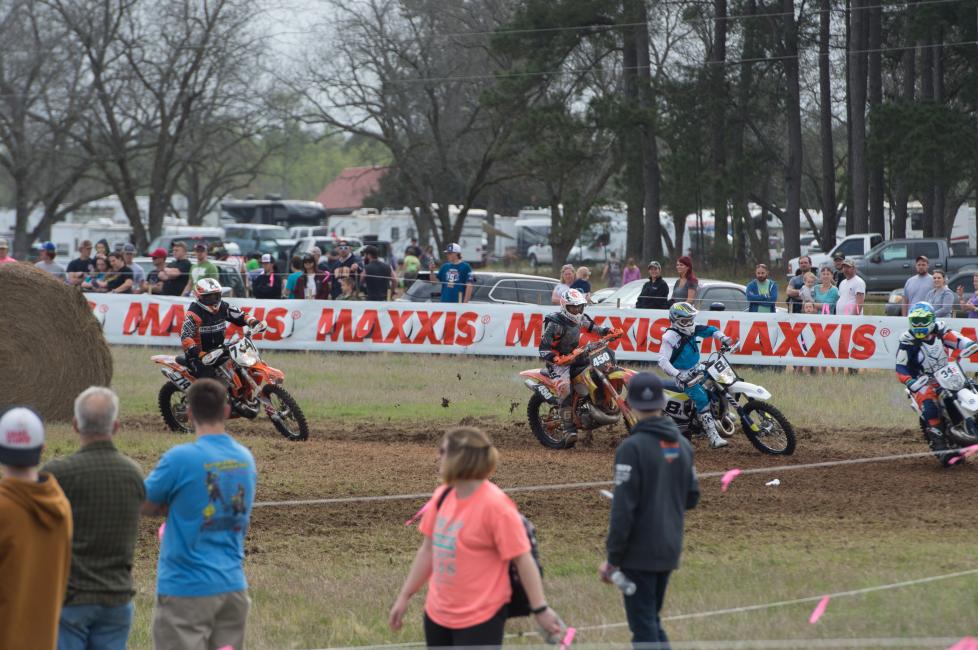 Where were you racing prior to the GNCCs?
Around '75 I started doing NETRA Enduros, back before they had hare scrambles. When the scrambles came along I started doing them too. Right up through now I've done a little bit of everything. Basically I consider myself just a trail rider, not a big time racer or anything. But that being said, I am the longest continuously competing individual in NETRA (from back then up till now), which is kind of interesting.
That is pretty cool! Now let's back up a bit though. How did you get started riding in the first place?
Well, I didn't start riding until I was in my late 20s, back in the 60s and 70s. Trail riding and off-road racing wasn't quite as popular as it is today. Interestingly enough, when I was over in Vietnam, I actually had access to a Honda Scrambler 250cc. So, this Korean fellow owned two of them, and he and I, or whomever was available at a given time would take the bikes out on the back roads. So that was the beginning of adventure bike, rally riding stuff for me. Back stateside, I ended up in California, in San Bernardino. I had a Honda Superhawk 305cc, that I would take out to the sand dunes, and that was my first real taste of off-road riding, even though it was on a street bike. Though I'm originally from Maine, when we made it back east we settled in New Hampshire. In about '72 I helped organize a club here called the Merrimack Valley Trail riders ( http://www.mvtr.org/ ), and I've been president of the club off-and-on for 30+ years. I'm also vice-president of the New Hampshire Off-Highway Vehicle Association. That one is ATV's and trail bikes. So I'm pretty heavily involved in our local clubs and such.
I checked up on your results, and saw that you are leading the Elite Masters (65+) class, and have won three races this year – Snowshoe, X-Factor and John Penton. The X-Factor was a mudder and Snowshoe is known to be challenging. Do you prefer these more technical races to the faster and easier ones?
I do. Coming from New England and doing our hare scramble series here means that I'm more used to the technical riding. Most of our stuff is much more difficult. If you take the harder sections of a GNCC, sections of that difficulty level make up about 80% of a NETRA hare scramble. I rarely, if ever see fourth gear. NETRAs are good practice for the endurance side of things as they're closer to two hours, but as far as the trails go, the best practice for GNCCs is the J-Day series. For those who haven't heard of it, it's about 80% motocross and 20% woods, with two twenty-minute long motos.
Do you do any off-the bike training at all? I'm guessing it's a lot harder to ride a two hour GNCC at your age, I didn't know if that would be helpful.
Time is my limiting factor to be honest. A couple of guys in my class, I know they mountain bike and do other things like that, but me not so much. I mostly just ride. A group of us always get together on Wednesday nights to go ride, but to be honest that's more of a social outlet than actual practice. Although if you're on the bike at all, than you're getting practice, I suppose. Back to off the bike training though – do I go to the gym? No. Should I go? Maybe. But there's too many other things in life that are fun to do or that have to be done. Now for an elite pro racer, if you're getting paid, you better be out there practicing. But for a recreational guy like me, not so much.
What's your biggest piece of advice for younger racers to hope to stay in the sport as long as you have been?
There's two things really. You have to have a support group and you have to have fun. If you don't have parents, an uncle or even a neighbor, someone really close to you to support you, you're going to struggle. I'm not just talking about supporting you financially either, though that matters too. There's a lot of moral support and backing that goes into it too – giving the kid the right directions, finding those people who can help people along. I mean look at all the riders who have the ability and have the talent, but didn't have the money or the help to take them riding and racing. The other thing is that you have to have fun with this. That's the whole point. If you aren't, no matter how good and fast you are, your lifespan in racing or riding is going to be short.
Speaking of the fast guys, what quality do you respect the most in the top-level riders?
Well, I'd like to go local here for a minute, and talk about Ben Kelly and Josh Toth. Not only can those kids ride, but they are the best kids you'll ever meet. Those are the kind of riders I respect the most. Not just because they have the ability, and my hat is off to those who have the ability, the Kailub Russell's of the world, but because those two have humility and respect others. They'll sit down and have a conversation with anyone just as though they're normal guys. That's really what I respect the most in the top riders.
What is one of your favorite stories to tell about riding or racing? This can be something you did or something you saw – just one of your favorite pieces of personal history.
There's a couple of good stories. The first one: back a few years ago when we had ATVs, my son and I were at a race. He and another guy come up from behind me and lapped me. And then I had an idea. So with World War II, fighter jets, one would get up behind the enemy to distract them from shooting down your buddy. So I decided to try and do the same. I rode as hard as I could for as long as I could right behind the other guy, trying to get his mind off of chasing my kid. It even seemed to work, which we thought was pretty cool.
Another one was when I did Colorado 500, which was a really cool experience. There was this one section where the trail was about three and a half foot wide. On one side, you have a sheer rock wall on your right that your handlebars are scraping along. On the other side you have a 700 foot drop – about two foot step downs every eight feet or so - that looks out over the town of Ouray, I think it was. I looked down once at those drops, said "screw this!" and ended up backtracking to take the long way around. I was so scared, and yeah, I bailed, but maybe decisions like that are why I'm still here riding at 71 years old!
Going way back – of all the riding that I've ever done, there was one enduro up in the pine tree state (Maine), that sticks out as the toughest race that I've ever done. I remember when I finally got off that bike, I was so tired that I couldn't even stand. I just collapsed and laid there. Of course, this was back in the days before Gatorade or eight inches of suspension travel too.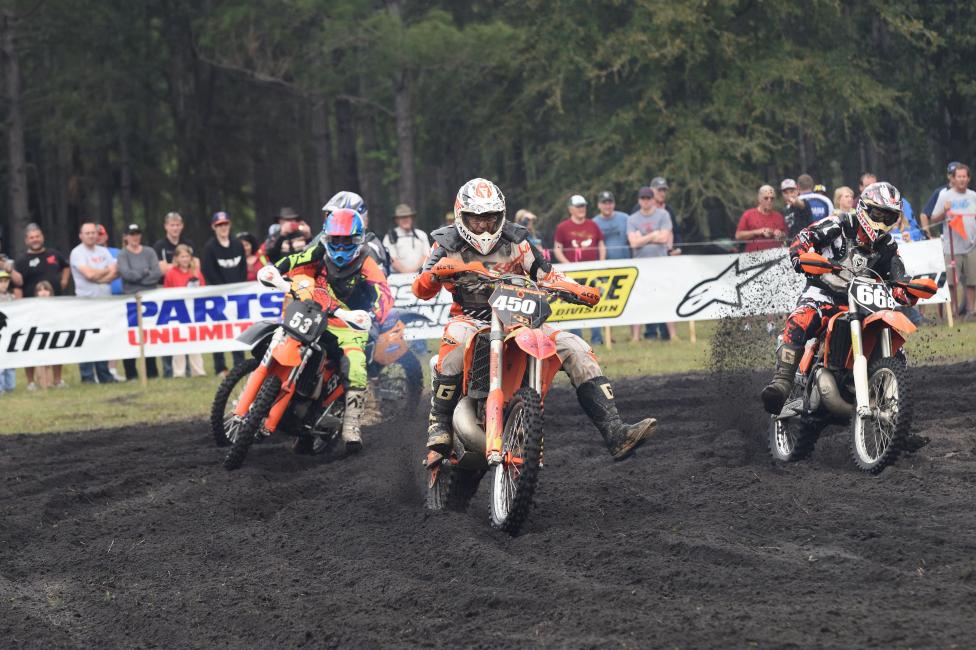 Well, I'm very attached to my eight inches of suspension travel, so I'll have to take your word for it! Last big question for today: What inspires you to keep racing?
Just doing something different, I would say, but also and more importantly being around all the other racers I've – well maybe not grown up with, I've been grown up a long time, but being around all the people I've matured with over the years, and spending time with my family. My children and my friends are all doing this, which is the main reason I continue to as well. A typical weekend for us back here in New England looks like this: We all meet up and leave for the race Friday night. My daughter and one grandson will race on Saturday. That night we'll camp out, have a big racer family supper, hang out and drink whatever you want to drink. Then Sunday, my son, the other grandson and I race too. I'd be willing to bet if it wasn't for my family being involved and this wasn't a family affair for us, I would have been out of it awhile go.
As long as you've been riding, I'm sure there's some people out there you would like to thank?
Of course! I'm not a media guy, I don't do social media, so it's good to have an opportunity to thank some sponsors. But first I want to thank my wife Donna. We've been married 50 years now as of last Saturday, so I'd like to thank her for her 50 years of patience and support! I want to thank my family and my race family too, for letting an old guy like me hang out with them on a Saturday night (laughs)! Now for the sponsors: Factory Connection has helped myself and my son since back when we were doing Loretta Lynn's, so I'd definitely like to thank them. FMF, as you probably know, has supported so many riders at so many levels, and I want to thank them too. SIDI this year, Rekluse too, they've both been gracious to me. And then Sunstar, Twin Air, and locally, two shops, Motorbikes Plus and Freedom Cycle, they do a lot. Not just for me, but for the sport as well. I'd also like to give a shout-out to all the other weekend warriors out there who make the sport what it is and give me people to ride and race with every weekend.