Rachel Gutish
Time
Tuesday, August 1, 2017 | 2:55 PM
Stemming from the grassroots of family racing, Wiseco has over 75 years experience manufacturing pistons, whether it be for fun, weekend riding, or professional racing. Wiseco is one of the few manufacturers forging pistons in the U.S., providing quality and performance you can trust. 
Click here
 to see the latest Tech Tips from Wiseco.
Brandon Icard is a 19-year-old XC2 Pro-Am ATV rider and college student from Hickory, North Carolina. Though fairly young, he has already reached his biggest goal in racing – an XC2 Pro-Am class win at America's Toughest Race. Along with his win at Snowshoe he also finished an impressive twelfth overall. We caught up with Brandon to see how his season has been going.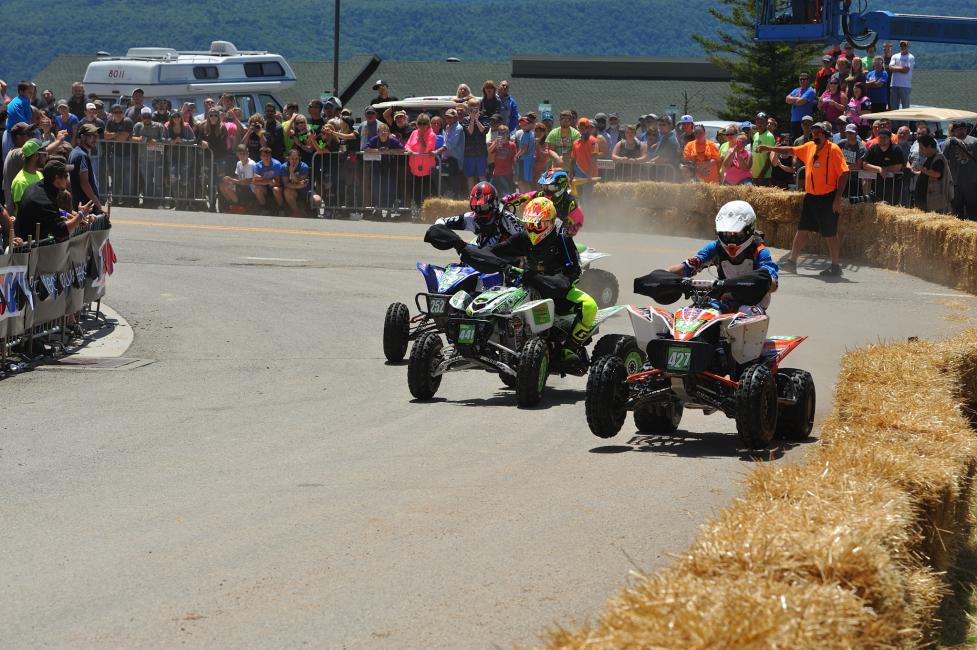 GNCCRacing.com: Hey Brandon, since we've never met and someone else suggested you as a good Tuesday Toolbox candidate, why don't you start off by telling me a little bit about yourself?
Brandon Icard: Sure. I'm 19 years old, and this is my eighth year racing, fourth year running the full GNCC series. I'm a full-time student at CVCC [Catawba Valley], which is our local community college in North Carolina. I also work part-time at Derisi Racing.
Cool, what are you studying there?
I'm taking welding classes. I'll be finished with my Associate's Degree in December. I'm hoping to get a job as a pipe welding job as soon as I graduate. I wish I could stay at Derisi, I have a blast working there every day. But I'm looking more toward my future after racing. You have to grow up sometime.
How has racing XC2 gone for you? That's a pretty stacked class, and it has to be tough balancing that with school and work.
It's been a pretty decent year. So far I've done better than I thought I was going to when I was first heading into the season. Right now I'm sitting fifth in class points; but I'm actually outside the top 20 overall, a couple bad races pushed me down. I'm hoping to get back inside that top 20 before the end of the year. And yeah, it is difficult trying to race, go to school, work and also prep your quad to race for the weekend – I do all the mechanic work except the motors. Doing all of this makes it very difficult to ride and train the way I should, but I try to make the best out of the time I have during the week.
I totally get it – I'm a college student as well. What was your best finish this year?
I had one win this year, at Snowshoe. That was super cool one. I don't know what it was, but I just had a good feeling all day about the race. I started out at a pretty good pace. When I got to the four mile marker, almost all the pros from the first row were there balled up. Unlike I usually do, I decided to be patient and wait for a line to open up. As soon as I saw a gap, I went for it and made it. I knew I was in a good position, since I passed all the pros but I didn't know exactly where. I got stuck in Howard's hole on my first lap, but a couple guys and I were able to pull it out pretty quick. After that everything went smoothly and I ran what I felt was a good solid pace. But I still didn't know how well I did until I asked Trevor Payne and some of the other guys there to cheer me on after the race. This is my best finish to date and I will never forget it!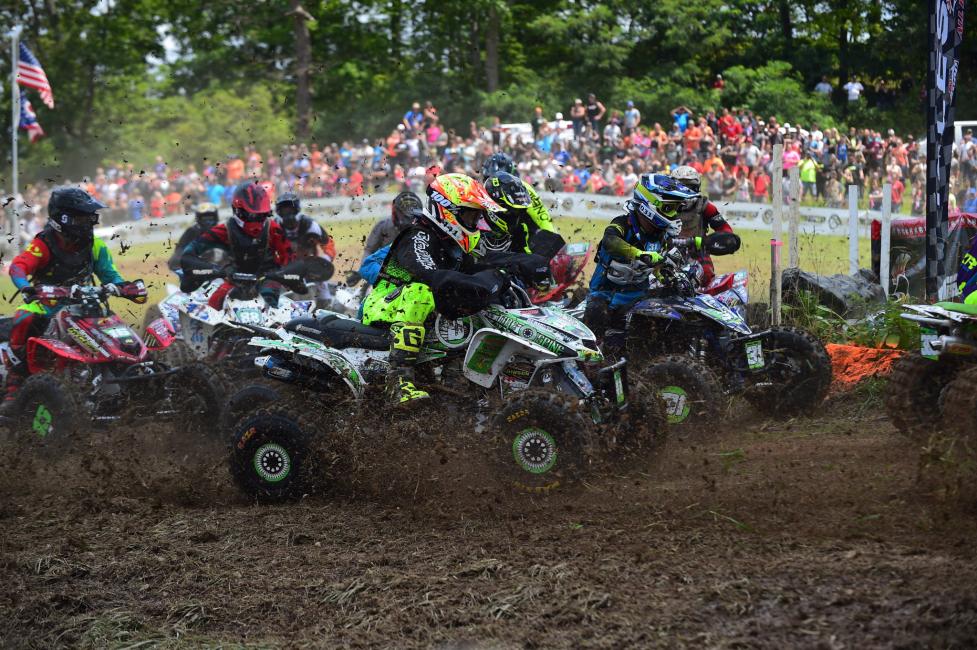 How did you get started riding?
My friend Colton White that I went to school with, used to race and I would sometimes go to some of his races to watch. I eventually started racing, and then going to races on my own. After my first time racing, I haven't missed many since. So him and his grandpa, Mark Pitts, were the biggest influence in getting me started racing.
Did you start out racing GNCCs, or did you do local races at first?
My first-ever race was actually a GNCC in Georgia. The first few years I only did some of the close GNCCs, and mostly just ran my local series – the Mid-East Hare Scrambles Series. 2014 was my first complete GNCC season, and I raced in the College B class.
I know you are more focused on your future outside of racing, but do you still have any racing-related goals?
I have actually already achieved my biggest goal, which was to win an XC2 Pro-Am race! As far as goals for finishing out the season, I would like to win at least one holeshot award and get back into the top 20 overall. But the biggest thing is that I want to have as much fun as I can finishing out however much racing that I have left.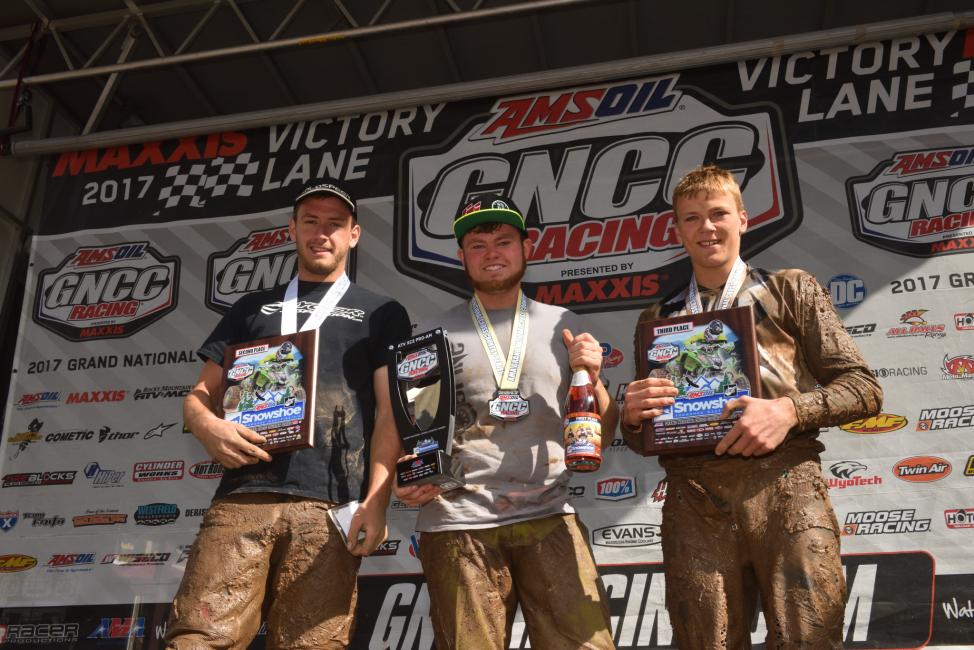 Do you plan on at least racing part-time once you get started working full time, or will you actually be done? Like really done?
I'm building a new quad for next year, just in case I get the chance to hit a GNCC that's close or so I can run some of my local series. Since I'm not sure where I'll be working or what the schedule will be like, it's still up in the air how much racing I will get to do next year.
Well, I hope that things work out well for you! Thanks for taking the time to do this interview. Who would you like to thank?
First off I want to thank my dad for everything that he's done for me. If it wasn't for him, none of this would have been possible for me. He's behind me since the beginning and I'll never been able to thank him enough for that. Next I owe him a thank you to the rest of my family and my sister Alexis and my grandma for all of their support over the years. I also owe Derisi racing a huge thank you for helping me take my racing to another level this year. Suspension, motors, bike set-up or help with pitting, they're always there for me. Also, I want to thank all my friends who have been cheering me on throughout my racing career: Mark and Brenda Pitts, the Miles family, the Webb family, the White family, the Repass family, the Dawson family, the Guitier family, Rick Zhorne, Daniel Webb and the SBR team, the Gandy family, the Wright family, Trevor Paine, Mark Walker, Combs PowerSports, the Mid-East Hare Scrambles Series, Tirespine, Spider Graphics, Maxxis Tires, HMF Exhaust, Fasst Flexx, QuadTech, Houser Racing, 100% goggles, Cycra, Leatt, IMS, Sunstar, Pit Posse, Glann innovations and Alco Cleaners.