Rachel Gutish
TimeTuesday, July 11, 2017 | 5:00 PM
Stemming from the grassroots of family racing, Wiseco has over 75 years experience manufacturing pistons, whether it be for fun, weekend riding, or professional racing. Wiseco is one of the few manufacturers forging pistons in the U.S., providing quality and performance you can trust. 
Click here
 to see the latest Tech Tips from Wiseco.
Graham Widdicombe is an Englishman who has been racing 4x4 ATVs in the GNCC series for the last three years. He currently is competing in the 4x4 Senior class, and recently took his first-ever GNCC win at Snowshoe a few weeks ago. It was definitely not smooth sailing, but he got the job done. I gave Graham a call not long after The John Penton GNCC, to ask about Snowshoe and follow up on some of the things he talked about in his previous Tuesday Toolbox back in 2015.
GNCCRacing.com: Hey, Graham, how did this weekend go for you?
Graham Widdicombe: Not to plan, actually. It was quite wet; we had some heavy downpours and some nasty storms. The track was very slick, around mile marker six my engine temperature went through the roof and my machine started to steam. I had to pull over because we didn't want to risk blowing the engine up.
On the bright side, I hear you had a much, much better time at Snowshoe a few weeks ago?
Yes, I'm looking at my trophy up on the mantel right now, actually (laughs). Snowshoe was always my favorite race. I like the hard races, the more extreme ones. Everyone is fast in a straight line and anybody can race through hedge-running. in the easy stuff. I think that every GNCC we go to is different, but Snowshoe is special.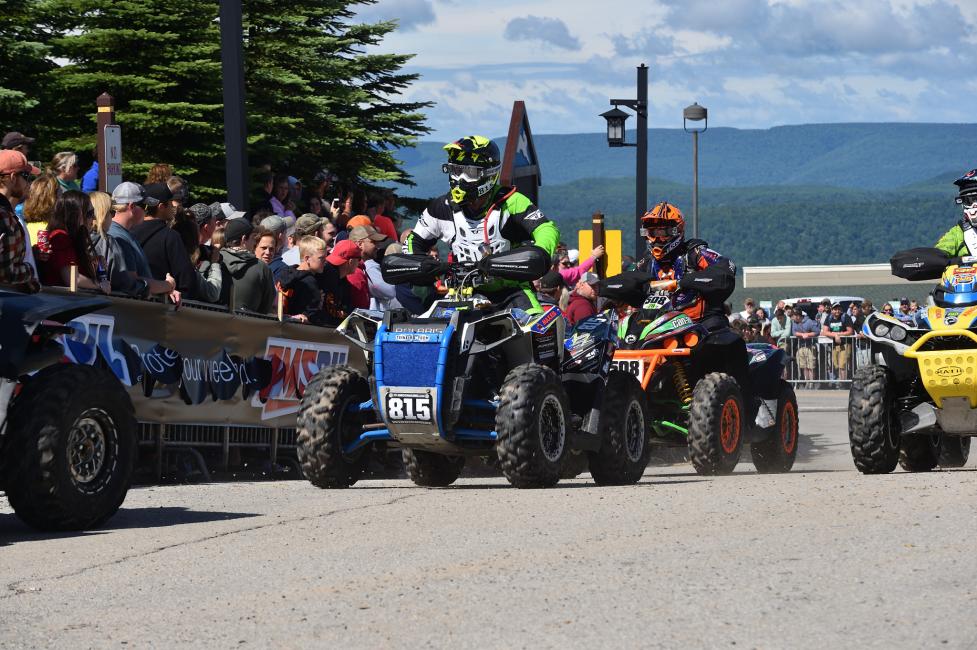 Indeed it is! But I'm guessing your path to victory was no smooth ride; that's almost never the case at Snowshoe….
It was not! But I've always gotten on well with Snowshoe, my best ever finish was there, third overall in the AM race. This time it wasn't nearly as easy. There's really some racing royalty in the class I'm in now, real legends of the sport. Lining up against them, you know you're going to have a lot of work ahead of you. I was second at the beginning, but within a mile, Bobby [Ousley] threw up a stone and hit my kill switch. A good friend of mine named Steve came running out of the crowd, and we noticed that kill switch had been knocked off, and that's why we couldn't get the motor running. In the meantime all my class plus the next row had gotten around me.
Did things get better after that?
Not yet, I had more problems on the first lap. Around mile marker nine, there's this long straight then a turn, and there's this little nip you hit – I think it got a lot of riders, actually. I took off of it at about 30 miles-an-hour, then nose-planted into a rock. Totally destroying the front-end as it happened. The bumper assembly, the grills, all that was just hanging and about four miles later fell off. On impact I just slammed into the bars – my chest and stomach looked like a bruised fruit salad, and at the time I thought I'd cracked ribs. It's probably the biggest hit I've ever taken while racing.
But you were still able to recover to take your first GNCC win!
Yes! After a few minutes when the pain started to ease up a little bit, I was able to get my head back in the game. We managed to work our way back up through the classes, because by then I was pretty far behind. By the time I made it to the front of the class, I had no idea that I was in the lead at all. By the end of the race I was in such a state, I just collapsed and laid there. Then all the sudden, my wife comes running over, all excitable, yelling "you've won, you've won!" I didn't believe her, and made her go check at the scoring tent twice before I did! I couldn't see how I'd won, but then when we checked the lap times, I saw my last two laps were actually the fastest of the whole race. I just couldn't believe it. I just tried to ride smart, and made good line choices through Howard's Hole, and I was lucky enough to be able to work my way through the bottlenecks quickly. It was especially exciting to me because I think I'm the first Englishman to ever bring home a win in the 4x4 class. I think there's been a few in the sport quad classes, but never the 4x4's.
So, the last time you talked with GNCCRacing.com, you said that ATV racing back in England had started to pick up following your trip over to the U.S., and possibly because of it. Is the sport still healthy and growing across the pond?
Massively! I mean, I never thought I would see the English ATV racing scene develop the way that it has. When I started to pull away from racing in England [to come to the U.S.], there would only be four or five, maybe six of the 4x4's on the line. Now, I went to a race a few months ago and there were almost thirty of them. The grids are almost full all the way across, and I never thought that I would see that happen. There's a massive rejuvenation of quad racing in England at the moment. There's several new clubs, such as Raw Off-Road and Dragon Racing Club, and old clubs are seeing more members as well. It's really exciting times for quad racing in England right now.
Sounds like it! Now, you personally got into quad racing in a bit of a roundabout way, right? You started off on motorcycles and then got hurt?
Yes. I used to race enduro bikes in the British Enduro Championships. When I was 31 years old I had a pretty nasty accident while practicing – I broke my arm, forearm and back of my elbow in ten places total. I had about 18 months off because it just wouldn't heal and they couldn't do surgery on it. Right before the accident, I had just moved up to the championship class, which is about equivalent in rank to the XC2 class, but without the age limitations. I tried to come back from the injury but I couldn't ever get back to where I was before, and I realized any chance I had at fame or success racing bikes was over. Unfortunately, it was not to be.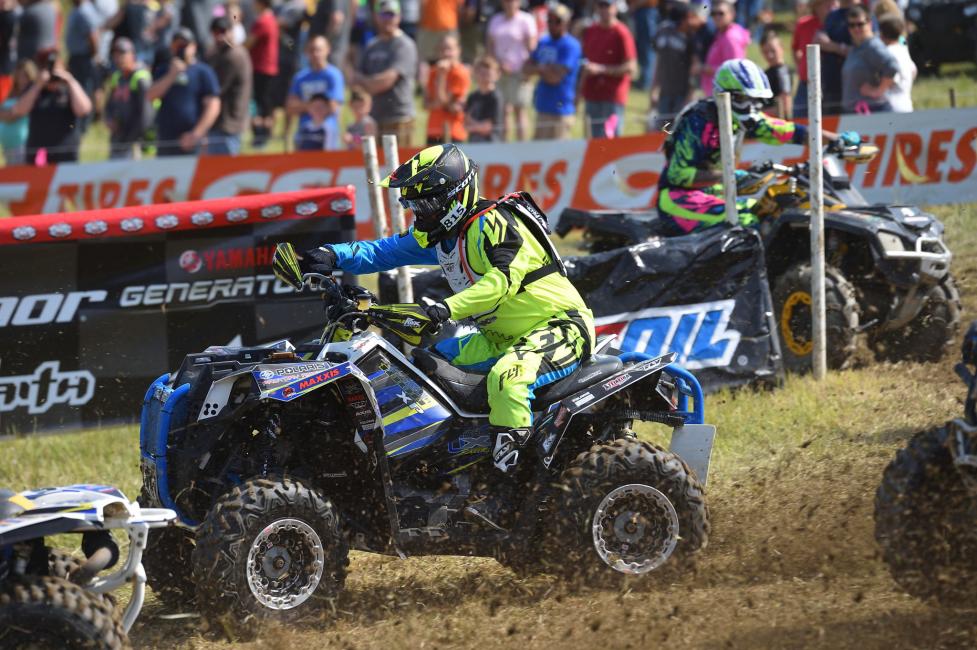 But it seems to have worked out well for you in the end, as far as the ATV racing is concerned.
Yes it did! But at the time when Michael Swift and I worked it out for me to come over in October of '14 for the Ironman, I saw finally getting to do a GNCC as kind of my last big ride. I was planning to retire and had considered maybe doing the Aquacross racing on jet skis for fun afterward. When I actually competed though, I was racing against legends of the class and was lucky enough to avoid most mistakes, led the race for awhile, and ended up third. On the basis of that Michael and I worked out a deal for me to come ride the full series in 2015. You know, the GNCC is kind of what everyone around the world looks to. I've raced in lots of different countries, done lots of different things, but GNCC seems to be in a different class. I learned a lot in 2015, and tore up my machine a lot too, but I was heading in the right direction. I was fourthlast year and at the moment I'm sitting third in my class.
You just said that you've raced in several different countries. Where all have you been?
I raced in Spain, up in the Pyranees [mountains], back in my enduro bike days. I raced in Romania, on parts of the Romanics course as well. That was definitely the hardest thing I ever did on two wheels! I've done a couple of other races like the Welsh Two-Day, up in Wales, but that one was the hardest. As far as stuff outside the U.S. or England, one of the races I would love to do now is one in Australia called the Phink. Not many people seem to know about it, but it's a three to four day race through the Australian outback. It looks to be a fantastic race!
Chelsea Taylor was telling me that your wife actually lives in the United States full-time now, right?
We are, yeah, in fact, we're setting up our apartment at the moment. We just drove back from the Penton this morning. We're in a place called Huntersville, North Carolina, which sits on Lake Norman and is absolutely beautiful, near Charlotte, North Carolina. My wife Becky, was working for an American company with offices in England. When they found out we were racing over in America, she got the opportunity to come over and work for the same company, but in the U.S. office instead. We talked about it and she took the chance. My wife and I, we don't believe in sitting still long, we like to seize every opportunity. So here we are at a temporary apartment in the U.S., looking for some property to buy.
That's very cool! Do you plan on immigrating permanently, or do you see this as more of a temporary stay as well?
The one thing that these last three years has taught us is that you never know. Going back to that first race, so much has happened since. Did I think I'd be racing again, or still be racing, or get to do the GNCC's? And then I never thought that all the sudden I'd be living in a different country pursuing that dream? Of course not. We fell in love with the country, I don't see how anyone could not love America! And the people that we've raced with here are our friends, they've become good friends to us. We've even been on holiday now with some of our racing friends. So to live here is very easy. In fact, we're going to pick up our green cards as we speak. We'll definitely be here between five and ten years at least, and we'll see where it goes.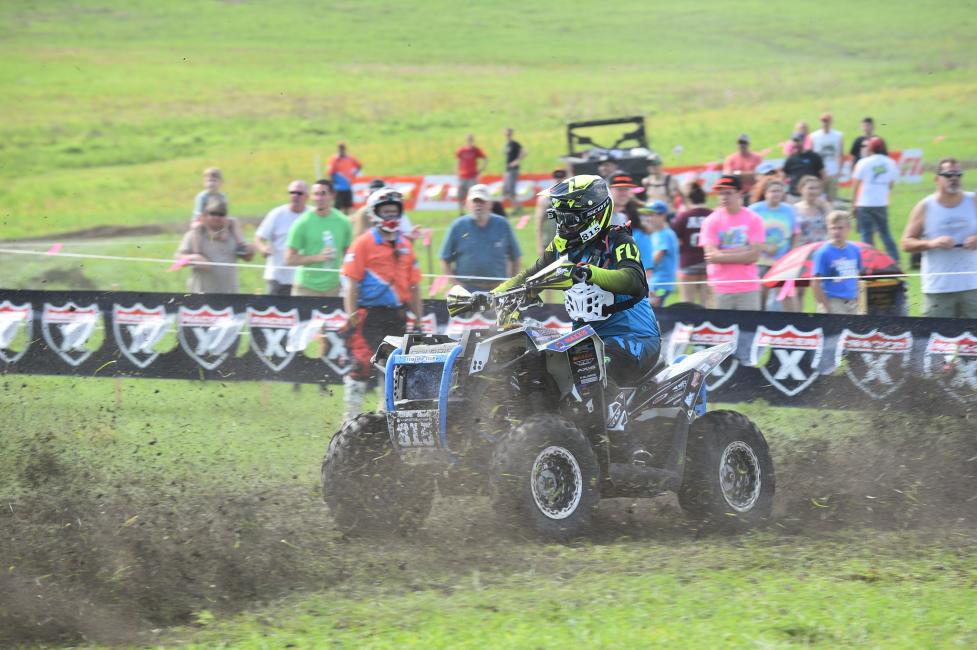 I know you own your own business with a partner over in England. Will you stay involved with that, or will you do something over here?
Well, I've worked with the same business partner for the last 25 years. We started up when we were teenagers, really. I'm still working in the business, but around Christmas … well, between now and Easter-time, I will pull away from the business and spend all my time out here with Becky. I will do something here but I'm not sure what yet.
Anything else you'd like to say?
Everyone's always told me that to win your first race is really special. And to win a national here, to win an American national makes it even more special to me. To win, you're going to need a certain amount of luck, for things to go smoothly. And I think that's why when I sit on the machine, I'm never excited. I'm always nervous. I only get excited once I see that checkered flag and know that everything has gone smoothly, everything's done what it was supposed to do. So I was nervous the whole time. But the way I felt when it was over and I knew that I'd won, I'll never, ever forget! And to do it at the best championship in the world, as far as I'm concerned, just makes it that much better. Winning a GNCC is something that will stay with you forever. Even if I never won another, which of course I will be trying to, I could die a happy man.
Well, I am very happy for you, and wish you the best of luck and many more GNCC wins. Who would you like to thank?
Besides all the people in my life who have made this possible, I would like to thank Team UXC Racing and all of our sponsors: Airdam, Alco Cleaners, All Balls Racing, Bair's Powersports, Big Gun Exhaust, Carbo Rocket, Carmichael Training Systems, Cool-It Thermo Tech, Custom Axis Shocks, Dirt Works Motorsports, DP Brakes, Evans Cooling, FPS Racing, Fasst Company, Fly Racing, Hillard, K&N Filters, Leatt, Maxxis Tires, Motion Pro, Ogio, OMF Wheels, Polaris, Engineered Lubricants, Polaris Factory Racing, Polaris Power Generators, Quad Logic, Quad Tech, RCV Performance, RT Pro, RZR, Ricochet Off-Road Armor, Rigid Industries, Rox Seed FX, Securadyne Systems, Scott Goggles, Spider Grips, SSI Decals, STM Powersports, Team, Teixeria Technology and Tire Balls.